Good morning ... Can you believe the House is already flying back to vote on Trumpcare? At midnight? Just kidding! I think! If you spat up your coffee, send your dry cleaning bills to Nicholas Johnston, nick@axios.com.
We've got a new Axios event coming up: the future of mental health care. It's in Chicago next week (April 18), hosted by Mike Allen, and it's going to look at innovations in technology and biopharmaceuticals as well as advocates' perspectives. Get the details and RSVP here.
Why states are getting interested in reinsurance
Here's one of the next things to watch now that Trumpcare is stalled: look for more states to set up their own reinsurance programs, and apply for special Obamacare waivers that could help them get federal funds. It's similar to the latest idea Republicans are considering to revive Trumpcare, but if Congress isn't going to get its act together, states have a lot more incentive to move on their own.
The back story:
The idea is to give health insurance companies extra funds if they get a lot of expensive patients so they don't have to raise premiums through the roof.
Alaska did it on its own to head off a 42 percent rate increase, and now it's applying for one of the waivers to get federal support to expand the program. Minnesota is about to launch its own program.
"I'd venture to say that half the states know about it and are considering it," said Joel Ario, managing director of Manatt Health and a member of the Axios board of experts.
Another reason the idea could take off: Health and Human Services secretary Tom Price is actively encouraging it. He invited states last month to apply for Obamacare "state innovation waivers," which free them from some of the law's rules if they can cover people in different ways.
One idea he singled out: "high-risk pool/state-operated reinsurance programs."
Bottom line: "It's one of the few bipartisan things out there," Ario said.
The richest CEO in the hospital industry
Yes, we're still in the thick of proxy season — a time of pay data nirvana for business journalists. Bob Herman discovered a new filing that shows who the highest-paid CEO in the hospital industry is: Alan Miller of Universal Health Services, a chain of 319 behavioral-health and acute-care hospitals. He made more than $51.3 million in 2016, based on the amount of stock and option awards that actually vested. (Alan's son, Marc, is president of UHS and made $7.2 million.)
Context: This is not to be confused with the methodology Steven Brill used for his stories on hospital CEO pay. His investigations focused on earnings for each day a patient spent in the hospital, which is a different metric. Miller has the highest overall earnings, based on the proxies Herman has reviewed.
The UHS controversy: Rosalind Adams published an investigation for Buzzfeed in December and interviewed scores of current and former UHS employees, who said they were pressured to fill psychiatric beds "by almost method" and to hold patients "until their insurance payments ran out." UHS disputed the article and said it led to an "inaccurate portrayal" of its psychiatric operations.
First in Vitals: The collateral damage of Obamacare repeal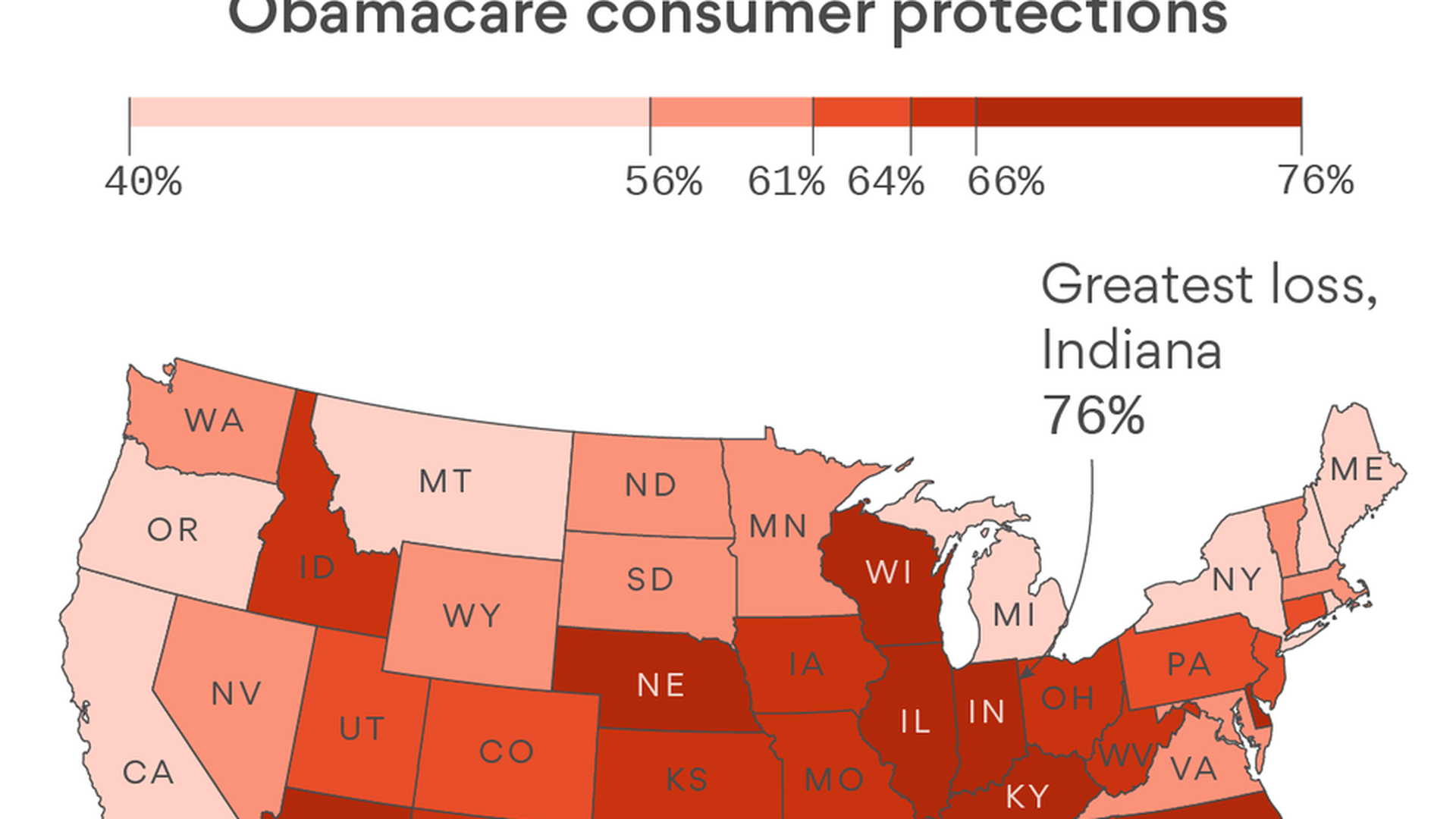 Conservatives want to wipe out Obamacare's insurance regulations to make health coverage cheaper — but if they do, it could affect far more than the people who buy health insurance on their own. In a new analysis provided to Axios, the Century Foundation finds that if Republicans turn those regulations over to the states, 91 million Americans in "self-insured" employer plans would be hit too — and they'd probably have no way to get them restored.
Here's why:
The goal would be to let the states decide whether to impose rules like making insurers cover pre-existing conditions, letting young adults stay on their parents' plans, covering preventive services, and requiring insurers to cover 10 categories of "essential benefits."
That could work for the individual market, but not for employers that insure themselves — because those plans can only be regulated by the federal government.
The hardest hit state would be Vice President Mike Pence's state of Indiana, where 76 percent of the state's residents who have private employer coverage are in self-insured plans.
The analysis by Jeanne Lambrew, a former health care adviser to President Barack Obama, and Ellen Montz also finds that letting the states define "essential benefits" could leave as many as 13 million individual market customers without maternity coverage, 7 million without substance abuse treatment, and 4 million without mental health services.
Between the lines: It's mainly the Freedom Caucus, along with outside conservative groups, that has been pushing to eliminate the insurance regulations. They argue that the regulations have made health insurance more expensive. But most other House Republicans have been resisting, and they may dig in harder as there's new evidence of the consequences.
The "death spiral" report: Reading between the lines
S&P Global became the Democrats' favorite analysts on Friday when it released its report saying Obamacare isn't in a death spiral. The other part of its message — that insurers will pull out if they face too much uncertainty about the future — seemed to put the responsibility squarely on the shoulders of the GOP. But it's worth reading the part where S&P explains all of the disruptions that have made the market so unstable:
"[R]ight from the start multiple external factors have disrupted this market, such as technical issues with the healthcare.gov website in 2014, after-the-fact rule changes related to the grandmothered plans, altering the risk corridor to be budget-neutral, and the more recent [cost-sharing subsidies] court case and potential for legislative overhaul."
The first two — website issues and extending the pre-Obamacare plans — happened on the Obama administration watch, while the rest have all been engineered by congressional Republicans. Their point is that all of these disruptions have made it hard for the individual market to adjust to Obamacare and become stable. But the bottom line is still the same: Everything that S&P says will determine stability in the future is up to the GOP.
While you were weekending ...
That's it for now. Let me know what else you want to know about: david@axios.com.