Good morning ... and, wow. Last night's events — or, technically, this morning's events — were about as dramatic as the Senate gets. Seven years of campaign rhetoric and six months of legislative fits and starts all came crashing to an end a little after 1:30 a.m., with Affordable Care Act supporters cheering outside as stunned Republicans sought to pick up the pieces inside.
A dramatic end to a chaotic process
In the end, it wasn't Dean Heller or Mike Lee or any of the other leading suspects who ultimately picked up the knife and killed Republicans' efforts to repeal the ACA in the Senate. It was Sen. John McCain, who has never been especially active on health care and whose presence in the Senate this week was itself a surprise, following his diagnosis with brain cancer.
McCain held out despite intense lobbying from Vice President Mike Pence. Leadership held a separate vote open for almost an hour as Pence stood at McCain's desk, making his case. But the writing was on the wall almost as soon as McCain entered the Senate chamber last night and said something that put a smile on Sen. Chuck Schumer's face.
GOP leaders were also lobbying Sen. Lisa Murkowski, a more entrenched "no" vote, before the bill failed. But neither she nor McCain seemed flustered, even as the pressure wore on. (Sen. Susan Collins was the third Republican "no" vote.)
"It did have the makings of a good movie there for a while. I'm just glad that we can try to move on," a senior GOP aide told our colleague Caitlin Owens after the vote.
What comes next: Conservatives were particularly stung by last night's defeat, and said they would keep up the pressure for some sort of action on repeal. But, realistically, it's hard to see leaders in either chamber wading back into such a bruising fight any time soon. "It's time to move on," an emotional Majority Leader Mitch McConnell said as he closed out the Senate's session.
Democrats have been saying they're eager to work with Republicans to stabilize the ACA's marketplaces, and there's a stable of Republicans (like Sen. Lamar Alexander) who likely will now be willing to tackle short-term stabilization plans. But all Democrats have offered so far are plans to pump more money into the program, and it'll soon be time to walk the walk on that whole bipartisanship thing.
​Trump and Price have some decisions to make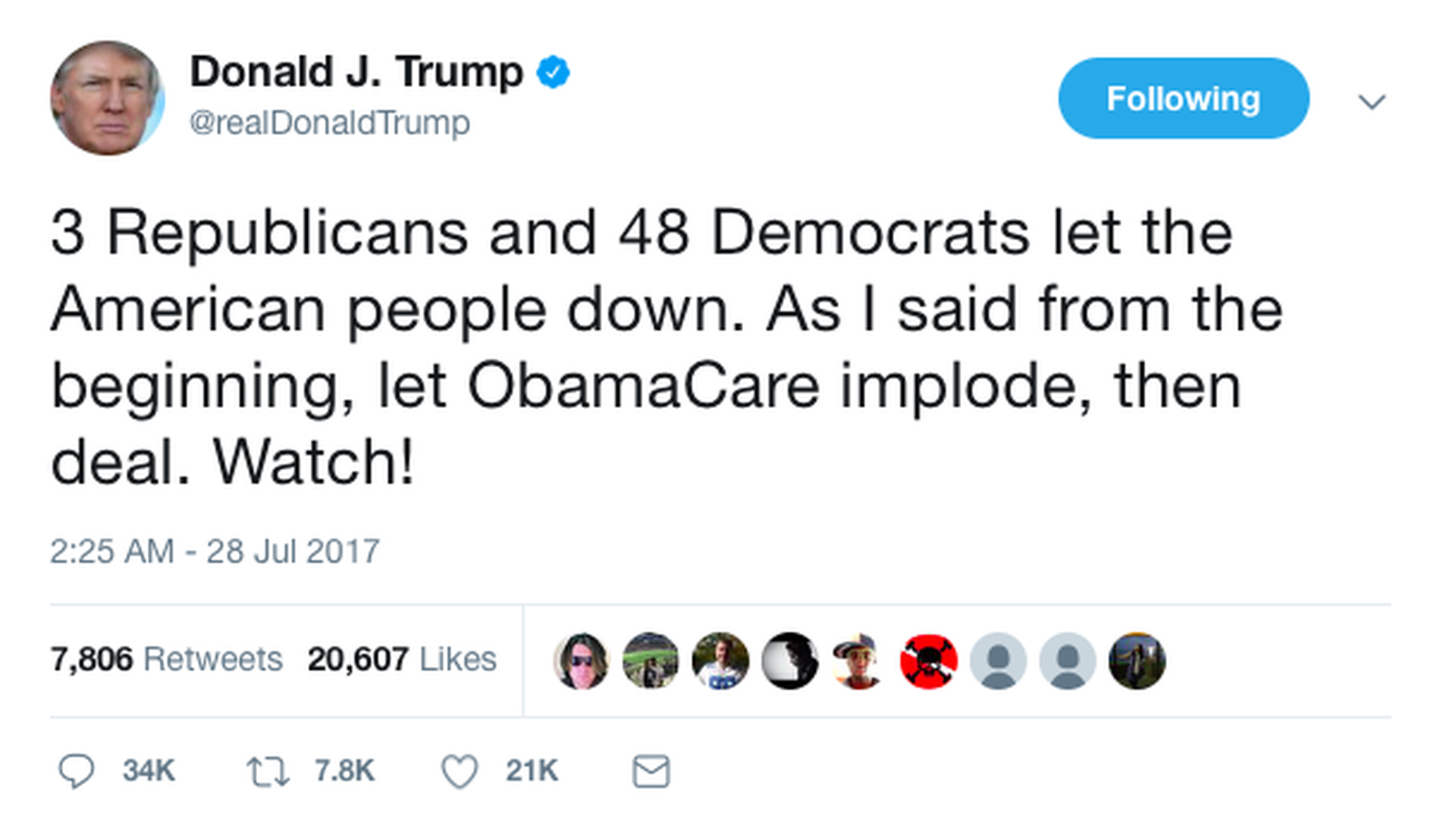 Health and Human Services secretary Tom Price put an awful lot of stock in his party's efforts to repeal the ACA. His department has produced taxpayer-funded videos about how bad the law is; he has criticized it on TV; he helped lobby lawmakers to pass a repeal bill.
Wriggling out of that awkward position — trash-talking a law you're in charge of carrying out — wouldn't have been too hard if repeal had passed. But now, Price and the rest of the administration will have to make a real-world, non-hypothetical decision between undermining the law and trying to make it work.
President Trump tweeted last night that he still wants to "let ObamaCare implode, then deal." Three key areas to watch, to tell how seriously he's pursuing that approach:
Cost-sharing subsidies: Trump has been paying out the subsidies one month at a time, without funding from Congress, despite insurers' pleas for a longer-term commitment. If he stops those payments, premiums will skyrocket even more than they already have.
Enrollment outreach: The ACA is performing unevenly even after the Obama administration pulled out every trick it could think of to try to get young, healthy people to sign up — and Price is already rolling back those outreach efforts.
Mandate enforcement: Trump has signaled he doesn't want the IRS to break a sweat enforcing the individual mandate — another tool to help improve the misaligned risk pools that are contributing to premium hikes in the exchanges.
Policy and process make a difference
Part of the reason the repeal-and-replace process was so hard is that Republicans haven't decided which changes they want to affect which parts of the health care system, and therefore a lot of them haven't really reckoned with the trade-offs their personal objectives would require.
Some of them have: Sen. Ted Cruz knows he wants lower premiums and is willing to accept the benefit cuts that would make it happen. But the arguments for the House bill, the Senate repeal-and-replace bill, the straight-repeal bill, and the skinny-repeal bill all tended to be the same — "Obamacare is failing" — even though their contents were very different.
And Trump, who has the loudest microphone, never engaged on the substance of any of those bills — which makes it awfully hard to make a persuasive argument about how any of them would improve people's lives.
Why McCain did it
He actually did take a stand for "regular order," the theme he stressed in his floor speech on Tuesday after his dramatic return to the Senate. That's where Congress holds hearings and writes a bill in committee, all of the things that didn't happen with the Senate repeal bills.
From his statement this morning:
"We must now return to the correct way of legislating and send the bill back to committee, hold hearings, receive input from both sides of aisle, heed the recommendations of nation's governors, and produce a bill that finally delivers affordable health care for the American people."
The bottom line: He also didn't want the "skinny repeal" bill to become law as is, and Speaker Paul Ryan's statement last night fell pretty far short of a guarantee that the House wouldn't rubber-stamp it.
GAO will investigate HHS for anti-ACA campaign
It has become just part of the background noise, but as we mentioned above, Price has spent a large portion of the past few months beating up on the ACA through Twitter and videos of "victims" telling their stories. Now, there's another development to watch: The Washington Post reports that the Government Accountability Office has agreed to a Democratic request to investigate whether HHS has been violating restrictions on how it can spend its money.
What they're looking at:
Whether HHS broke the rules against "grassroots lobbying" by appealing to the public to support ACA repeal.
Whether it violated the rules against "covert propaganda" by producing videos of people criticizing the ACA.
Why it matters: All GAO can do is produce a report, and as the minority party, Democrats may not be able to act on it. But if GAO finds that HHS broke the law, that's one more headache the Trump administration doesn't need.
Health industry lightning round, part trois
Because two helpings of health care earnings just wasn't enough. Here's the latest from Bob Herman:
AstraZeneca: That thud you just heard was AstraZeneca's stock falling 15%. The British drug maker said a highly anticipated clinical trial for a lung cancer medication failed — meaning patients with lung cancer will look elsewhere for therapies and AstraZeneca won't see $7 billion of peak sales from the drug that was once thought possible.McKesson: One day after investors cast a nonbinding vote against McKesson's executive pay packages for this past year, the drug distributor missed Wall Street's earnings expectations but still posted net income of $309 million on $51 billion of revenue. CEO John Hammergren has made $587 million since the ACA went into effect, second-most of any health care CEO.Celgene: Fresh off paying a $280 million settlement over allegations it promoted drugs off-label, Celgene banked almost $1.1 billion of profit in the quarter that ended in June. Worldwide sales of Revlimid, one of the drugs at the center of the settlement, topped $2 billion in the quarter.Meantime, Wall Street gave a collective "meh" to most of the handful of medical device firms that reported yesterday (Boston Scientific, Stryker, Zimmer Biomet, NuVasive, and Smith & Nephew). Each company is profitable, but it also looks like the ACA's tax on them may not be repealed.
The FDA's fast-track pilot program for software startups
While the rest of Washington has been focused on the Senate, Food and Drug Administration chief Scott Gottlieb has been minding his own business, launching new programs, and running the agency. Yesterday he announced that the FDA will launch a "Pre-Cert for Software Pilot Program" — an initiative to give speedier approval to medical software startups and products that aren't as risky as most medical devices.
Why it matters: It's another part of Gottlieb's plans to fast-track the approval of low-risk products without letting dangerous ones slip through. That balancing act has plenty of skeptics. But even FDA critics thought the pre-certification program was a good idea, per CNBC, with FDA expert and lawyer Bradley Merrill Thompson calling it "brilliant."
What we're watching next week: Will any moderate Republicans and Democrats start talking ACA fixes? And will anyone else in the GOP care?
Pfizer earnings call, Tuesday before markets open. Humana earnings call, Wednesday before markets open. Aetna earnings call, Thursday before markets open. Cigna earnings call, Friday before markets open.
Remind us what's happening in normal health care world: david@axios.com, baker@axios.com.