Good morning ... Eat your Wheaties this week, folks. With the Senate hurtling toward a vote even though senators themselves aren't sure what they'll be voting on, this is probably going to be a long and stressful couple of days. Or, of course, the alternative would be that everything falls apart immediately and the health care world can start its August recess a little early.
The sky-high pay of health care CEOs
Bob Herman and the Axios data visuals team have an important story up this morning about the earnings of health care CEOs, and it's definitely worth a look at the whole thing. Bob spent a lot of time digging through the companies' Securities and Exchange Commission filings to figure out how much the CEOs really earned (salary, bonuses, stock, perks, and retirement/severance) each year since 2010, when the Affordable Care Act went into effect.
The big takeaway: The CEOs of 70 of the largest U.S. health care companies cumulatively have earned $9.8 billion in the seven years since the ACA was passed, and their earnings have grown faster than most Americans' during that time.
Why it matters: The ACA has not hurt the health care industry. Stock prices have boomed, and CEOs took home nearly 11% more money on average every year since 2010 — far outstripping the wage growth of nearly all Americans. But the analysis also reveals that the pay packages for the country's influential health care executives don't give them incentives to control health care spending — something that economists, policymakers, and even Warren Buffett have said is the most pressing problem in health care.
The Senate's about to vote on ... something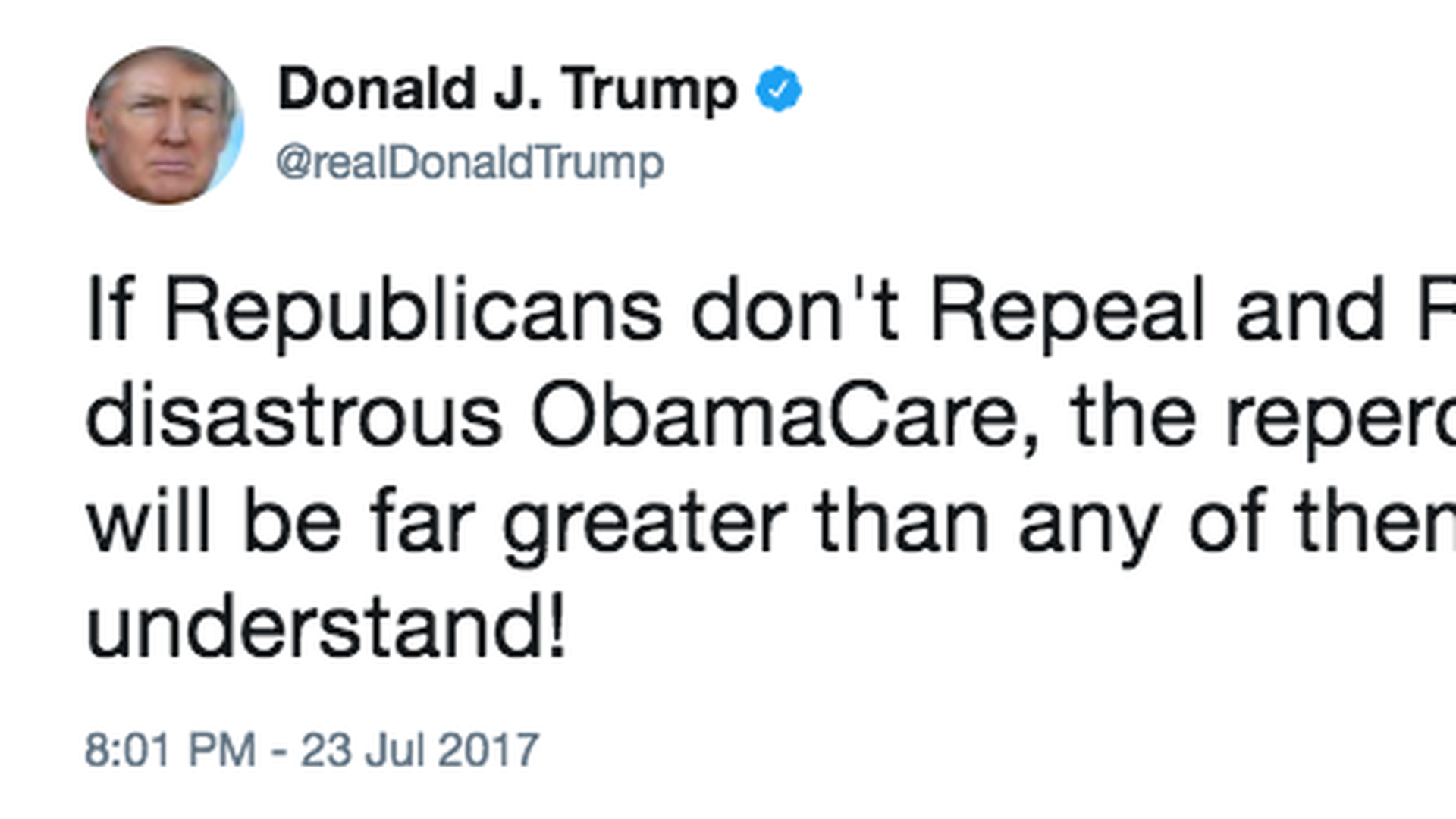 The Senate is expected to vote this week on a health care bill. But even GOP senators don't know what they'll be voting on — and their options are vastly different. The repeal-and-replace bill would overhaul the basic structure of Medicaid while leaving the ACA's individual-market reforms largely in place — unless it includes Sen. Ted Cruz's consumer-choice provision, which would chip away at some of those reforms. The repeal-only bill, on the other hand, would likely send the individual market into a tailspin, while leaving traditional Medicaid alone.
Why it matters: As Caitlin Owens reminds us this morning, Senate Republicans aren't having substantial debates about these big ideas. The strategy, for now, is to marshal 50 votes to begin debate, then see what happens and hope one dramatic health care overhaul or another will pass.
Sen. Susan Collins voiced her frustration with this process on "Face the Nation" yesterday:
"We don't whether we're going to be voting on the House bill, the first version of the Senate bill, the second version of the Senate bill, a new version of the Senate bill, or a 2015 bill that would have repealed the Affordable Care Act now, and then said that somehow we will figure out a replacement over the next two years," she said. "I don't think that's a good approach to facing the legislation that affects millions of people and one-sixth of our economy."
The latest complication came Friday evening from the Senate's parliamentarian, who said a couple of important provisions had to go, due to the Senate's budget rules. The most consequential losses:
Provisions de-funding Planned Parenthood and imposing other restrictions on federal funding for abortion — which are key to conservatives' support for the bill.
A six-month "lock-out" that would impose a waiting period on people who dropped their coverage and then tried to sign back up. This was intended to take the place of the individual mandate, and without it, the Senate bill could deeply destabilize states' insurance markets.
Yes, but: Per our colleague Jonathan Swan, the White House has told social conservatives that new anti-abortion language is already in the works. If that change keeps conservatives from bailing and at least a few moderates are willing to let the debate begin and see how much more money Majority Leader Mitch McConnell is wiling to throw at them, there's a path for at least the initial procedural vote to succeed.
Verma's Medicaid math
The fate of the Senate repeal-and-replace bill may depend on whether Seema Verma, director of the Centers for Medicare and Medicaid Services, can convince moderate Republicans that her Medicaid "wraparound" idea can work. As CMS has described it, the idea is to use other funds in the bill to help low-income people get private insurance if they lose Medicaid coverage.
Senate Republicans are consulting with the Congressional Budget Office on it to see if the math would work — but we're getting some serious skepticism from outside experts. "The short answer is, no," says Chris Sloan of the consulting firm Avalere.
Why? On the surface, here's how the math looks:
Medicaid savings: $756 billion over 10 years (per latest CBO score)
State stabilization fund: $182 billion over 10 years
New funding that might be added: $200 billion over 10 years
The bottom line: Even if all of that money went directly to people who lost Medicaid coverage — which is unlikely, since it's really there to help stabilize private insurance markets with lots of unhealthy customers — it wouldn't make up for the reduced Medicaid spending. "This is just basic arithmetic," says Larry Levitt of the Kaiser Family Foundation.
The tax credits are also supposed to help, and CBO projects spending of $295 billion on those. But remember that those are intended to help all customers, not just people who lost Medicaid coverage.
Yes, but: Much of this depends on whether CBO's projections of coverage losses are right. As Avik Roy of Forbes points out, CBO assumes that 15 million fewer people will be covered next year. If the loss of the ACA's individual mandate doesn't really have that big of an impact, "the stabilization funds have a much more powerful effect," he says.
"The Mooch" and health care
When your health care bill is the least popular bill in 30 years, communications is at least one of your problems. So, we thought we'd take a look at what Anthony Scaramucci, the White House's new communications director, has to say on the topic.
From a 2012 tweet: "We already have Univ Health Care, we made decision long ago to treat everyone that enters an emergency room."
Reality check: This is widely held misconception about the health care system. It's true that federal law requires emergency rooms to treat patients who come through their doors. But that's all they have to do — stabilize an emergency condition. They don't provide comprehensive care. And what they are forced to provide isn't free. Patients still get a bill — often an expensive one.
Sunday, asked whether the bill will pass:
"I don't know if he's going to get what he wants next week, but he's going to get what he wants eventually, because this guy always gets what he wants. OK? What I know about President Trump is that the world, he's got very, very good karma. He's very, very good to the people that are super close to him. Look at how great his kids turned out. You can't fake good kids."
Why it matters: Scaramucci is communications director, not HHS secretary and not director of legislative affairs, so it's not fair to expect him to have mastered health policy. But as the rest of the Trump administration's experience with this process demonstrates, it's almost impossible to make a case for this bill without engaging on the specifics of what it would do.
While you were weekending ...
Cruz has a controversial answer to the limitations imposed by the Senate's budget rules: Just overrule the parliamentarian, allowing Republicans to use the 51-vote threshold for whatever they want. Bloomberg has the details on Cruz's pitch.
Asked about his apparent reversal from supporting repeal-and-replace to supporting repeal alone, Sen. Rand Paul said on CNN Sunday that he still prefers repeal and replace — but when he says "replace," he means "legalizing inexpensive insurance, which means the federal government doesn't regulate it."
"I think until the vote is actually on the floor of the Senate, some people may not tell you what they're actually going to do," Sen. John Barrasso said on CBS' "Face the Nation."
Collins becomes a firmer "no" vote by the minute. She told constituents on Friday that she's firmly opposed to the Senate bill's Medicaid changes: "You don't take a safety net program that has been operating for more than 50 years and change it in fundamental ways without having a single hearing to evaluate its impact," she said, according to the Portland Press-Herald.
A failed vote this week won't be the end of the repeal debate, Sen. John Thune said on "Fox News Sunday": "We are going to vote to repeal and replace Obamacare ... it's not a question of if, it's a question of when."
Democrats' march toward embracing single-payer continues. "We're going to look at broader things — single payer is one of them," Sen. Chuck Schumer said on ABC's "This Week."
What we're watching today: Trump gives a statement on health care, 3:15 p.m. Eastern.
What we're watching this week: Senate votes on motion to proceed to health care bill, likely Tuesday. Also, House Energy and Commerce health subcommittee hearing on Medicare Advantage Special Needs Plans, Wednesday.
Lots of earnings calls: HCA, Tuesday before markets open; Anthem, Wednesday before markets open; Gilead Sciences, Wednesday after markets close; Zimmer Biomet, Thursday before markets open. And Biogen and Alexion Pharmaceuticals will have "strategic updates" in addition to earnings.
Tips and feedback: david@axios.com, baker@axios.com.