Morning — we've got the fallout from the big speech, a better look at what the Republican governors want to do on Medicaid, and what to watch for at the Senate Finance Committee confirmation vote on Seema Verma today.
Meantime, we are about to have two new additions to the Axios newsletter family: Login, the new tech newsletter by Ina Fried in San Francisco and Kim Hart and David McCabe in D.C., and Generate, the new energy newsletter by Ben Geman. We couldn't be more thrilled, and they're starting soon, so please sign up for them and the other Axios newsletters here.
https://www.axios.com/newsletters/axios-vitals-8ba8c8f2-399f-44bc-a8de-46da14fe1775.html?chunk=0#story0
Trump's Obamacare message: Don't blow this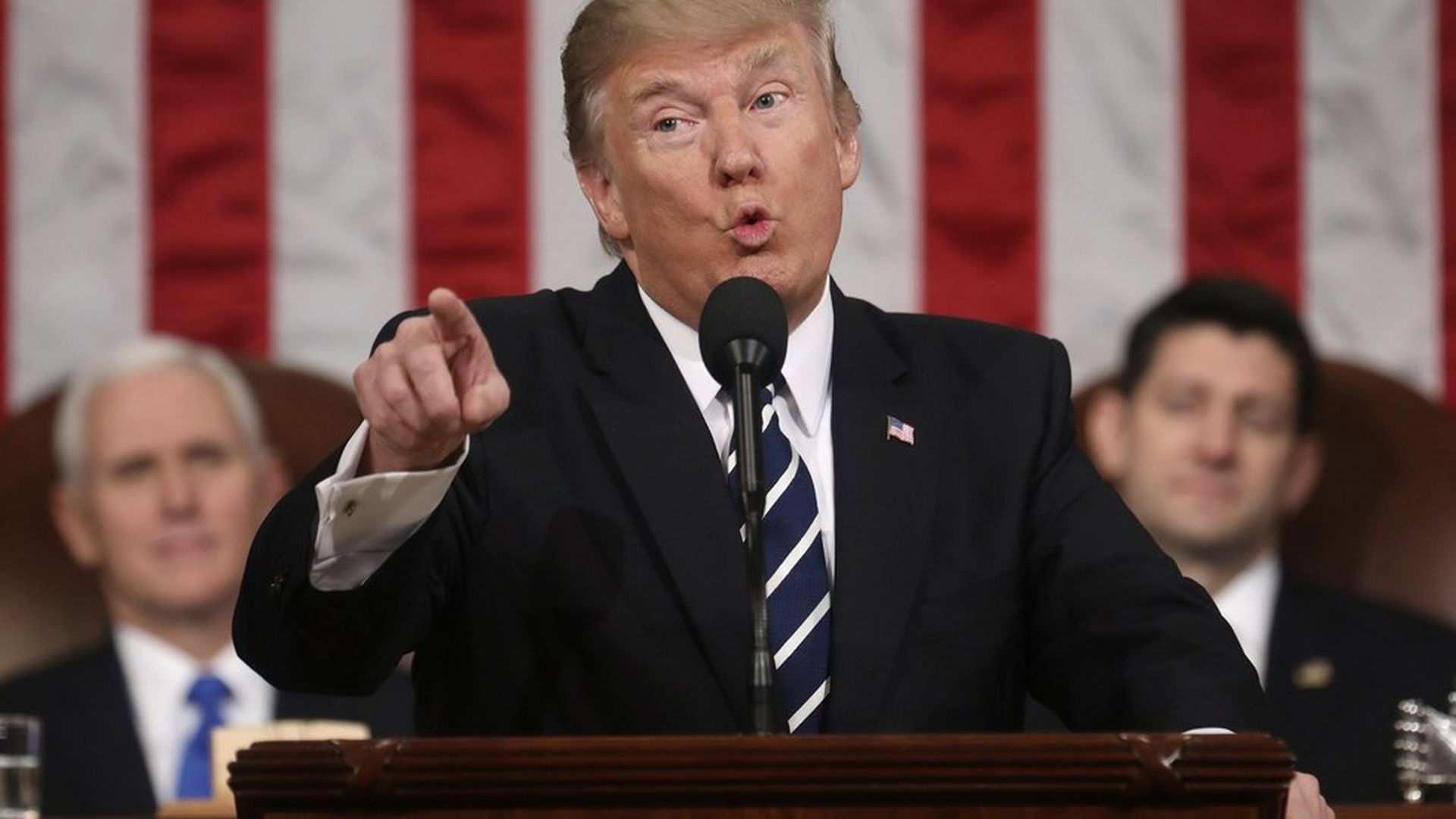 President Trump laid out a pretty general blueprint for Obamacare replacement last night — mostly tracking with the draft House Republican plan, but with a few new twists, like lower drug costs and a hint of tort reform. (Here's what I wrote about it.) But his real message to Congress was: Don't screw this up.
That's why he specifically mentioned tax credits. It was an un-Trumpian thing to talk about, but it was his way of poking the conservative hardliners in the ribs and warning them not to tank the repeal effort. They're complaining that refundable tax credits, the kind that are in the draft House bill, would be basically like a new entitlement. (If you were reading the Axios health care news stream yesterday, you knew Trump would mention the tax credits because Jonathan Swan and Caitlin Owens told you.)
Good luck with that: Trump probably didn't turn it around with one speech. Both Ted Cruz and Rand Paul, two of the Senate hardliners who don't like the draft bill, were still tweeting about #FullRepeal after the speech. And some didn't take the hint: "What I heard Trump say was something very similar to what Sen. Paul and I introduced." said Rep. Mark Sanford, who wrote the Obamacare replacement bill the conservatives prefer, per Politico.
The one thing Trump didn't do: He didn't help Republicans solve their biggest problems — like how to cover people with pre-existing conditions without Obamacare's individual mandate, and how exactly he wants them to lower drug costs.
https://www.axios.com/newsletters/axios-vitals-8ba8c8f2-399f-44bc-a8de-46da14fe1775.html?chunk=1#story1
The conservative rebellion: Oh, the suspense
Before Trump's speech, the conservative hardliners were piling on with their objections to the draft House Obamacare replacement plan, even as Republican leaders acted unconcerned with the whole mess:
Freedom Caucus chairman Mark Meadows told Caitlin Owens he's not backing down: "I am not going to go along with something that harms my constituents just so I can say that I've supported something that has a different name than Obamacare,"
And Rep. Dave Brat, a member of the Freedom Caucus, told me his objections to the draft bill go beyond the tax credits: "We do not want a federally run health care program."
Another big problem: They're not crazy about the proposed limits on the tax break for employer health coverage, Caitlin reports, which is the main way Republicans would pay for the plan.
On the bright side for GOP leaders, Meadows says there could be room for compromise.
House Speaker Paul Ryan, to reporters: "I feel at the end of the day, when we get everything done and right, we're going to be unified on this."
Senate Majority Leader Mitch McConnell: "The goal is for the administration, the House and the Senate to be in the same place. We're not there yet."
Between the lines: The calmness of GOP leaders, especially in the House, isn't an act. They think the show of defiance from the main holdouts, Meadows and Republican Study Committee chairman Mark Walker, is more about showing their influence as conservative leaders than about the substance, since the draft plan isn't that different from proposals they've endorsed in the past.
Yes, but: They don't really know how far the conservatives will push the rebellion — which is why they can't ignore it.
https://www.axios.com/newsletters/axios-vitals-8ba8c8f2-399f-44bc-a8de-46da14fe1775.html?chunk=2#story2
What the Republican governors want to do on Medicaid
No, they don't just want to do whatever House Republicans are putting in their Obamacare replacement plan. By the end of the National Governors Association meeting this weekend, the GOP governors were closing in on a framework for Medicaid reform to recommend to Congress, I'm told — and it goes beyond the standard Republican proposals of block grants or per-person limits on the funding.
Here's how it would work:
If a state that expanded Medicaid wanted to keep the expansion, and the extra federal money that goes with it, they'd have to agree to "put the state on a budget" by eventually switching to per-capita caps or block grants.
If they're not willing to do that, they could keep the expansion, but they'd have to do it under the regular federal matching rate — they'd stop getting the extra funds.
For a state that didn't expand Medicaid, but wanted to do so now, they could add coverage of childless adults up to 100 percent of the federal poverty line — not the 138 percent under Obamacare. And they, too, would have to switch to per-capita caps or block grants in the future.
If they're not willing to switch to per-capita caps or block grants, they could cover everyone up to 100 percent of the federal poverty line, but only with the regular matching funds.
They'd also get more flexibility to help them live within a budget — including using managed care plans, having more ways to control prescription drug spending, and requiring premium contributions.
Why we're going to hear more about this: The Republican governors made it clear to Trump that they don't want any of their residents to lose coverage, and this is how they think they can avoid that problem. But first, they'll have to draft it into enough detail to get cost estimates — and find out what happens to coverage over the long term.
https://www.axios.com/newsletters/axios-vitals-8ba8c8f2-399f-44bc-a8de-46da14fe1775.html?chunk=3#story3
Seema Verma's getting her confirmation vote today
You almost forgot that the Centers for Medicare and Medicaid Services still doesn't have a permanent chief, didn't you? That's probably going to change soon. The Senate Finance Committee is voting on her confirmation this morning, and she'll probably lose Democratic votes over her views on Obamacare repeal and Medicaid reform — including mini-controversies like her comment that maternity benefits should be optional.
In fact, that's the issue you're likely to hear a lot about today. Sens. Debbie Stabenow, Patty Murray, Ron Wyden and others are sending Verma a letter urging her to reconsider: ""If no plan offers maternity coverage, and if coverage is extraordinarily costly or requires long waiting periods, what kind of choice does that present to women?" The March of Dimes and other health groups are sending their own letter to the committee saying everyone should get those benefits.
But barring a huge surprise, she'll be approved. (Cue huge surprise in 3, 2, 1.) Then she just needs to be confirmed by the full Senate, which doesn't look like a problem at the moment either.
https://www.axios.com/newsletters/axios-vitals-8ba8c8f2-399f-44bc-a8de-46da14fe1775.html?chunk=4#story4
What we still don't know about Anthem's data breach
Two years ago, a cyberattack on the health insurer led to the largest health care data breach ever, and Bob Herman reports that there's still a lot we don't know about it. We do know that Anthem has spent at least $260.5 million since then, mostly on security improvements and credit protection for everyone who got caught up in the breach. But we still don't know for sure who was behind it, or whether Anthem will pay a penalty, or whether it was fully protected from this kind of attack. Read Bob's story here.
https://www.axios.com/newsletters/axios-vitals-8ba8c8f2-399f-44bc-a8de-46da14fe1775.html?chunk=5#story5
Remember the Obamacare high-risk pool? It was terrible
Jeanne Lambrew, the former White House health care adviser under President Barack Obama, has a blog post about a little-remembered chapter from the early years of the Affordable Care Act: the temporary high-risk pool that covered sick people until the law took full effect in 2014. She says Republicans would be wise to learn the lessons from that program, because they're talking about reviving state high-risk pools as a better way to cover people with health problems.
The troubles with the ACA high-risk pool:
It had to keep changing the eligibility rules as the cost of the customers' medical care changed.
"It was almost impossible to budget for the program due to the unpredictability of costs."
Thirty-seven states had costs that exceeded their share of funding.
Even with $5 billion in funding, it was only able to serve a tiny fraction of the Americans with pre-existing conditions.