Axios Vitals
April 21, 2020
Good morning.
Today's word count is a breezy 942, or a 4-minute read. Remember when Vitals was always this short?
1 big thing: Employers bear the brunt of reopening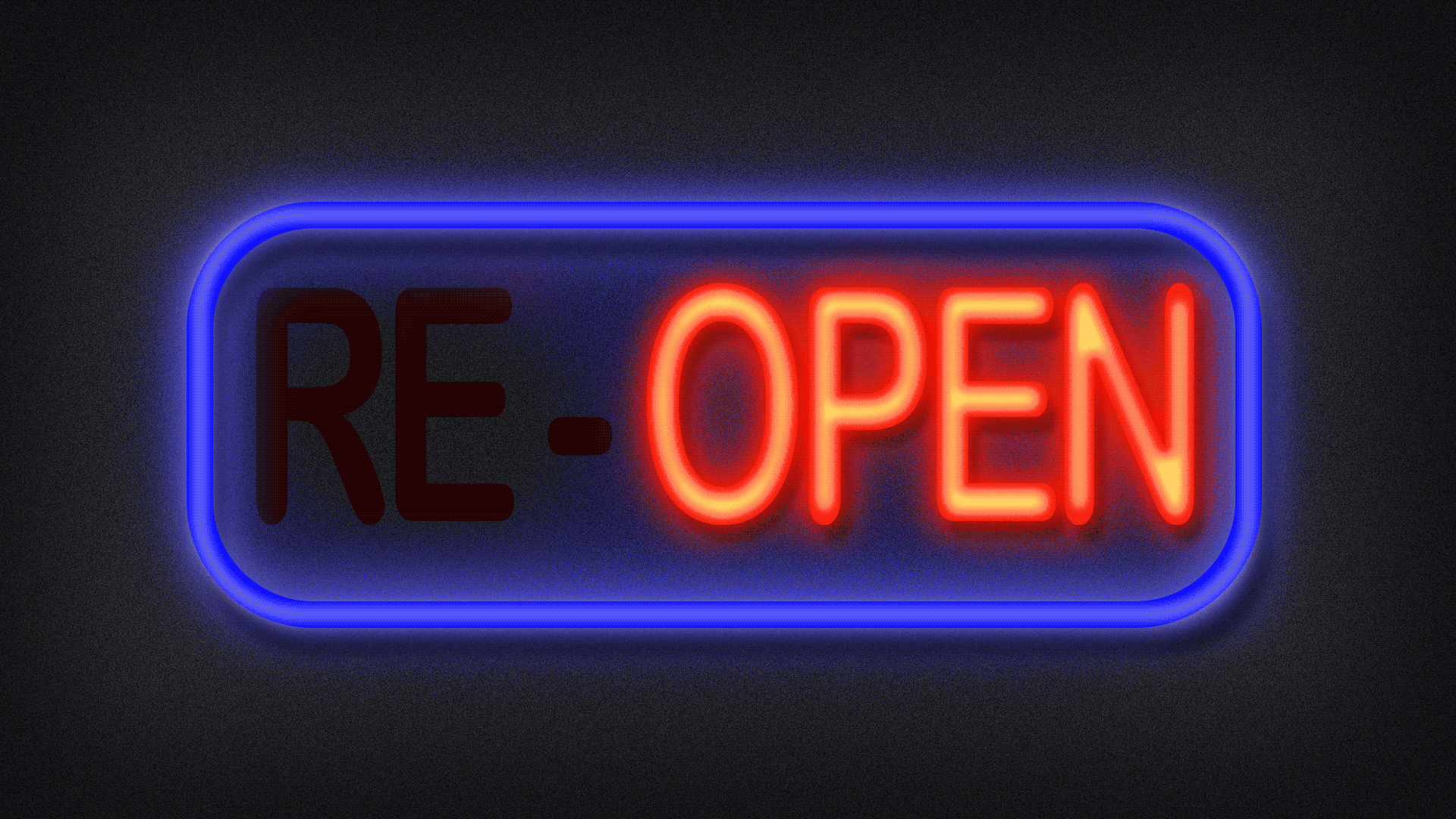 Even if some states and the federal government begin encouraging people to go back to work, employers ultimately will make the decision about when to bring their workers back to the office, and what that looks like.
Why it matters: There's no playbook for the kinds of decisions involved in reopening a workplace during a pandemic, which range from workplace travel policies to how to monitor employees for coronavirus symptoms.
The big picture: The Trump administration's guidance for how to phase into normal life leaves a lot of key actions and decisions up to employers, and is vague about the criteria for readiness.
For example, in all phases, employers are asked to "develop and implement appropriate policies" regarding social distancing, temperature checks, testing, isolating, contact tracing and sanitation.
What they're saying: Drew Altman, president and CEO of the Kaiser Family Foundation and an Axios contributor, emailed me some thoughts:
"Employers are very different. A meat packing plant or an auto repair shop needs people physically there. Tech firms, or a KFF, far less so. They do not have to take a one-size-fits-all approach.
"The testing fiasco means employers don't know who can come back to work. What does an employer do if someone gets sick and tests positive?
"Do you do temperature checks? Not everyone will have a fever if they are positive, but it may be a deterrent for people who are sick to stay home.
"Endless small stuff. Distancing rules in the workplace. Sanitizing surfaces. Congregating. How to safely get coffee.
"If you phase employees in, the internal politics of who goes first? Who is more essential?
"Different rules for different geographic locations.
"The capacity in smaller firms to figure all this out. How many firms even have HR?"
2. New action plan: We need millions of tests a day
The U.S. will need to run 5 million tests a day by early June in order to safely lift social distancing measures, according to a new white paper by Harvard's Edmond J. Safra Center for Ethics, with support from the Rockefeller Foundation.
That number will need to increase over the summer to about 20 million a day to fully reopen the economy, the authors argue.
Between the lines: We're nowhere near being able to complete this many tests a day, and yet parts of the country are already taking small steps back toward normalcy.
What they're saying: "The great value of this approach is that it will prevent cycles of opening up and shutting down," the white paper's authors write.
"If we rely on collective social distancing alone to tide us over until a vaccine is available, the economy will be shut down on and off for 12 to 18 months, costing trillions of dollars."
The widespread testing would need to be combined with contact tracing and isolation for those who have the coronavirus.
3. The latest in the U.S.
The number of confirmed coronavirus cases in the U.S. surpassed 784,000 on Monday, while total deaths surged past 42,000.
President Trump announced in a tweet Monday night that he will sign an executive order to temporarily suspend immigration to the U.S. in response to the novel coronavirus pandemic.
Governors in Georgia, Tennessee and South Carolina have announced plans to ease their coronavirus lockdowns.
A state prison in Marion, Ohio, is now the largest known source of COVID-19 infections in the U.S., according to a New York Times database.
JBS, the world's largest meat processor, will temporarily shut down a plant in southwestern Minnesota due to a coronavirus outbreak among workers, the company announced Monday.
Maryland Gov. Larry Hogan announced Monday that South Korea is sending the state 5,000 coronavirus kits, which can be made into 500,000 tests, the Baltimore Sun reports.
New York City has canceled all non-essential events during the month of June, Mayor Bill De Blasio announced on Monday.
4. The latest worldwide
The global economy has never faced a challenge like the coronavirus, but it's in Africa that the pain could be deepest and recovery slowest, Axios' Dave Lawler writes.
New Zealand may be able to successfully eliminate the coronavirus altogether, as opposed to containing it, AP reports.
Migrants recently deported from the U.S. have been diagnosed with the coronavirus in Mexico, Haiti and Guatemala, Reuters reports.
5. Americans see going back to "normal" as risky
Most Americans feel it would be risky to return to "normal" life just yet, and would wait indefinitely or at least for a few more months for the threat of coronavirus infection to subside, per the Axios-Ipsos Coronavirus Index.
Why it matters: President Trump has championed the idea that some states should reopen by May 1. But the latest findings from our national poll suggest most Americans aren't ready and worry it would hurt their health and well-being, Axios' Margaret Talev writes.
The results also suggest that the recent protests in Michigan and elsewhere against stay-at-home orders — which have drawn national press coverage — don't reflect how the majority of Americans think about the response to the virus.
Democrats feel the risks more acutely, but a clear GOP majority also sees large or moderate risk.
Declining trust in the federal government accompanies these sentiments.
Party ID matters more than which states people call home.
Keep in mind, more than 41,000 Americans have died from the virus, and this week's survey found that one in five say they know someone who has tested positive.
What they're saying: "Republicans are less proximate to it; they're less likely to live in the big urban centers," said Cliff Young, president of Ipsos U.S. Public Affairs.
"But it has less to do with their proximity to it and much more to do with where they get their information from, and that they take their cues from their political leaders."
6. People filling more prescriptions by mail
The number of prescriptions that people are filling through the mail has skyrocketed over the past few weeks, according to data from IQVIA and Barclays.
The big picture: Total prescription volumes still have declined heavily as people have traveled to their pharmacies less frequently, Axios' Bob Herman reports.
People also stocked up on medications, many of which came in 90-day supplies, once the coronavirus outbreak started to worsen in mid-March and consequently haven't had to refill their prescriptions as often.