September 24, 2021
Good morning. Welcome to the end of yet another action-packed week. ("Action-packed" is a euphemism for chaotic.)
Situational awareness: Last night, CDC director Rochelle Walensky approved booster shots for Americans aged 65 and older, nursing home residents and people between 50 and 64 who have underlying health issues.
Today's word count is 1,016, or a 4-minute read.
1 big thing: Generics companies want to help the vaccine makers
Generic drug companies have asked Pfizer, Moderna and Johnson & Johnson to license their COVID-19 vaccine technology to help increase global production, but so far the vaccine makers have given them the cold shoulder, Axios' Bob Herman reports.
Why it matters: Other companies are saying they have extra capacity to make more vaccines. Not using that extra capacity could prolong the pandemic throughout the world.
What they're saying: "Right now our biggest problem is that we cannot produce enough vaccine to meet the high demand," Moderna CEO Stéphane Bancel told a Swiss newspaper this week.
Behind the scenes: Several generics manufacturers have reached out to Pfizer, Moderna and Johnson & Johnson, and "none of their offers have been met positively," said one industry source, who asked not to be named to talk about private discussions.
Teva's CEO told the Financial Times the company "made it clear that we were willing to help, but it has not resulted in any agreements."
Between the lines: Generic drug companies already produce vaccines for other parts of the world, and they are saying they could help out now that raw material shortages are less of a concern.
A Pfizer spokesperson said the company and its vaccine partner BioNTech "select contract manufacturers using a rigorous process based on several factors" like quality, safety, capacity and highly trained workers. They continue to "pursue opportunities to bring new partners into its supply chain network."
Moderna and J&J did not immediately respond to questions.
Flashback: "In certain instances, such as public health emergencies, trade partners may legally issue a compulsory license," the drug industry's lobbying group PhRMA wrote in a 2017 blog.
In other words, generic drug companies making vaccines during a global pandemic, without the patent owner's permission, is something the drug industry would have supported four years ago.
2. Health care workers caught in booster chaos
Health care workers, teachers and day care workers are stuck in the crossfire between two government agencies that can't decide whether people with jobs that put them at high risk of COVID-19 exposure should get booster shots.
The big picture: Public health officials are divided on whether booster shots are necessary or ethical, and who should get them. While they duke it out, the public is likely to become increasingly confused.
Driving the news: A CDC advisory board recommended booster shots yesterday for Pfizer recipients 65 and older and those at risk of severe infections, but not people whose occupations put them at risk of exposure.
That's a public clash with the FDA, which earlier this week authorized a third shot for all three groups.
What we're watching: CDC director Rochelle Walensky will have to decide whether to accept the committee's recommendations. The CDC often follows the committee's advice but is not bound to do so.
Between the lines: Whether health care workers need extra protection against the virus right now is only the tip of the iceberg when it comes to unanswered booster questions.
Health officials are only considering a third shot of Pfizer. So far, there's no new guidance for people who received Moderna or Johnson & Johnson's vaccines.
What they're saying: Eric Topol, executive vice president of Scripps Research, tweeted out a timeline of shifting federal booster guidance.
The caption: "You'd have to work really hard to mess this up this badly and engender this much confusion."
3. America's mismatched COVID fears
Vaccinated Americans are more worried about contracting a COVID infection than unvaccinated Americans, according to new Harris polling that was conducted in consultation with the CDC and provided exclusively to Axios.
Why it matters: The science says that the unvaccinated have much more to fear, and are largely driving the current surge of hospitalizations and deaths.
What they found: More than half of respondents said they think breakthrough cases are common, including 68% of unvaccinated respondents.
Worryingly, 60% of unvaccinated respondents said they think breakthrough cases prove the existing coronavirus vaccines aren't effective, compared to only 26% of all respondents.
By the numbers: Among vaccinated respondents, three-quarters said that if they were to get a breakthrough case, they'd be concerned about spreading the virus.
Just over half said they'd be concerned about dying — which is extremely unlikely among the vaccinated.
Only 12% of vaccinated Americans said they're living as they did pre-pandemic. The rest said they are taking at least some precautions to avoid exposure.
The bottom line: Ironically, the people who are most worried are generally the ones with the least to fear.
4. Devoted Health raises another $1.2 billion
Devoted Health, a health insurance startup that sells Medicare Advantage plans, is raising up to $1.2 billion in new funding at an $11.5 billion valuation, Axios' Dan Primack and Bob Herman scoop.
The big picture: The company insures more than 40,000 seniors in four states, more than double from the first half of 2020, and wants to become a nationwide insurer.
By the numbers: Devoted reported a $27.2 million net loss on $247.3 million in revenue for the first half of 2021, according to insurance filings in Arizona, Florida, Ohio and Texas.
Go deeper: Venture capitalists have flocked to Medicare Advantage because there are so many taxpayer dollars to go around.
5. Pic du jour: Biogen sales reps aren't welcome
How bad has the Aduhelm rollout been? Some neurology clinics in D.C. have banned Biogen sales reps from walking in their doors, according to this tweet that made the rounds yesterday and has since been verified by Fierce Pharma.
The killer quote: "Biogen's subsequent announcement of pricing at a level beyond anyone's definition of reasonableness is potentially destabilizing to the entire system of paying for medical care and to us is irresponsible and unconscionable. As physicians we feel compelled to speak out and protest Biogen's actions."
6. Dogs of the week
Since this is a one-off newsletter send, you get pics of Bob's and my dogs.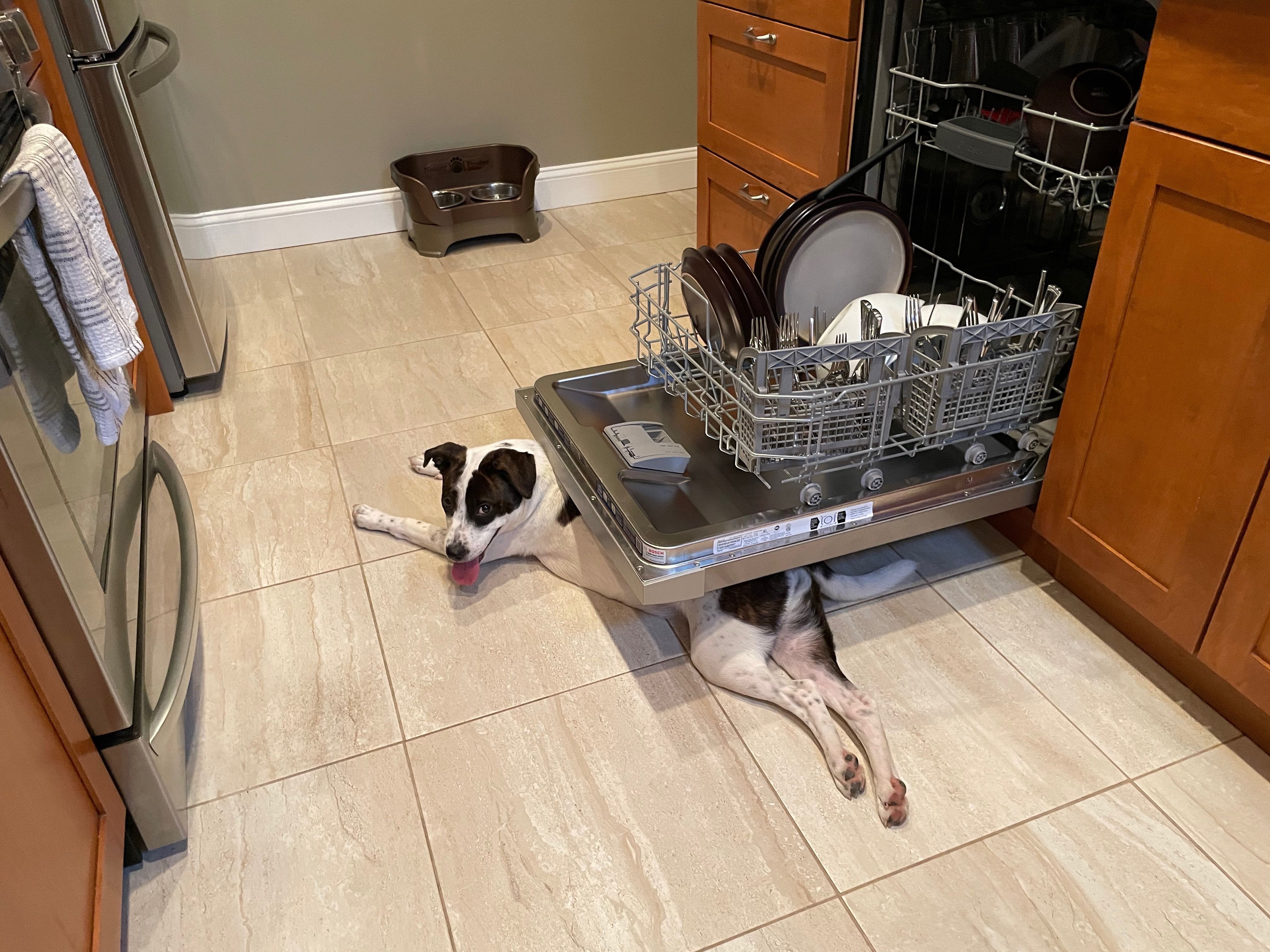 Josie is my 7-month-old puppy who loves socks, masks, toys, mulch and dirt.
A bad combination of these things ended up in her stomach recently, meaning she had to go to the vet at 2am earlier this week. She's now on a (temporary) diet of rice, boiled chicken and probiotics.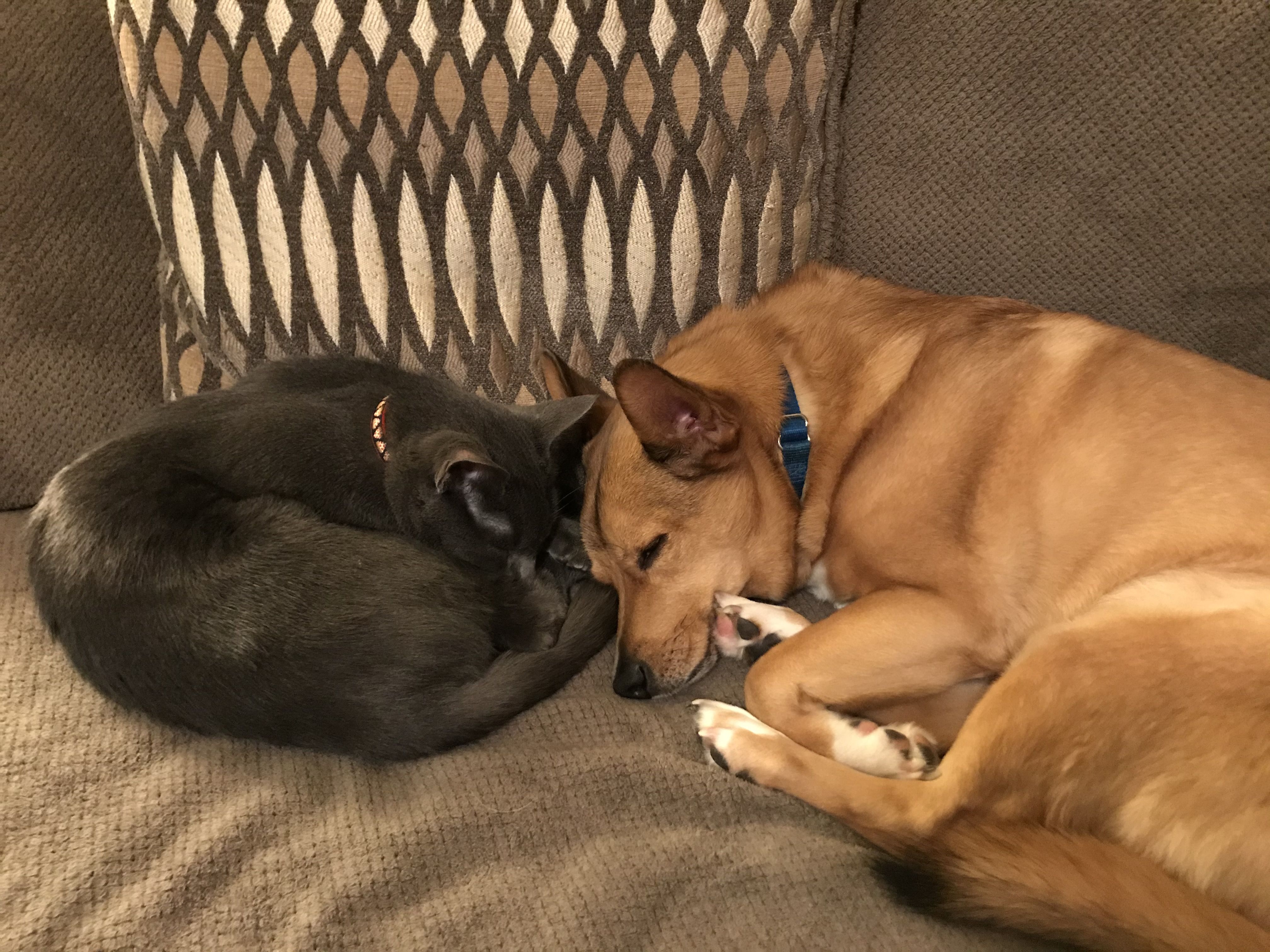 Cooper is Bob's 7-year-old Corgi mix. Sometimes, he terrorizes his cat roommates. Other times, it's perfect zen.