Axios Vitals
September 03, 2020
Good morning. Thanks so much to all of you who responded to my request for feedback yesterday. I will try to keep all of it in mind!
Today's word count is 899, or a 3-minute read.
1 big thing: The scramble to prepare for a vaccine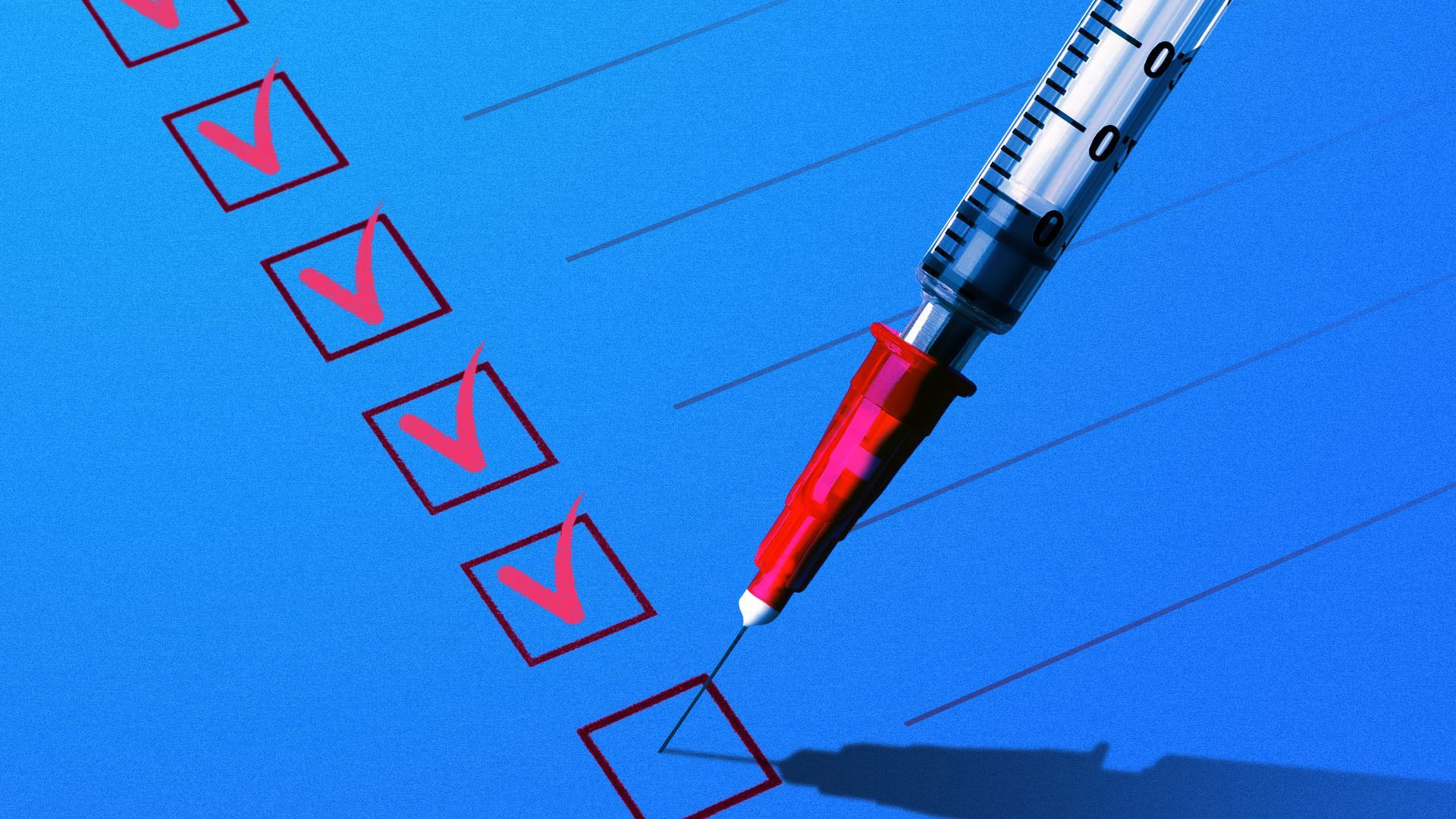 All of a sudden, it feels like we're hurtling toward a coronavirus vaccine — with the first doses potentially being administered before the 2020 election.
Why it matters: The question of whether politics influence the Trump administration's actions looms larger than ever.
Just as important is the question of whether we'll be ready for this complicated effort in less than two months.
Driving the news: The Centers for Disease Control and Prevention urged governors last week to do everything possible to get vaccine distribution sites operational by Nov. 1, McClatchy reported yesterday.
A few hours later, the New York Times published CDC guidance on how to distribute early doses of two vaccines, including who should receive priority.
The vaccines, described as "Vaccine A" and "Vaccine B," match the descriptions of vaccines being developed by Pfizer and Moderna, which are furthest along in clinical trials. Both require two doses and must be stored at sub-zero temperatures.
What they're saying: "This timeline of the initial deployment at the end of October is deeply worrisome for the politicization of public health and the potential safety ramifications," epidemiologist Saskia Popescu told NYT. "It's hard not to see this as a push for a pre-election vaccine."
The bottom line: None of the logistical hurdles in vaccine distribution are insurmountable, in theory. But the U.S. has a dismal track record so far with even moderately difficult problems during this pandemic.
2. About those vaccine hurdles...
Doctors, nurses and health officials share the concern about whether the U.S. has the infrastructure to distribute a vaccine quickly, Kaiser Health News and the AP report.
Where it stands: The U.S. is throwing more than $10 billion toward the development of vaccines, but distribution hasn't gotten the same level of investment. Depleted state health departments will need to secure warehouses, freezer transport and education materials for the vaccine, all under tight deadlines, Axios' Marisa Fernandez writes.
Experts fear a bidding war for vaccine doses, much like states and hospitals had to compete with each other for other resources.
Officials can use some federal money to help hire workers to deliver the vaccine, and for protective gear and syringes, but are mostly on their own.
Health departments are on standby to see whether their data systems meet the standards for the CDC's vaccine monitoring system.
Some states, including Illinois, are creating workarounds to enlist nursing students, medical students, dentists, dental hygienists and veterinarians to administer the shots.
3. Colleges drive new wave of coronavirus hotspots
America's brief spurt of progress in containing the coronavirus has stalled out, Axios' Sam Baker and Andrew Witherspoon report.
Why it matters: We had a nice little run of improvement over the past month or so, but cases are now holding steady at a rate that's still far too high to consider the outbreak under control.
By the numbers: The U.S. confirmed roughly 41,600 new infections per day over the past week — largely unchanged from the week before.
Three populous states — Arizona, California and Texas — continued to improve, but those gains were canceled out by rising caseloads in 18 states, including seven where daily infections were up by more than 50%.
Nationwide, testing was up about 5%, to an average of roughly 730,000 tests per day.
The big picture: The U.S. has never managed to get the virus contained, and as we have plowed ahead with reopening anyway, every new phase has caused another spike in infections.
The general reopening effort in May was clearly tied to the summer surge in cases, and now reopened universities appear to be the new hotspots.
At the University of Alabama, for example, 1,200 students and over 150 employees have caught the virus since classes resumed, and now the state overall has some of the biggest increases in the country.
Where it stands: One-off events also make matters worse.
South Dakota's daily caseload more than doubled over the past week, the worst increase in any state. The outbreak there spiked after the annual Sturgis motorcycle rally and the Smash Mouth concert it featured this year.
4. Good news about coronavirus treatment
Data from seven studies with about 1,700 seriously ill COVID-19 patients found that corticosteroids reduce mortality by about one-third, according to analysis published Wednesday in JAMA.
Why it matters: Corticosteroids, which are anti-inflammatory drugs, could likely be a low-cost, first line of defense for critically ill coronavirus patients, Marisa writes.
"In contrast to other candidate treatments for COVID-19 that, generally, are expensive, often unlicensed, difficult to obtain and require advanced medical infrastructure, systemic corticosteroids are low cost, easy to administer, and readily available globally," the World Health Organization said in guidance published Wednesday.
The state of play: The three studies, a meta-analysis and guidance from the WHO recommend the use of corticosteroids among critically ill patients only.
This type of treatment is not recommended for those with a mild case of COVID-19.
The authors also note it's too soon to know how the corticosteroids work to treat the illness. The data shows, however, that they appear to hinder a fatal immune response doctors refer to as "cytokine storm."
The bottom line: For every 12 patients treated with corticosteroids, one life is saved, corresponding author of one of the studies, Jonathan Sterne, said in a JAMA interview Wednesday.
5. Catch up quick
The Trump administration announced it will transfer $62 million in remaining membership dues to the World Health Organization before the U.S. withdrawal is effective, the Washington Post reports.
Coronavirus infections contracted in the line of duty are the leading cause of death among police officers so far in 2020, resulting in at least 100 fatalities, the Post reports.
Federal Emergency Management Agency officials said Tuesday the agency is changing its policy on funding personal protective equipment, per a recording of a conference call obtained by NPR.
America's failures in handling the coronavirus pandemic bode ill for our ability to deal with climate change and other threats that loom on the horizon, Axios' Bryan Walsh reports.