Axios Vitals
November 27, 2019
Good morning. Vitals will be off tomorrow and Friday for Thanksgiving. I hope you all enjoy the holiday with your family, friends and food, and I am grateful for this newsletter community.
Situational awareness: Health and Human Services Secretary Alex Azar and CMS administrator Seema Verma are feuding, Politico reports, and it's impacting major policy initiatives.
Today's word count is 925, or <4 minutes.
1 big thing: Winners and losers from Washington's drug pricing agenda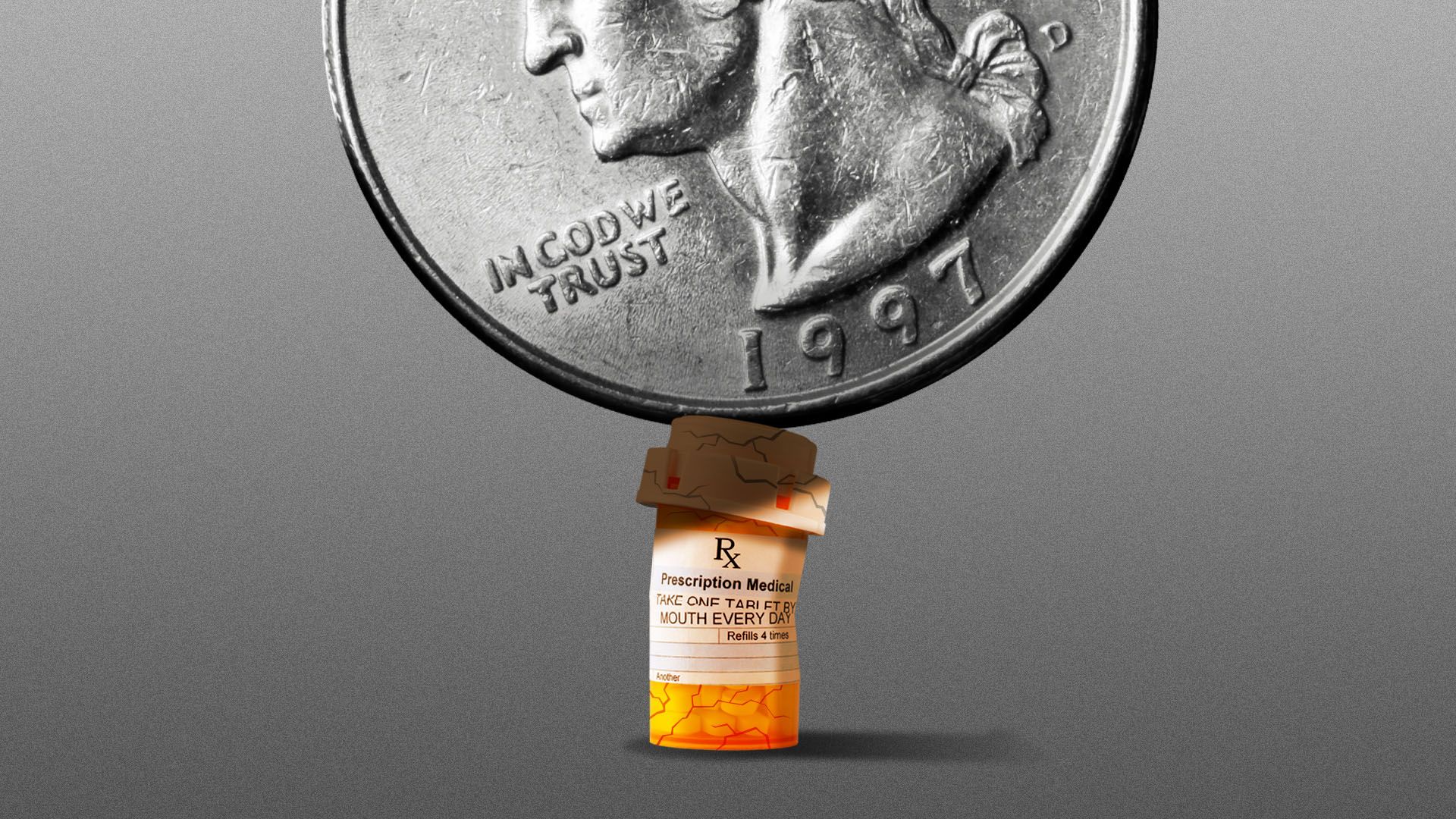 The Senate's drug pricing bill would likely be better for the pharmaceutical industry than either President Trump's agenda or House Speaker Nancy Pelosi's, Axios' Bob Herman reports.
Between the lines: Industry opposes anything that would hurt its bottom line, but of those three proposals, the Senate's "is a positive tradeoff," analyst Ronny Gal of AllianceBernstein wrote to investors this week.
Between the lines: The Senate bill could take some political heat off the industry, while Pelosi's bill and Trump's proposal to tie Medicare's prices to international prices would make bigger changes to the actual system.
How it works: The international pricing index and Senate bill both only focus on Medicare, but would change different parts of Medicare.
The international pricing index would lower prices for Medicare Part B drugs, which are things like chemotherapy and eye drugs that are administered in doctors' offices. Regeneron, Roche, Amgen and Bristol-Myers Squibb generate the most revenue from Medicare Part B and therefore are most invested in killing that proposal.
The Senate bill would cap some prices for Medicare Part D drugs — the ones patients pick up from pharmacies. Celgene, Novo Nordisk, GlaxoSmithKline and AstraZeneca would feel the most pain to sales, according to Gal.
Because the Senate bill proposes the most temperate changes, the industry will push for that as the main political vehicle while mitigating the damage to companies most exposed to Part D.
Both of those proposals pale in comparison to Pelosi's bill, which would limit prices in all insurance plans, including the most lucrative commercial business.
Pelosi's bill would "be a fundamental change of business model for the drug industry," Gal wrote, and it's why pharmaceutical lobbyists and Senate Republicans have said it's a nonstarter.
2. White House unhappy with surprise billing ads
The White House hasn't weighed in on how to resolve the debate over surprise medical bills, but Joe Grogan, head of the Domestic Policy Council, had some choice words about ads being run by private equity-backed groups:
"The advertisements that are targeting members on this and are being run by the private equity groups who are using the arbitrage on surprise medical billing should make every American and member want to puke," Grogan told me.
"It is vile the way they buy these groups and they prey on people."
Background: Although he didn't name Doctor Patient Unity, the group has become infamous for spending more than $28 million on ads opposing what was, over the summer, Congress' leading approach to the issue.
NYT reported in September that the group's largest financial supporters are TeamHealth and Envision Healthcare, which are backed by private equity. The firms have generated large numbers of surprise bills.
Doctor Patient Unity's broadcast ads have been focused on areas where senators are running for re-election in 2020.
The other side: "Doctor Patient Unity represents tens of thousands of doctors across the country who understand the importance of preserving access to life-saving medical care," said Greg Blair, a spokesman for the group.
"We have been strong supporters of legislation that ... protects patients from surprise medical bills through independent dispute resolution," he added.
Go deeper: Why ending surprise medical bills is harder than it looks
3. Latin America's childhood obesity strategy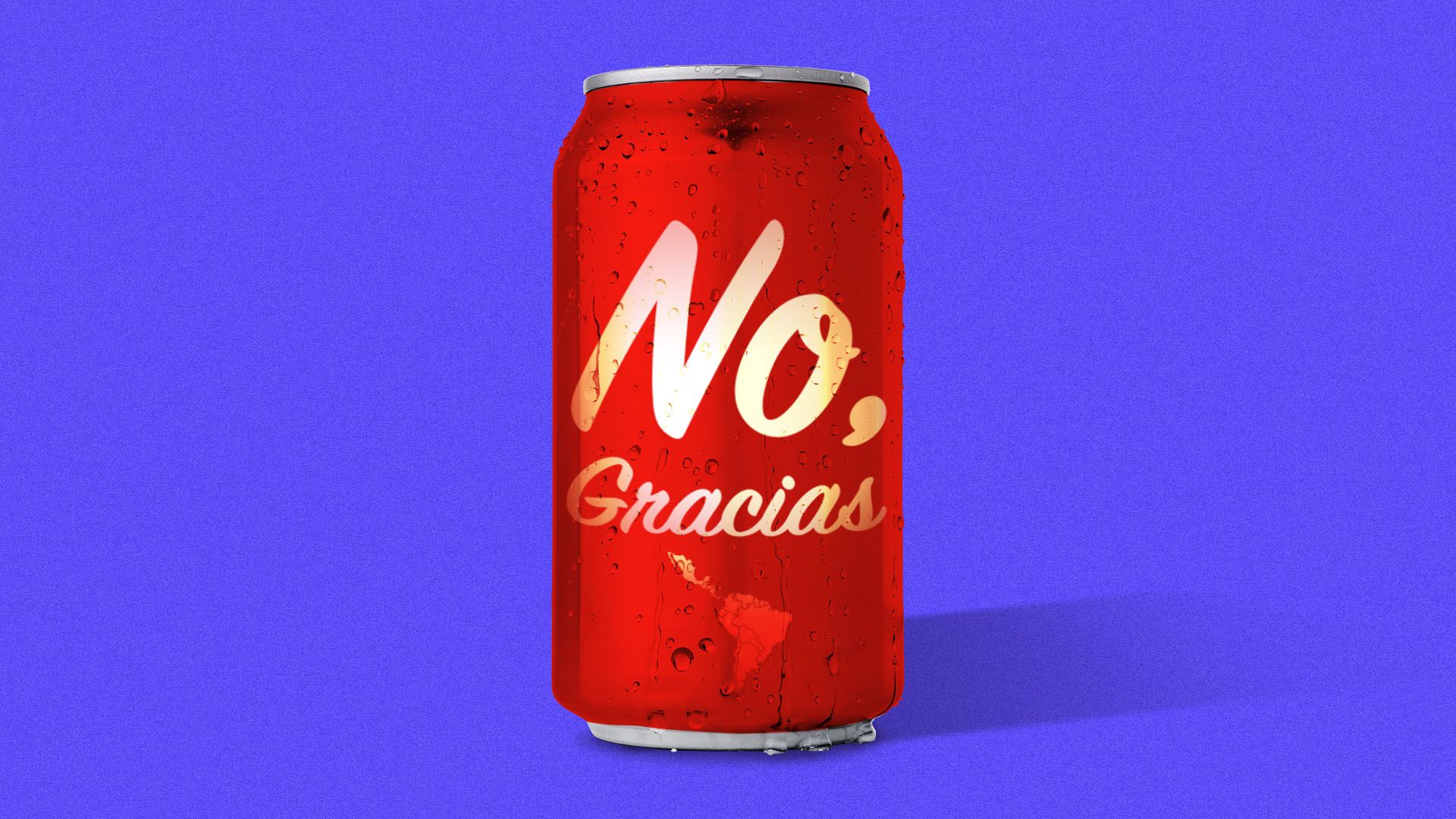 As we all gear up to eat a lot of food over the next few days, here's a relevant story: Some Latin American governments are taking strong action to tackle the region's obesity epidemic, my colleague Rashaan Ayesh reports.
The big picture: "One country and one strategy at a time, the region has pushed back against sugary beverages and ultra-processed foods in an effort to escape the obesity epidemic that has overtaken the United States," the Washington Post writes.
Why it matters: Childhood obesity is becoming an issue in both rich and poor countries.
Overweight people are responsible worldwide for 70% of all treatment costs for diabetes, 23% of treatment costs for cardiovascular diseases and 9% for cancers.
Childhood obesity can lead to high blood pressure, Type 2 diabetes, asthma and a higher risk of cardiovascular diseases, per the Centers for Disease Control and Prevention.
Case in point: The Chilean government has passed restrictions on how and when companies can market unhealthy food to children, WashPost reports.
Brands are not allowed to use child-friendly marketing for foods high in sodium, sugar, calories or saturated fats.
TV channels and movie theaters are not allowed to show ads for unhealthy foods between the hours of 6am. and 10pm.
Unhealthy foods must have "large black cigarette-style warning labels," says the Financial Times (subscription). Chile also increased its sugar tax from 13% to 18% in 2014 to target soda consumption, per FT.
4. Young people in U.S. dying at high rates
Life expectancy for Americans ages 25 to 64 has not kept pace with other wealthy countries, decreasing for the third year in a row, a comprehensive study published Tuesday in JAMA shows.
Why it matters: Death rates among young and middle-age adults stemmed mostly from suicide, drug overdose, obesity and liver disease, Axios' Marisa Fernandez writes.
By the numbers: Researchers looked at mortality data from the past 60 years. Death rates of people ages 25 to 34 jumped 29% from 2010 to 2017.
Middle-aged women's risk of death from a drug overdose rose by 486% between 1999 and 2017; men saw a 351% increase.
Women also experienced a bigger relative increase in risk of suicide and alcohol-related liver disease.
Go deeper:
5. Drug companies' opioid woes continue
Several opioid manufacturers and drug distributors are facing criminal investigations from the Department of Justice about whether they intentionally skirted federal law by not monitoring the flow of potent painkiller pills, the Wall Street Journal reports.
Why it matters: Purdue Pharma has already been ensnared in criminal probes, and now federal prosecutors are casting a wider net to determine the level of alleged wrongdoing that has resulted in tens of thousands of overdose deaths, Bob writes.
Details: At least six companies are being investigated: Teva, Mallinckrodt, Johnson & Johnson, Amneal Pharmaceuticals, AmerisourceBergen and McKesson, per WSJ.
Meanwhile, the judge presiding over the giant consolidated opioids case in Ohio announced yesterday that the trial against pharmacy defendants will be held Oct., 13, 2020.
Many of the other defendants in this first case have already settled, but a global settlement has not been reached with the thousands of communities suing the drug companies.
The judge also announced that Chicago, San Francisco and the Cherokee Nation will be the next bellwether cases.