Axios Vitals
December 09, 2019
Good morning. If you missed our deep dive over the weekend into health care and 2020, check it out.
D.C. readers: Join Axios' Mike Allen Wednesday at 8am for conversations about the future of comprehensive health care.
He'll sit down with former FDA Commissioner Dr. Scott Gottlieb, and Sen. Bill Cassidy (R-La.), and Sylvia Mathews Burwell, former secretary of the U.S. Department of Health & Human Services and president of American University.
Today's word count is a monstrous 1,055, or a 4-minute read.
1 big thing: Meltdown at the federal health agencies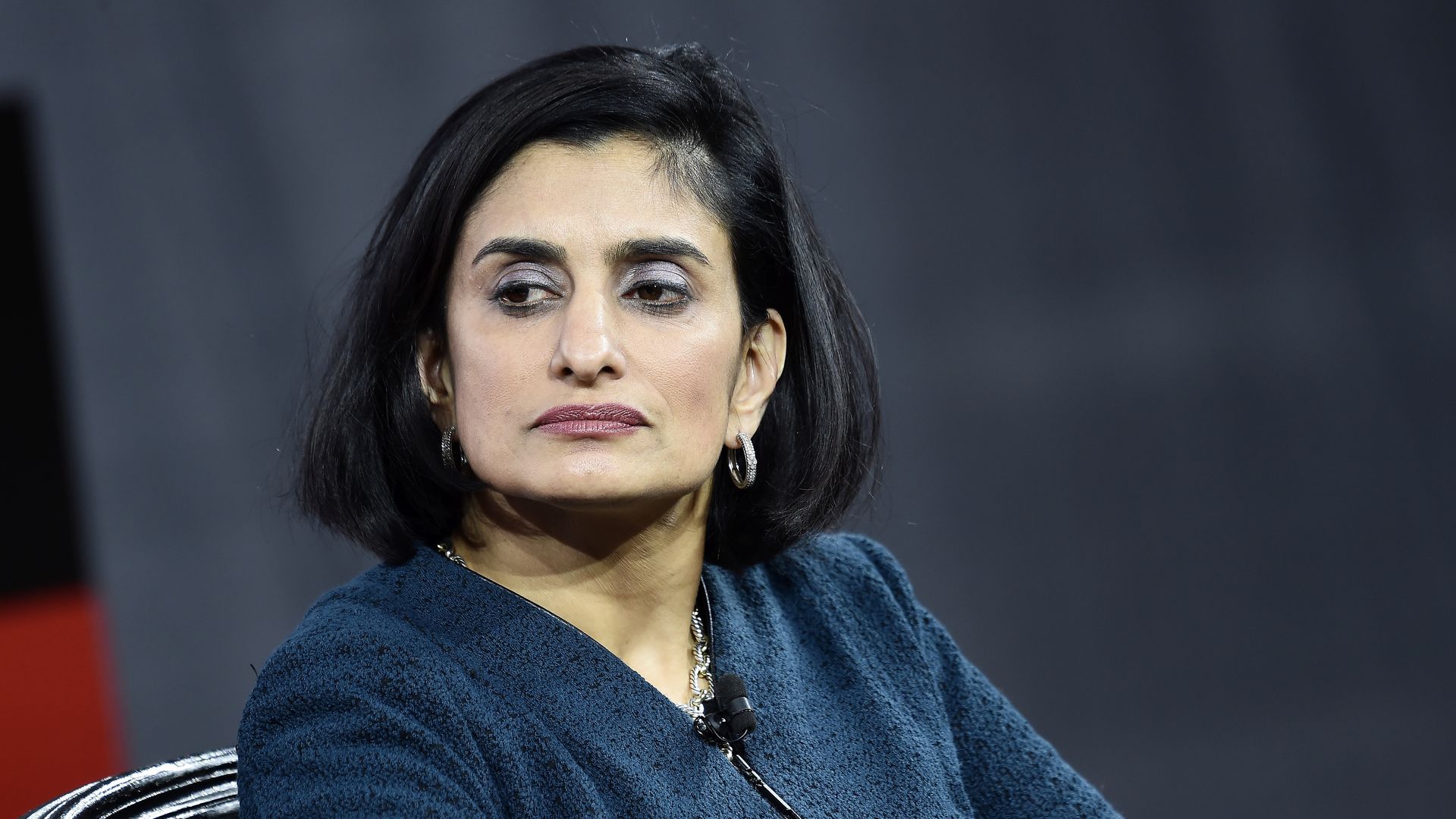 On a scale of one to 10, tensions between Health and Human Services Secretary Alex Azar and Centers for Medicare and Medicaid Services Administrator Seema Verma are at a 15 — and the stories about the fallout keep coming.
Why it matters: These are huge agencies that control all federal health spending. Azar and Verma are in charge of executing President Trump's health agenda heading into an election in which health care is front and center, and at a time when he could use some wins.
Driving the news: Axios' Jonathan Swan and I scooped on Friday that things got so bad at the end of the summer that HHS brought in a third-party lawyer to investigate Verma's claims of sex discrimination.
The lawyer — who previously worked at HHS under the Trump administration — described the claims as unsubstantiated.
We also obtained a memo from August 2017 that shows that the administration received multiple complaints about the workplace environment inside CMS.
Then on Saturday, Politico's Dan Diamond reported that Verma asked taxpayers to reimburse her $47,000 for lost property — mostly jewelry — in August 2018 after her bags were stolen on a work trip.
She was ultimately reimbursed $2,852.40.
Verma is already under fire for spending $2.25 million on outside public relations consultants, whose tasks included building up her personal brand.
Both Trump and Vice President Mike Pence have become involved in the situation, urging the officials to find a way to work together, as Jonathan and I reported last week, and Azar met with Pence on Friday.
What's next: Both Azar and Verma have powerful allies and committed detractors at the highest level of the administration, meaning it's unclear which — if either — of them will become a casualty of this increasingly untenable situation.
2. Key lawmakers reach deal on surprise bills
The chances of Congress being able to pass a bill protecting patients from surprise medical bills were looking pretty bleak, but a deal announced by some of the key players yesterday may have turned that around.
Details: The agreement — announced by Sen. Lamar Alexander, Rep. Frank Pallone and Rep. Greg Walden — would set benchmark rates for the providers who send such bills, and it would use an arbitration process to settle certain high-value payment disputes.
It would also raise the federal smoking age to 21, a priority of Senate Majority Leader Mitch McConnell's.
Yes, but: Notably absent from the announcement was Sen. Patty Murray, Alexander's Democratic counterpart.
"Senator Murray believes the overall agreement takes important steps forward on a number of issues impacting patients and families, and is working with some members of her caucus on concerns they still have," said Helen Hare, a Murray spokesperson.
What they're saying: The American Hospital Association still isn't pleased.
"Unfortunately, unless this proposal is much improved over previous bills that rely on a benchmark rate, it remains highly problematic and would jeopardize patient access to hospital care, particularly in rural communities," the group said in a statement.
Go deeper: Hospitals' dog in the surprise billing fight
3. House to vote on drug prices this week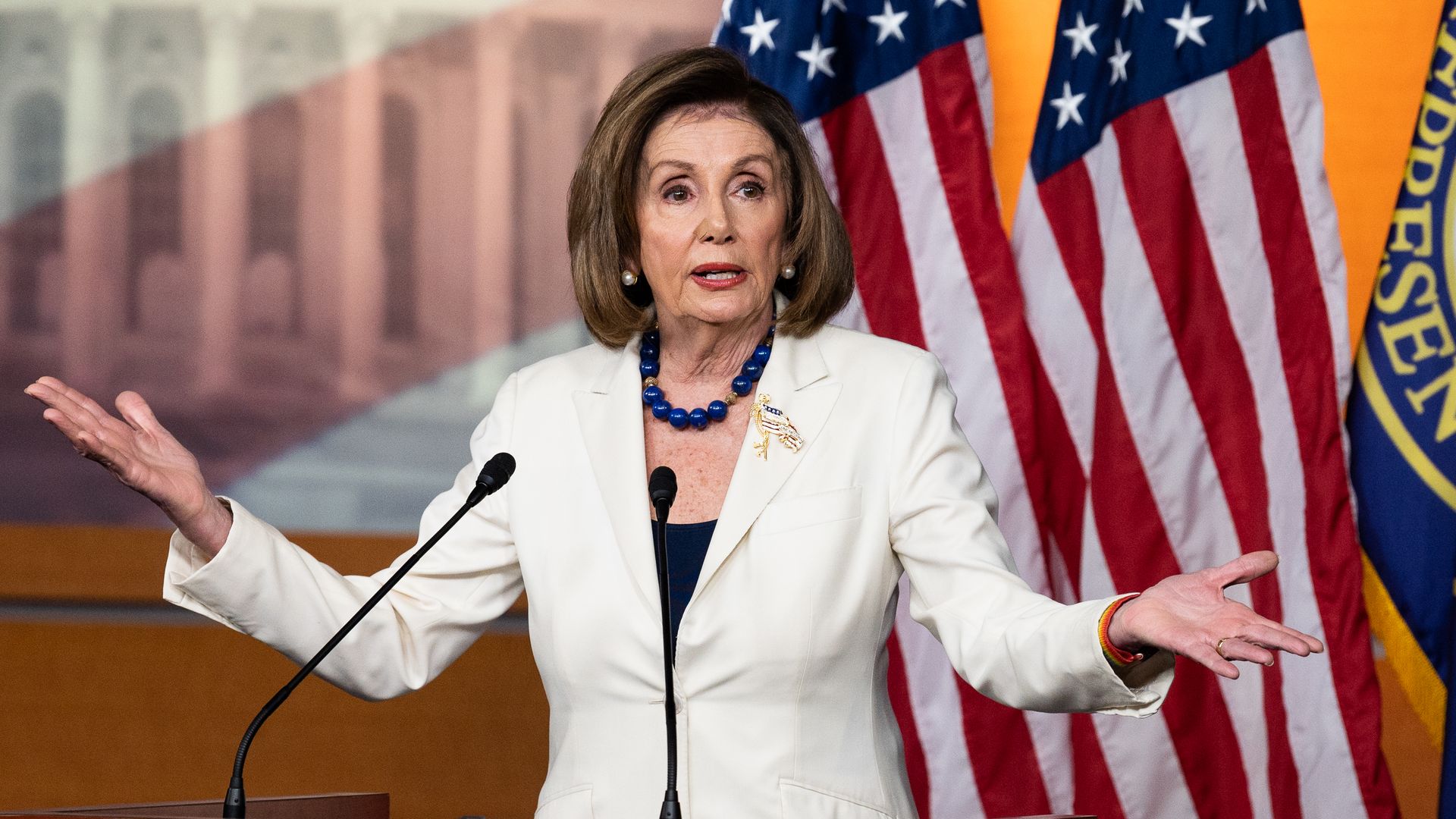 The House is set to vote this week on its drug-pricing bill, but the outlook for an ultimate deal continues to not look great, Axios' Sam Baker writes.
Driving the news: House leaders may bring the bill to the floor without an amendment from Rep. Pramila Jayapal, a progressive stalwart.
That has prompted progressive Democrats to consider trying to block a vote on the bill, The Hill's Peter Alexander reported Friday.
Where it stands: The White House has already criticized Pelosi's bill, and pushback from the left obviously wouldn't help its chances.
The Senate's bill is really the one to watch, but it has much less support from leadership.
In short, a lot of frayed alliances — between Pelosi and the left, Pelosi and Trump, pharma critics and McConnell — would need to un-fray in order for anything to happen here. And the clock is running out.
4. The real state of Rx drug spending
Spending on prescription drugs wasn't actually quite as low as the recent National Health Expenditures report made it seem, Axios' Bob Herman notes.
Driving the news: Retail prescription spending stayed relatively low last year, at $335 billion, because more people used cheaper generic drugs, and because price increases were held in check, actuaries wrote in the government's report.
Yes, but: This part of the NHE report does not factor in inpatient pharmacies, chemotherapy, infusions and other drugs that people have to receive in a hospital or clinic — drugs that equal a quarter of the entire pharmaceutical market.
Those are counted as doctor and hospital spending.
That means spending on blockbusters like Rituxan, Opdivo, Keytruda, Eylea, Neulasta, Remicade and Lucentis is nestled within the hospital and physician data.
Together, those seven drugs generated $26 billion in net U.S. sales in 2018, according to company financial reports analyzed by Axios — a 12% spike from 2017.
5. Who gets surprise bills
People who are in the middle of a health crisis often are at an especially high risk for surprise medical bills, according to previously unreleased data from the Kaiser Family Foundation.
The big picture: The new data underscore the importance of a legislative solution to help patients who are powerless to protect themselves, KFF president Drew Altman writes in his latest column.
Details: People having surgery or receiving mental health and substance abuse treatment at an in-network hospital are the most likely to experience a surprise bill from an out-of-network provider.
Among people with employer-based insurance, out-of-network charges were 50% higher among heart-attack victims than for other diagnoses.
21% of women undergoing mastectomies experienced out-of-network provider charges.
Drew's thought bubble: It's hard to imagine many patients who are so prepared and insurance-savvy that they could protect themselves from an out-of-network bill in the middle of a heart attack.
6. Maternity care is really bad in Texas
A new report from ProPublica, the Texas Tribune and Vox sheds some light on the terrible state of maternity care in Texas, Axios' Marisa Fernandez writes.
Details: The state "prioritize[s] babies over mothers, thwarts women at every turn, frustrates doctors and midwives, and incentivizes substandard care," the report states, citing gross medical errors, racial disparities and structural deficiencies.
The application process for Medicaid in Texas has been found to be incredibly difficult, causing women in the state to have the latest entry to prenatal care in the country.
Late-postpartum deaths in Texas is about 40%, and African American women have the greatest risk.
7. While you were weekending...
If all of that wasn't enough: