Good morning ... Looks like we might see the draft Senate health care bill tomorrow! You know what we would do if we had a countdown clock? We wouldn't use it. That's what CNN is for.
https://www.axios.com/newsletters/axios-vitals-7f8bccb9-ccc6-4bea-a8af-385b8b714486.html?chunk=0#story0
Even the Senate doesn't seem excited about its bill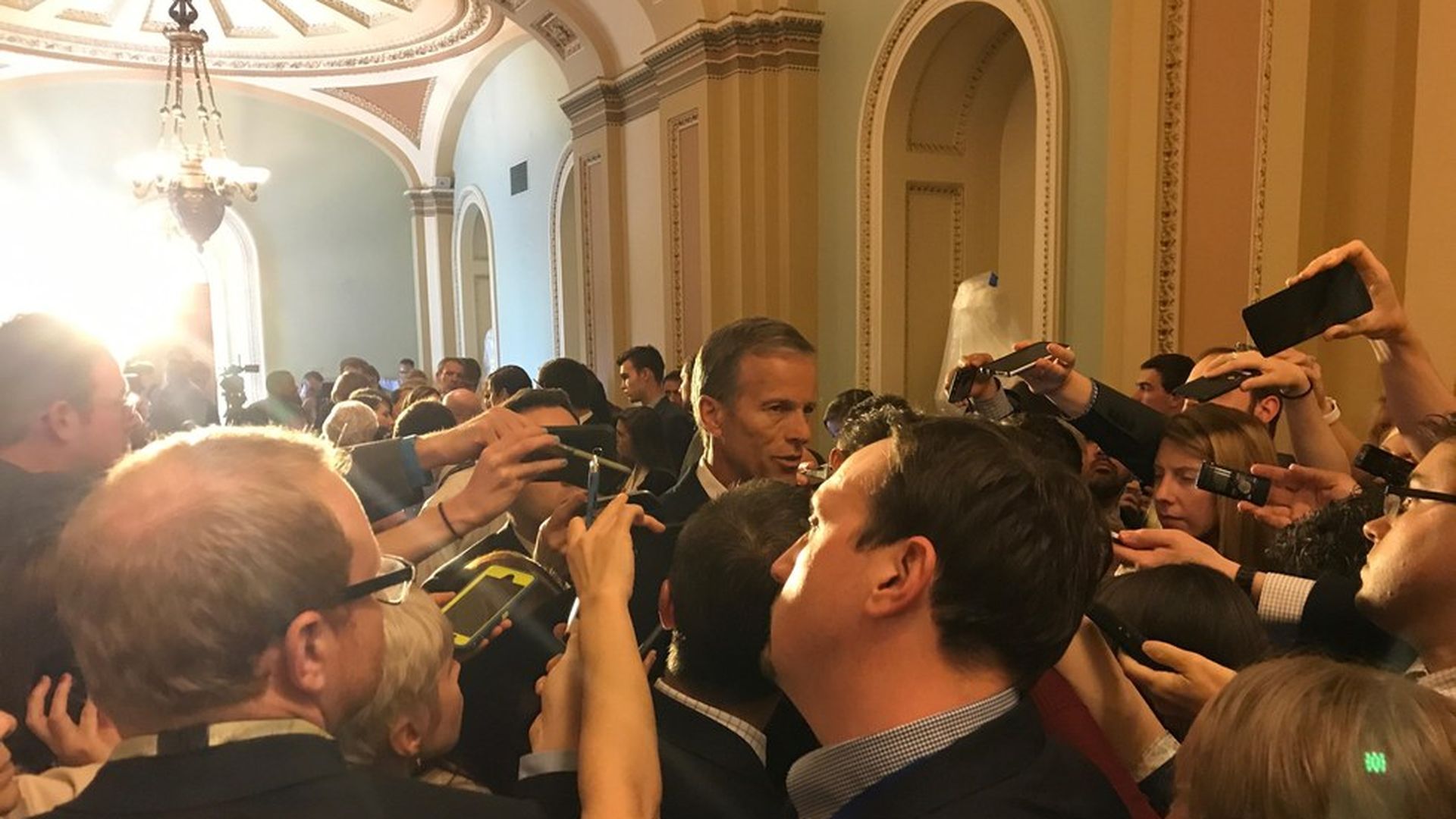 There's certainly a lot of mystery and suspense about the Senate health care bill, as you can see. (That's Republican Conference chairman John Thune, the tallest Senate GOP leader.) There's just not a lot of excitement in the air. They're on track to release what Majority Leader Mitch McConnell calls a "discussion draft" of the bill on Thursday, but we have yet to hear anyone — including McConnell — say, "We're going to be so pumped when we pass this."
The latest from the Senate:
The bill we see on Thursday probably isn't the one the Senate will vote on next week, as Caitlin Owens reported yesterday. That's because they're going to include state waivers from several Affordable Care Act insurance regulations, but with the full knowledge that they could get stripped out.
Senators Ted Cruz, Mike Lee, and Ron Johnson all made it clear they're not on board.
"We need to do a substantially better job of driving down the cost of premiums," Cruz told reporters. What he wants: more freedom from the ACA's insurance regulations and "far more robust flexibility" in Medicaid.
Moderate Republicans didn't sound happy with the plan to limit Medicaid spending and slow the growth rate in 2025. "I don't look favorably on it, that's for sure," Sen. Shelley Moore Capito told Caitlin yesterday. "Not for it," Sen. Rob Portman said.
Sen. Bob Corker wasn't thrilled with the secrecy of the process: "I'm one of those folks that thinks the public process is useful, and I've said that from the beginning. That's not the process that's been pursued."
Oh, and President Trump is at it again. Our colleague David McCabe reports that he told tech CEOs on Monday that he had urged Senate Republicans to put "more heart" into their bill.
The bottom line: This is far as McConnell would go, when asked if he was confident the bill will pass: "We're going to make every effort to pass a bill that dramatically changes the current health care law."
For context: Senate Democrats didn't have the votes in hand when they took the ACA to the floor in December 2009, either. And the bill they voted on was different from the one they introduced: They dropped the "public option." Still, they released their bill way more than a week before the vote.
https://www.axios.com/newsletters/axios-vitals-7f8bccb9-ccc6-4bea-a8af-385b8b714486.html?chunk=1#story1
Impact of "Lossoff"
Even a Jon Ossoff victory last night, in the race to fill HHS secretary Tom Price's old House seat in Georgia, might not have slowed down the repeal-and-replace train. His loss definitely won't.
Sure, it's a deeply Republican district in which Ossoff, the Democrat, did better than you'd expect a Democrat to do. But when it comes to health care, Democrats needed a win — and not a symbolic one. If you're a vulnerable Republican wondering how to approach this bill, Tuesday's results gave you no reason to be any more concerned than you already were.
https://www.axios.com/newsletters/axios-vitals-7f8bccb9-ccc6-4bea-a8af-385b8b714486.html?chunk=2#story2
The great Medicaid divide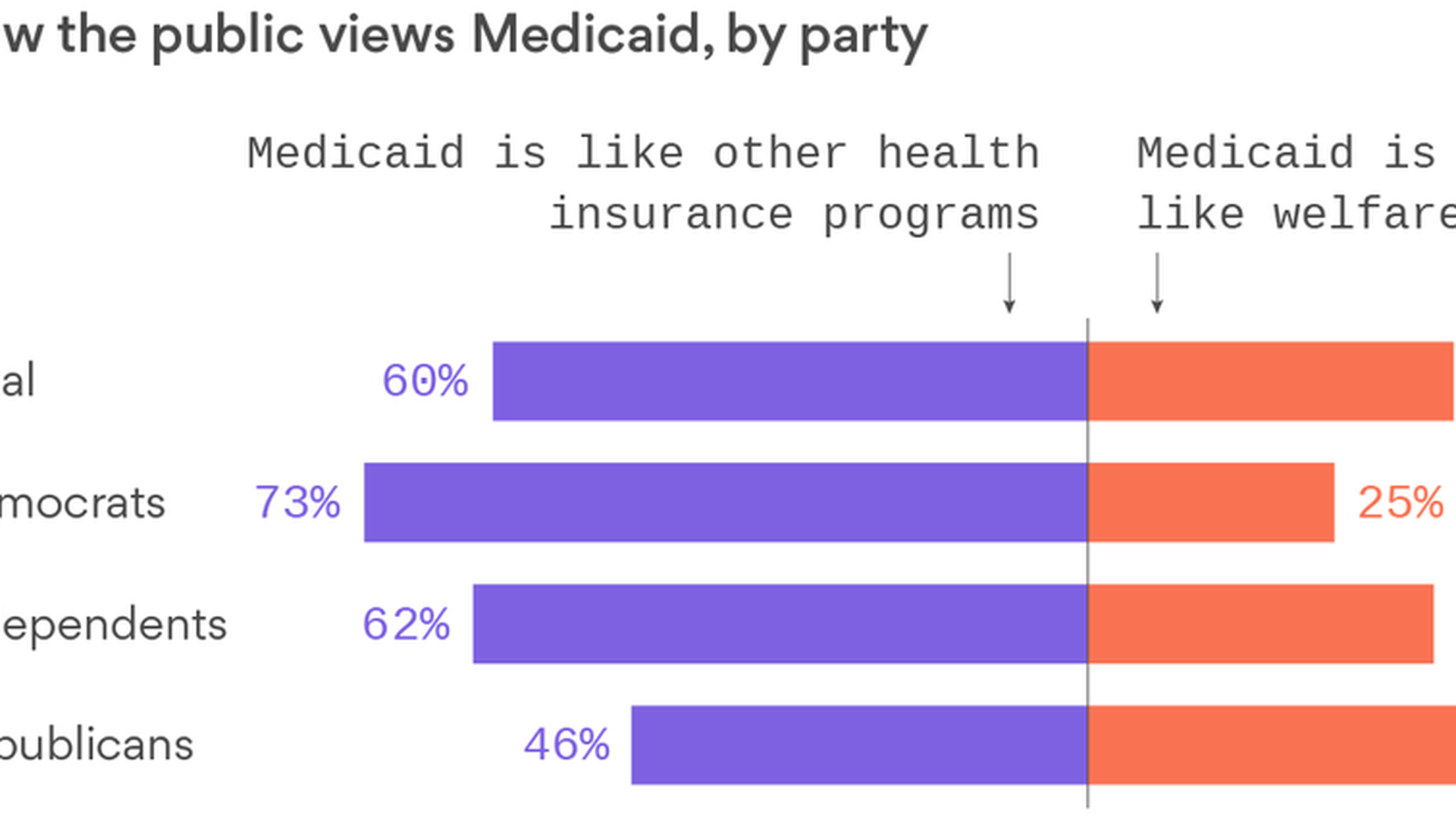 One big factor in the Republicans' Medicaid policies, Kaiser Family Foundation's Drew Altman points out in today's column, is that many of them see Medicaid in a different way than the rest of the public:
More than half of Republicans in the latest Kaiser tracking poll said they view Medicaid as a welfare program, similar to other social programs like food stamps. By contrast, majorities of Democrats and independents — and a majority of the overall public — see it as more similar to other health insurance programs.
Why it matters: Anyone who sees Medicaid as a welfare program is likely to be more open to cuts — and tough new rules like work requirements — than people who see it as health insurance for vulnerable people.
https://www.axios.com/newsletters/axios-vitals-7f8bccb9-ccc6-4bea-a8af-385b8b714486.html?chunk=3#story3
One bit of good news for the ACA marketplaces
It's filing deadline day for health insurers, and Oscar, the health insurance startup in New York, announced this morning that it's filing to sell insurance in Ohio, New Jersey, Texas, Tennessee, and California as well. In a blog post, CEO Mario Schlosser says he's confident that the market will stabilize for 2018: "For all of the political noise, there are simply too many lives at stake for representatives in Washington, D.C. not to do what's right for the people."
Check the Axios health care news stream throughout the day for news on other insurers.
https://www.axios.com/newsletters/axios-vitals-7f8bccb9-ccc6-4bea-a8af-385b8b714486.html?chunk=4#story4
Drug companies are going to love Trump's plan for drug pricing
As we expected, Trump's plan to tackle drug pricing is a plan the pharmaceutical industry can get behind. The New York Times reports that Trump's pending executive order will tread relatively lightly — it's heavy on ordering agencies to study their options or roll back regulations, and its most aggressive steps are mostly industry-approved. Those would include value-based purchasing and changes to the drug-discount program known as 340B — changes that some experts believe could actually raise drug prices.
https://www.axios.com/newsletters/axios-vitals-7f8bccb9-ccc6-4bea-a8af-385b8b714486.html?chunk=5#story5
Gottlieb's orphan drug "SWAT team"
FDA commissioner Scott Gottlieb says he's committed to getting rid of the agency's backlog of requests for "orphan drug" classification, which gives special benefits to the makers of those drugs. And he has a new idea for how to do it. In testimony before a Senate Appropriations subcommittee yesterday, Gottlieb said he's setting up an orphan drug "SWAT team" — a group of FDA officials that will be asked to "completely eliminate" the backlog within 90 days.
The bottom line: It's part of a broader "medical innovation development plan" Gottlieb says he'll be rolling out in the coming months. "Orphan drug" classifications are important because they mean the FDA considers the drugs to be aimed at rare diseases, and the drug makers get incentives — like tax credits for clinical testing — to encourage their work.
https://www.axios.com/newsletters/axios-vitals-7f8bccb9-ccc6-4bea-a8af-385b8b714486.html?chunk=6#story6
Billion-dollar Medicaid contracts quietly chug along
ICYMI, Mississippi quietly awarded new Medicaid contracts to three companies: new entrant Molina plus Centene and UnitedHealthcare, both of which already ran the state's Medicaid program. The contracts go into effect July 2018 and are worth a hefty chunk of change: about $2.8 billion per year.
Why it matters: The federal government and states spent $236 billion in 2016 on Medicaid managed care — in which states make monthly per-capita payments to insurance companies. That number is expected increase as more states switch to or expand their Medicaid managed care programs. But these deals largely fly under the radar because they are complex and aren't advertised by states.
Mark your calendars: A handful of states will award billions of dollars in new Medicaid contracts soon, and the contracts would be affected heavily by any funding cuts Republicans impose.
This summer: Illinois, 2.7 million peopleOctober: Ohio,130,000 people who need expensive long-term care March 2018: Arizona, 1.6 million peopleMarch 2018: New Mexico, 700,000 peopleSeptember 2018: North Carolina, 1.5 million people
https://www.axios.com/newsletters/axios-vitals-7f8bccb9-ccc6-4bea-a8af-385b8b714486.html?chunk=7#story7
States' patchwork rules on unexpected medical bills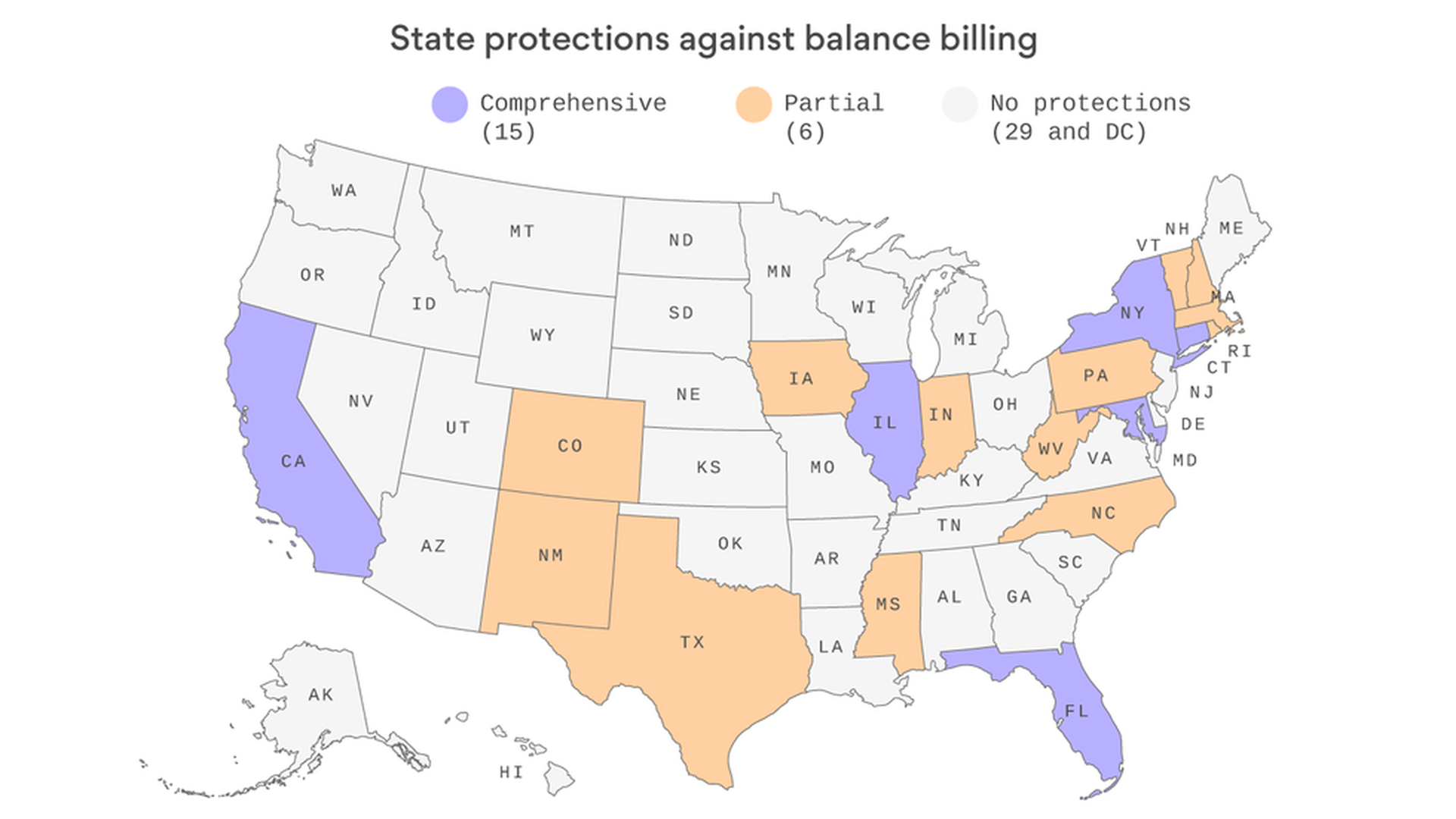 Consumers in most of the country don't have much protection against the practice known as "balance billing" — which happens when patients use an out-of-network provider, then receive a bill for however much of that provider's fee their insurance didn't cover. As health researchers at Georgetown University explain in a new analysis, balance billing is an issue in emergencies — for example, being rushed to the emergency room at an out-of-network hospital, or even being treated by an out-of-network doctor at an in-network facility.
Federal law permits balance billing, as do most states, according to Georgetown's research. And it's a sensitive issue now because so many ACA plans offer relatively narrow provider networks as a way to keep premiums down. Don't expect that to change under the GOP health care bill, either.