Axios Vitals
April 20, 2020
Good morning.
Today's word count is 1,261, or a 5-minute read.
1 big thing: The coronavirus could force doctors to sell — or shutter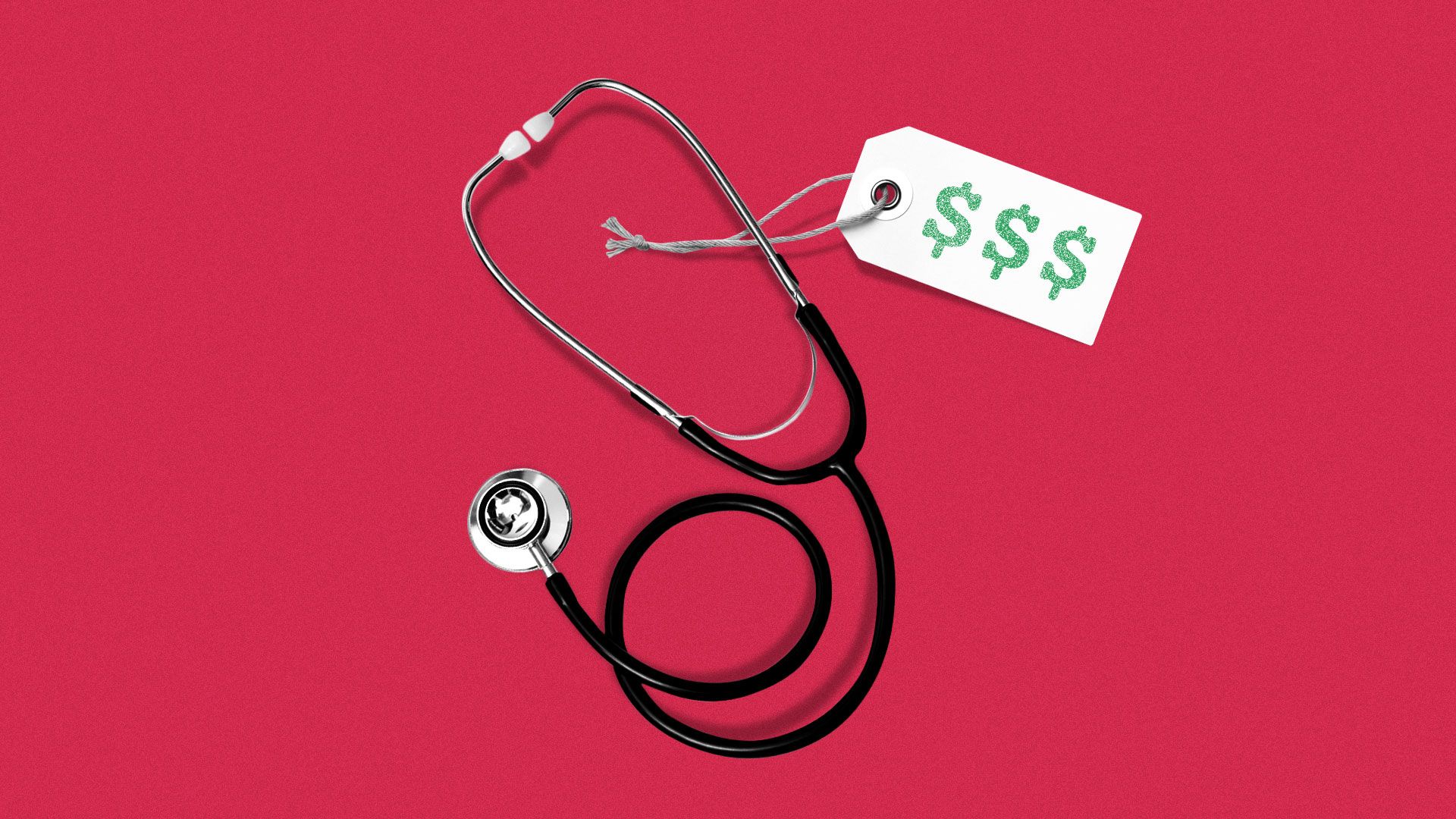 The coronavirus is shriveling the businesses of doctors' practices, which serve as the home base for most patients, Axios' Bob Herman reports.
The big picture: Small and independent groups that are facing the most severe cash crunches may eventually be forced into two less-than-ideal options: sell the practice, which would further consolidate the industry and expose patients to higher costs, or close their doors for good.
Where it stands: The federal government and health insurers are paying doctors for telehealth visits, but that isn't making up lost revenue.
Some doctors are reporting revenue is falling anywhere from 50% to 90%, according to several sources. Hospital care for COVID-19 and social distancing are taking priority over primary care checkups, endoscopies and other non-urgent services.
What we're hearing: Doctors have started receiving the federal government's loans and grants designated for medical providers. But the small business funding program is out of money and was an administrative nightmare for many doctors who applied.
20% of primary care practices now believe they will temporarily close within the next month, according to a new survey of doctors.
"The economic pressures on physicians, especially small practices, are so severe right now that their survivability is in question," said Bob Doherty, an executive at the American College of Physicians. "Unless the financial situation improves, within the next several months, many are going to have to shutter or sell out."
What's next: Hospitals, insurance companies and private equity firms — which have been rapidly buying physician practices since well before the pandemic and with almost no antitrust review — will view financially distressed practices as a golden opportunity, especially if the doctors are valuable sources of referrals.
Yes, but: Study after study after study has shown that prices soar when physician practices are acquired — often through more aggressive billing or through hospital "facility fees" getting tacked on.
2. Problems with antibody tests emerge
Some officials fear that the launch of antibody tests may become as problematic as the U.S.'s diagnostic testing effort, as fears rise about the tests' reliability and availability, the New York Times reports.
Why it matters: The tests show who has had the virus based on antibodies in their blood, even if they were asymptomatic. These people may have immunity from getting it again, although this is still unproven.
Between the lines: The antibody tests could be useful for gathering information about the true spread of the virus, and for potentially helping high-risk populations go back to work. But in both cases, that's only true if the tests are accurate and reliable.
The Food and Drug Administration has taken a loose regulatory approach to the tests, allowing most manufacturers coming on the market to validate their own tests. These tests, some experts warn, may not be high-quality.
Federal guidance regarding the tests is confusing, leading to some providers administering the tests who may not be authorized to do so, or misusing the tests to diagnose the coronavirus.
The tests also have a high false positive rate, and may run into the same manufacturing problems plaguing diagnostic tests.
The bottom line: Antibody tests are an important tool in our coronavirus response, but they're a long ways from where they need to be.
Go deeper: How coronavirus antibody tests will help
3. The latest in the U.S.
The number of confirmed coronavirus cases in the U.S. surpassed 755,000 on Sunday, while total deaths surged past 40,400.
Protesters gathered at state capitols in Washington and in Colorado Sunday to oppose the state closures of businesses and schools designed to slow the spread of the coronavirus by enforcing social distancing. Similar protests were staged in California, Texas and New Hampshire on Friday and Saturday.
Nursing homes are now required to report all novel coronavirus cases directly to the CDC, and families and patients at the facilities must also be informed, CMS administrator Seema Verma said Sunday.
New York Gov. Andrew Cuomo said at a press conference on Thursday that the state will begin the "most aggressive" antibody testing in the country this week in an effort to determine the true number of people who have been infected by the coronavirus.
Child welfare agencies have lost some of their best "eyes and ears" for reporting abuse and neglect as a result of school closures, AP reports.
Food pantries around the U.S. are struggling to meet increased demand as millions of people suffer from the pandemic's economic toll, according to AP.
At least 25 children in the Bon Air Juvenile Correctional Center in Virginia have tested positive for the novel coronavirus, the Richmond Times-Dispatch reports, citing officials from the Department of Juvenile Justice.
Virginia Gov. Ralph Northam said on CNN's "State of the Union" Sunday that President Trump is "delusional" for suggesting there's enough coronavirus testing capacity for states to reopen, echoing the concerns of a number of governors who have called for a national testing strategy.
4. The latest worldwide
A 5,000-word exposé by the Sunday Times of London — "38 days when Britain sleepwalked into disaster" — finds that Prime Minister Boris Johnson, distracted by personal turmoil and his Brexit victory lap, skipped five early crisis briefings (Cobra meetings) on the coronavirus.
As many as 100,000 people in Bangladesh ignored a nationwide lockdown on Saturday to attend the funeral of Islamist leader Maulana Jubayer Ahmed Ansari without masks or other protective gear, the Dhaka Tribune reports.
More than 2,000 Israelis stood six feet apart in Tel Aviv's Rabin Square on Sunday to protest what they consider the erosion of democracy under the coronavirus-era government of Prime Minister Benjamin Netanyahu, Haaretz reports.
The U.S. and Canada have agreed to maintain border restrictions for 30 more days to combat the novel coronavirus, Prime Minister Justin Trudeau said at a press conference on Saturday.
Several countries across Africa are struggling to get basic health supplies and ventilators as the number of coronavirus cases swells — highlighting how unprepared the continent is for the coronavirus pandemic.
Japan and Singapore were glimmers of hope throughout the coronavirus pandemic, but now both countries are struggling to control the breakout as new waves of infections hit the two countries, Axios' Rashaan Ayesh writes.
Millions of children around the world are endangered by the coronavirus pandemic, despite being a low-risk age group to contract COVID-19, the UN warned in a report released this week.
5. The randomness of "essential" businesses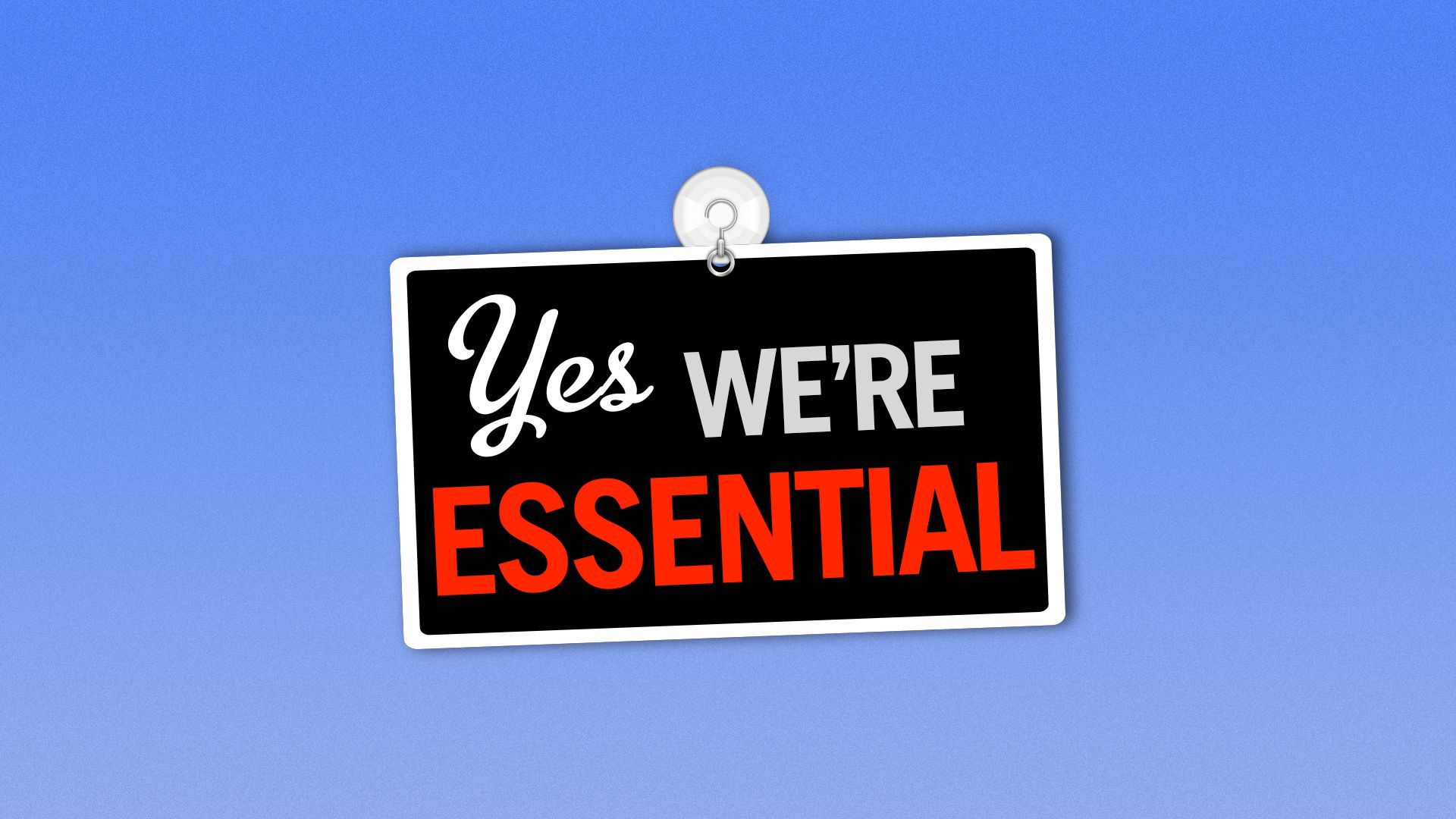 Landscaping companies, gun stores, golf courses, live wrestling matches: Businesses considered "essential" in one state aren't designated the same way in others.
Why it matters: A patchwork of coronavirus-era policies is causing confusion — plus envy and resentment — across the country, with calls for clearer federal guidelines about what should and shouldn't remain open, Axios' Marisa Fernandez and Courtenay Brown report.
There's consensus about a handful of obvious essentials, like hospitals and grocery stores. But others are more controversial:
Hobby Lobby, the crafts chain that kept doors open because it sells "essential" supplies to make masks and other personal protective equipment, defied initial orders from a number of states to close.
Bath & Body Works, which specializes in fragranced toiletries, made the case that it sells soaps and hand sanitizers — and some stores were reportedly given the go-ahead to reopen in Ohio after initially closing.
The backstory: The federal government released guidance on what industries could remain open, though it's left to states — and sometimes cities — to decide who is allowed to operate and who isn't.
What to watch: "Essential" isn't going away — indeed, its definition could prove even more contentious as states and local areas begin the process of opening back up.
The businesses considered most important by governors will return to work first, which means that states will have to add more guidelines and gradations.
6. 1 💵 thing: Pay at the top vs. public health spending
New financial documents show the top seven executives at UnitedHealth Group combined to make $169.2 million in 2019, Bob reports.
The big picture: That's pretty close to what the entire CDC got to study and prepare for "emerging infectious diseases" in 2019.