Good morning ... That Congressional Budget Office report wasn't very helpful to House Republicans, but at least now the Senate can start to make some decisions. And House Speaker Paul Ryan says we should agree as a society to pay for people with catastrophic illnesses — just not the way the Affordable Care Act does it.
https://www.axios.com/newsletters/axios-vitals-7eb947eb-92ea-4d8f-9e0d-d99b08327304.html?chunk=0#story0
What we learned from CBO — and why GOP is ready to move on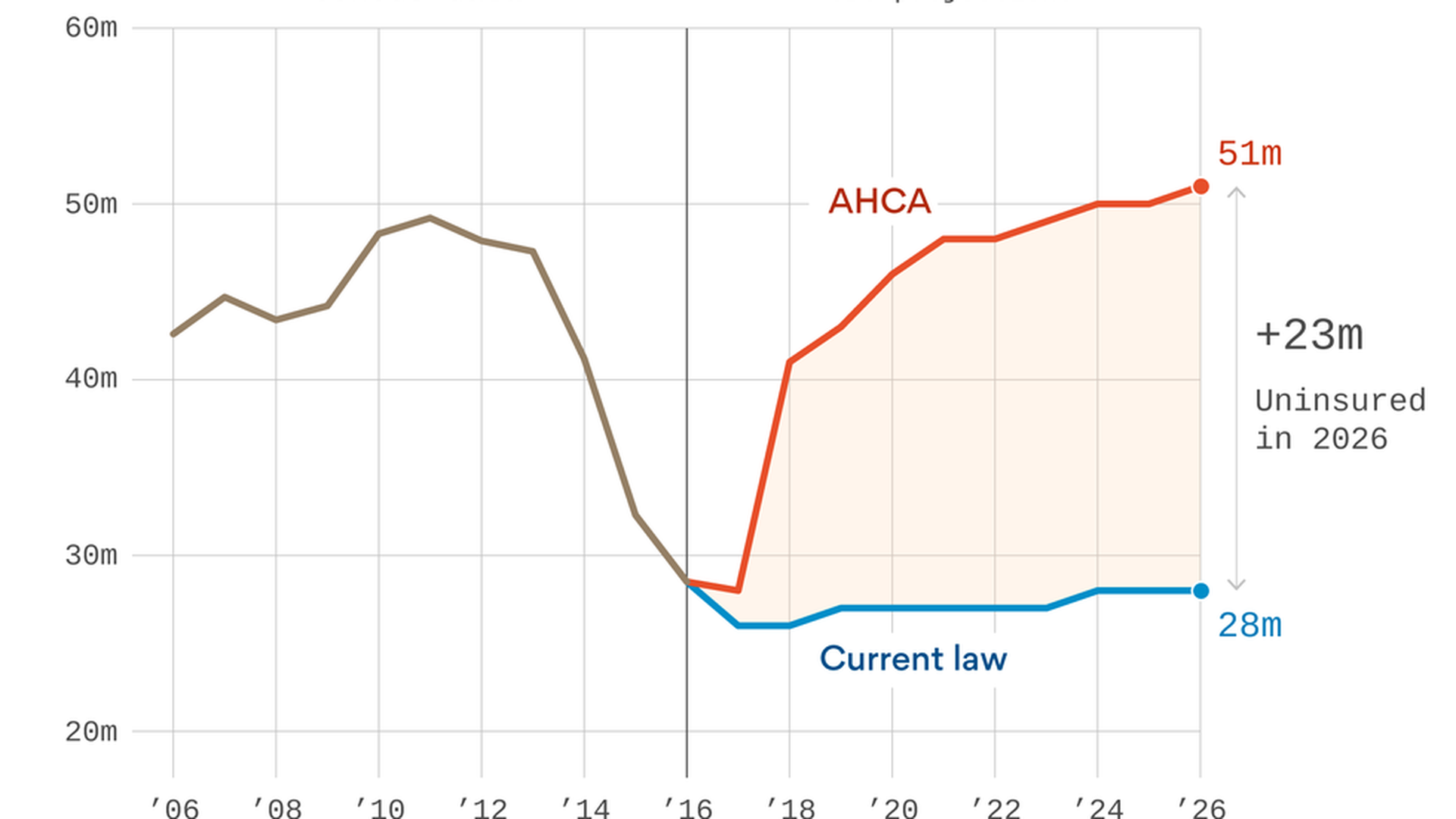 You have to try pretty hard to find good news for the Republicans in the Congressional Budget Office report on the final House health care bill. The best news: Individual insurance premiums would go down in the long term — with some pretty important exceptions — and the House might not have to vote again. And that's about it.
The main takeaways:
It didn't change the big picture. The costs and coverage losses didn't change that much from the original House bill, before Republicans added state waivers from ACA insurance regulations. It used to cover 24 million fewer people — now it's just 23 million.
It really didn't help Republicans on pre-existing conditions. It says that people with health problems will face "extremely high premiums" in states that get waivers, and might have to stop buying it, despite the extra $8 billion that Rep. Fred Upton added to help cover their costs.
It's going to be harder for the Senate to wipe out regulations. One Senate GOP aide texted Caitlin Owens: "The destabilizing effect of the waiver on health status adds to the toxicity of that stupid proposal so will be easy to delete."
Premiums would go down in the long term — partly because insurance wouldn't cover as much. Republicans all pointed out that CBO said the bill would lower premiums, but it would mostly do that for younger and healthier people — sick people could end up paying a lot more. For more on this, read Caitlin's story from last night.
The White House and Republicans will try to ignore it. From a White House official last night: "History has proven the CBO to be totally incapable of accurately predicting how healthcare legislation will impact health insurance coverage."
The danger of a House re-vote is fading. We won't know for sure until after Memorial Day, after Republicans and Democrats have had more time to analyze it. But there's nothing obvious that says the House bill missed its budget targets, and House GOP aides feel pretty sure they're safe.
https://www.axios.com/newsletters/axios-vitals-7eb947eb-92ea-4d8f-9e0d-d99b08327304.html?chunk=1#story1
The most important lines in the CBO report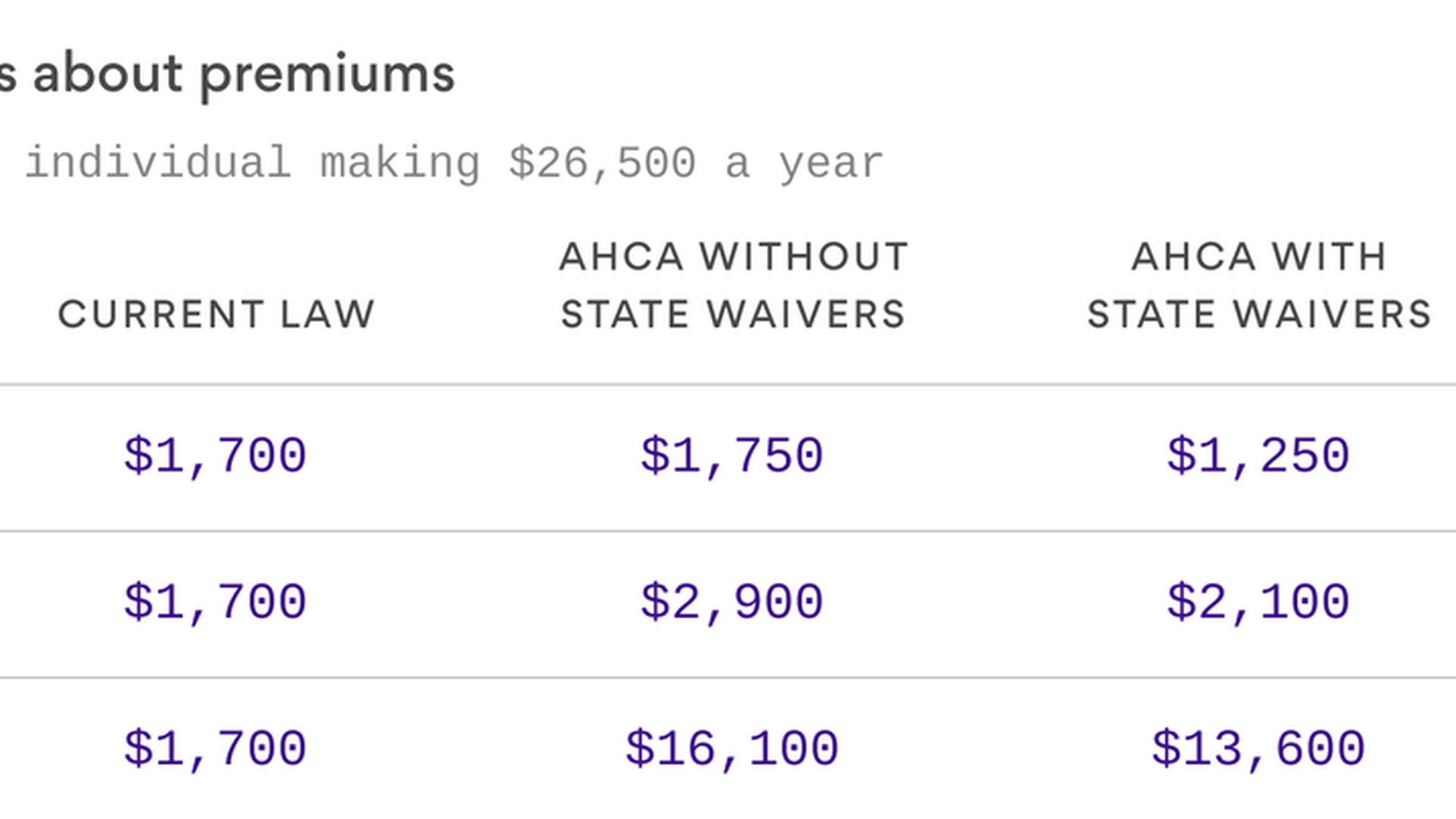 "Community-rated premiums would rise over time, and people who are less healthy ... would ultimately be unable to purchase comprehensive nongroup health insurance at premiums comparable to those under current law, if they could purchase it at all."What it means: In the states that get waivers from the ACA's pricing and benefit rules, people with pre-existing conditions could be priced out of the market. Those states would cover about one sixth of the population."People living in states modifying the [essential health benefits] who used services or benefits no longer included in the EHBs would experience substantial increases in out-of-pocket spending on health care or would choose to forgo the services."What it means: CBO confirmed that premiums would go down in those states, which was one of the GOP's main goals — but the tradeoff is that people could pay more in other ways. Among the benefits that those states might eliminate: "maternity care, mental health and substance abuse benefits, rehabilitative and habilitative services, and pediatric dental benefits.""CBO and JCT estimate that a few million people would buy policies that would not cover major medical risks."What it means: In the states with the waivers, some people might buy plans that don't cover a lot — but those plans would be so skimpy that CBO doesn't count them as health coverage.
https://www.axios.com/newsletters/axios-vitals-7eb947eb-92ea-4d8f-9e0d-d99b08327304.html?chunk=2#story2
The most unexpected response to a CBO question
The award has to go to Montana congressional candidate Greg Gianforte. That's what The Guardian's Ben Jacobs asked him about yesterday, per the audio recording, right before witnesses say Gianforte body-slammed him. Gianforte was charged with a misdemeanor assault, and must appear in Gallatin County Justice Court between now and June 7.
https://www.axios.com/newsletters/axios-vitals-7eb947eb-92ea-4d8f-9e0d-d99b08327304.html?chunk=3#story3
Ryan on paying for catastrophic illness
House Speaker Paul Ryan talked a lot of health care at our Axios News Shapers event yesterday, saying he's "working and coordinating with the White House" to make sure insurers still get their ACA payments while Congress works on the health care bill. But he also went into an interesting riff about how to cover sick people — where he made the case that they should be subsidized directly:
"Let's just pay for the people who are catastrophically ill. Let's just do that. Because I don't think anybody, Republican, Democrat, whatever, thinks that if a person gets breast cancer in her 40s, she should go bankrupt for getting it."
"When 1 percent of the people in the individual market drive 23 percent of the costs, let's subsidize the top, I don't know, 5 to 10 percent...You dramatically stabilize the marketplace for the other 90 percent of the Americans in the individual market."
Between the lines: That's how Ryan makes the case for reinsurance, or the "invisible risk pools" in the House bill, which is a way of subsidizing the high-cost customers without separating them from everyone else. The debate is over whether the House bill provides enough money for them. And the bigger fear from critics of the bill is over the possible reappearance of high-risk pools, which were always separate and underfunded.
https://www.axios.com/newsletters/axios-vitals-7eb947eb-92ea-4d8f-9e0d-d99b08327304.html?chunk=4#story4
A view from the Senate on the HHS budget
We told you yesterday that there are some things in President Trump's budget proposal that you should pay attention to, because they'll definitely frame the debate in Congress even though a lot of the deep cuts are clearly non-starters. Here's a better read on how the Senate is likely to approach the Department of Health and Human Services appropriations for next year, via a GOP aide:
National Institutes of Health: It's not going to be cut, as it would be in the HHS budget proposal, because top Republican appropriators will push back too hard on that. But it may not be able to get another increase.
Indirect costs: The House may be interested in limiting how much the NIH spends on overhead in its grants, but the Senate is less likely to go along — because universities are already making it clear they'll have to cut back on medical research if that happens.
Emergency Response Fund: This idea might get traction, because Republicans and Democrats were already talking about the idea last year after the long delays in funding a response to the Zika virus. They'd have to decide how much it would get and how it would be structured.
Centers for Disease Control and Prevention: Block grants proposals may be approved (like the "America's Health block grant" program for chronic diseases), but not necessarily the cuts.
Agency for Healthcare Research and Quality: It may survive as independent agency, rather than being eliminated and merged into NIH — because there's skepticism about whether its work has enough in common with NIH.
https://www.axios.com/newsletters/axios-vitals-7eb947eb-92ea-4d8f-9e0d-d99b08327304.html?chunk=5#story5
For hospital executives, more admissions is still "better"
You know how hospital executives love to gush about value-based care and keeping people healthy? Well, they still want their hospital admissions, too. Top executives at Trinity Health said this week that hospitalizations at their $16 billion national Catholic hospital system are on the rise, according to a Citi conference slide deck obtained by Bob Herman. An arrow along the slide's Y axis proclaims that when it comes to hospital admissions, "higher is better."
Why this matters: Trinity's slide reveals a weird disconnect with the goal of keeping people out of hospitals and a truth that hospitals still want to fill beds with patients as often as they can.
Money quote: Dr. Ashish Jha of Harvard told Bob that hospitals remind him of the airline industry: "Every extra passenger they can squeeze in is profit."
https://www.axios.com/newsletters/axios-vitals-7eb947eb-92ea-4d8f-9e0d-d99b08327304.html?chunk=6#story6
Here's how McConnell is lowering expectations
We knew the Senate wasn't having an easy time rewriting the health care bill, but Senate Majority Leader Mitch McConnell surprised some health care wonks with this statement in an interview with Reuters yesterday: ""I don't know how we get to 50 (votes) at the moment. But that's the goal."
Between the lines: McConnell may have just been stating the obvious: The path to 50 votes isn't clear at the moment — just like the path to 216 votes wasn't clear to Ryan either, until he found it. But it's also true that Senate Republican conservatives and moderates may be even more dug in on their positions than their House counterparts.
The bottom line: If McConnell still can't find 50 votes by, say, mid-July, that's when you know they're in trouble — because the Senate really wants to get this done before the August recess.