Good morning ... The Senate Finance Committee begins marking up its tax overhaul this week, so hopefully we won't have to wonder much longer whether Republicans will try to repeal the individual mandate as part of that effort. (I'm betting they won't, but I've been wrong before.)
​Inside the ER on the night of the Las Vegas shooting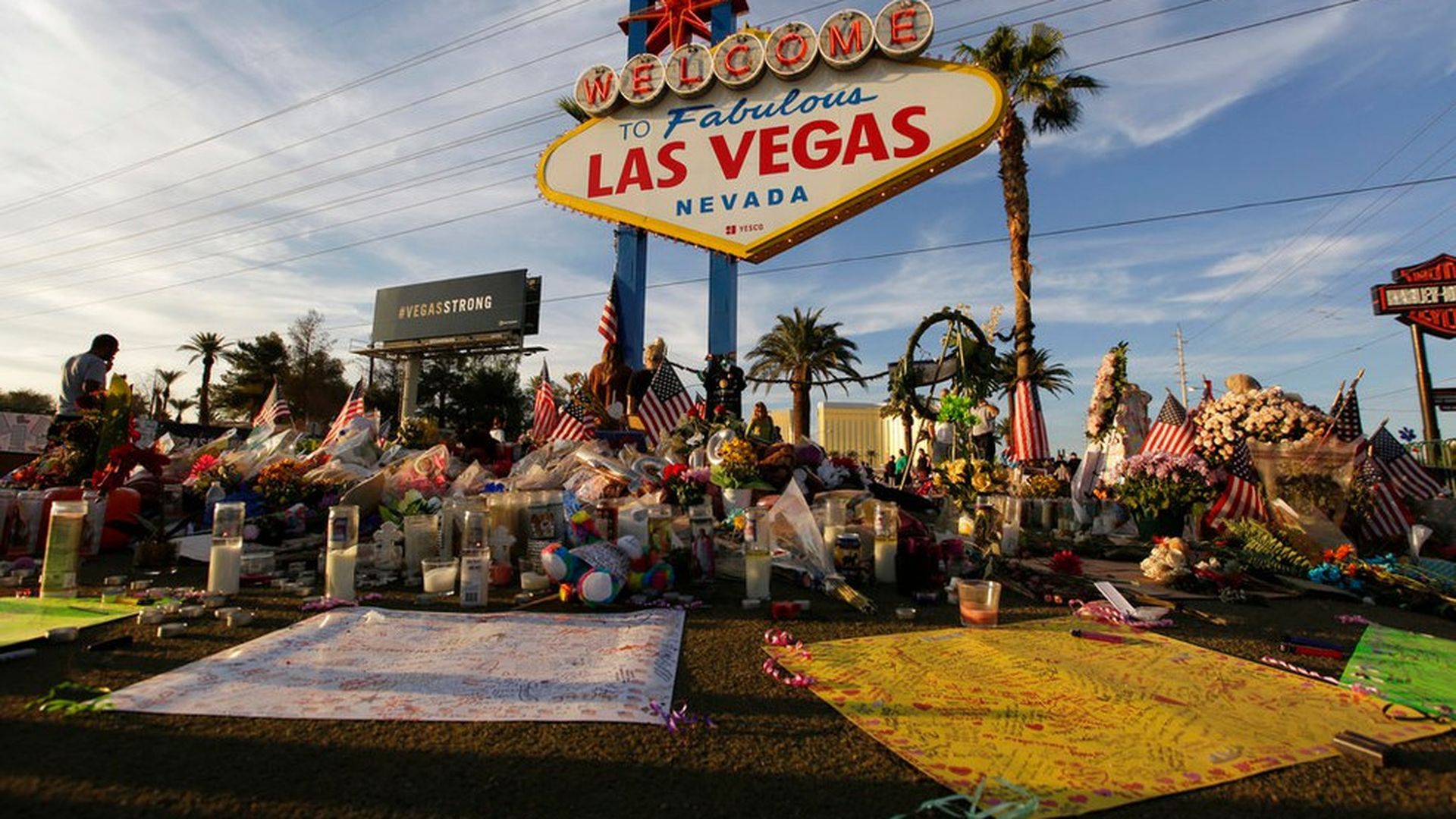 This might be a little bit off the beaten path for Vitals, but it's a critical reminder of why we all spend so much time and energy on health care in the first place.
Kevin Menes was the doctor in charge of the emergency room at Sunrise Hospital in Las Vegas on the night of the deadliest mass shooting in American history. He's written a piece in Emergency Physicians Monthly describing how he and his colleagues handled that night — how they prepared, how they adapted and how they managed to process 215 victims with gunshot wounds (known as "GSWs" in medical jargon) in just a few hours.
You should read the whole thing, but here are some of the most incredible excerpts:
I was out in the ambulance bay when the first police cars arrived with patients. There were three to four people inside each cruiser. Two people on the floorboards and two in the back seat, and they were in bad shape … I pulled at least 10 people from cars that I knew were dead.
We all do it as emergency physicians. You look at a GSW and guess the trajectory and the potential internal injuries. Then you decide if they're dying now, in a few minutes, or in an hour … I would look at these patients as they came in, and I would grade them red to green.
It was important to get the red tags into the operating room because the orange tags would start to crump and become the next red tags. The yellow tags would start becoming orange tags. After 30 or 40 minutes, I'd triaged the sickest group of patients I had ever seen.
One … nurse would shout, 'Menes! I need you here!' and then another would pull me to another patient. I said, 'Bring all your patients together.' They brought them all towards me, and I was at the head of multiple beds, spiraling out like flower petals.
As fresh ER doctors would arrive, I would brief them on the layout, the list of workarounds we were doing, and tell them, 'You're a shark. Get out there and find blood!' I wanted them to find those dying patients in the sea of patients still there.
The bottom line: "We had dispositioned almost all 215 patients by about 5 o'clock in the morning, just a little more than seven hours after the ordeal began. That's about 30 GSWs per hour. I couldn't believe that we saved that many people in that short amount of time ... We did everything we could."
Silver sign-ups slip, slightly
"Silver" plans are still the most popular offerings in the Affordable Care Act's exchanges, but are losing some ground both to cheaper "bronze" plans and more generous "gold" plans early in this very wacky enrollment season, according to the latest data from the enrollment website HealthSherpa.
The details: HealthSherpa says it signed up 25,000 people in the first week of this open enrollment period. Here's the breakdown of which plans those consumers chose, and how those results compare to the first week of last year's enrollment window:
Bronze: 23% — up from 20% last year
Silver: 70% — down from 78% last year
Gold: 6.5% — up from 2% last year
How it works: Silver plans have traditionally been the most popular, but this year is weird. As a side effect of President Trump cutting off the ACA's cost-sharing subsidies, many consumers' subsidies will now cover the entire premium for a bronze plan, and in some cases gold plans are actually cheaper than silver.
HealthSherpa's data indicate that consumers are taking advantage of those options, but not in huge numbers.
What's next: Silver plans could take a bigger hit as healthier and more cost-conscious consumers come into the market closer to the end of the sign-up window.
Fuel on the fire at Community Health Systems
It's been a brutal year for Community Health Systems. My colleague Bob Herman notes it didn't get a whole lot better in the third quarter, and Wall Street is souring even more on the hospital chain, which has buckled under low patient admissions and sold off hospitals to chip away at its debt.
The latest: Short sellers are surrounding CHS' stock and bonds like piranhas. CHS' stock has fallen almost 20% this month. And last week, Fitch Ratings downgraded CHS' debt to a junk rating of CCC — meaning investors are taking a questionable gamble that CHS' hospitals will bounce back. Fitch analysts also believe "there is a likelihood that the company will violate the (debt) covenants in 2018," which fueled a selloff last week in CHS' bonds.
Looking ahead: Keep tabs on Franklin Templeton. The giant investment firm holds a substantial portion of CHS' debt that comes due in 2019, 2020 and 2022.
Go deeper: How CHS got to this point
Gates puts $50 million toward Alzheimer's research
Microsoft co-founder Bill Gates today is announcing a $50 million investment in Alzheimer's research. The money will go to the Dementia Discovery Fund, and it's a personal investment — not part of the Gates Foundation. Pharmaceutical companies tend to focus on the two most prominent theories of how Alzheimer's develops, and the DDF "complements their work by supporting startups as they explore less mainstream approaches to treating dementia," Gates said in his announcement.
​While you were weekending …
What we're watching this week: Two HELP Committee hearings: Tuesday on gene editing and Wednesday on Surgeon General Jerome Adams' testimony on "encouraging healthy communities."
Senate Appropriations subcommittee hearing Wednesday on the VA's efforts to combat opioid overuse.
Kentucky men's basketball plays Kansas on Tuesday and East Tennessee State on Friday. (Hey, you wanted to know what I'm watching.)
What's on your radar? I'd love to hear your tips and feedback: baker@axios.com.