Axios Vitals
July 27, 2020
Good morning. I hope you enjoyed your weekend. I spent mine packing, and if anyone has any tips for how to make moving day as painless as possible, I'm all ears.
Today's word count is 1,065, or a 4-minute read.
1 big thing: It's not over when the vaccine arrives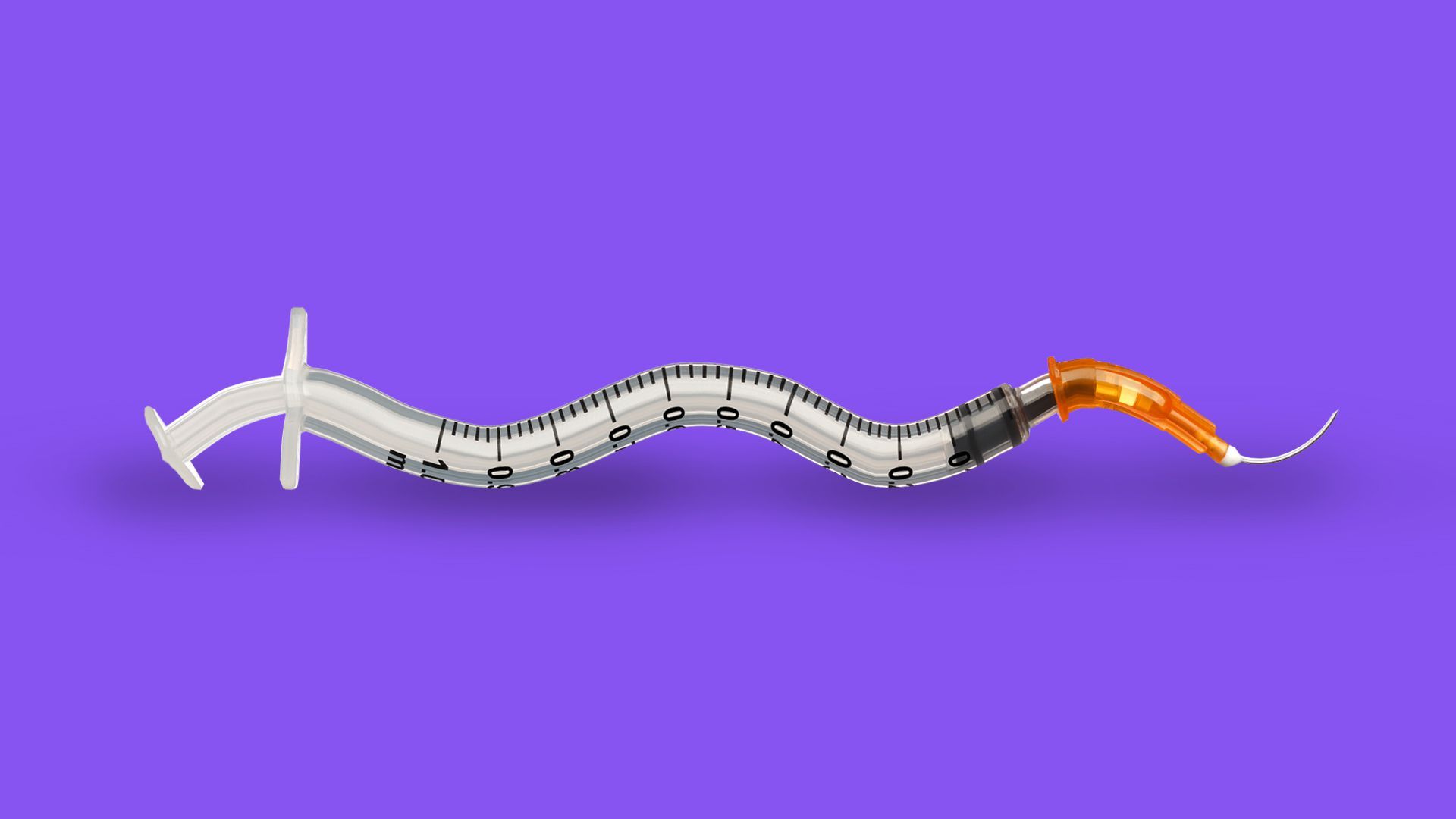 The first coronavirus vaccine may arrive soon, but it's unlikely to be the knockout punch you may be hoping for, Axios' Sam Baker and Alison Snyder report.
Why it matters: The end of this global pandemic almost certainly rests with a vaccine. Experts caution, however, that it's important to have realistic expectations about how much the first vaccines across the finish line will — and won't — be able to accomplish.
Where it stands: Work on a coronavirus vaccine is moving at an unprecedented pace. There are nearly 200 candidates in development, 27 are being tested in humans and a handful are already in an advanced phase of clinical trials.
Each new bit of positive news out of that effort makes the pie-in-the-sky best-case scenario — that one of these products will prove out and win at least an initial nod from the FDA by early next year — seem more plausible.
Yes, but: First-generation vaccines often aren't the ones that stop a new virus in its tracks, and experts' hopes for an initial coronavirus vaccine are much more modest.
"Right now, we just need something that's going to mitigate the damage this virus causes," said Amesh Adalja, an infectious-diseases expert at Johns Hopkins University. "Maybe it doesn't prevent you from getting infected, but it prevents you from getting hospitalized, or prevents you from dying … that would be huge."
Vaccinating enough people to get safely back to our old, communal habits will also pose more practical challenges.
Even with a jump start on manufacturing, which is happening now, there won't be enough supply, at least at first, to address the sheer scale of a global pandemic.
The bottom line: Even after a vaccine becomes available, the coronavirus may still hang around, infect and even kill people. The numbers would just be lower.
2. Coronavirus deaths skew younger in the South
Adults under 65 make up a higher share of coronavirus deaths in the South than in the Northeast, according to a new analysis by the Kaiser Family Foundation.
Why it matters: Downplaying the risk of the virus to younger adults can be dangerous, especially amid the current surge of cases in Southern and Sunbelt states like Arizona and Texas.
By the numbers: Nationally, 80% of coronavirus deaths have been among adults 65 and older, and 33% among those age 85 or older.
Adults 65 and older account for the highest share of deaths — 94% — in Idaho and the lowest share of deaths in Washington, D.C., where they account for only 70%.
In most states, the share of these older adults who have died from the coronavirus is higher than their share of deaths from all causes.
States with higher percentages of deaths among people 65 and older tend to have had a disproportionate amount of deaths occurring in long-term care facilities.
The big picture: The differing age trends of coronavirus deaths are likely a result of states' pandemic policies, the prevalence of preexisting medical conditions in any given state and the racial composition of a state's population, per KFF.
What we're watching: Whether the portion of deaths among older adults will increase in the South as more people 65 and older become infected, particularly in long-term care facilities.
Go deeper: Hotspot states see more COVID cases in nursing homes
3. The latest in the U.S.
To show President Trump's "renewed focus" on combating COVID-19, the White House is launching a heavy regional media campaign in states that are coronavirus hot spots to educate the public on the importance of following mitigation measures, Axios' Alayna Treene reports.
Trump's words and actions have shaped Republicans' perceptions and behavior on everything from wearing face masks to worrying about economic collapse, Axios' Margaret Talev and Danielle Alberti report in an analysis of the Axios-Ipsos Coronavirus Index.
Adm. Brett Giroir, the Trump administration's testing coordinator, said on CNN's "State of the Union" Sunday that the average turnaround time for coronavirus test results is 4.27 days and acknowledged that he's "never going to be happy" until that figure is reduced.
Former CDC director Tom Frieden said on "Fox News Sunday" that the total number of coronavirus tests administered is "useless" if the results are delayed, and that a better metric is how many tests have been done that come back within 24 to 48 hours.
House Speaker Nancy Pelosi said on CBS News' "Face the Nation" Sunday that Democrats will not support liability protections for employers of "essential workers" in the next coronavirus relief bill.
NIAID director Anthony Fauci told MarketWatch Saturday that he won't get on a plane nor eat at restaurants due to the current state of the coronavirus pandemic.
Florida reported about 414,000 coronavirus cases Saturday, becoming the second-highest state total in the U.S. after California.
4. The latest worldwide
Brazilian President Jair Bolsonaro tweeted Saturday that he has tested negative for the coronavirus after three positive test results since July 7.
North Korean leader Kim Jong-un ordered Kaesong City, near the border with South Korea, to be placed on lockdown and declared a "maximum emergency" because of a suspected coronavirus case, state media reported on Sunday.
The Australian state of Victoria reported a national single-day record of 10 deaths and 459 new cases, state Premier Dan Andrews announced Sunday.
5. Small businesses drowning in virus expenses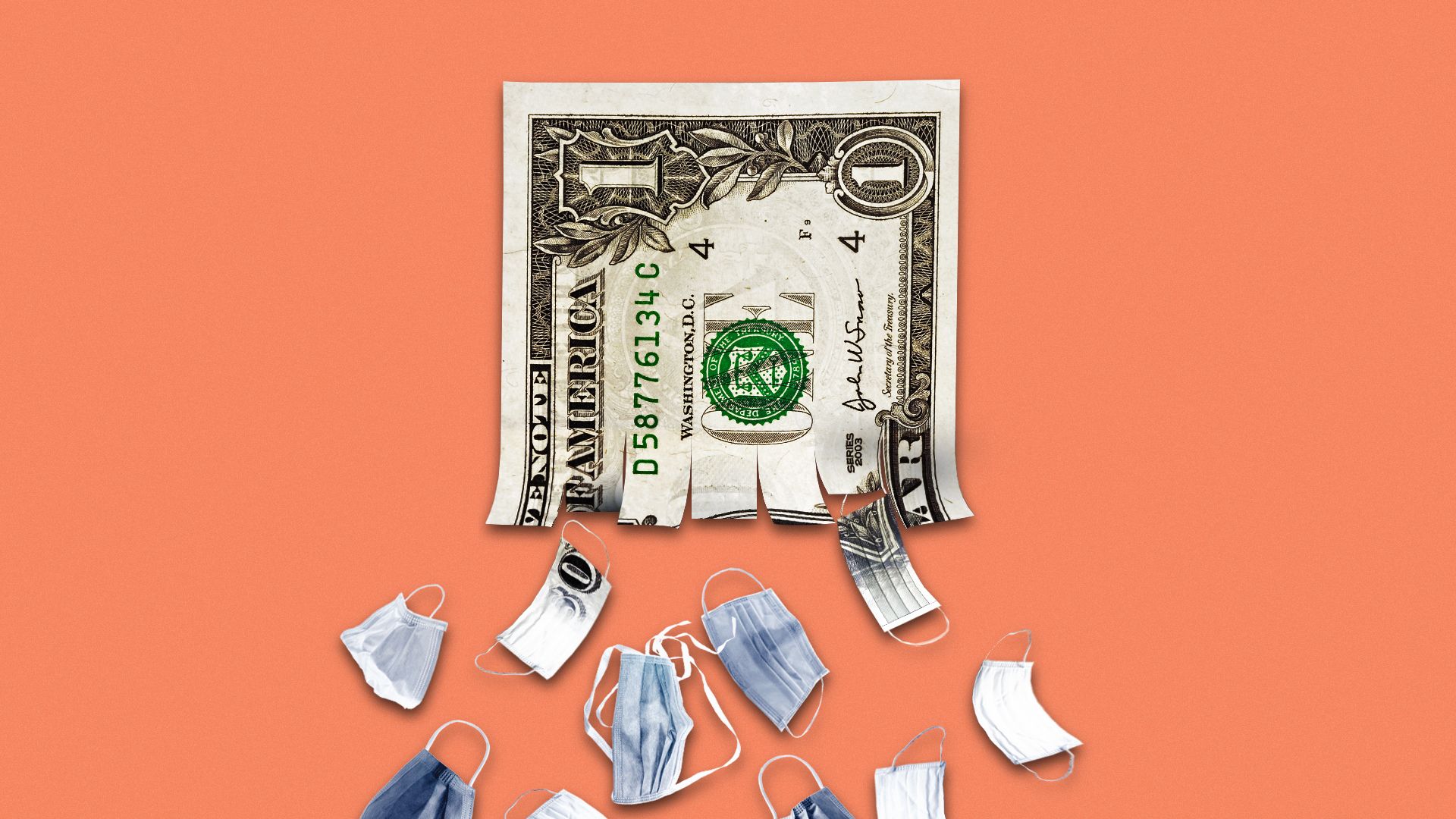 Expenses are piling up for cash-strapped small businesses as they invest in what it takes to lure customers and workers back into shops: fancy air filters, plexiglass shields, and stockpiles of PPE, Axios' Courtenay Brown reports.
Why it matters: Some small business owners are spending the equivalent of a month's worth of profit on precautionary equipment — even as they question whether it's worth it as the threat of more lockdowns loom.
What's going on: Nationally, many businesses are taking steps forward — doling out cash to retrofit restaurants, retail stores, grocery stores and other establishments. But they're simultaneously preparing to take steps back — or to close for good — if cases spike again.
Yelp estimates that more than 132,000 local businesses listed on its site have closed shop since the pandemic hit in March. As of this month, over half of them won't reopen — a higher rate of permanent closures compared to June.
Among those that are trying to stay the course, there's a daunting laundry list of guidelines from the CDC: spaced-out tables, limited numbers of customers, thermometers for temperature checks and industrial-strength cleaning supplies.
By the numbers: While necessary, the additional expenses put pressure on small businesses that already skated by on slim profit margins. Many business owners wonder if their investments in COVID-19 protocols will be money down the drain.