Axios Vitals
December 06, 2019
Good morning. It's Friday!
📷 Joe Biden on Medicare for All: "The party is not there. The party's not there at all." In "Axios on HBO's" first-ever special, Biden accuses the media of misjudging how liberal the Democratic Party really is, telling Mike Allen, "you guys got it all wrong." Catch a sneak peek (here) and watch the full interview this Sunday at 6:30pm ET.
Today's word count is 863, or ~3 minutes.
1 big thing: Trump and Pence intervene in Azar and Verma's feud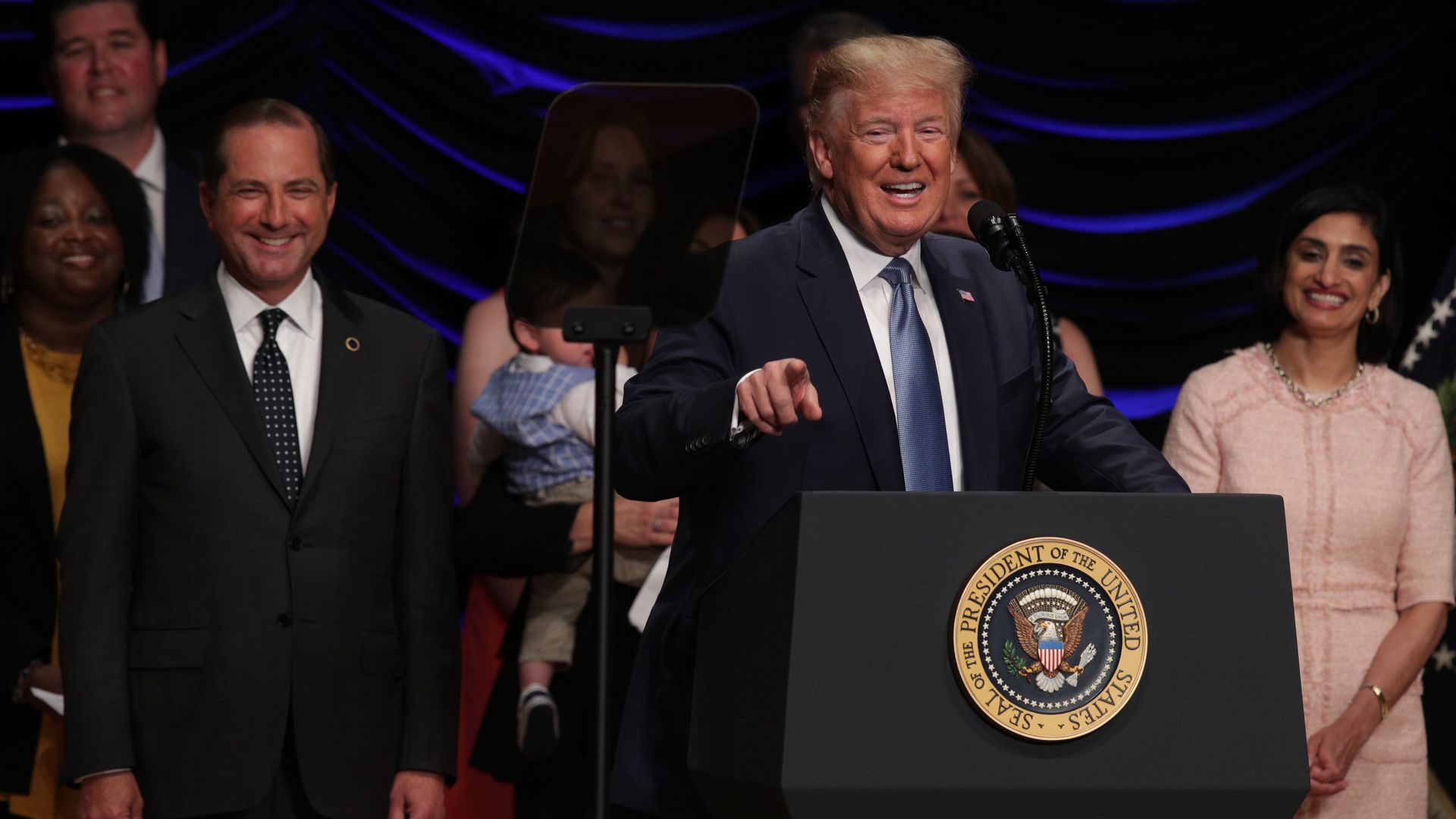 The working relationship between HHS Secretary Alex Azar and CMS Administrator Seema Verma has grown so dysfunctional that both President Trump and Vice President Pence have intervened to try to salvage the situation, three senior administration officials told Axios' Jonathan Swan and me.
Why it matters: It's an extraordinary intervention at the highest levels of government. And it highlights, as Politico extensively reported in this story, the White House's urgent desire for the heads of Health and Human Services and the Centers for Medicare and Medicaid Services to repair their working relationship.
Behind the scenes: Azar had a clearing of the air meeting with Verma on Wednesday, at Pence's request, according to two administration officials.
The president had made clear, according to a third administration official, that he "is fond of both of them and he expects them to work together on what could easily be a signature issue in 2020 for him."
"He just wants them to figure it out between themselves and get the work done," per a fourth source familiar with the president's view of the situation.
The tensions between the two officials have already disrupted the rollout of health care initiatives that Trump's team considers important for his reelection.
This includes the delay of the administration's Affordable Care Act replacement proposal, Politico reported.
At their meeting on Wednesday, Verma raised her concerns directly with Azar about his leadership style. The two officials agreed to try to work better together and that her concerns would be addressed and mitigated going forward, a source familiar with the meeting added.
"These concerns are predominantly about media rollouts and in some cases staffing issues that are not reflective of a leadership or management style," another source familiar with the meeting pushed back. "They are individual instances that are petty and not reflective of a larger leadership or management style."
HHS, CMS and the White House did not provide a comment.
2. Health care spending grows — again — in 2018
Americans spent $3.65 trillion on health care in 2018 — 4.6% more than the year before. That growth also was higher than the 4.2% rate from 2017, according to revised figures from independent federal actuaries, Axios' Bob Herman reports.
Between the lines: U.S. health care spending climbed again not because people went to the doctor or hospital more frequently, but because the industry charged higher prices. And private health insurers didn't do a particularly good job negotiating lower rates.
The intrigue: The number of people with private health plans — which mostly consists of the coverage people get through their jobs — dipped in 2018, yet the amount spent per person soared 6.7%.
That is the highest per-enrollee spending growth rate among people with private health insurance since 2004, actuaries wrote.
Part of that increase was due to higher premiums that insurance companies passed on from the Affordable Care Act's health insurance tax.
More importantly: Hospitals, doctors and drugmakers continued to wring out much higher rates from private insurers thanks to provider mergers and perverse negotiating incentives.
Medicare and Medicaid had much lower per-enrollee spending growth rates in 2018 than private insurance, but those figures were the highest they've been since 2015 — again due to higher costs for the private insurers that are increasingly running those government programs.
3. Youth tobacco use highest in 19 years
New data from the National Youth Tobacco Survey shows that 6.2 million middle school and high school students use tobacco, the highest level since 2000, Axios' Marisa Fernandez reports.
Why it matters: Tobacco use among middle schoolers and high schoolers remains high thanks to the popularity of e-cigarettes.
Health advocates and some states are blaming misleading advertising, media and inconspicuous vape devices like Juul for enticing kids to try e-cigarettes.
Findings: This year, NYTS asked teens why they smoked e-cigarettes. More than half cited their curiosity and almost a quarter said they tried them because of the flavors.
E-cigarettes were the most commonly used tobacco product among high school and middle school students for the sixth year in a row.
About seven in 10 middle and high school students currently using tobacco used flavored tobacco products.
4. Biotech's big day
Yesterday's biotech news resulted in a combined $7.6 billion shift in value for Biogen, Sage Therapeutics and Acadia Pharmaceuticals, Bloomberg reports.
Driving the news: Biogen released new data on its Alzheimer's drug yesterday, which added $2 billion to the company's market value.
But the data was controversial, with some experts viewing it as unimpressive.
Meanwhile, Sage's shares dropped by 60% — which was worth $4.6 billion — and Acadia added $1 billion to its value after it presented new data at a conference for patients with dementia.
Why it matters: "The huge moves were yet another reminder of how biotechnology investing — and, more specifically, betting on drug development for diseases affecting the brain — can often resemble a roulette wheel," Bloomberg's Bailey Lipschultz writes.
5. 1 dumb thing
If a perfect illustration of the human condition exists, then surely this is it: Cell phone-related injuries have skyrocketed over the last decade, according to a new study in JAMA Otolaryngology.
By the numbers: Nearly 40% of injuries between January 1998 and December 2017 were among people ages 13 to 29, and many of them were "associated with common activities, such as texting while walking."
Lacerations, contusions and abrasions were the most common diagnoses.
The rise of the smartphone, particularly the iPhone️, was apparently pretty dangerous.
"Providing constant access to a variety of applications and internet browsers, these devices have become a necessary but potentially dangerous tool used by most people in the United States," the study's authors write.