Axios Vitals
June 10, 2019
Good morning. Thanks so much to all of you who gave me feedback about Axios' word count. My inbox was flooded in the best (and only good) way possible.
Today's word count is 934 words, <4 minutes.
1 big thing: Our health care system is full of monopolies
Even the behind-the-scenes parts of the health care industry are dominated by a small handful of companies — and critics say that drives up prices for everyone, Axios health care editor Sam Baker reports.
Why it matters: The U.S. spends more than any other industrialized country on health care, largely because our prices are higher. And the monopolies that support those high prices could undermine both liberal and conservative dreams of a more efficient system.
The big picture: This is a trend that's happening at every level.
Hospital systems continue to merge with each other and gobble up doctors' practices, which lets them charge more for the care they provide.
Insurers and pharmacy benefit managers are also merging, and are now on track to bring in more revenue than the tech industry's biggest powerhouses.
Yes, and: That trend toward concentration extends throughout the system, even into sectors that most patients never directly interact with, according to new data from the Open Markets Institute, shared first with Axios.
As long as we're talking about hospitals, for example, let's look at their suppliers: One company controls 64% of the market for syringes, according to OMI's data. Just 3 companies control 86% of the market for IV solution. Two companies make 47% of hospital beds.
None of those sectors is particularly huge — syringes are the biggest, with $3.8 billion in annual revenue. But in a system that's already not very competitive, each step without competition feeds into the next one.
"America's health care crisis is brought you by monopoly," Open Markets policy director Phil Longman said.
2. California's new health care milestones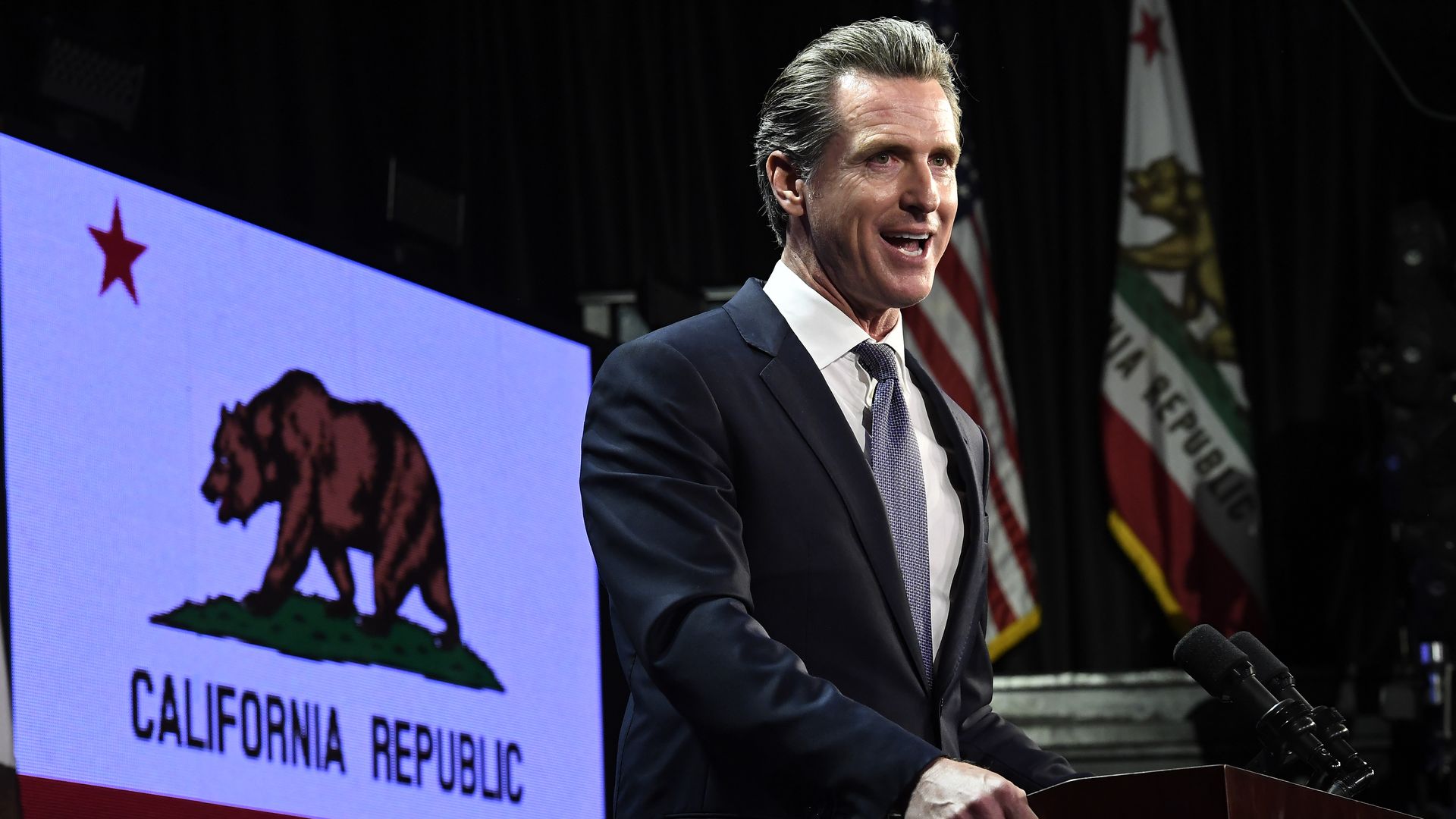 California will become the first state in the nation to pay for the health benefits of some unauthorized immigrants, after state lawmakers struck a deal yesterday, the AP reports.
California will also be the first state to extend the Affordable Care Act's premium subsidies up the income scale. The deal includes a proposal to provide subsidies to middle-income people making up to 6 times the federal poverty level.
Details: Low-income adults between ages 19 and 25 living in the state illegally will qualify, based on their income, for the state Medicaid program.
Officials estimate that this will be about 90,000 people costing $98 million a year.
To help pay for the deal, the state will tax the uninsured — a revival of the ACA's individual mandate.
The bottom line: One of the bluest states in the nation's measured steps toward universal health coverage show the uphill battle liberals face in their push for Medicare for All.
But even these more incremental steps demonstrate how far left Democrats have moved in the decade since the ACA's passage.
"California has taken the lead to blunt Republican efforts nationally on a whole range of health care issues, moving very much in the opposite direction," emailed the Kaiser Family Foundation's Larry Levitt.
Go deeper: In California's blue utopia, liberal health care dreams stagnate
3. Not all CEOs hate Medicare for All
Although most large business groups strongly oppose Medicare for All, the opinions of some members of the business community — especially small employers — may be changing, Kaiser Health News reports.
The Business Alliance for a Healthy California, which has tried to garner business support for a universal health care program in the state, has attracted almost 300 mostly small employers.
One of the co-founders of the group, Dan Geiger, said large companies don't want to get involved because of their ability to use health benefits to attract talent.
It's also difficult to sign onto the general concept before details are fleshed out, like how much taxes would go up, KHN reports.
The big picture: Most Americans under 65 get their health insurance from their job, meaning that employers have a ton of political sway as the debate over Medicare for All heats up.
Employer coverage has become more of a financial strain, and in some cases unaffordable, as deductibles have gone up in tandem with the cost of medical care.
And as more Americans age into Medicare, the situation looks increasingly bleak for employers and workers, as providers are expected raise private insurance rates to recoup for Medicare's lower reimbursements.
Go deeper:
4. ALS patients push for approval of new therapies
A group of ALS patients is planning to protest outside of the FDA this week, hoping in some ways to replicate the protests of AIDS activists in the 1980s who were also upset with the pace of the search for treatment, Stat News reports.
The patients had hoped to see quicker results from the $115 million raised by the ALS ice bucket challenge. They also advocated for the "right to try" legislation passed last year, and are similarly disappointed with the lack of results from that.
They're also frustrated by the news that other breakthrough new therapies have been approved for other diseases.
Like the AIDS activists in the 1980s, the patients have a list of specific therapies they want approved.
The 3 on the list are in different stages of development, but the ALS patients want them to be fast-tracked through the approval process.
Top officials with the FDA have invited the protesters to meet with them, as long as the drug makers also attend.
The other side: "These people are desperate, I can see that. I see them every day, it's a horrible disease," Jonathan Glass, the director of Emory University's ALS Center, told Stat.
"But fast-tracking things that don't work, or may not work, or might even be harmful is not the way to go."
5. While you were weekending
The FDA sent warning letters to vaping companies for inappropriately promoting flavored products through social media influencers, AP reports.
The New York Times dove into one group's efforts to raise the standards around geriatric surgery, which has higher complication rates than procedures undergone by younger patients.
Solving the HIV crisis will require more than just medicine — "It would ideally involve a full-scale attack on poverty, racial, economic and educational inequalities and long-held stigmas," Politico reports.