Axios Vitals
November 06, 2019
Good morning. Here's a hopeful story — for once — related to the opioid epidemic.
Today's word count is 1,187, or ~4 minutes.
1 big thing: A Bluegrass setback for Trump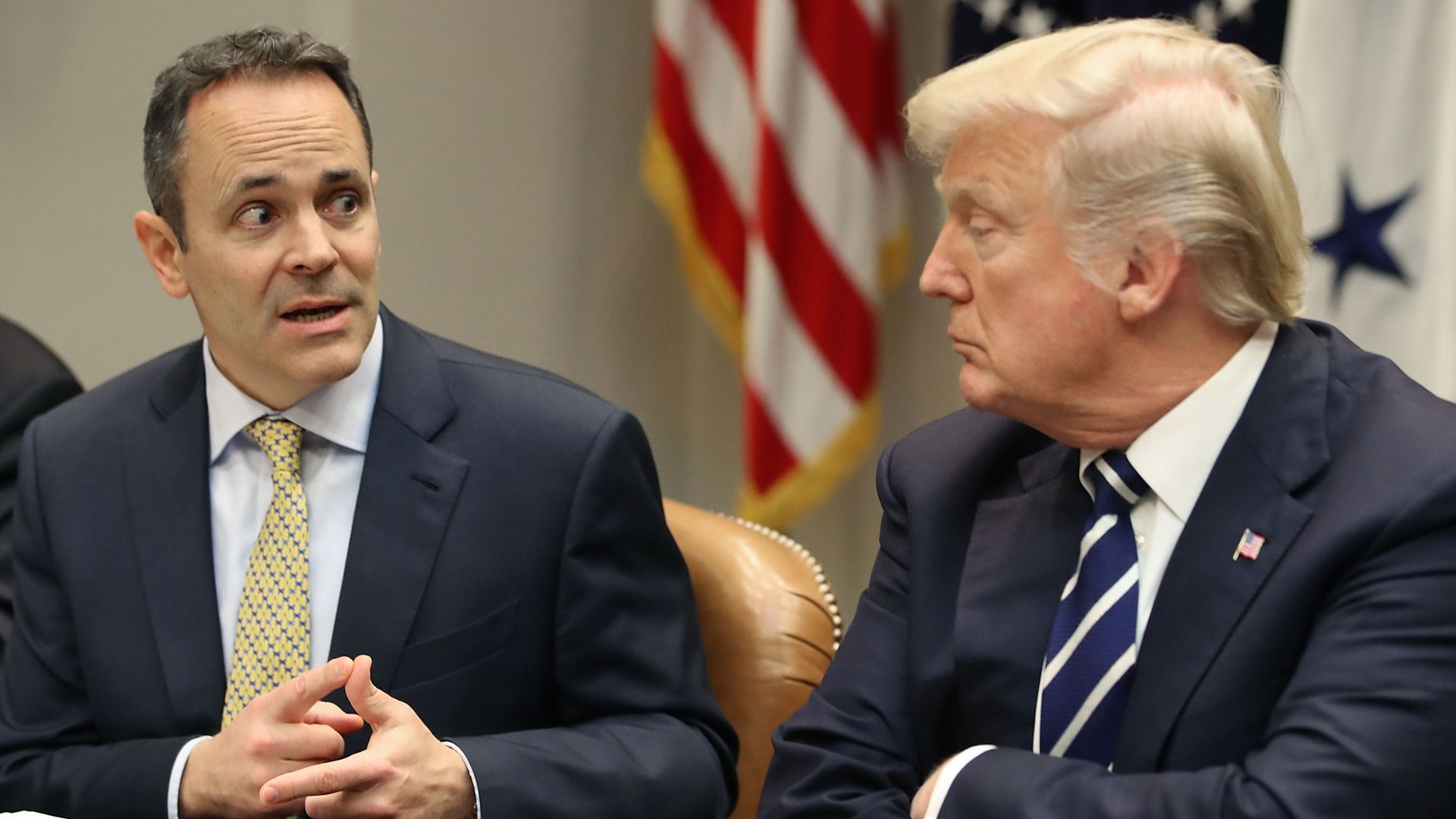 The Trump administration's health care agenda appeared likely to lose one of its closest allies last night as Democrat Andy Beshear declared victory over Kentucky Gov. Matt Bevin, Axios health care editor Sam Baker notes.
Driving the news: Beshear has pledged to reverse Kentucky's plan for Medicaid work requirements — which took a backseat to national issues in the campaign, but was nevertheless one of Bevin's most significant policy legacies.
Not only did Bevin approve of the state's work requirements, he sued his own constituents to defend the policy, and threatened to pull out of the Affordable Care Act's Medicaid expansion altogether if work requirements were ultimately struck down.
And a legal loss seems like a relatively likely outcome as the policy works its way through the courts.
By Bevin's own estimates, Kentucky's work rules would have shed about 95,000 people from the state's Medicaid rolls. Those coverage losses are a big part of the reason the policy has faced such resistance in the courts.
What's next: Bevin had not conceded at the time we hit "send" on this email, so things could change.
This won't be the end of litigation over Medicaid work requirements, but Kentucky wouldn't be the first state to reverse course after an election.
And as political losses and adverse court rulings add up, this signature of the Trump health agenda gets weaker.
2. Don Berwick on the "Medicare for All" debate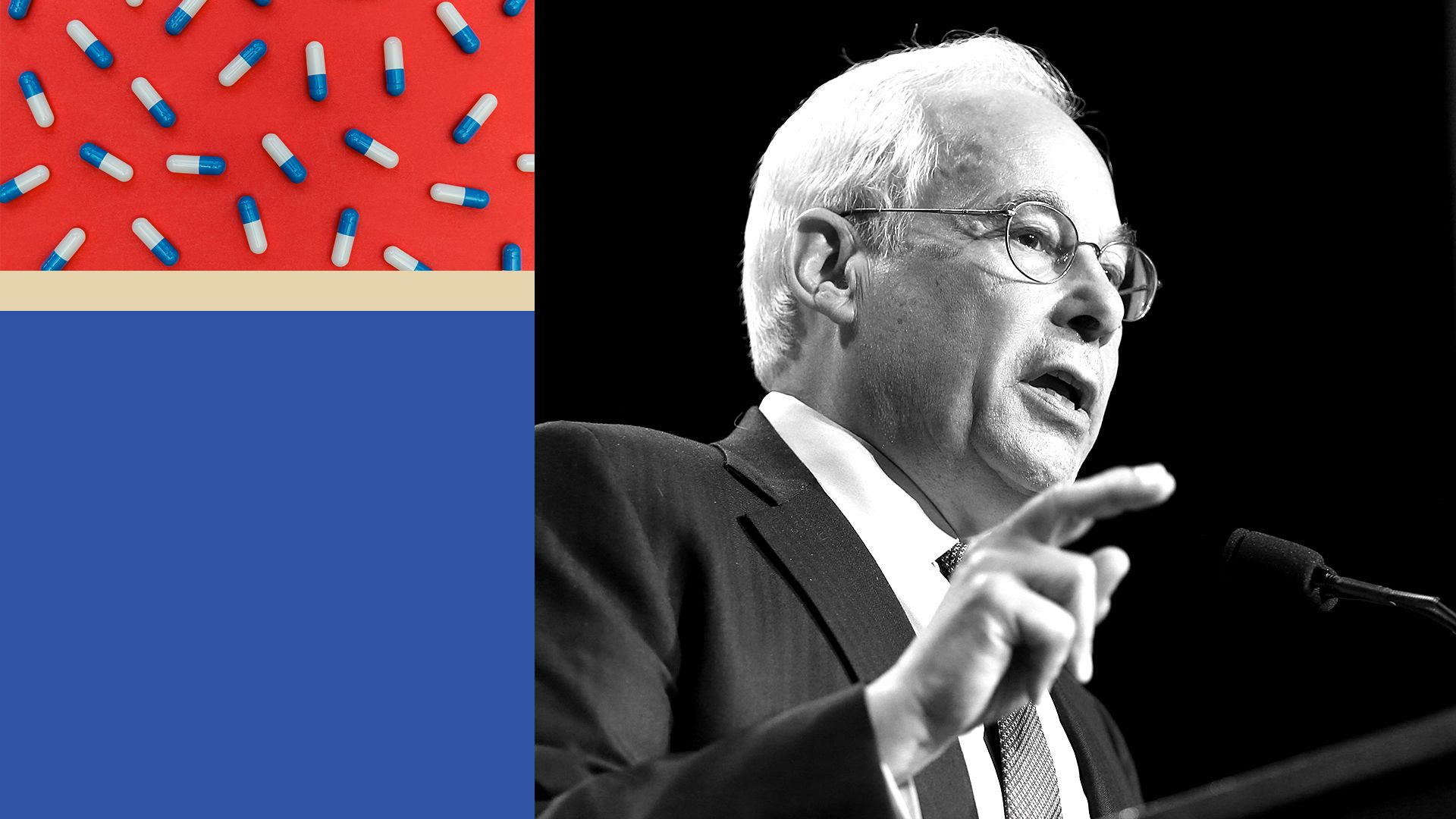 Don Berwick, a physician and former head of Medicare and Medicaid during the Obama administration, wants the country to have a "rational" debate about "Medicare for All" — but says that will require a more rigorous comparison to the status quo, Axios' Bob Herman reports.
What he's saying: Here's a sample from Bob's interview. It took place before Sen. Elizabeth Warren released her Medicare for All financing plan, for which Berwick served as an adviser.
Q: You have been vocal lately in your support of "Medicare for All," a stark contrast with other former and current administrators of the Centers for Medicare & Medicaid Services. Why?
DB: What I think I'm seeing is distortion and ambiguity about terms. One [misconception] is "Medicare for All" is a government takeover of health care delivery, which is absolutely not the case. I haven't seen anybody propose that.
Q: Many people may not know their employers cover 70% or more of their entire premium — money that otherwise would go to their pay. Is this the main problem when talking about reforms?
DB: The basics are not that complicated. Every single dollar — every nickel spent on health care in this country — is coming from workers. There's no other source. But it's coming through many different routes. We have to find a way to get those very complicated streams into one stream.
3. Mint-flavored vapes winning over teens
Juul's mint flavor has become the most popular e-cigarette flavor for teens in 12th and 10th grades and the second most popular in 8th grade, an NIH-funded study published in JAMA shows.
A second JAMA study found that mint and menthol's popularity among all e-cigarette brands is also rising, Axios' Marisa Fernandez reports.
Why it matters: The Trump administration is expected to move forward this week with a ban on flavored vape products, except for tobacco and menthol flavors, and Juul has already said it will stop selling all flavors except tobacco, mint and menthol.
By the numbers: About 1.6 million high school and middle school students have used fruit-flavored e-cigarettes in the last 30 days. About 1.2 million use either menthol or mint flavors, one of the studies notes.
Meanwhile, the Food and Drug Administration has been investigating Juul's advertising and marketing practices.
Reuters reported Tuesday that in 2015, Juul had disregarded early evidence it was enticing teens to use its product and ultimately become addicted. Its nicotine blend was so potent, engineers tried to create a fail safe with a lesser a dosage. The notion was delayed.
What to watch: Will teens switch to menthol- or tobacco-flavored vape pods, when that's all that's left?
4. Walgreens may go private
Walgreens Boots Alliance has discussed going private with some of the world's largest private equity firms in recent months, Reuters reports.
The big picture: Walgreens has a market value of $55 billion, and this would be the biggest leveraged buyout on record.
Yes, but: Some private equity firms have raised concerns about Walgreen's business prospects and financing the deal.
Our thought bubble, via Bob: The key word here is "exploring." Taking Walgreens private would take more than $70 billion, and pharmacies are a low-margin business right now that may not attract a group of private equity financiers that could fund that large of a deal.
The most profitable entities in the supply chain are drugmakers and pharmacy benefit managers, not pharmacies, which have felt the effects of lower generic drug payments.
Walgreens CEO Stefano Pessina owns 16% of the company and almost certainly would have to roll his equity into any deal.
"Many companies have exploratory conversations. Often nothing transpires," Eric Coldwell, a pharmaceutical supply chain analyst at Robert W. Baird & Co., wrote to investors Tuesday.
5. Medicare for All's popularity may have peaked
Public support for Medicare for All might have peaked, but it's still a powerful idea among many Democrats, the Kaiser Family Foundation's Drew Altman writes in today's column.
By the numbers: Support for national health plan rose from around 40% in 2000 to a high of 59% in March of 2018, but had slipped back to 51% by October of this year.
That's still a majority, but it's narrow and headed in the wrong direction. And polling shows that support drops much further, and opposition rises, when people hear some of the most common arguments against Medicare for All.
Between the lines: Critics, debate moderators and the media have focused largely on two unpopular tradeoffs in a Medicare for All plan: the large number of Americans who would have to give up their private coverage; and the likelihood of a middle class tax hike to finance the plan.
Sen. Elizabeth Warren took great pains to avoid one of those criticisms in crafting her financing plan, which does not include a tax hike for the middle class, but certainly includes other potential landmines.
Much less attention has been given to potential upsides, such as eliminating out-of-pocket costs, achieving universal coverage, or reducing the complexity of the health care system.
Yes but: Support for Medicare for All is still strong among Democrats at 71%, so it remains an effective rallying cry for progressive Democrats in the primary.
6. IVF "add-ons" are mostly unproven
Fertility clinics offer IVF patients a wide variety of supplementary procedures sold as ways to increase the treatment's likelihood of success, but there's not much evidence they work, STAT reports.
Between the lines: IVF can be an emotionally harrowing procedure, and women desperate to have a baby aren't likely to say no to something marketed as their last hope for doing so.
Details: There are nearly three dozen supplemental procedures being offered, but there's little to no evidence that most of them actually increase a woman's chance of having a baby, according to four papers published yesterday in Fertility and Sterility, the journal of the American Society for Reproductive Medicine.
Some of the add-ons may even lower a woman's chance of having a baby through IVF.
The bottom line: IVF clinics are lightly regulated, if they're regulated at all, Stat writes.
"Fertility clinics have gotten bolder and bolder about using procedures that have little to no scientific validation," said Jack Wilkinson of England's University of Manchester, who led one of the new studies. "It lets them tell patients there's one more thing they can try."
Editor's note: The second item in yesterday's Vitals has been corrected to say that Georgia will ask for full federal funding for Medicaid expansion (not partial), and will only apply for partial funding if its initial request is rejected.