Axios Vitals
February 21, 2018
Good morning ... Whatever you might think about the merits of the Trump administration's latest health care regulations, let's please agree to put a stop right now to any further mentions of "short-term, limited duration" health plans. This is a redundant, unnecessarily duplicative description.
Putting Trump's health care changes in context
This might be the best way to understand the Trump administration's approach to the Affordable Care Act:
The ACA's exchanges, like health insurance itself, relied on healthy people subsidizing the cost of covering sick people.
But they're sliding deeper into something a lot more like a makeshift high-risk pool, in which healthy people are absent and the government simply pays to cover sick people.
The White House and congressional Republicans are not trying to change that reality. In some ways, they have accelerated it. At a minimum, they accept it.
Their focus is instead on how to create a better deal for the comparatively healthy, wealthy people who aren't interested in the exchanges. And if more people end up ditching the marketplaces as a result, well, c'est la vie.
Yesterday's rules are another brick in the wall. Repealing the individual mandate will pull a lot of healthy people out of the ACA's exchanges. Association health plans will pull out a few more; expanded access to short-term health plans, a few more after that.
On their own, yesterday's rules on short-term plans probably wouldn't wreck the market. After all, they restored what had been the status quo until 2016.
"I don't think it's going to be a huge deal, particularly in the short term," Avalere's Chris Sloan told me.
Between the lines: "Really, the draw into the individual market has been the subsidy," Health and Human Services secretary Alex Azar told reporters yesterday.
It's an instructive comment about how HHS sees the exchanges, and who it sees as the potential customer base for ACA coverage.
More than 80% of ACA enrollees receive premium subsidies. And the consumers with the biggest subsidies are the ones who are the most insulated from steep premium increases.
People who aren't eligible for premium subsidies "are just not enrolling in this market," Sloan said.
The bottom line: All of this leaves the exchanges as a de facto home for people who really need coverage for preexisting conditions or who are poor enough to be shielded from the rising cost of that coverage.
Rather than try to balance that group out, HHS is moving on and trying to create new options for healthy people — and that leaves the federal government largely on the hook for rising premiums within the exchanges.
HHS official spread conspiracy theories on social media
Jon Cordova, the principal deputy assistant secretary for administration at HHS, is on administrative leave after CNN unearthed a trove of his social media posts in which he spread unfounded conspiracy theories, often with racial overtones.
The lowlights, per CNN:
"He pushed stories filled with baseless claims and conspiracy theories, including stories that claimed Gold Star father Khizr Khan is a 'Muslim Brotherhood agent.'"
"Cordova also shared unfounded and false stories that claimed [Sen. Ted] Cruz frequented prostitutes."
"Cordova called for a boycott of Budweiser because the company supported 'jihadis' over white immigration."
"[He] compared MoveOn.org and the Black Lives Matter movement to Nazis."
Quick take: Cordova is not the highest-ranking HHS official. But the department has already lost a secretary and a CDC director, and several other employees are facing intense public scrutiny.
By now, it's probably fair to question the White House's vetting and decision-making as it staffed up one of the biggest and most politically important departments in the federal government.
HIV patients sue CVS
Several HIV/AIDS patients have sued CVS Health, alleging the pharmacy giant flouted federal and state insurance laws by forcing patients into two options: Fill their prescriptions at CVS locations or through CVS' mail order, or face thousands of dollars in out-of-pocket costs.
One big question: Other lawsuits have alleged that CVS uses anticompetitive muscle to force business partners to use certain vendors. If CVS succeeds in buying Aetna, would Aetna customers with conditions like HIV be forced to use CVS and cut ties with their old pharmacies — at the risk of paying a lot of money for prescriptions out of their pockets?
Go deeper: Axios' Bob Herman has all the details on this lawsuit and what it might mean for CVS.
The doctor, and the loan officer, will see you now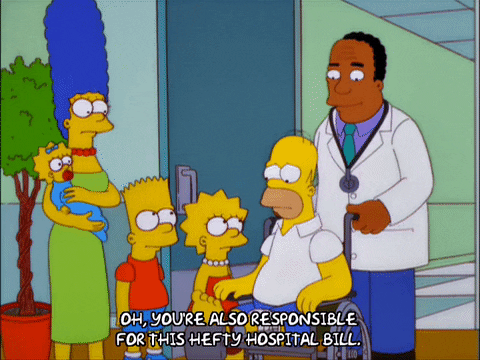 Hospitals have come up with a new solution to make sure patients pay their bills, according to Kaiser Health News: They're partnering with banks and asking patients to take out loans to cover their bills — even while patients are right in the middle of their treatment.
How it works, per KHN:
"The process begins with a hospital estimate of a patient's costs, which takes insurance coverage into account. A billing representative then lays out payment plans, often while the patient is still being treated, and a loan sign-up can take place right away, often without a credit check."
"Once back home, the individual writes monthly checks to the lender, which has paid the hospital — though keeping a designated percentage of the bill as its fee."
The catch: Patients are often asked to take out (and then repay) loans big enough to cover the sticker price of their care, not the lower rates their insurance plans have negotiated.
Medicaid savings can be expensive
The new restrictions states are hoping to add to their Medicaid programs will require tens of millions of dollars to actually implement — a hefty price tag for changes that are at least partially designed to save money by covering fewer people.
The details: A report in Governing breaks down the biggest costs states will face as they add work requirements to their Medicaid programs: updating their information technology systems, and training their staff on new systems and protocols.
Kentucky expects to spend roughly $170 million to implement its waiver.
Virginia Gov. Ralph Northam has said the state would need about $100 million to include a work requirement if it expands Medicaid.
The federal government will reimburse states for a lot of their IT costs, but has said it won't cover the cost of work training or other supports that might be tied to new Medicaid rules. States will either have to fund those programs themselves or simply not offer them,
Key quote: "I don't know if states realize how fundamentally they'll have to change their eligibility systems … Our serious concern here is that they are shifting spending from health care for needy families to administrative bureaucracy," the Center on Budget and Policy Priorities' Jennifer Wagner told Governing.