Axios Vitals
July 18, 2019
Good morning ... If you're in D.C. this morning, don't forget to join us for a conversation about the future of pain management and the opioid crisis, featuring policymakers as well as front-line practitioners. RSVP here.
But before you head over, I have 1,013 words for you, which should take under 4 minutes.
1 big thing: A glimmer of hope
Fewer Americans died from drug overdoses last year than the year before. It's the first time that number has gone down in almost 30 years.
"Lives are being saved, and we're beginning to win the fight against this crisis," Health and Human Services Secretary Alex Azar said in a statement yesterday.
Yes, but: This progress is both fragile and modest.
Overdose deaths fell by about 5% last year, according to provisional data from the federal government. But overdose deaths rose by roughly 316% between 1999 and 2017. There's still a long way to go, and more than 68,000 Americans still died of overdoses last year.
"This crisis developed over two decades and it will not be solved overnight," Azar said.
Overdoses from prescription opioids are falling, but deaths from fentanyl, cocaine and meth all continued to increase last year.
Between the lines: The decline in overall mortality appears to be driven mainly by a decline in the abuse of prescription painkillers. But overdoses involving fentanyl, cocaine and meth are all continuing to increase.
Naloxone, the drug that reverses the immediate effects of an overdose, has also become much more widely available as the crisis has worsened, and that is all but certainly helping to save lives.
But it's not clear whether efforts to get people into longer-term treatment programs are making a dent yet, given the rising demand for illegal drugs.
Go deeper: How to change treatment for opioid addiction
2. New rules for high-deductible plans
The IRS rolled out new rules yesterday to help people who have chronic diseases, but are also on the hook for thousands of dollars of their medical bills.
How it works: The new rules allow insurers to cover treatment for chronic conditions, like diabetes and high blood pressure, before patients have met their deductibles.
This only applies to high-deductible plans that also offer a health savings account — which is an increasingly common arrangement.
My thought bubble: High-deductible plans and chronic disease are both pretty ubiquitous, and this will surely help sick people get the care they need.
As the Wall Street Journal notes, there's a broad base of support for these new rules, including patients, insurers and policymakers from both parties.
But it's hard to look at this change without asking some more fundamental questions about the rise of deductibles.
After all, making people pay for more of their own care is the whole point. High-deductible plans were designed to give people more "skin in the game."
It only stands to reason that when you require people to pay a couple thousand dollars of their own bills before insurance kicks in, that's primarily going to affect people who have a couple thousand dollars in health care bills.
Deductibles are a large and growing source of frustration for middle-class families, the L.A. Times' Noam Levey writes.
Neither high deductibles nor health savings accounts have put a dent in health care prices, as their advocates thought they would.
And families with the highest deductibles are among the least satisfied with their employer coverage.
Go deeper: Workers' health care costs just keep rising
3. What "Medicare for All" means for Medicaid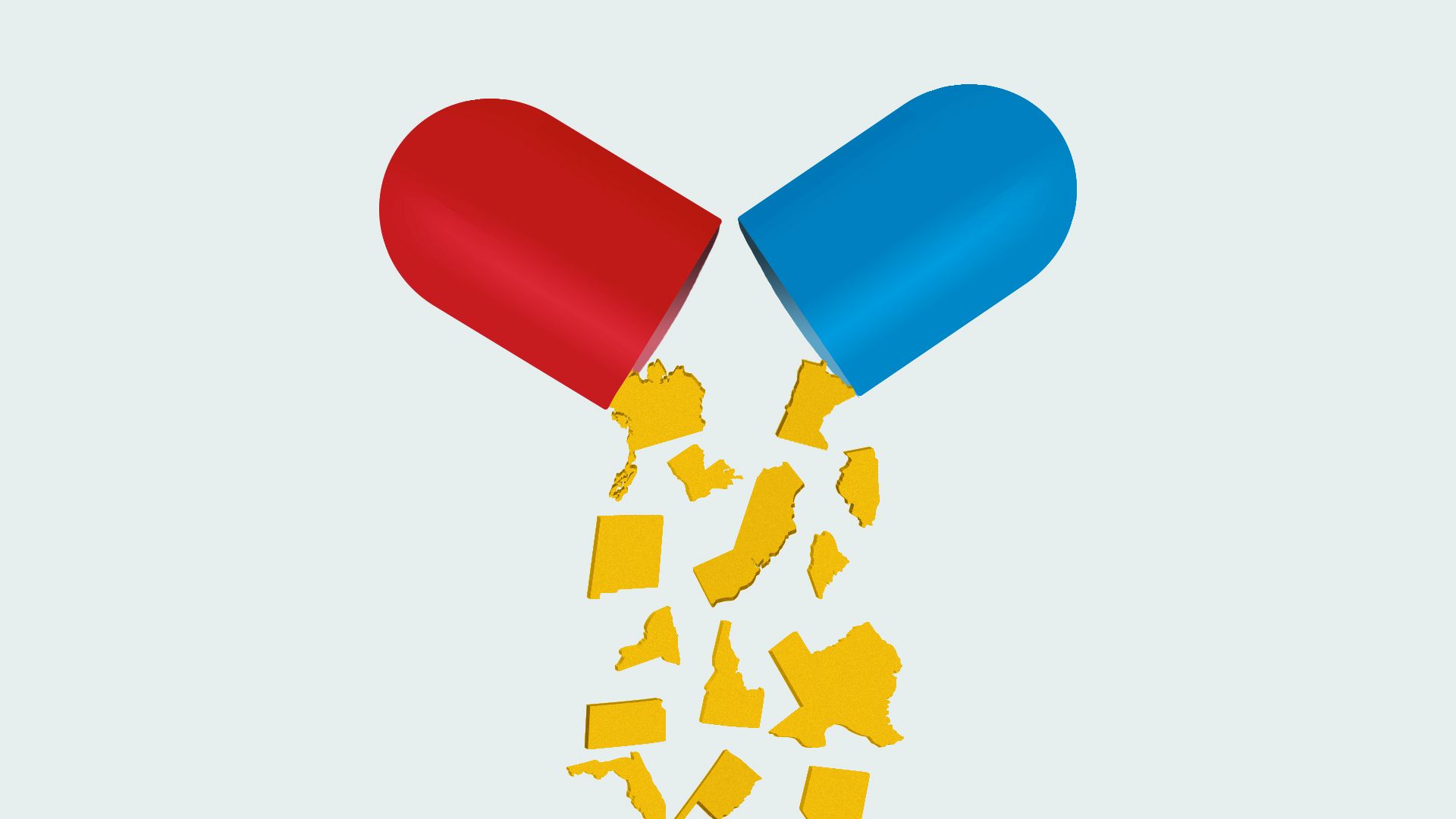 The fact that "Medicare for All" would eliminate Medicaid hasn't gotten nearly as much attention as its elimination of private insurance. But it should, Kaiser Family Foundation President Drew Altman writes in his latest Axios column.
Why it matters: State Medicaid programs are leaders in experimenting with delivery and payment reforms, efforts to control drug costs, and addressing social causes of ill health, such as poverty and poor housing.
All of those projects would still be important in a single-payer world.
But states' specific reforms — and the idea of states as laboratories of reform — would pretty much disappear under Sen. Bernie Sanders' proposal,
Yes, but: Although states would lose a lot of their ability to shape and experiment with policy, they'd save a ton of money in the process.
Medicaid is the single largest item in most state budgets.
The bottom line: For advocates of a single national plan, eliminating the patchwork of state Medicaid programs would be progress. For fans of a federal-state balance, it's a big problem.
Either way, Medicaid is a large and generally popular program, and its future at least deserves a bigger role in the debate.
4. Crashing the Cadillac
There may only be one source of bipartisan agreement when it comes to the Affordable Care Act — opposition to its revenues and cost-control measures.
Nothing checks both of those boxes quite as effectively as the law's "Cadillac tax" — which is now on its way out.
Driving the news: In an overwhelming 419-6 vote, the House signed off yesterday on repealing the tax on high-value health plans,
Repealing the tax will cost the federal government almost $200 billion over the next decade, according to the Congressional Budget Office.
Real talk: This tax is one of those policies that economists absolutely love, and people who have to stand for election absolutely hate. And in those situations, politics usually wins.
Employers and unions — one big constituency for each party — both loathe the tax, which was designed to pressure them to make their health plans less generous or to find other ways to bring down their plans' costs.
What they're saying: "Unfortunately a lot of what Congress has been doing in recent years seems to be ignoring the budgetary consequences," Paul Van de Water, of the liberal Center on Budget and Policy Priorities, told The New York Times.
Congress has also delayed, frozen or repealed other revenue-raisers from the ACA, including taxes on medical devices and health insurance plans.
The controversial Independent Payment Advisory Board, or IPAB, has never actually been formed, but has engendered plenty of bipartisan opposition even theoretically.
5. African Ebola outbreak is officially an emergency
The World Health Organization has declared Congolese Ebola outbreak to be an international health emergency, now that the virus has spread to more populated areas.
By the numbers: More than 1,500 people have died in what's now the second-worst Ebola outbreak on record.
The bottom line: "The reality check is that a year into the epidemic, it's still not under control, and we are not where we should be," Doctors Without Borders President Joanne Liu told the AP. "We cannot keep doing the same thing and expect different results."