Axios Vitals
December 11, 2019
Good morning.
D.C. readers: Don't forget to join Axios' Mike Allen this morning at 8am for conversations about the future of comprehensive health care.
He'll sit down with former FDA commissioner Dr. Scott Gottlieb, Sen. Bill Cassidy (R-La.), and Sylvia Mathews Burwell, former secretary of the U.S. Department of Health & Human Services and president of American University.
Today's word count is 823, or a 3-minute read.
1 big thing: Pharma's only-mildly-bad day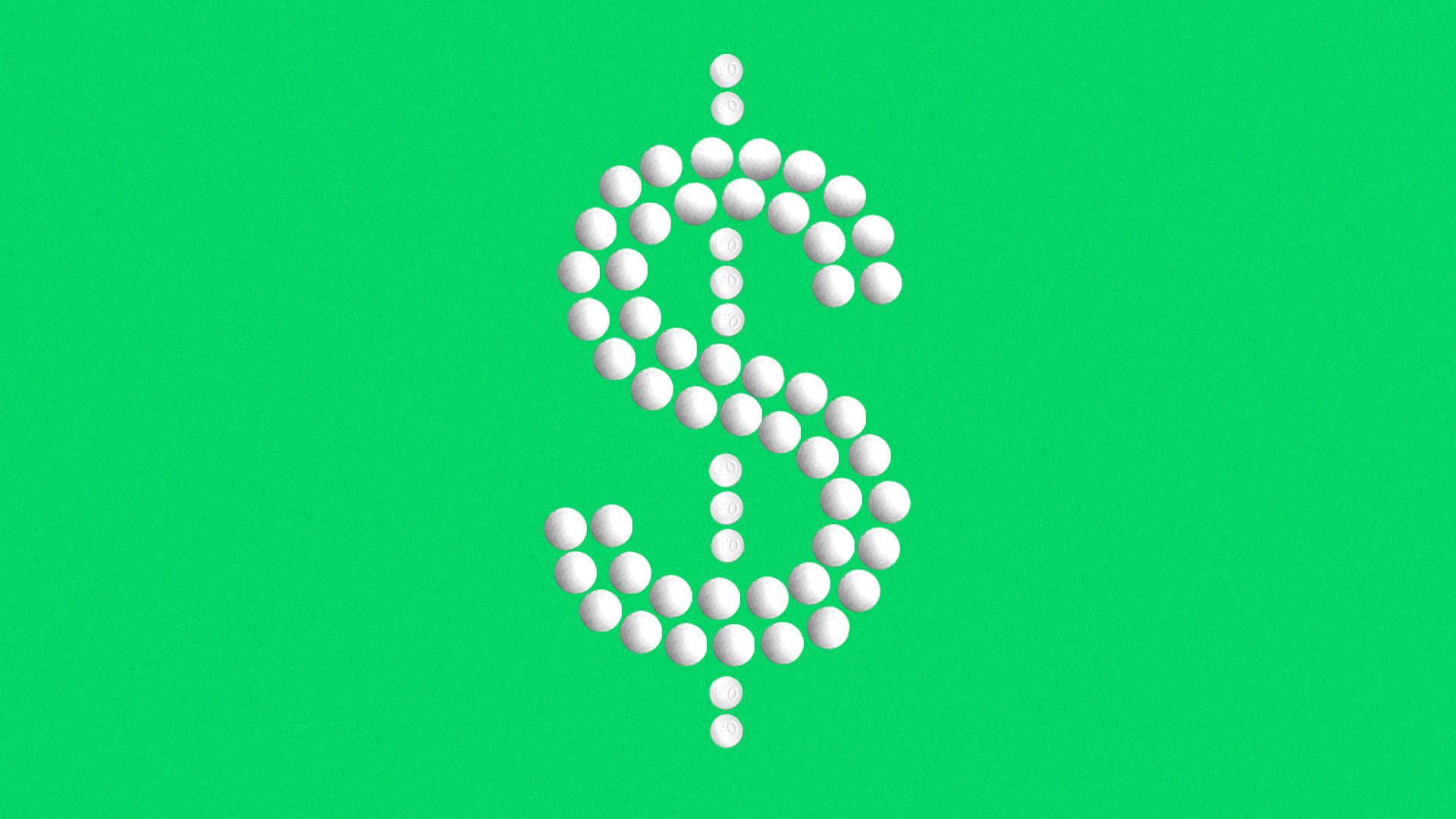 Pharma didn't get what it wanted on trade, but it's still doing just fine, Axios' Sam Baker writes.
The big picture: In this political climate, with this much scrutiny on drug prices, preserving the status quo is an enormous victory for this incredibly powerful industry.
And though it failed to win a new victory on trade, the status quo is perfectly intact.
Driving the news: Democrats and the Trump administration have agreed to a new trade pact among the U.S., Mexico and Canada — without protections for brand-name biologic drugs.
At the same time, House Speaker Nancy Pelosi was able to ward off a rebellion from the left and strike a deal that will likely ensure the passage of her drug-pricing bill, Politico reports.
By the numbers: Enhanced Medicare price negotiation under Pelosi's bill would save the federal government about $456 billion over a decade, the Congressional Budget Office said yesterday.
The bill would plow most of that money back into new Medicare benefits.
CBO said the bill would likely result in about 8 fewer drugs being developed over the next decade, and roughly 30 drugs in the decade after that.
Yes, but: A House vote is probably as far as this bill is going. And its loss in the trade deal was a failure to win something new — not a loss of something that exists.
The bottom line: It's increasingly likely that pharma will be off the hook until 2021 — and that's an enormous victory for an industry that's been criticized from all sides.
2. Public libraries as mental health resources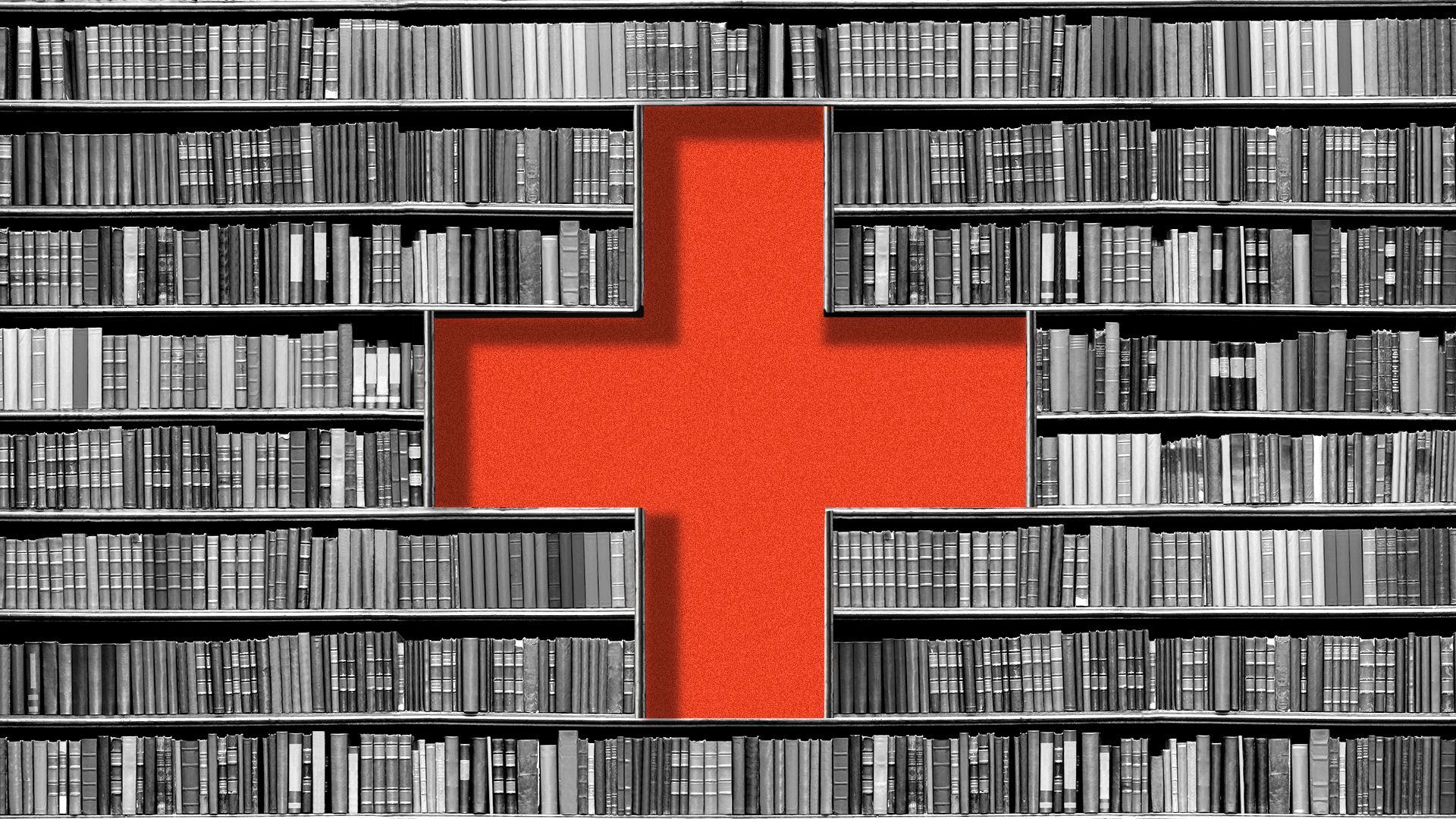 Libraries are taking on new duties as resources for people who need mental health help, Axios' Marisa Fernandez reports.
Why it works: "Most people feel very comfortable walking into a library to get information" as opposed to a clinic, New York City first lady Chirlane McCray, who helped spearhead one such initiative, tells Axios.
Details: This month, New York City's mental health initiative partnered with more than a dozen New York Public Library branches to provide free mental health first aid training, social-emotional learning and more — including, of course, relevant books.
The NYPL also partners with NYU's Silver School of Social Work. Several branches invite agencies to visit and provide assistance with public benefit programs.
The San Francisco Public Library, which sees about 1,000 homeless visitors every day, hired a library-based psychiatric social worker in 2009, the Library Journal reports.
Pima County Public Library in Arizona was the first library to hire a public health nurse as a permanent staff member.
Yes, but: Programming and information in libraries is not a replacement for professional treatment, a spokesperson for the New York Public Library notes.
Go deeper:
3. SCOTUS seems to side with insurers
The Supreme Court appeared to side with insurers over their claim that the federal government owes them $12 billion in Affordable Care Act risk corridor payments, AP reports.
Between the lines: The program was included in the ACA to help protect insurers participating in its new marketplaces from financial losses, but Congress inserted provisions into spending bills limiting those payments.
What they're saying: "Are you saying the insurers would have done the same thing without the promise to pay?" Justice Elena Kagan asked a lawyer for the government.
"Why doesn't the government have to pay its contracts like anyone else?" asked Justice Stephen Breyer, per WSJ.
4. China's racing into CAR-T development
China's aggressive focus on prescription drugs includes developing its own version of CAR-T, one of the most ambitious therapies on the market, Bloomberg reports.
Why it matters: Chinese scientists are attempting to develop CAR-T therapies — which genetically engineer a patient's own immune cells to destroy cancer cells — much faster and with a much cheaper price tag than those in the U.S.
But there are concerns that the country is moving too fast and considering loosening oversight too much.
While American and European companies take two to three weeks to engineer each patient's CAR-T therapy, Chinese startup Gracell Biotechnology makes theirs overnight.
Gracell plans to price its treatment — which is still experimental — at around $71,000. The two CAR-Ts approved in the U.S. have price tags of $475,000 and $373,000.
What they're saying: "We all want these therapies to move fast and some are very good, but we need to be aware that some could be moving too fast for their expertise, even if they have very good intentions," Bruce Levine, a professor specializing in cancer gene therapy at the University of Pennsylvania, told Bloomberg.
The big picture: The Chinese market for drugs is enormous, particularly for cancer drugs.
China is home to the largest cancer population in the world, per Bloomberg.
Go deeper: China offers drug companies market access in exchange for lower prices
5. The ACA's free health plans
Roughly 4.7 million people who have no health insurance could get coverage next year without paying a dime for the monthly premium, according to a Kaiser Family Foundation analysis.
Why it matters: If you make less than $50,000 as an individual or $103,000 as a family of four — and you can't get health insurance through your job or Medicaid — you could get coverage for free, Axios' Bob Herman writes.
The deductibles would still be really high, which would be a major financial hurdle for this group, but many preventive services like vaccines would be completely covered. 
This is especially relevant given the new research that shows having health insurance leads to fewer deaths.