May 13, 2020
Good morning.
Today's word count is 1,314, or a 5-minute read.
1 big thing: Coronavirus likely forced 27 million off their insurance
Roughly 27 million people have likely have lost job-based health coverage since the coronavirus shocked the economy, according to new estimates from the Kaiser Family Foundation.
Why it matters: Most of these people will be able sign up for other sources of coverage, but millions are still doomed to be uninsured in the midst of a pandemic, Axios' Bob Herman reports.
By the numbers: For the 27 million people who are losing their job-based coverage, about 80% have other options, said Rachel Garfield, a health policy expert at the Kaiser Family Foundation and lead author of the report.
Roughly half are eligible for Medicaid or the Children's Health Insurance Program.
Another third are eligible for subsidized health plans on the Affordable Care Act's marketplaces.
The remaining 20% are pretty much out of luck because they live in a state that didn't expand Medicaid or are ineligible for other kinds of subsidized coverage.
House Speaker Nancy Pelosi's latest coronavirus relief bill would fully subsidize the cost of maintaining an employer plan through COBRA — an option that would otherwise be prohibitively expensive for many people. But that's a long way from becoming law.
The bottom line: The coronavirus is blowing up health insurance at a time when people need it most.
2. High-risk states see fewer new coronavirus cases
The first stages of reopening haven't produced a surge in coronavirus cases in most states — at least, not yet.
Yes, but: The reopening process is still in its early stages, so a second wave of infections still remains distinctly possible, Axios' Sam Baker writes.
Between the lines: Our chart compares each state's seven-day average of new cases from Monday, and the seven-day average from a week prior, May 4.
Comparing the averages of two weeks helps smooth out a lot of the noise in how states sometimes inconsistently conduct and report tests.
The latest average captures the first full week in which some states began to ease some of their lockdown measures.
Some of the states that skeptics were most worried about, including Florida and Georgia, haven't seen the rise in total cases that some experts feared.
The other side: Cases are still increasing in other parts of the country. The most worrisome is South Dakota, which saw a startling 123% increase, likely the result of outbreaks in the meat processing industry.
Total cases are an imperfect measure, in isolation, of an outbreak's severity, because that count is limited by the amount of testing in each state, as well as differences in reporting.
The bottom line: None of this means any state is in the clear — as more businesses open and more people venture back out into the world, the risk of a second wave grows. But it's an encouraging early sign.
3. The latest in the U.S.
The U.S. will "without a doubt" have more coronavirus infections and deaths in the fall and winter if effective testing, contact tracing and social distancing measures are not scaled up to adequate levels, NIAID director Anthony Fauci testified on Tuesday.
He also said that the "consequences could be really serious" for states and cities that reopen without meeting federal guidelines.
Sen. Mitt Romney (R-Utah) criticized the Trump administration's coronavirus testing coordinator Adm. Brett Giroir at a Senate hearing Tuesday, accusing him of framing U.S. testing data in a politically positive light: "I find our testing record nothing to celebrate whatsoever."
Millions of Americans are risking their lives to feed us and bring meals, toiletries and new clothes to our doorsteps — but their pay, benefits and working conditions do not reflect the dangers they face at work, Axios' Erica Pandey reports.
House Democrats released Tuesday their phase 4 $3 trillion coronavirus relief proposal that would provide billions of additional aid to state and local governments, hospitals and other Democratic priorities.
The American Federation of Teachers launched several capstone lesson plans Tuesday to help K-12 teachers measure student progress during school closures and overcome the challenges of a remote learning setting.
Grocery staples in the U.S. cost more in the last month than in almost 50 years, according to new data out Tuesday from the U.S. Bureau of Labor Statistics.
A new study by economists at the University of Illinois, Harvard Business School, Harvard University and the University of Chicago projects that more than 100,000 small businesses have permanently closed since the coronavirus pandemic was declared in March, the Washington Post reports.
4. The latest worldwide
Wuhan — the original epicenter of the coronavirus — has ordered all residents be tested for COVID-19 within 10 days following six new infections reported over the weekend, Chinese state media announced Tuesday.
Russia is reporting the most novel coronavirus cases in the world outside of the U.S., per Johns Hopkins data.
Russian President Vladimir Putin's longtime spokesman and close adviser Dmitry Peskov has been hospitalized after testing positive for coronavirus, Russian news agencies report, following positive tests for several other senior officials, including Prime Minister Mikhail Mishustin.
5. College students would attend class in fall
Nearly two thirds of college students say they would attend in-person classes if colleges reopen in the fall, even if there is no coronavirus vaccine or cure, according to a new College Reaction poll.
Why it matters: The findings suggest that even when faced with the prospect of packed lecture halls without a vaccine, most students want to get back to their classes and have an actual college experience, not a virtual one, Axios' Neal Rothschild reports.
That could be good news for the financial survival of colleges and universities, but a huge challenge from a public health perspective, since there's sure to be a continued need for some level of social distancing to keep virus caseloads from spiking again.
By the numbers:
65% say they would attend in-person classes.
31% say they would only attend virtually.
4% say they would withdraw from school.
Between the lines: The desire to attend classes in person comes as students report that the virtual education experience is full of pitfalls: 45% say they attend class less often and more than 70% say they're distracted by their phone, computer and things going on at home.
The catch: The college experience isn't exactly about sheltering in place and keeping six feet away from people, so college administrators will have to solve the public health challenges if they expect to bring students back.
6. New urgency surrounding children and coronavirus
Solving the mystery of how the coronavirus impacts children has gained sudden steam, as doctors try to determine if there's a link between COVID-19 and kids with a severe inflammatory illness, and researchers try to pin down their contagiousness before schools reopen.
Driving the news: New York state's health department is investigating 100 cases of the illness in children, Gov. Andrew Cuomo said at a Tuesday press briefing, Axios' Orion Rummler reports.
Three children in the state have died: an 18-year-old girl, a 5-year-old boy, and a 7-year-old boy. The state's hospitals had previously reported 85 cases on Sunday.
Doctors have described children "screaming from stomach pain" while hospitalized for shock, Jane Newburger of Boston Children's Hospital told the Washington Post.
In some, arteries in their hearts swelled, similar to Kawasaki disease, a rare condition most often seen in infants and small children that causes blood vessel inflammation, she said.
Researchers remain uncertain if this is being caused by COVID-19, but most children appear to have a link. Some affected children have tested positive for coronavirus antibodies, suggesting that the inflammation is "delayed," Nancy Fliesler of Boston Children's Hospital wrote on Friday.
What's next: The CDC is funding a $2.1 million study of 800 children who have been hospitalized after testing positive for the coronavirus through Boston Children's Hospital. The study aims to understand why some children are more vulnerable to the disease.
7. 2 dog things
The star of yesterday's Senate coronavirus hearing may not have been Fauci, but rather Sen. Lamar Alexander's dog, Rufus (at least gauging by the response on Twitter).
Rufus was visible in the background of the senator's video feed. Alexander is self-quarantining after a member of his staff was diagnosed with the virus.
The scoop: Rufus was Alexander's gift to his wife, Honey, for getting through his primary six years ago.
But wait, there's more: I have a new foster dog! And Paco was also helping with yesterday's hearing, although the photo below was taken while he was listening in on a contact tracing webinar.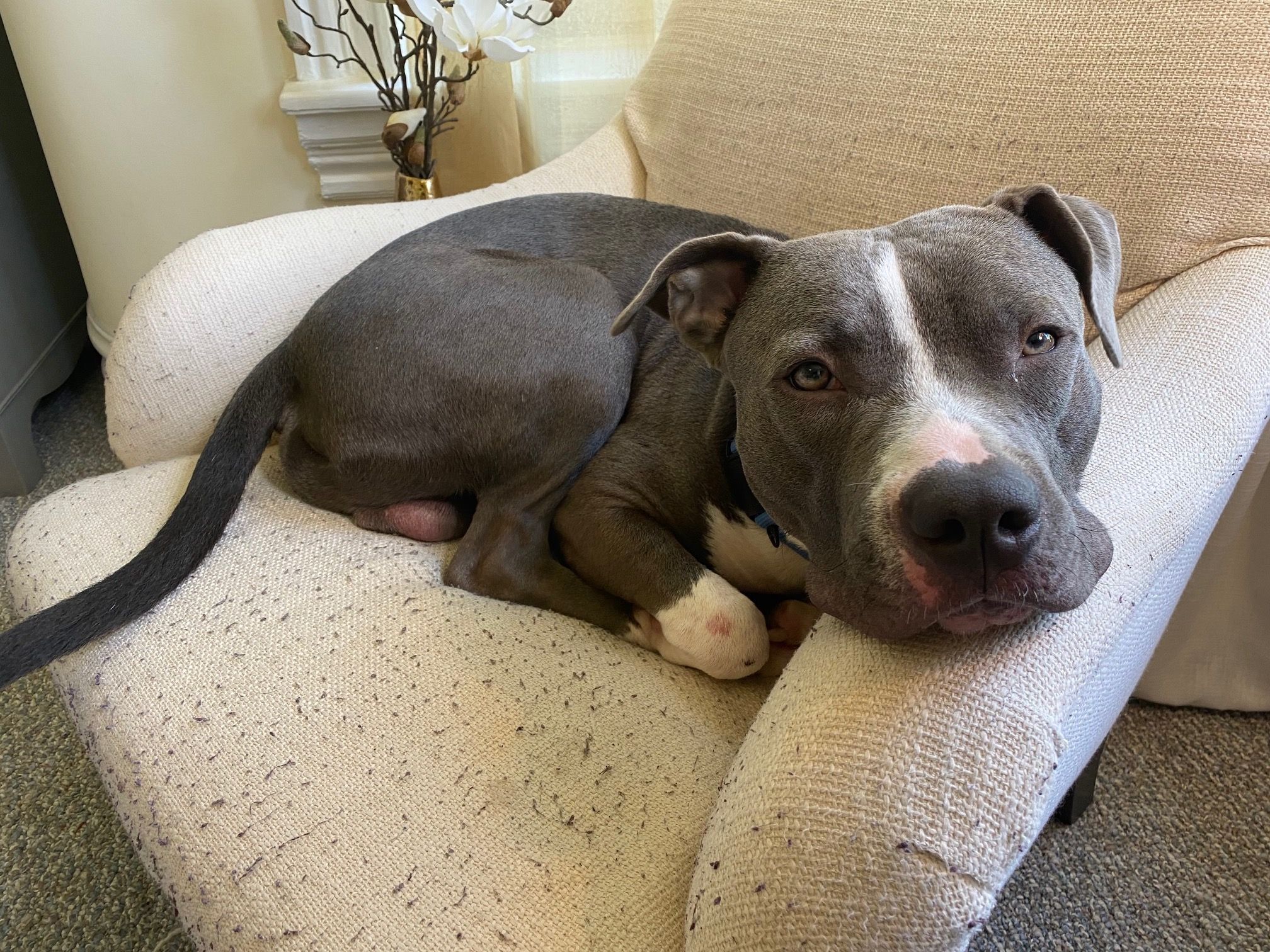 The bottom line: Dogs have no idea what is happening in the world and are just glad that we're around more. And, in my opinion, they make everything that is hard right now a little bit happier.