Good morning.
🚨 Today, we're launching Axios Cities, a new once-weekly newsletter penned by Axios' own Kim Hart.
Expect news and analysis of the technological and demographic trends shaping cities, the economic engines of the world.
Sign up here to receive the first edition in your inbox.
Today's word count is 826 words, or ~3 minutes.
1 big thing: The ACA's bad day in court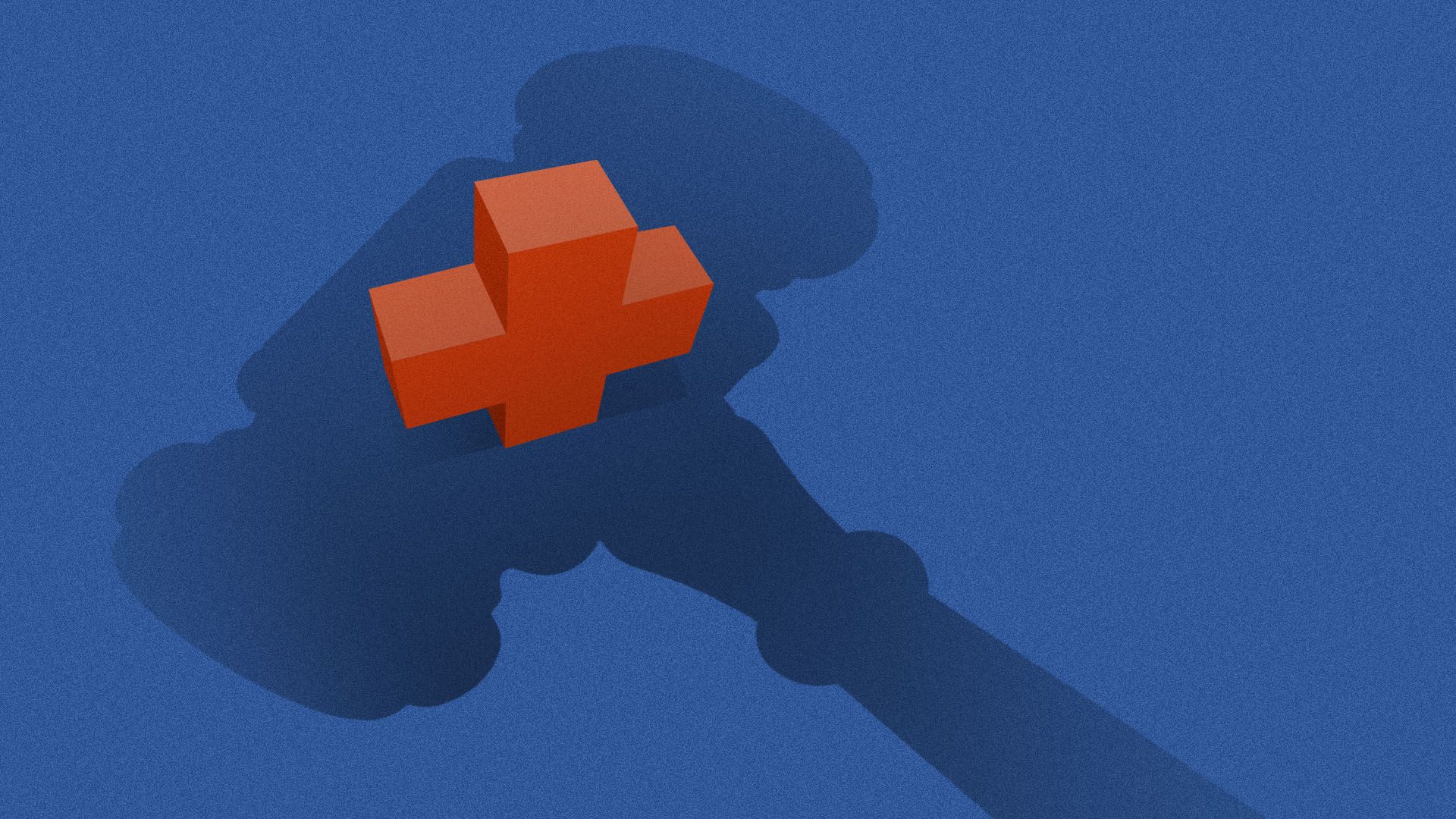 The Affordable Care Act seems likely to suffer at least a few more legal setbacks on what appears to be its inevitable path back to the Supreme Court, Axios' Sam Baker reports from New Orleans.
The big picture: A pair of conservative judges kicked around several ideas for the ACA yesterday: Maybe they'd throw out the whole thing. Or maybe they'd punt it back to a lower-court judge — who previously threw out the whole thing. The one option that didn't appear to be on the table was upholding it.
The most important question in this case is "severability" — whether the individual mandate can be excised from the ACA on its own.
Severability is largely a question of congressional intent. The ACA's allies say that when Congress chose to zero out the mandate without repealing other provisions, it made a clear statement that the mandate could be severed from the rest of the law.
But 5th Circuit Court of Appeals Judges Jennifer Elrod and Kurt Engelhardt pushed back forcefully against that idea yesterday.
"Congress can fix this" by re-passing whatever popular provisions it might want to retain, Engelhardt said, rather than having the courts "become the taxidermist for every big-game legislative accomplishment."
Between the lines: The 5th Circuit is hearing an appeal from a decision by Judge Reed O'Connor, who said last year that the whole ACA must fall.
There was considerable confusion yesterday about the specifics of O'Connor's ruling.
Yes, but: The 5th Circuit probably won't have the final say over the law's survival.
Supreme Court Chief Justice John Roberts has already upheld the law twice, and it's not hard to imagine him doing it again, especially in this rather roundabout case.
Still, it matters what happens on the way to the Supreme Court.
2. Senators considering big drug policy changes
A group of senators is considering a plan to limit how much drug companies can raise their prices in Medicare's prescription drug benefit, among other changes.
The big picture: Some of the proposals would majorly restructure the way Medicare pays for drugs and are sure to draw massive industry pushback — if lawmakers can even agree to them.
Driving the news: Senate Finance Committee Chairman Chuck Grassley and the committee's top Democrat, Sen. Ron Wyden, have been negotiating a drug price package. Grassley briefed Republican members yesterday on the discussions.
There's general agreement on a handful of measures, two Senate aides familiar with the negotiations said, including restructuring how Part D's catastrophic phase is financed, capping seniors' out-of-pocket costs and limiting price increases in Part B to the inflation rate.
Drug companies — which currently don't pay any portion of the catastrophic phase — would be on the hook for some of it, but it's not yet clear how much, according to the aides and a senator who was in yesterday's meeting.
Yes, but: Limiting price increases in Part D to the inflation rate is more controversial, as is a proposal to allow Medicaid to pay for gene therapies over time and tie payments to patient outcomes.
Administration officials, including HHS Secretary Alex Azar and the head of the Domestic Policy Council, Joe Grogan, attended yesterday's meeting.
"The White House and HHS are unified in support of what Chairman Grassley is doing," a senior White House official said.
3. The growing toll of kidney disease
Almost a quarter of traditional Medicare spending, or $114 billion, goes toward patients who have kidney disease, Axios' Bob Herman reports.
A large chunk of that, $35 billion, is spent on patients whose kidneys have failed and require dialysis or a transplant, according to the latest federal data.
Why it matters: Kidney disease diagnoses are growing, especially among older adults. Because treating it requires a lot of discomfort and money, the Trump administration is pushing for policies that will encourage more people to get dialysis treatment at home instead of in clinics, Politico reports.
4. Scathing report on hospice care oversight
Hospices that were negligent to the point of patient harm went unpunished by Medicare, according to an HHS inspector general report covered by the Washington Post.
The report calls out Medicare's weak oversight of hospice providers, and recommends stronger safeguards.
While Medicare covers most hospice care and the amount it spends on it is growing, its oversight of the care is weaker than its oversight of nursing homes.
That's partially because the program doesn't have many tools to discipline hospice providers.
5. CDC seeks cause of polio-like illness
Intense effort is underway to understand and prevent acute flaccid myelitis (AFM) by the Centers for Disease Control and Prevention, as the agency pushes doctors to report symptoms early, per its new Vital Signs report.
Why it matters: Doctors continue to seek the cause of the serious neurologic syndrome after the largest recorded outbreak in 2018 — 233 patients in 41 states reported symptoms that often included limb weakness or paralysis, my colleagues Marisa Fernandez and Eileen Drage O'Reilly write.
The CDC has expressed frustration in determining the source of the illness, as some but not all patients show evidence of enteroviruses, which are spread through the nervous system, in their bodies.
Editor's note: The second item in yesterday's Vitals used the wrong pronouns when referring to Judge Amit Mehta. He is a he. I apologize for the error.