Axios Vitals
August 04, 2020
Good morning. Join me today at 12:30pm ET for a conversation on how hospitals have responded to the coronavirus pandemic with K Health co-founder and CEO Allon Bloch, Columbia University Medical Center associate professor of emergency medicine Dara Kass and Atrium Health president and CEO Eugene Woods. 
Today's word count is 869 or a 3-minute read.
1 big thing: Trump: Coronavirus is "under control"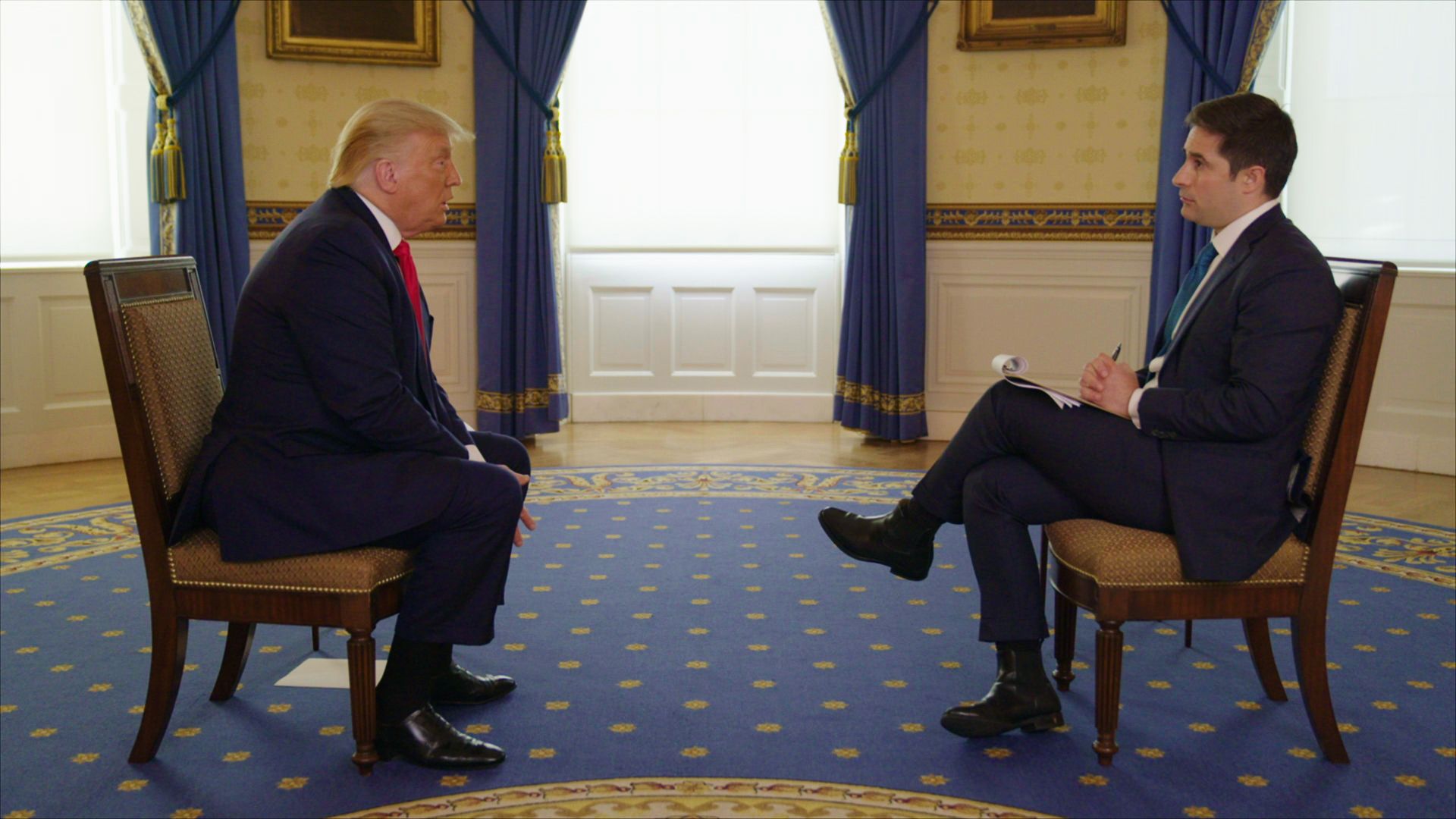 President Trump said in an interview with "Axios on HBO" that he thinks the coronavirus is as well-controlled in the U.S. as it can be, despite dramatic surges in new infections over the course of the summer and more than 150,000 American deaths.
"They are dying, that's true. And you have — it is what it is. But that doesn't mean we aren't doing everything we can. It's under control as much as you can control it. This is a horrible plague," he told Axios' Jonathan Swan.
Reality check: The U.S. is averaging roughly 65,000 new cases and 1,000 deaths per day, Axios' Sam Baker writes. The virus has already killed nearly 150,000 Americans, and it spread largely unchecked through almost the entire country throughout June and July.
The big picture: In the interview, which took place last Tuesday, Trump returned to familiar themes and areas where the U.S. really has made significant progress. He cited the dramatic increase in ventilator production, the ramp-up in testing and treatment that has reduced the overall fatality rate from the virus.
Yes, but: He painted a far rosier picture of the pandemic than most data would support.
On testing, Trump said, "You know there are those that say you can test too much" — a view that no experts have advocated.
The U.S. is experiencing long turnaround times for coronavirus testing, as Trump acknowledged, because of the high demand for testing. But that is largely a function of the country's high caseload and the number of people at risk of infection.
He also returned to his mantra that "because we've done more tests, we have more cases."
The cases the U.S. has, we would have had with or without testing. We know we have them because of testing, but the massive outbreak here would be a massive outbreak whether we chose to know about it (through testing) or ignore it by not testing.
2. Axios-Ipsos poll: Fear of voting
Democrats are twice as likely as Republicans to worry about in-person voting — with nearly two in three seeing it as a large or moderate risk to their health — according to this week's installment of the Axios-Ipsos Coronavirus Index.
Why it matters: This could pose a significant disadvantage for Joe Biden and other Democratic candidates in November if the pattern holds — especially in states where high infection rates persist, or where there are significant hurdles to mail-in, absentee or early voting, Axios' Margaret Talev reports.
It doesn't necessarily mean those Democrats won't vote in person. Many of them could decide it's worth the risk.
But their fears almost certainly increase the odds that some won't vote in person — and if those voters don't have good alternatives, that could present Biden and other Democrats with a turnout challenge they don't need.
The big picture: This week's survey captures new highs and lows as the U.S. approaches 4.7 million cases and surpasses 155,000 deaths.
89% of Americans now say they wear a mask all the time or sometimes outside the home, a new record in our poll.
In another milestone, 19% now say they know someone who has died from the virus — and one-fourth of those were family members.
At the same time, only 17% say they are self-quarantining, staying home and avoiding contact with others for 14 days, the lowest share since mid-March.
3. The latest in the U.S.
Former FDA commissioner Scott Gottlieb told CNBC's "Squawk Box" Monday that coronavirus outbreaks in the MLB, which declined to use the "bubble" strategy employed by the NBA, are "a warning of what could potentially happen if we aren't very careful with the schools."
Seven players and six staff members from the St. Louis Cardinals have tested positive for the coronavirus over the past week, prompting the MLB to postpone the team's upcoming four-game series against the Detroit Tigers.
Staff in the Executive Office of the President will be subject to mandatory coronavirus tests, in efforts to "protect the health and safety of the entire White House Complex," CNBC reports.
House Speaker Nancy Pelosi told CNN on Monday she does not have confidence in White House coronavirus task force coordinator Deborah Birx because "she has enabled" President Trump to spread coronavirus misinformation.
President Trump issued a memo Monday announcing he's reauthorized funding for the National Guard to assist states with their response to the coronavirus pandemic until the end of 2020.
4. The latest worldwide
At least five passengers and 36 crew members aboard a Norwegian cruise ship have tested positive for the coronavirus, and authorities fear the outbreak may have spread to towns along the country's western coast, AP reports.
If all goes to plan, Christopher Nolan's thrice-delayed "Tenet" will be the first blockbuster to receive a proper worldwide theatrical release amid the coronavirus pandemic at the end of this month.
While several novel coronavirus vaccines are in late-stage trials, World Health Organization director-general Tedros Adhanom Ghebreyesus warned on Monday: "There is no silver bullet at the moment, and there might never be."
5. 40% of Americans still putting off care
Roughly 40% of Americans have postponed getting medical care due to the coronavirus outbreak. That number has stayed around 40% in all 12 weeks of the Census Bureau's Household Pulse Survey.
Why it matters: Hospitals and doctors started rescheduling surgeries and other appointments as early as mid-May, and many patient volumes are mostly back to pre-pandemic numbers, Axios' Bob Herman writes.
But this data suggests there is still a major backlog of Americans who need care — a phenomenon that existed well before the pandemic.