Good morning ... How can Republicans get momentum back for their health care agenda? It's awfully hard to do it after an embarrassment that big, but keep an eye on those secret talks President Trump keeps talking about. If not, there's going to be more conservatives pushing for a new bill — maybe one that Democrats won't reject out of hand.
How to reboot the GOP health care agenda
It's not just the Obamacare repeal that's stalled with Trumpcare — it's also all of the market-based reforms Republican wonks have been working on for years. So naturally, Republicans don't want to see all of that work go to waste, but there's a divide over what the next steps should be.
The "start over" camp: It includes conservative health care experts like James Capretta, who wrote in Real Clear Politics that Republicans should restart the agenda with a compromise on Medicaid, better-targeted subsidies for low-income people, a tougher penalty for people who don't keep themselves insured, and automatic enrollment into health insurance.
And it doesn't all have to happen now, Capretta tells me: "Take half a loaf and come back next year and work on something else. They've got a four-year presidency."
Ramesh Ponnuru in National Review over the weekend: "Nothing is stopping the Republicans from spending the next year hammering out a bill that they like better, refining it as they go so that it enables more people to buy coverage they actually want."
The "fix the bill" camp: Other conservatives haven't given up on the House GOP bill, because even if they'd prefer a new one, they recognize that Republicans believe that would be a waste when they already have 200 House votes for the old one.
On the bright side, according to this camp, the Freedom Caucus has scaled back its demands and is no longer fighting over basic issues like tax credits.
Bottom line: The "fix the bill" camp probably has the advantage right now, as long as quiet conversations about the House bill continue. But if they don't bring the House bill back to life soon — like by the end of this week — the "start over" camp may gain the upper hand.
Zombie Trumpcare watch: Don't panic, but look for shelter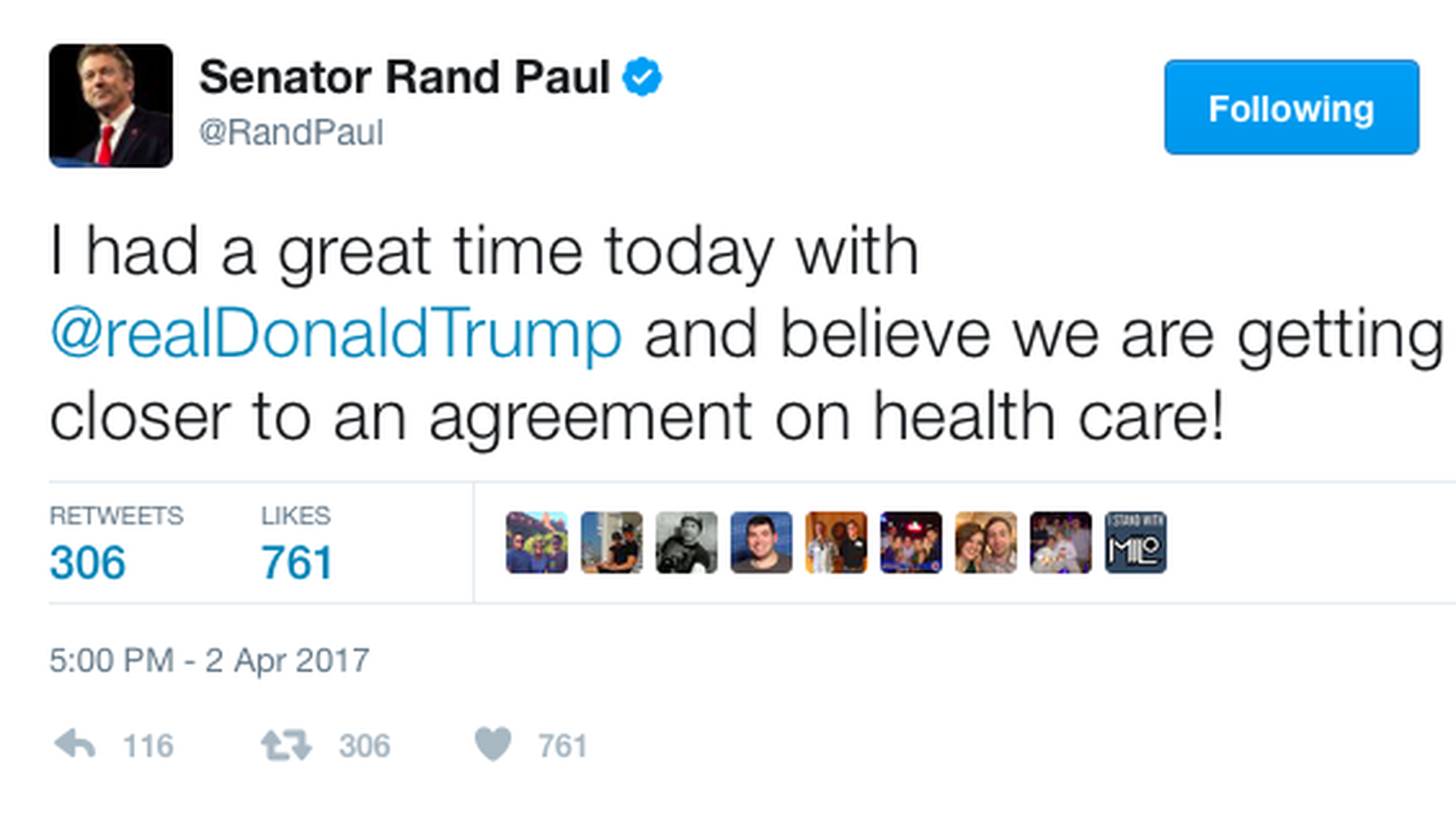 There have been a lot of recent signals that some quiet Trumpcare negotiations are still going on, but what do they really add up to? My best read, from talking to GOP sources over the weekend:
Republicans, including Freedom Caucus members, would really like to get an agreement this week that revives the whole thing. That's why they've kept talking in recent days, and why Trump went golfing yesterday with conservative holdout Rand Paul.
No one's actually sure if it's possible.
Most Republicans on the Hill aren't as optimistic as Trump, who tweeted yesterday that "love and strength" will revive Trumpcare, and Pence, who declared on Saturday that "it ain't over yet."
But the Freedom Caucus has narrowed its demands: Rather than stripping out all of the Obamacare regulations, it now wants to get rid of the "essential health benefits" and the "community rating" rule that prevents insurers from charging higher rates to sick people. (That combination would cause its own problems, as Vox's Sarah Kliff points out.)
If Republicans do manage to get a deal this week, I'm told, they wouldn't vote on it. They'd just take it home to their constituents over the spring recess — which they'd much prefer to going home empty-handed.
But Trump is still keeping the pressure on the Freedom Caucus just in case, telling the Financial Times that if he has to cut a health care deal with the Democrats, "the Freedom Caucus loses so big and I hate to see that."
Bottom line: This is the part of the zombie movie where the townsfolk reassure the kids that everything's fine, but they also start moving everyone to the basement just in case.
Who says insurers can't profit from Obamacare?
Did not realize you could use the words "Obamacare" and "profit" in the same sentence. But then, Bob Herman filed this story about Florida Blue, the state's dominant health insurer, raking in lots of profits — $1.1 billion in gross profits (before taxes and other expenses) from its Obamacare plans. And remember, that's in a state with a Republican governor (Rick Scott) who hates Obamacare and isn't trying to promote enrollment in any way.
It's another reminder that while some insurers really have been doing badly — and pulling out of lots of Obamacare markets — others have been doing just fine, especially if they priced their health plans wisely at the beginning. Read Bob's story here.
Don't expect Medicaid work requirements to do very much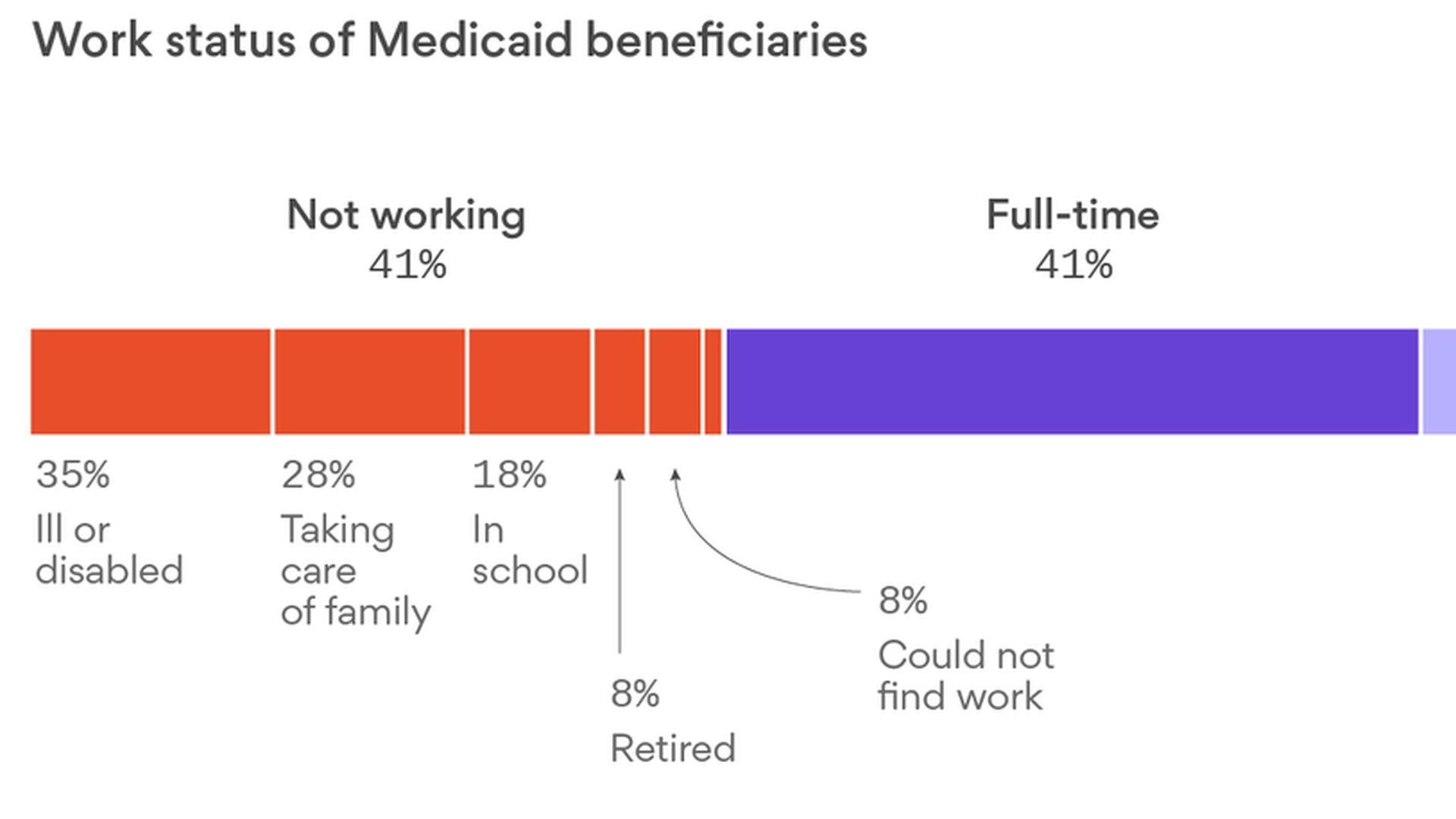 We heard a lot of GOP demands for Medicaid work requirements during the Trumpcare debate, and we'll keep hearing about them now that Centers for Medicare and Medicaid Services chief Seema Verma is encouraging them. But how many people on Medicaid are actually sitting around not working? Not a lot, according to Kaiser Family Foundation president and CEO Drew Altman. His latest column gives us a valuable fact check on that debate.
Sure, there's a big group of people on Medicaid (a little more than four out of 10) who don't work. There just aren't a lot of them who would be considered "able bodied," so people who support the requirements might be disappointed at the results, even if they think it's a good idea in principle.
The latest GOP thinking on cost-sharing payments
What does it mean when top Republicans — like Rep. Tom Cole — say they're open to giving insurers the Obamacare cost-sharing reduction payments they need, but they don't want to reopen negotiations on the next federal funding bill to do it? It means they want to handle the money differently.
Caitlin Owens reports that GOP appropriators want it to be classified as "mandatory funding" — the term that's usually used for entitlement spending, the kind that just happens on its own and Congress doesn't have to budget for it every year. That's Washington-speak for, "We don't want it to come out of the pots of money we've already negotiated." It also means someone else has to make the decision to add the money — like GOP leaders.
Tick-tock, people: If they want to do it, they'd better do it soon, before the federal government runs out of money on April 28.
While you were weekending ...
What we're watching today: Centers for Medicare and Medicaid Services expected to release final Medicare Advantage payment rates and policies.
What we're watching this week: Senate HELP Committee hearing on Food and Drug Administration user fee agreements, Tuesday; House Energy and Commerce oversight subcommittee hearing on health care cybersecurity, Tuesday; Senate HELP Committee confirmation hearing for FDA nominee Scott Gottlieb, Wednesday; House Appropriations Labor/HHS subcommittee hearing on the opioid crisis, Wednesday.
Thanks for reading, and let me know what's the most Trumpcare-like zombie movie you've seen: david@axios.com.