Axios Vitals
November 05, 2019
Good morning. Today's word count is a mere 640 words, or <3 minutes. Let's get to it.
1 big thing: Seniors struggle to afford care
More than half of Medicare beneficiaries with a serious illness have struggled to afford a medical bill, and some beneficiaries with chronic conditions pay an astronomical amount out of pocket for their care, two new studies found.
Why it matters: Medicare is supposed to be a safety net for America's seniors, but its lack of a cap on what beneficiaries pay out-of-pocket — and the fact that it doesn't cover some benefits — leads to many seniors falling through the cracks.
Driving the news: A new survey published yesterday in Health Affairs found that 53% of seriously ill Medicare beneficiaries said they'd experienced financial hardships while trying to get care.
Respondents reported having problems paying prescription drug bills most often, followed by hospital bills.
A second brief published by the Kaiser Family Foundation broke down Medicare beneficiaries' out-of-pocket spending, which averaged $5,460 in in 2016, including their premiums.
The most expensive service for seniors, by far, was long-term care, which isn't covered by Medicare.
Beneficiaries with diseases likely to require long-term care — like Alzheimer's, other kinds of dementia, or Parkinson's — had the highest spending.
Older beneficiaries, women and those in poor health faced higher-than-average costs.
The bottom line: Democrats across the ideological spectrum are leaning into expanding Medicare, but the existing program has plenty of holes.
Go deeper: The looming crisis in long-term care
2. Ga. will try partial Medicaid expansion
Georgia Gov. Brian Kemp — a Republican — yesterday released his plan for a full Medicaid expansion, with work requirements attached. It will apply for partial expansion if the initial request is rejected.
Details: If the waiver is approved, Georgia would be the first state with work requirements built into its expansion. Other states have tried to retroactively apply work requirements.
Kemp's aides estimate that the plan would cover about 50,000 of the 408,000 Georgians who fall beneath the federal poverty level but don't qualify for Medicaid.
Low-income Georgians could also receive subsidized employer coverage if their employer offers insurance but it's unaffordable for them.
The catch: Georgia isn't seeking full federal funding for its partial expansion — because the federal government has already rejected that approach.
Go deeper: How Georgia plans to radically reshape its individual health insurance market
3. Scientists gave biomedical research to China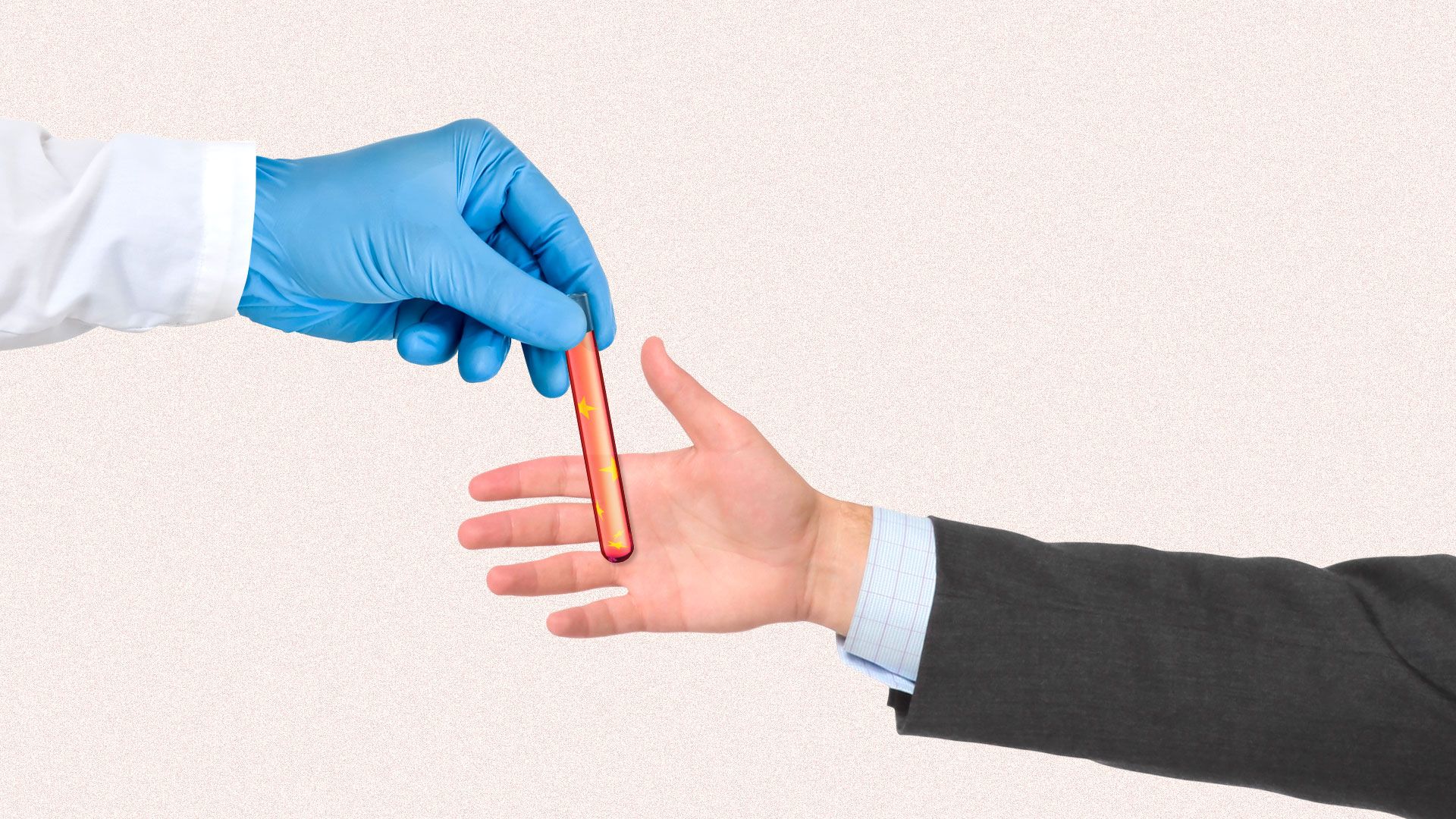 The National Institutes of Health and the FBI are tracking down scientists who are stealing biomedical research and giving it to China, with nearly 200 investigations in progress at academic research centers, the New York Times reports.
The big picture: "The alleged theft involves not military secrets, but scientific ideas, designs, devices, data and methods that may lead to profitable new treatments or diagnostic tools," per NYT.
By the numbers: So far, about 12 scientists have resigned or have been fired from universities and research centers, Axios' Marisa Fernandez writes.
There are 180 cases involving potential theft of intellectual property from 71 medical schools in the U.S.
The NIH sent 18,000 letters last year urging administrators who oversee government grants to be vigilant.
4. Wonky drug pricing method gets new attention
A drug pricing model used by other countries but long opposed by drugmakers in the U.S. is getting new attention amid the political debate over drug prices, the Wall Street Journal reports.
How it works: The method, pushed by the Institute for Clinical and Economic Review, "puts a dollar figure on a year of healthy life, calculates how much health a drug restores to a sick patient, then prices drugs accordingly," per the Journal.
Case in point: Novartis set the price of Zolgensma, its recently-approved $2.1 million gene therapy, at the limit suggested by ICER.
Between the lines: Insurers are embracing the approach, and some drug companies are using it as a tool in their pricing process, leading to lower prices.
What they're saying: "This is a cultural issue," Steve Miller, chief clinical officer at Cigna, told WSJ. "This is America not wanting to put a value on the price of a life."
5. Stryker to buy Wright Medical for $4 billion
Medical device manufacturer Stryker is acquiring competitor Wright Medical for $4 billion in cash. The deal is valued at $5.4 billion when factoring in debt, Axios' Bob Herman reports.
The big picture: The medical device industry would become even more consolidated with this takeover, and Stryker would have more than $15 billion in annual sales and a bolstered presence with shoulder, elbow and wrist procedures.
However, Stryker and Wright Medical have some overlap with ankle devices, which could raise antitrust issues, Reuters notes.
Editor's note: The second item has been corrected to say that Georgia will ask for full federal funding for Medicaid expansion (not partial), and will only apply for partial funding if its initial request is rejected.