Good morning ... You didn't really think Republicans would just walk away from Obamacare repeal, did you? And they're not, but that doesn't mean there's been a breakthrough. Meantime, keep an eye on those National Institutes of Health budget cuts.
https://www.axios.com/newsletters/axios-vitals-5c9fad8a-6a70-469d-ba3c-cd1d13dc929f.html?chunk=0#story0
The reality check on Zombie Trumpcare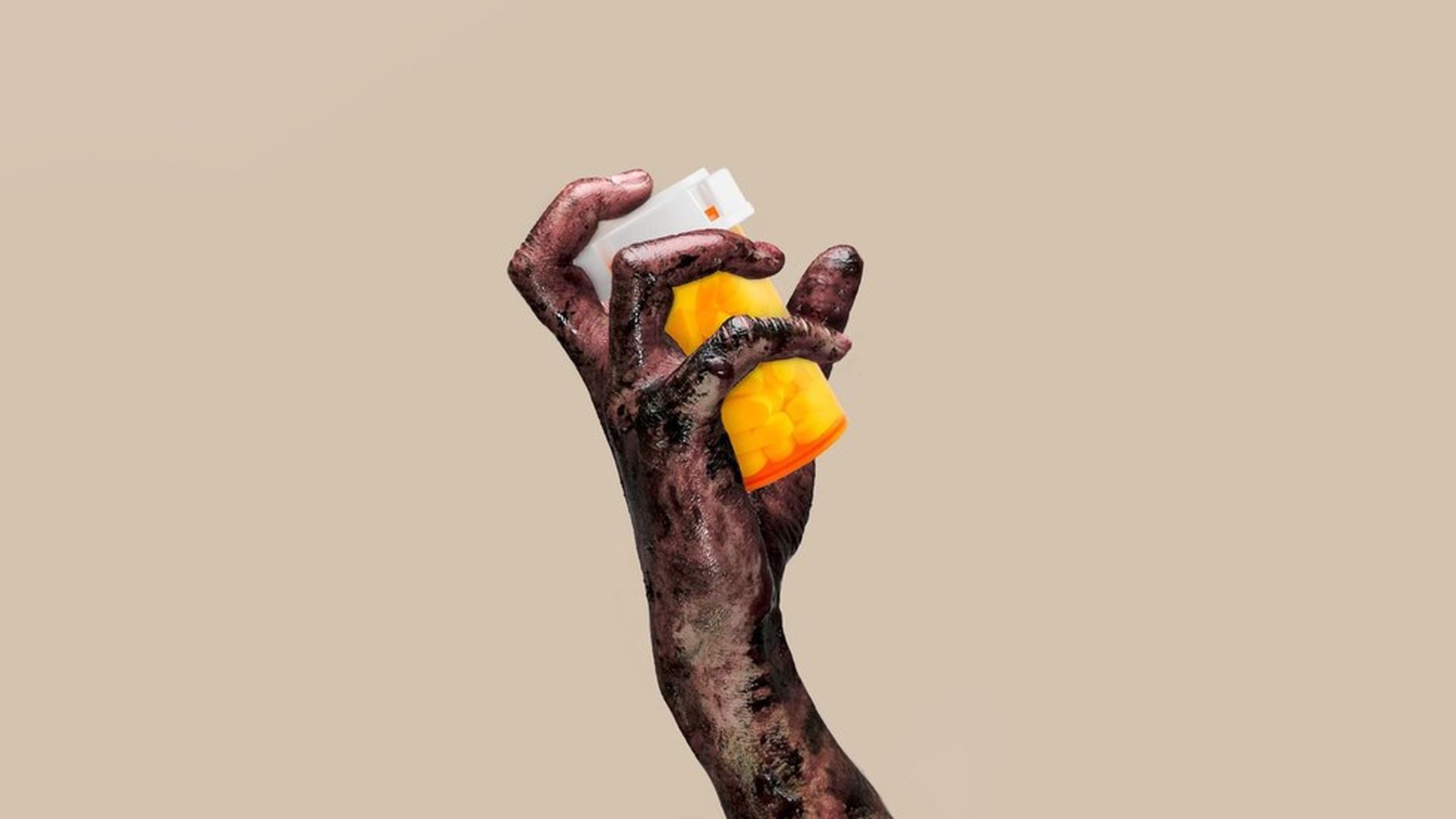 How seriously should you take House Republicans' talk yesterday that they're not giving up on Obamacare repeal, and they're going to keep working until they have enough votes to pass it? You should believe them when they say they'd like to do it. But it's OK not to change your lunch plans for the next few weeks.
Here's why:
Conservatives have been giving Republicans an earful since last weekend: How can you just drop the issue that you've run on in four elections, without even a vote? (My interview on Saturday with Americans for Prosperity's Tim Phillips captures that view.)
When House Speaker Paul Ryan said on Friday that "Obamacare's the law of the land," he echoed the words former House Speaker John Boehner used in 2012 after President Barack Obama was re-elected. Both times, conservatives were infuriated.
So House Republicans had a meeting yesterday, filled with lots of happy talk about how they don't want to give up on a repeal. Even President Trump used some happy talk on senators at the White House last night: "I know that we are all going to make a deal on health care. That's such an easy one."
But Republicans are still stuck with the same problem: Moderates don't like the bill because of the coverage losses, and conservatives don't like it because it wouldn't actually get rid of all of Obamacare.
GOP leaders' basic message to the Republicans was that they still have the budget "reconciliation" bill ready, and they can always bring it back. But that doesn't mean it happens tomorrow. It's more likely after Republicans have all taken a break from each other. That's why Ryan said there's no "timeline."
One GOP aide's read: "You gotta have a plan to go to the floor. That doesn't exist right now. I think it's revisit it later — the reconciliation vehicle is still viable, would be terrible to let that thing go to waste."
Even if the House somehow brings the bill back from the dead, and gets the bare minimum votes to pass it, Senate Republicans are in a different place now. Caitlin Owens reports that Senate HELP Committee chairman Lamar Alexander is ready to talk about bipartisan solutions to stabilize the market while Congress works on a long-term overhaul.
Meantime, Freedom Caucus member Mo Brooks will push for a "discharge petition" to force a vote on his clean repeal bill, spokeswoman Annalyse Keller tells me — but he has to wait 30 legislative days to do that. (It was introduced last week.)
Bottom line: This is the beginning of the Zombie Trumpcare movie. The townsfolk know something is afoot, but nobody is getting their brains eaten yet.
https://www.axios.com/newsletters/axios-vitals-5c9fad8a-6a70-469d-ba3c-cd1d13dc929f.html?chunk=1#story1
Hey, GOP donors, go beat up on Mitch McConnell
Sounds like someone isn't interested in the House reviving Trumpcare. Here's Senate Majority Leader Mitch McConnell talking to reporters yesterday:
"I think where we are on Obamacare, regretfully, at the moment is where the Democrats wanted us to be, which is with the status quo ... It is pretty obvious we were not able in the House to pass a replacement. Our Democratic friends ought to be pretty happy about that because we have the existing law in place and I think we're just gonna have to see how that works out."
https://www.axios.com/newsletters/axios-vitals-5c9fad8a-6a70-469d-ba3c-cd1d13dc929f.html?chunk=2#story2
Molina: It's all on you now, Republicans
Caitlin Owens caught up yesterday with Dr. Mario Molina, president and CEO of Molina Healthcare, about Trumpcare and his company's plans for 2018. The main takeaway: No, Republicans shouldn't let Obamacare explode and then try to blame Democrats. "There are actions they can take to stabilize the marketplace and if they choose not to do it, then the blame for the failure will fall on the administration and Republicans," he said.
What he wants: Cost-sharing reduction payments to be available, clarity on whether the individual mandate will be enforced, and finalization of an HHS rule tightening special enrollment periods. (Some top Republicans say they want to find a way to fund the payments, per The Hill.)
What needs to come next: Compromise. "Getting a bipartisan bill is something that'll give us some long-term stability. We don't want to be back here every three, five years trying to repeal something."
And what about 2018 premiums? If they increase, don't blame Obamacare. "Without a mandate and CSRs, yes, I think we're going to see double-digit premium increases. But again, if that happens, it's going to be clearly because of policies and actions that this administration has taken."
https://www.axios.com/newsletters/axios-vitals-5c9fad8a-6a70-469d-ba3c-cd1d13dc929f.html?chunk=3#story3
Watch the uninsured disappear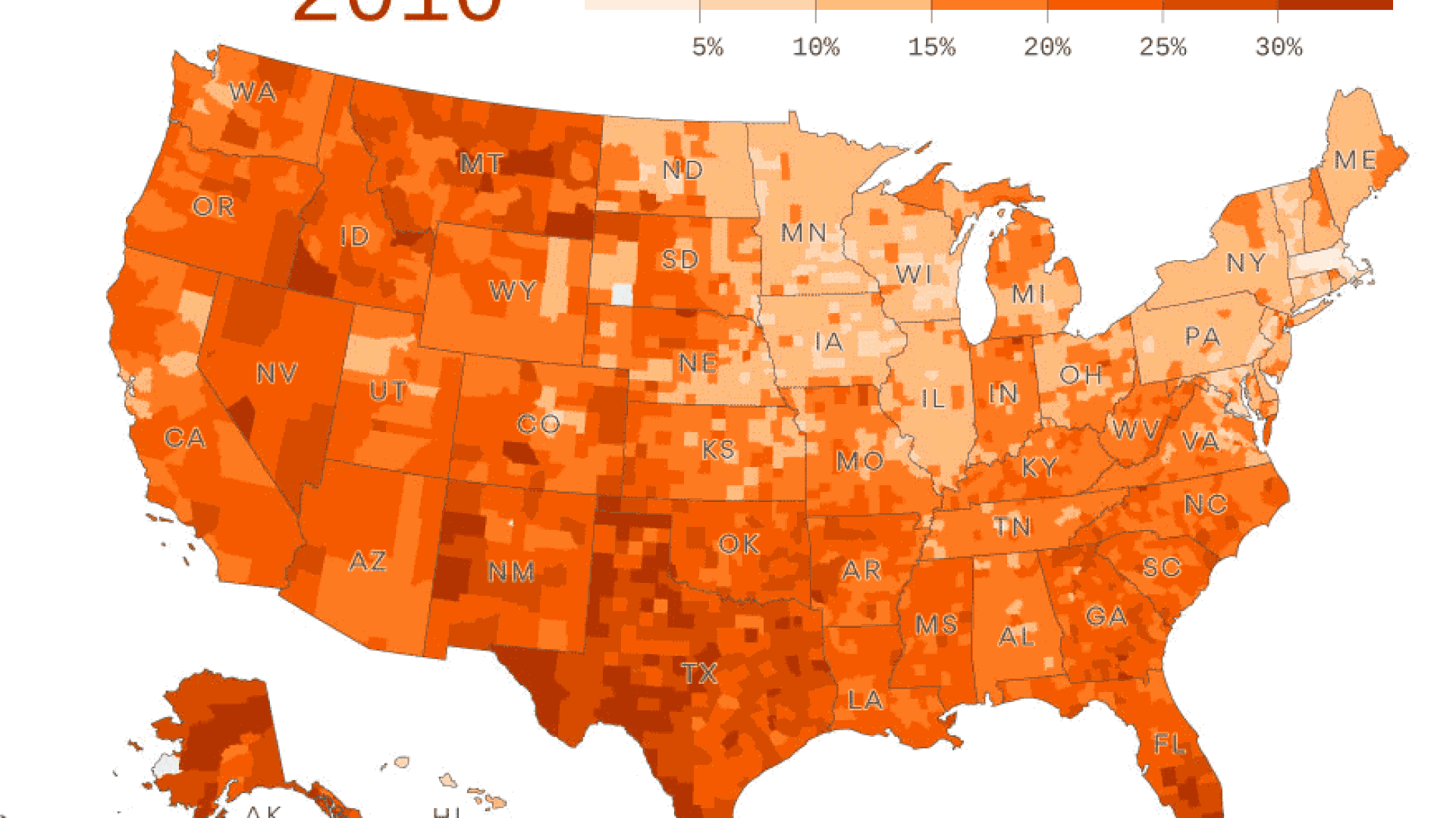 The Census Bureau released new data yesterday showing that the uninsured rate fell in 71.3 percent of the nation's counties between 2014 and 2015, the first two years Obamacare was in full effect. That's impressive enough, but our visuals editor, Lazaro Gamio, took the data one step further by taking the Census data back to 2010, the year it was signed into law.
Remember, there was some early stuff for the first few years, but the most important parts — the marketplaces, the pre-existing condition coverage, the subsidies, and the individual mandate — didn't kick in until 2014. Watch how quickly the uninsured rate dropped once that happened.
Yes, but: We know, we know — a lot of bad things also happened, like the canceled plans, higher premiums for individual coverage, high deductibles, and the disappearance of the cheaper plans some people wanted. But the reduction in the uninsured rate is one thing even the critics don't dispute.
https://www.axios.com/newsletters/axios-vitals-5c9fad8a-6a70-469d-ba3c-cd1d13dc929f.html?chunk=4#story4
This should be an interesting HHS budget hearing
And yes, I know how weird that sounds. But hear me out:
Health and Human Services secretary Tom Price is going to testify at a hearing this morning on his department's budget request. The one that cuts the National Institutes of Health by 19 percent.
The chairman of the House subcommittee that's holding the hearing is Rep. Tom Cole, who has been pushing for big increases in medical research funding (and just got NIH a $2 billion increase in 2015).
He doesn't like the Trump budget request. "It's counter to what we've been doing," he said on MSNBC's Morning Joe on Monday.
He is probably going to ask Price some questions about it.
Democrats will probably take his side.
Price will get to explain why his department deserves less money.
https://www.axios.com/newsletters/axios-vitals-5c9fad8a-6a70-469d-ba3c-cd1d13dc929f.html?chunk=5#story5
Why this Texas health care CEO isn't missing Trumpcare
Barclay Berdan, the CEO of Texas Health Resources, tells Bob Herman he was "relieved" when Trumpcare didn't pass. He's not necessarily a fan of Obamacare, which he says is built from a lot of parts that don't work together well. But he says the House GOP bill was "put together mostly to get votes and not to get the system to work smoothly." Now, he says, the big issue is how to deal with Texas' sky-high uninsured rate. Read the interview here.
https://www.axios.com/newsletters/axios-vitals-5c9fad8a-6a70-469d-ba3c-cd1d13dc929f.html?chunk=6#story6
Heritage Action vs. Obamacare insurance regulations
Why are some conservative groups pushing so hard to knock out the Obamacare insurance regulations, when everyone else wants to keep them? Heritage Action CEO Michael Needham, one of the outside conservatives who's urging Republicans to revive the repeal effort, tackles that question in a Washington Post op-ed that posted last night:
People with pre-existing conditions need coverage, he writes, but that "can be done far better...outside of Obamacare's regulatory architecture."
And since the regulations are raising premiums for as many as 10 million unsubsidized individual market customers and 15 million small business employees, Needham writes, deregulation can be "an opportunity to provide citizens with coverage that makes far more sense for them than what government bureaucrats mandate."