Axios Vitals
September 12, 2019
Good morning. This is disturbing.
Today's word count is 694 words, or <3 minutes.
1 big thing: Trump wants to ban flavored e-cigarettes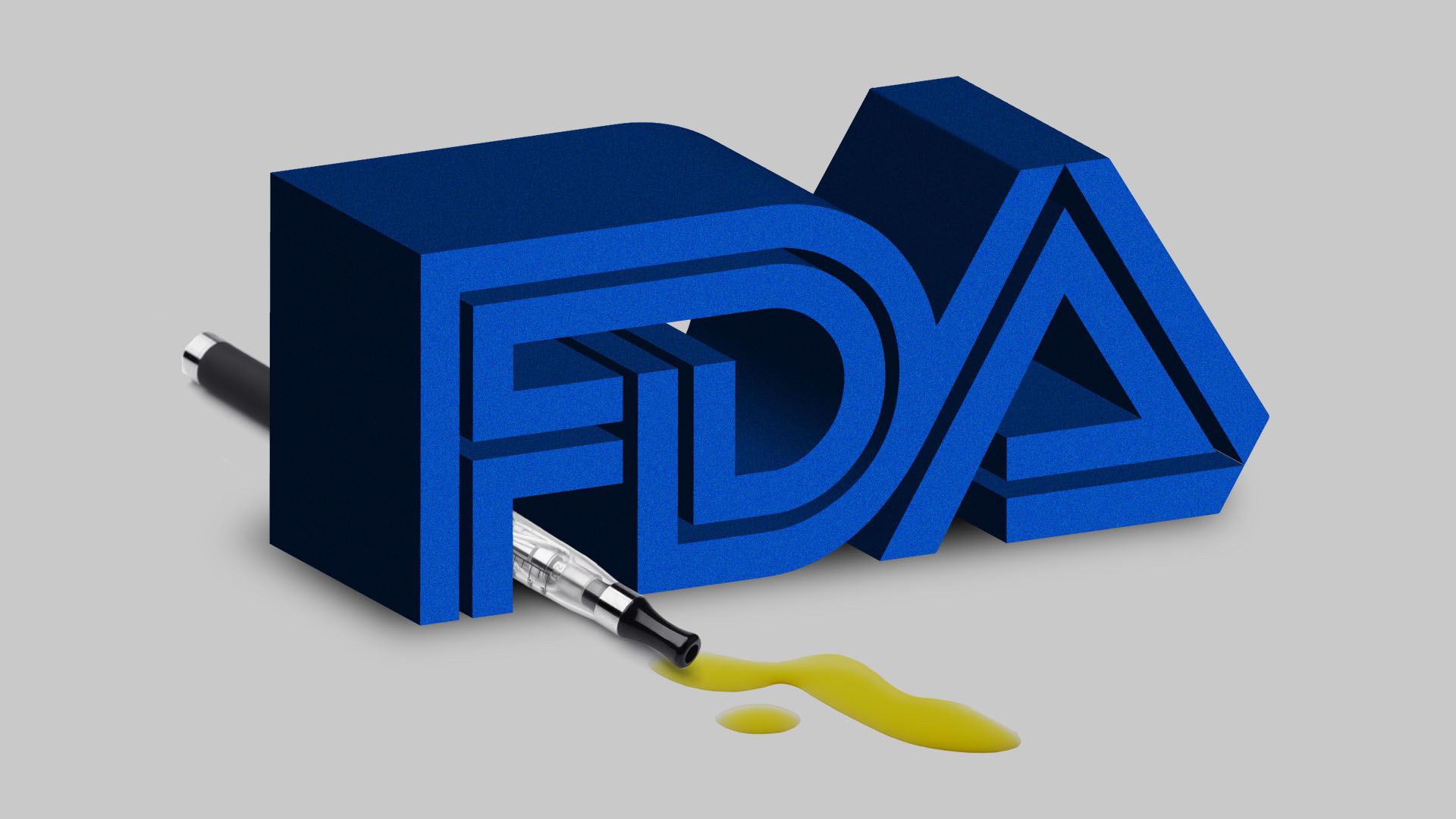 President Trump announced from the Oval Office yesterday that he wants to ban all flavored e-cigarettes — the most aggressive proposal yet from an administration that has already been very aggressive about teen vaping.
Between the lines: Preliminary data shows that youth vaping has continued to rise, especially the use of non-tobacco flavors, the Health and Human Services Department said.
The data shows that more than a quarter of high school students had used e-cigarettes within 30 days of being surveyed in 2019, and the "overwhelming majority" of these users said they vaped fruit, menthol or mint flavors.
The big picture: Yesterday's announcement would affect mint and menthol, which an earlier proposal left untouched. It would also apply to all e-cigarette sales, not just those in stores.
Former FDA commissioner Scott Gottlieb said that Congress will likely have to give the agency new resources to police illegal vaping products.
Anti-tobacco groups predictably approved of the announcement.
The other side: "If a federal flavor ban is enacted, more than 10 million adults will be forced to choose between smoking again ... or finding what they want and need on the black market," the Vapor Technology Association said in a statement.
Vaping giant Juul took a different tone. "We strongly agree with the need for aggressive category-wide action on flavored products. We will fully comply with the final FDA policy when effective," said a Juul spokesperson.
What we're watching: Tobacco flavoring would likely be spared from this initial crackdown, but it may not be safe forever.
"If we see a migration to tobacco-flavored products by kids, we will take additional steps to address youth use of these products," Acting FDA director Ned Sharpless said.
2. A hitch in the OxyContin settlement
Purdue Pharma is very close to a settlement with states, cities, counties and Native American tribes over its role in fueling the opioid epidemic — but part of the settlement puts those governments in an awkward position, my colleague Bob Herman writes.
Driving the news: A major part of the proposed settlement would involve Purdue declaring bankruptcy and the Sackler family members conceding ownership.
Purdue would then become a "public benefit trust corporation, with proceeds going toward the governments bringing the lawsuits," the Wall Street Journal previously reported.
The intrigue: The same governments that have alleged Purdue's OxyContin has wreaked havoc on their communities would pocket all future OxyContin profits.
If OxyContin sales fall, that would result in less money going to state and local governments.
The bottom line: Purdue has threatened to enter bankruptcy regardless of whether this settlement offer is accepted, so some plaintiffs may feel pressured to take what they can get — even if it means they become the beneficiaries of painkiller sales they view to be tainted.
3. VA may owe veterans billions
A federal court ruled this week that the Department of Veterans Affairs must reimburse veterans for non-VA emergency care that private insurance doesn't cover, AP reports.
Why it matters: The case was ruled a class action, opening the door to the VA being required to pay back any veteran that it had previously declined to reimburse.
According to the department's previous estimates, this could cost it between $1.8 and $6.5 billion.
Go deeper: Veterans face surprise medical bills from non-VA hospitals
4. Gene editing used to treat cancer, HIV patient
Chinese researchers used CRISPR technology to safely treat a man with cancer and HIV, Bloomberg reports, a major step forward for the gene editing field.
Why it matters: "The man's medical case, published Wednesday in the New England Journal of Medicine, is the first detailed report in a major academic journal of how doctors are using the experimental tool [CRISPR] to manipulate the DNA of a living patient in an effort to cure disease," Bloomberg writes.
The patient's treatment had mixed results: His cancer in remission and the modified cells integrated into his body, but his HIV wasn't cured.
Flashback: Last year, a different Chinese scientist used the technology to create the first gene-edited babies, sparking massive global backlash. Even before that, there were plenty of questions about how CRISPR should be used.
Go deeper: The ethical red flags of genetically edited babies
5. Bad news for Amazon's PillPack
The latest update in the fight over patients' drug data could make it a lot harder for PillPack to access patients' medication history, CNBC reports.
SureScripts, which is owned by PillPack competitors and manages electronic prescriptions, said that it's ending its relationship with ReMy Health.
PillPack had a deal with ReMy Health that allowed it to access patients' drug history, collected by SureScripts.
Why it matters: To get patients' data, PillPack will now have to call either the patient or their doctor, which the company says may lead to errors.
The big picture: SureScripts' owners include CVS and ExpressScripts, major health care industry players that have a lot to lose if tech companies successfully become players in the health care space.
Go deeper: The monopolization of patient drug data