Axios Vitals
August 27, 2019
Good morning. Today's word count is 777 words, or ~3 minutes.
1 big thing: The first big opioids verdict is both big and small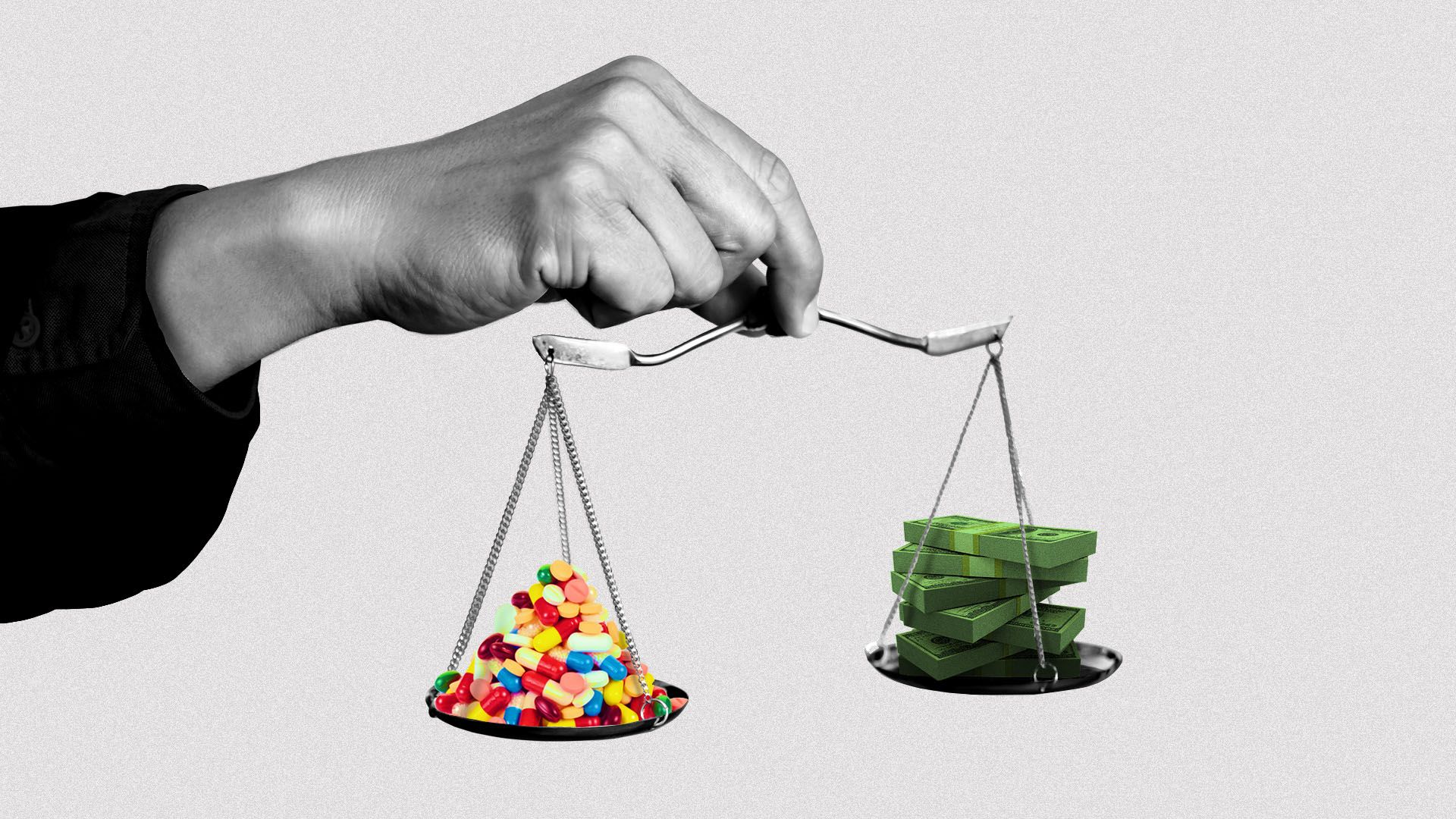 Johnson & Johnson has been found liable in Oklahoma for deceptive and false marketing of opioids — the first major instance of legal accountability for the opioid epidemic, my colleague Bob Herman reports.
Yes, but: If Oklahoma's $572 million judgment is a sign of things to come, states may only be looking at short-term relief — and drug companies may only incur short-term annoyances, rather than crippling penalties.
The big picture: Judge Thad Balkman wrote in his decision that J&J "pervasively, systemically and substantially" created a public nuisance by falsely promoting its opioids as safe and necessary, which led to massive overprescribing and addiction.
Why it matters: "This is the first time ... that a pharmaceutical company has been found responsible in the court of law for causing the opioid crisis," said Andrew Kolodny, a doctor and opioid researcher who was a key witness for Oklahoma in the case. "This is a landmark decision."
Between the lines: $572 million is just the 1-year cost of abating Oklahoma's opioid crisis, the ruling says.
The state wanted $17 billion, but the judge said it didn't present enough evidence to validate a longer-term payout.
The judgment is less than 4% of J&J's net profit from 2018, and significantly less than the $2 billion some Wall Street analysts expected J&J to end up paying — and that's why shares of J&J and other related companies soared in after-hours trading.
If this case is used as a benchmark in the national lawsuit, J&J likely would pay billions — but again, not an insurmountable amount for a company that brings in more than $80 billion of sales annually.
What they're saying: J&J plans to appeal, saying in a statement the judge's decision was "flawed" and that it is ready to extend this fight into 2021.
2. MS drug costs have skyrocketed
The annual cost of multiple sclerosis treatments in Medicare Part D increased more than 400% between 2006 and 2016, according to a new analysis in JAMA Neurology.
Annual costs increased from a mean of $18,660 to $75,847, and patients' out-of-pocket costs increased by more than 700%.
There were only 4 self-administered MS therapies before 2009; 7 more have entered the market since then.
Why it matters: These drugs can be transformative for MS patients, but "this achievement has come at a steep price," Daniel Hartung and Dennis Bourdette write in a JAMA editorial.
3. The Otezla antitrust whack-a-mole
Bristol-Myers Squibb and Celgene knew they had to sell the drug Otezla if they wanted to appease antitrust concerns over their pending transaction. But divesting Otezla to Amgen may sprout new antitrust questions, Bob writes.
Between the lines: Otezla is indicated for patients who have moderate to severe plaque psoriasis. Enbrel, Amgen's blockbuster that is surrounded by a wall of patents, is indicated for several conditions, including … moderate to severe plaque psoriasis. 
"If I were a regulator, I would be seriously concerned about the potential concentration of market power within that market," said Robin Feldman, a pharmaceutical law professor at the University of California, Hastings.
Amgen responded by saying Otezla and Enbrel "target non-overlapping patient populations" and that "a majority of Enbrel sales are in rheumatology." The company also said it's confident there won't by any issues with the Federal Trade Commission.
This type of pharmaceutical concentration does indeed exist. AbbVie owns Humira and the newly marketed Skyrizi, both of which are approved for patients who have … moderate to severe plaque psoriasis. 
4. North Carolina's health care experiment
North Carolina isn't exactly known as a progressive bastion, but it stands out among states for its attempt to transform how health care is paid for, the New York Times reports.
Between the lines: Payment reform is difficult but necessary if we're going to get costs down while working within the existing system.
Details: The state is moving toward paying providers based on outcomes, rather than for individual visits or services.
While this idea isn't new, North Carolina is providing the largest experiment to date as to whether it works, NYT notes.
North Carolina is also increasing the emphasis on primary care and social determinants of health.
The effort is being led by the state health department, which oversees payments for Medicaid, and Blue Cross Blue Shield of North Carolina, the state's largest private insurer. Together, they cover about two-thirds of the state's population.
The big picture: If North Carolina succeeds in lowering costs and/or improving residents' health care, it could provide momentum for uncontroversial changes to a system that is highly resistant to change.
5. Fake Juul pods being sold in stores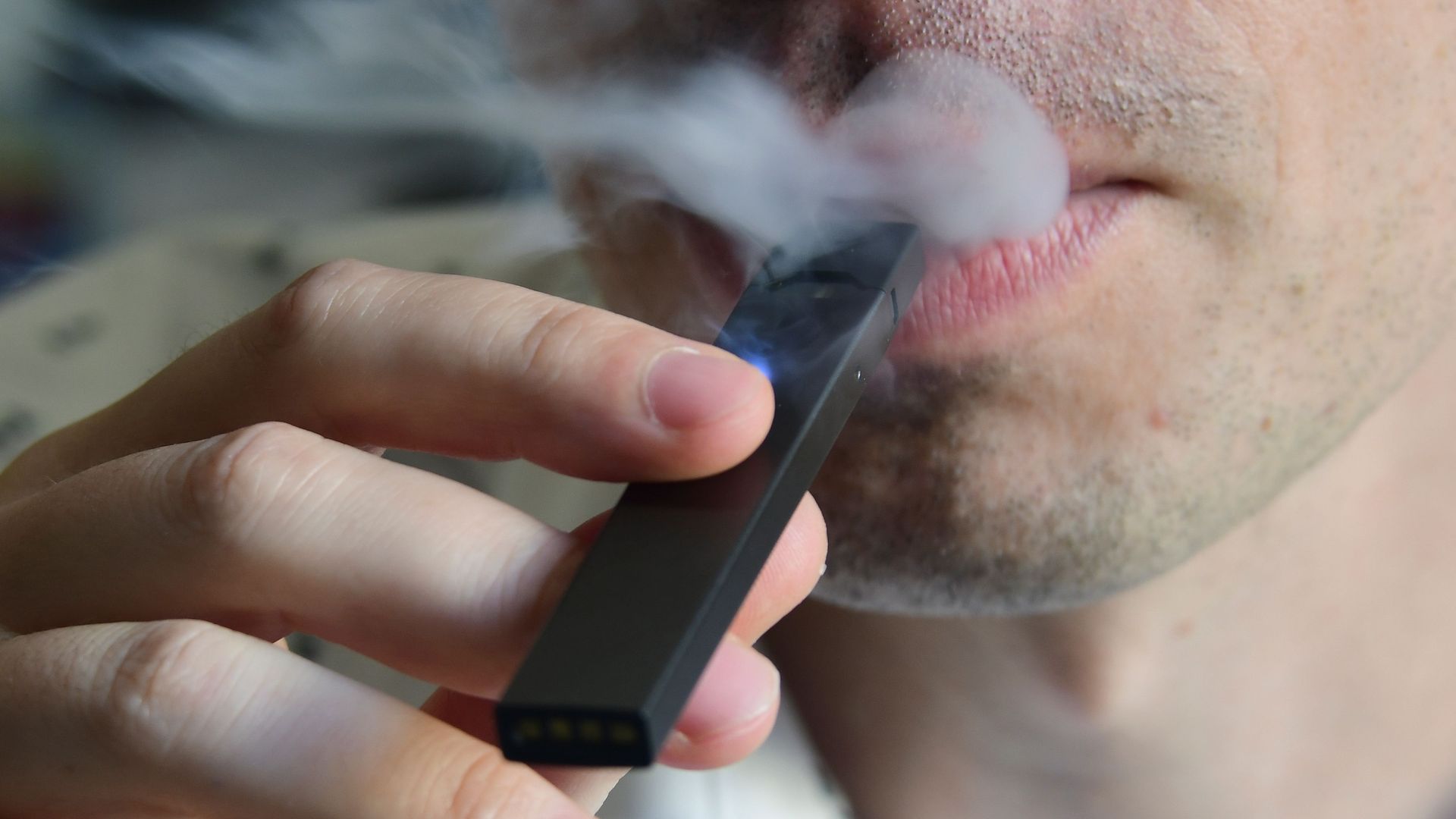 Counterfeit Juul pods are lining the shelves of retail stores following the company's decision last fall to stop selling fruity flavors in stores, CNBC reports.
That's in addition to rival pods being sold by Juul's competitors.
The counterfeit pods are often the fruity flavors that Juul has pulled.
Why it matters: These fake Juul pods — which look real — may present health concerns. They are also a public relations problem for Juul, which is trying to appear cooperative with the effort to crack down on teen vaping.
Former FDA commissioner Scott Gottlieb told CNBC that the recent cases of lung illnesses associated with vaping are probably linked to counterfeit products.
What they're saying: "Counterfeit products are a direct threat to public health and our plan to combat youth usage," Juul CEO Kevin Burns said in a statement to CNBC.
Go deeper: U.S. investigates fatality from vaping as lung-related illnesses rise