Axios Vitals
January 30, 2019
1 big thing: Divided Congress dives into drug prices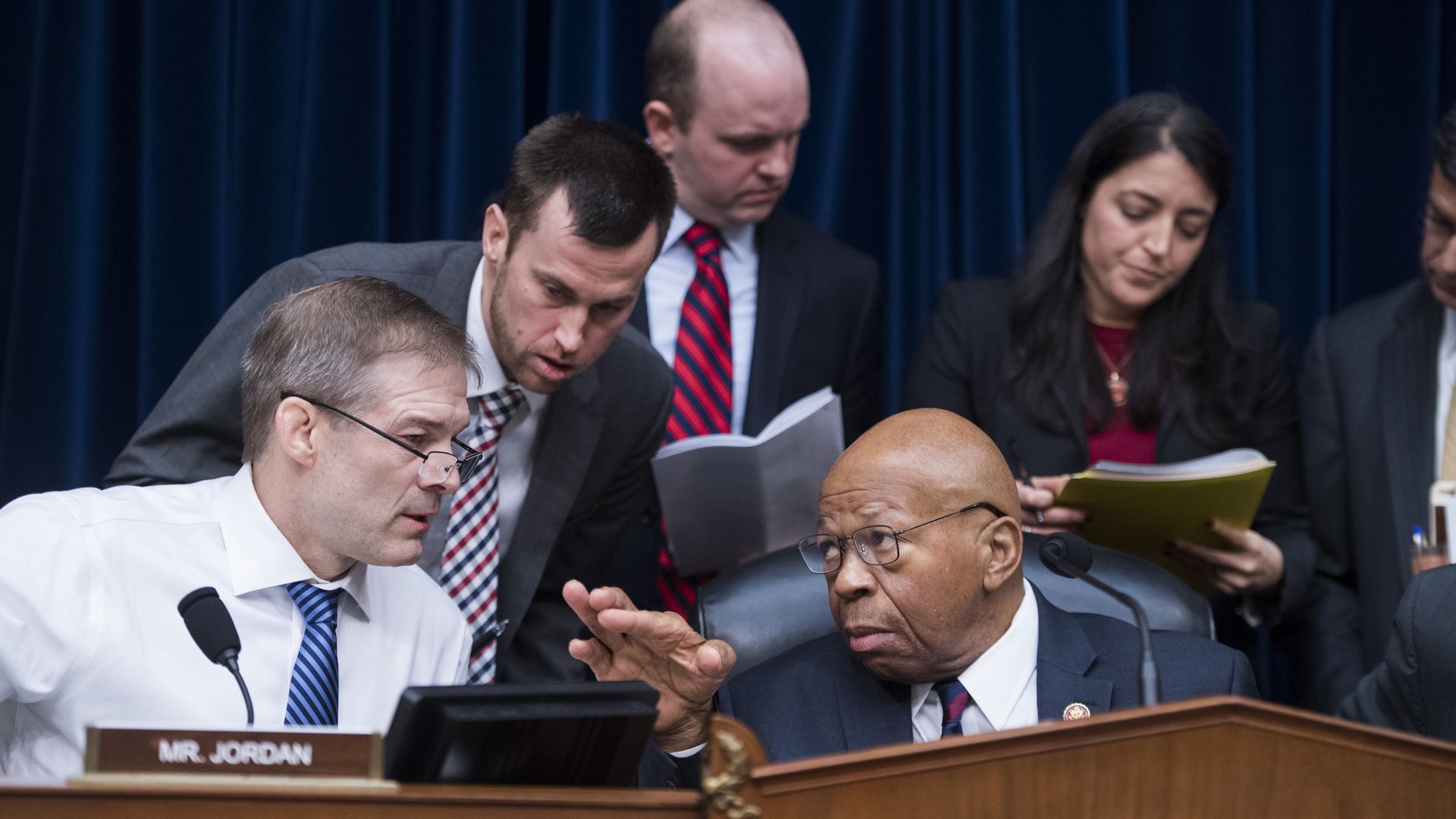 The Senate Finance Committee sought some common ground around the edges of the drug-pricing debate yesterday, while bipartisanship proved more elusive in the House.
Here's what we learned as the new Congress kicked off its first hearings on drug prices:
Finance members expressed bipartisan support for changing the way Medicare Part D pays insurance companies, Axios' Caitlin Owens reports. That could save taxpayers billions, though it may not affect what Part D plans or seniors pay for drugs.
Finance members also talked about paying doctors a flat fee for the drugs they administer through Part B. They currently get paid a percentage of the drug's price, which critics see as an incentive to prescribe more expensive drugs.
Finally, they suggested changes to pharmacy benefit managers' rebates.
Wild card: "Whether I buy a drug or you buy a drug, there ought to be one price for a drug and everybody ought to pay the same thing," Finance Chairman Chuck Grassley (R-Iowa) told Caitlin.
That sure sounds dangerous for pharma, though it's not clear what policy he was referring to, and a source told Caitlin he wasn't talking about price controls.
In the House Oversight Committee, meanwhile, Rep. Jim Jordan (R-Ohio) attacked Democrats' motives for investigating drug prices, according to STAT, but also proposed cutting the market protection afforded to new biological drugs.
The bottom line: Republicans and Democrats are still pretty far apart on the big questions about drug pricing, but may be able to find common ground on more modest ideas like restructuring Part D — at least as a starting place.
2. What Apple wants
Apple's steady march into consumer health care continues: It's partnering with Aetna to fold Apple Watches and iPhones into the insurer's wellness programs, CNBC's Christina Farr reports.
Apple's health care goals seem clear, and it has picked its spots at least as well as any other tech company looking for a slice of the health care system. It's focused squarely on patient data, and on partnerships with big, established players.
Apple's foray into electronic medical records has gotten mostly good reviews, and the company has pursued a potential deal to help the VA modernize its records.
Since introducing some heart-monitoring capabilities for Apple Watch last year, Apple has embraced several partnerships to get its watches around more wrists. One tests the watch as a health monitor for people who have had hip or knee replacements.
Apple also wants private Medicare Advantage plans to offer subsidized watches to their members, to use as health monitors.
That's roughly the same proposition in Apple and Aetna's new partnership: Aetna customers could use their existing Apple Watch, or Aetna would give them one and they'd "pay it off" by meeting health goals. Or, if they fall short of those goals, they might have to pay it off with real money, per CNBC.
None of this seems likely to revolutionize the health care system, but no company has much of a plan to revolutionize the health care system. Apple, unlike some of its competitors, at least has a clear path to profiting from that system.
3. Generics face quality, safety questions
The Food and Drug Administration has approved a record number of generic drugs, but at the same time it's inspecting a lot fewer of the factories where those drugs are made.
Why it matters: Declining inspections are raising new concerns about their quality and safety, Bloomberg's Anna Edney reports in the first part of a yearlong investigation.
And in addition to a drop in overall inspections, the FDA has in some cases been slow to crack down on the problems it does find, Edney reports.
By the numbers: Generics make up roughly 90% of all U.S. prescriptions.
FDA inspections of facilities inside the U.S. fell by 11% from 2017 to 2018 and have been falling since 2011, when the agency began shifting more resources overseas.
But international inspections, after rising steadily for years, have also been on the decline since 2016.
Companies from India and China alone account for almost half of all new generic drugs, and more than 80% of drugs' active ingredients are made abroad.
Between the lines: The story also includes 2 anecdotes in which FDA inspectors uncovered violations and began work on enforcement letters, but "higher-ups at the FDA … overrode the concerns of those on the ground."
The other side: "It's not the number of inspections we do, it's whether we're targeting effectively," FDA Commissioner Scott Gottlieb told Bloomberg.
Janet Woodcock, who leads the agency's center for drug reviews, also said the agency's oversight is "better than it's ever been."
4. HCA's hospital stays got a lot more expensive
The average payment to an HCA Healthcare hospital, after adjusting for inpatient and outpatient stays, increased 3.9% in 2018. That's the highest rate of increase for HCA since 2014, Axios' Bob Herman reports.
Why it matters: This metric, known as "same facility revenue per equivalent admission," is a popular industry shorthand for pricing growth. And it shows that hospitals can still command higher prices from health insurers if they have negotiating power in their market — which many HCA hospitals have.
This statistic is more than just prices. It also can be attributed to "medical acuity" — a phrase that describes how hospitals are treating sicker patients, or are at least whether they're submitting more billing codes.
5. "Medicare for All" speed read
Here's the latest in the debate that will be melting everyone's brains for 2 years.
1. CNN implied (or, at least, some of its readers inferred) that Sen. Kamala Harris (D-Calif.) was walking back her call to end the private health insurance industry, based largely on an unnamed adviser pointing out that she had also cosponsored more incremental health care bills.
Harris' staff pushed back forcefully, saying she still prefers Medicare for All.
She is not the only person to cosponsor Sen. Bernie Sanders' "Medicare for All" bill as well as other, less dramatic bills. Sanders himself has done the same thing.
My thought bubble: This does not seem like much of a backtrack to me. And it seems premature on about 1,000 levels to be drawing a lot of firm conclusions right now about whether you can live with the compromises a President Harris would or wouldn't accept before signing a national health care plan into law.
2. Democrats who are not running for president broke with Harris' initial statements Monday about the end of private health insurance.
"I don't want to guess what (Harris is) thinking, but that is a massive part of the American economy. There is a system in place for funding it," Sen. Dick Durbin (D-Ill.) said, per CNN.
3. Michael Bloomberg also jumped in. "I think you could never afford that ... to replace the entire private system where companies provide health care for their employees would bankrupt us for a very long time," he said.
Does the American economy have enough money in it to fund a "Medicare for All" program? Yes. Even critical estimates say Sanders' incredibly robust plan would cost about the same as what we're expected to spend under the status quo. We're paying it now in premiums, deductibles and taxes, instead of just taxes.
But have any 2020 Democrats articulated how they would rewrite the tax code to bring all of that money into it? No.