Axios Vitals
October 27, 2020
Good morning.
Today's word count is 968, or a 4-minute read.
1 big thing: The coronavirus is starting to crush some hospitals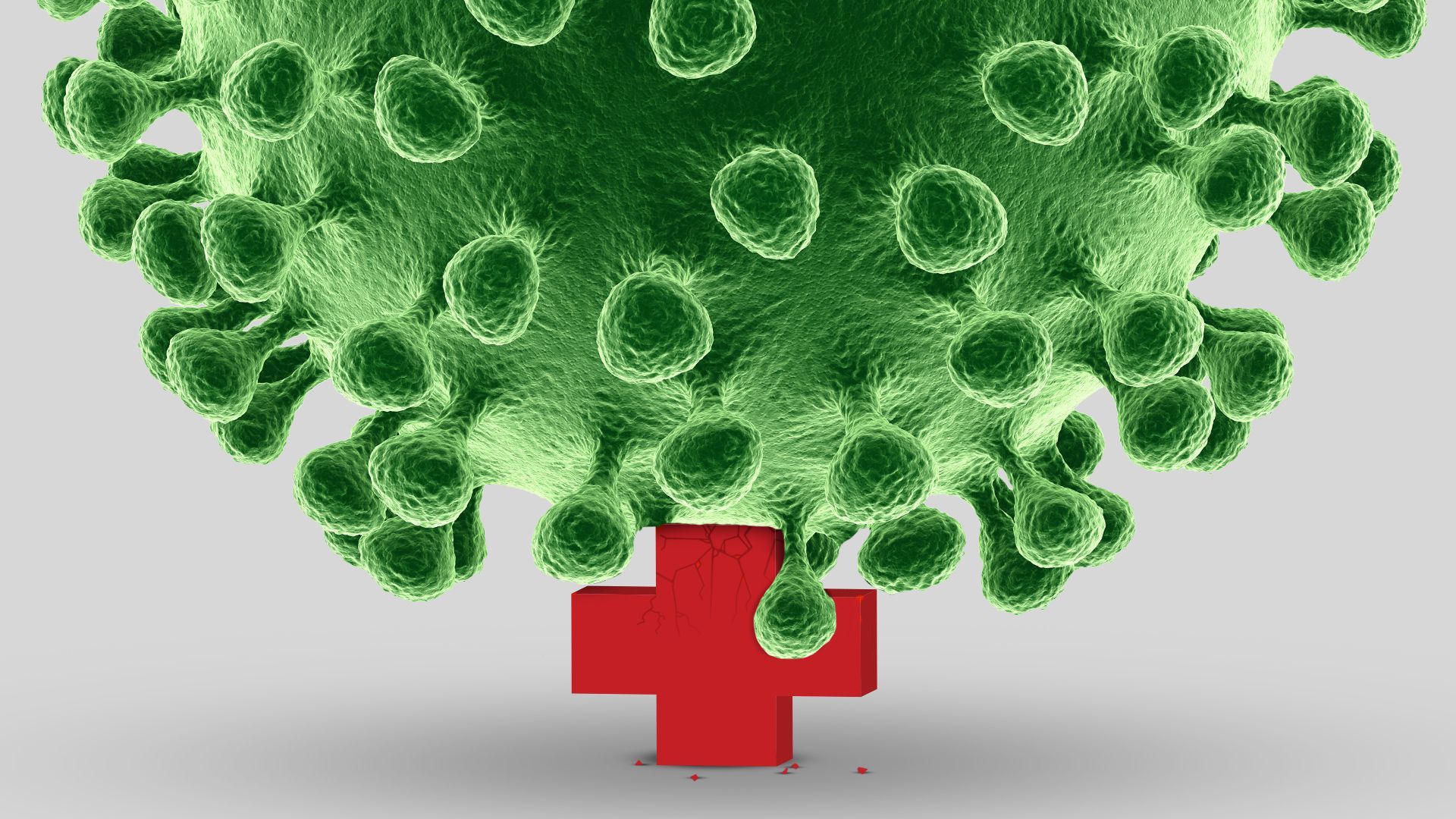 Some states are seeing dangerous levels of coronavirus hospitalizations, with hospitals warning that they could soon become overwhelmed if no action is taken to slow the spread.
Why it matters: Patients can only receive good care if there's enough care to go around — which is one reason why the death rate was so much higher in the spring, some experts say.
Driving the news: The Utah Hospital Association has warned that the state's situation is becoming so dire that hospitals are expecting to begin rationing care within a week or two, per the Salt Lake Tribune.
El Paso has issued a new stay at home order in response to overwhelmed hospitals, and additional beds are being set up in the city's convention center.
On Saturday, North Dakota had only 22 available intensive care beds and 247 regular inpatient beds, the Grand Forks Herald reports.
Idaho Gov. Brad Little announced the return of some social distancing measures yesterday, per the Idaho Statesman. "Hospitals throughout the state are quickly filling up or are already full with COVID-19 patients and other patients," he said.
The big picture: The problem is particularly acute in rural parts of the Mountain West and the Midwest, where health care workers are scarce. When they're infected by the virus or forced to quarantine after exposure, it's hard to find replacements, Kaiser Health News reports.
Yes, but: Several Republican governors continue to resist statewide mask mandates, and it's unclear how far state and local governments will go in response to the surge of cases.
The bottom line: Pandemic fatigue, politicization of the virus and the upcoming holiday season all make it almost certain that the situation will get worse before it gets better. The consequences will be deadly.
2. Poll: Federal response has only gotten worse
Americans believe the federal government's handling of the pandemic has gotten significantly worse over time, according to the latest installment of the Axios/Ipsos Coronavirus Index.
Why it matters: Every other institution measured in Week 29 of our national poll — from state and local governments to people's own employers and area businesses — won positive marks for improving their responses since those panicked early days in March and April, Axios' Margaret Talev writes.
The findings suggests people see President Trump and his political team as one of the biggest impediments to turning things around.
With one week left in the presidential election, as the U.S. hits all-time daily highs for new cases, four in five Americans say they're worried about COVID-19 outbreaks.
By the numbers: 26% of Americans said the federal government's handling of the virus is better than it was at the beginning, but 46% say it's actually gotten worse (and another 27% saw no change), for a net deficit of 20 percentage points.
Barely half of Republicans said the federal government's handling has improved while one in five said it has gotten worse. Only one in 10 Democrats and one in four independents said it improved.
Between the lines: Concerns are directed more at the political arm of the federal government than at scientists.
What they're saying: The coronavirus "is the issue of this election," said Cliff Young, president of Ipsos U.S. Public Affairs.
3. Europe clamps down
It's beginning to look a lot like lockdown across much of Europe, Axios' Dave Lawler writes.
The latest: As of yesterday, bars and restaurants must close by 6pm across Italy, while cinemas and gyms must shut down altogether. Shops will remain open for now.
Prime Minister Giuseppe Conte said the steps were necessary for Italy to "be able to breathe again in December."
The news was met by protests in Rome and Naples led by workers from affected industries, per Bloomberg. The government plans to pass a new $5.9 billion relief package this week.
Spain declared a state of emergency on Sunday, with a new curfew in place from 11pm to 6am. Ominously, the state of emergency could last up to six months.
Countries including France, the Czech Republic and the Netherlands continue to record record-high case counts.
German Chancellor Angela Merkel is reportedly considering nationwide closures of all bars, restaurants and public events.
Polish President Andrzej Duda has become the latest leader to test positive for the virus.
4. Florida drug importation plan faces setback
Florida's $30 million contract to set up and operate a drug importation program didn't attract any private firms by its September deadline, Kaiser Health News reports.
Why it matters: The lack of vendor interest delays Florida's attempt to become the first state to import some drugs from Canada under recently finalized federal rules, Axios' Marisa Fernandez writes.
The big picture: The Trump administration has allowed states to apply for federal permission to import prescription drugs from Canada, where prices are lower because the country limits how much drugmakers can charge.
Florida's goal is to help lower drug prices for people covered by state programs such as Medicaid and the Corrections Department, and it projects savings of up to $150 million a year.
Vermont, Colorado, Maine, New Hampshire and New Mexico are also planning to set up importation programs. The federal rules take effect Nov. 30, which is when states can formally apply to HHS to set up their program.
What they're saying: "The agency remains confident it will find a qualified vendor soon," a spokesperson for the Florida Agency for Health Care Administration tells Axios. The state had planned to award a contract in December.
5. Catch up quick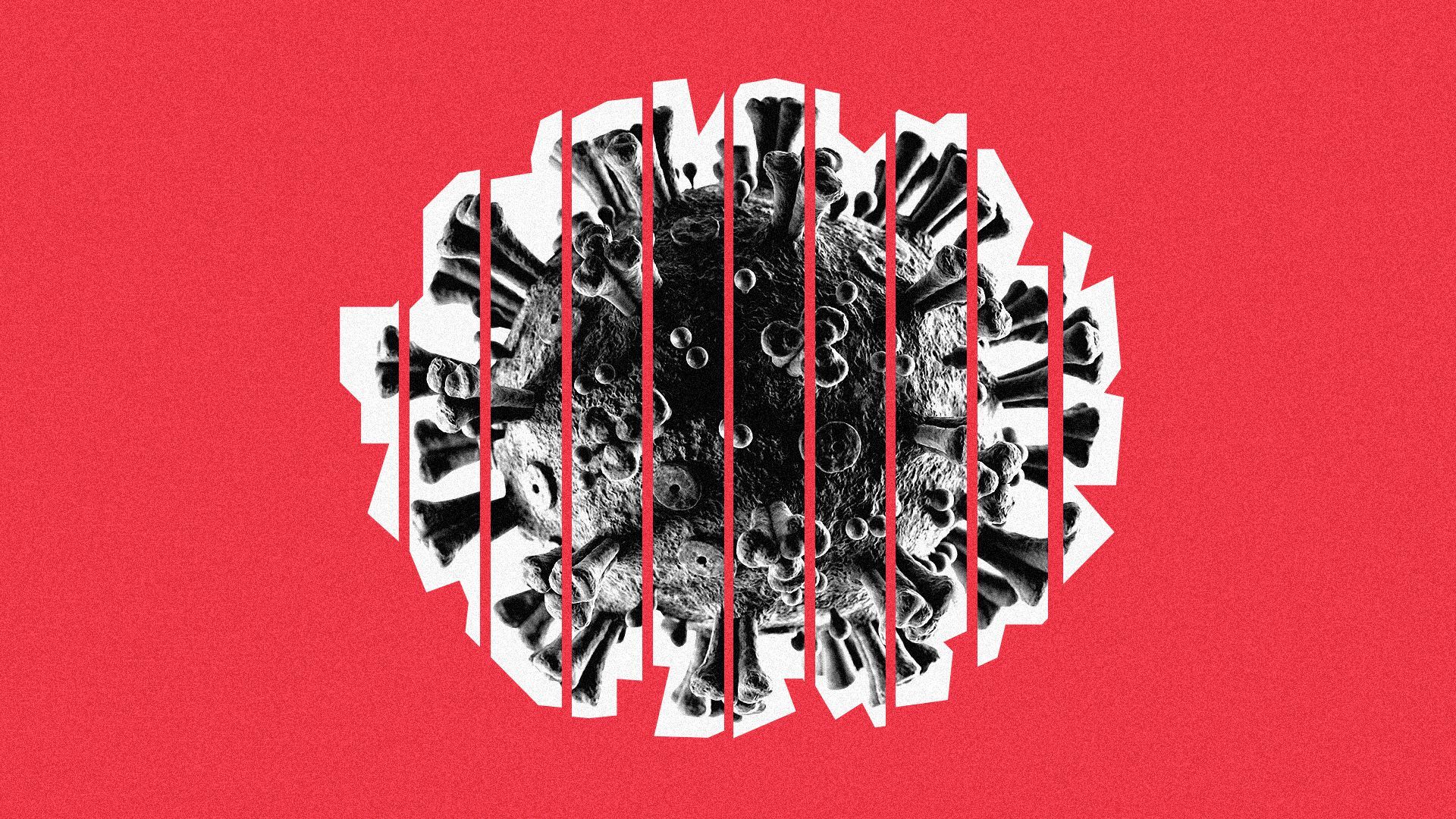 The Minnesota Department of Health has traced nearly two dozen coronavirus cases to three Trump campaign events held last month, an official told Axios on Monday.
Eli Lilly said Monday that its antibody treatment doesn't help hospitalized coronavirus patients with severe infections, but it remains optimistic that the treatment will be effective if given to patients early on, NYT reports.
Fox News president Jay Wallace and anchors Bret Baier and Martha MacCallum are among those recommended to get tested and quarantine after possible exposure to COVID-19, the New York Times first reported Sunday night.
Intermountain Healthcare and Sanford Health have agreed to merge, creating a system of 70 hospitals, hundreds of physician practices, and two health insurance companies across the West and Midwest, pending state and federal regulatory reviews, Axios' Bob Herman reports.