Good morning, and welcome back. All of the trends suggest the Obamacare repeal effort is becoming less popular, the Trump administration's Obamacare strategy session had a few empty seats, and the public really wants something to be done about drug prices.
Hope you enjoy this week, which is probably going to be dominated by town halls and waiting for cost estimates on the Republican Obamacare replacement plans. And please tell everyone to sign up for Vitals and the other great Axios newsletters — including Sneak Peek, the new Sunday night look at the week ahead by my tireless colleague Jonathan Swan.
https://www.axios.com/newsletters/axios-vitals-480312bd-32ca-4c1d-80a4-6e1775e6c338.html?chunk=0#story0
Why Republicans should be nervous about repeal
The more you look, the more the Obamacare repeal effort is starting to resemble a mirror image of the turmoil when the law was passed. Remember that in 2009, it started out with fairly broad public support — when it was still at the level of generalities — and it was definitely a top priority for Democratic voters. Then it got less popular, and Democrats had to decide whether to plow through the angry resistance.
Now think about what's been happening over the last few days:
Why it matters: All of these are just data points — they're not going to determine the success or failure of the repeal effort by themselves. But they're a good indication of where the trends are heading: Repeal is not getting more popular as the reality of it gets closer. Republicans may plow ahead to satisfy their voters, just as the Democrats did with Obamacare's passage, but they're learning that they won't just hear from the cheering section as they did for the last seven years.
https://www.axios.com/newsletters/axios-vitals-480312bd-32ca-4c1d-80a4-6e1775e6c338.html?chunk=1#story1
That's OK, we didn't need those tax credits anyway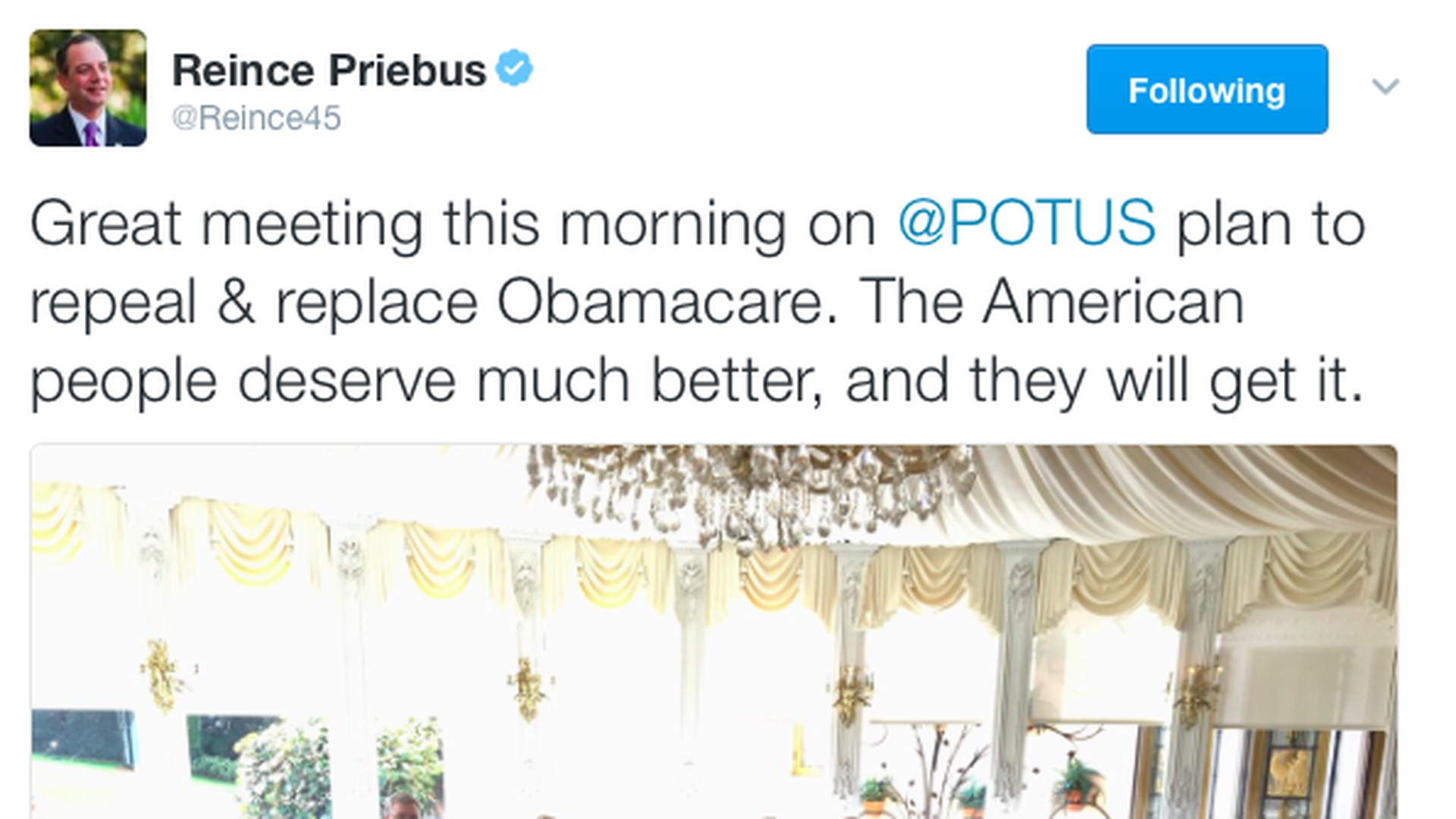 Shortly after White House chief of staff Reince Priebus tweeted a photo of Sunday's Obamacare strategy meeting, a source pointed out to Caitlin Owens who wasn't there: anyone from the Treasury Department. Why does it matter? Because the likely Obamacare replacement isn't just going to be about health care policy — it's going to include some serious tax changes too, including new tax credits for buying health insurance and possibly limits on the tax break for employer health coverage. Read Caitlin's story here.
What it means: One meeting may not matter much in the long run, but if the Trump team keeps the circle too narrow, it could run into problems and headaches that could have been avoided with broader feedback. (See: immigration ban rollout.)
Yes, but: Priebus is hinting that there will be a lot of deference to Congress on the actual plan when it comes out in early March. "We don't work in a vacuum," he told the Associated Press.
https://www.axios.com/newsletters/axios-vitals-480312bd-32ca-4c1d-80a4-6e1775e6c338.html?chunk=2#story2
First in Vitals: Nine out of 10 want action on drug costs
A new poll by a group that favors lower drug prices finds that — surprise! — the public agrees. But bear with us here. The survey finds that nine out of 10 Americans think drug prices need reform, something in line with some of President Trump's statements on the issue. And he didn't become president by misjudging the people's mood.
In fact, 75 percent agreed with his comment about the drug industry "getting away with murder," according to the survey conducted by Zogby Analytics for Prescription Justice, a Connecticut-based group that favors policies like letting Medicare negotiate drug prices. The survey, to be released later this morning, is mostly useful as a measure of the strength of the public mood. The online survey, which has protections to prevent repeat voting, covered 1,001 adults and has a margin of error of 3.1 percentage points.
https://www.axios.com/newsletters/axios-vitals-480312bd-32ca-4c1d-80a4-6e1775e6c338.html?chunk=3#story3
Drug spending is lower, but still not low
Meanwhile, Bob Herman reports that the main drug lobbying group, the Pharmaceutical Research and Manufacturers of America, pointed out on Friday that spending on prescription drugs grew 5% in 2016, down significantly from the 9% growth rate in 2015 that was fueled by pricey hepatitis C medicines.
Yes, but: The 5% growth rate was still more than twice the inflation rate (2.1%) and was higher than the broader health spending growth rate (4.8%). It also was well above the 3.4% growth rate in 2014.
Irony alert: PhRMA cited data from large pharmacy benefit managers that cheered lower prescription drug spending, but then subtly took a swipe at the industry by saying a third of a drug's list price "is rebated back to insurance companies, PBMs and the government, or retained by other stakeholders in the supply chain."
https://www.axios.com/newsletters/axios-vitals-480312bd-32ca-4c1d-80a4-6e1775e6c338.html?chunk=4#story4
FDA may not get a new commissioner for a while
Remember a few weeks ago, when President Trump said he was about to nominate a new Food and Drug Administration chief? It's been radio silence since then, and BioCentury, quoting sources who are involved in the nominee prepping, reports that the announcement may still be a month to six weeks away. (FWIW, Scott Gottlieb is still said to be the front-runner.)
Why it matters: It's not like the FDA has never gone without a permanent chief before — it took months before Robert Califf was confirmed to replace Margaret Hamburg. But in that case, both served under Obama, so the agency wasn't waiting for a big change in direction the way it is under Trump. So the FDA will have to wait a bit longer to find out what its new marching orders will be.
https://www.axios.com/newsletters/axios-vitals-480312bd-32ca-4c1d-80a4-6e1775e6c338.html?chunk=5#story5
While you were weekending ...
Ohio Gov. John Kasich told CNN's State of the Union that it would be a "very, very bad idea" for congressional Republicans to phase out Medicaid expansion. (That doesn't mean he wants to leave Medicaid alone — here's my piece on what he really wants.)
Ex-Aetna CEO Ronald Williams told CNBC that Obamacare has a "structural imbalance" that created higher costs for the young and healthy people it needed to attract.
MD Anderson Cancer Center has put its IBM supercomputer project on hold, and an audit has found questionable spending issues with the project, the Houston Chronicle reports.