https://www.axios.com/newsletters/axios-vitals-45efb1de-eb86-412f-8e03-79dd5f623aec.html?chunk=0#story0
Two big questions for Trump's VA pick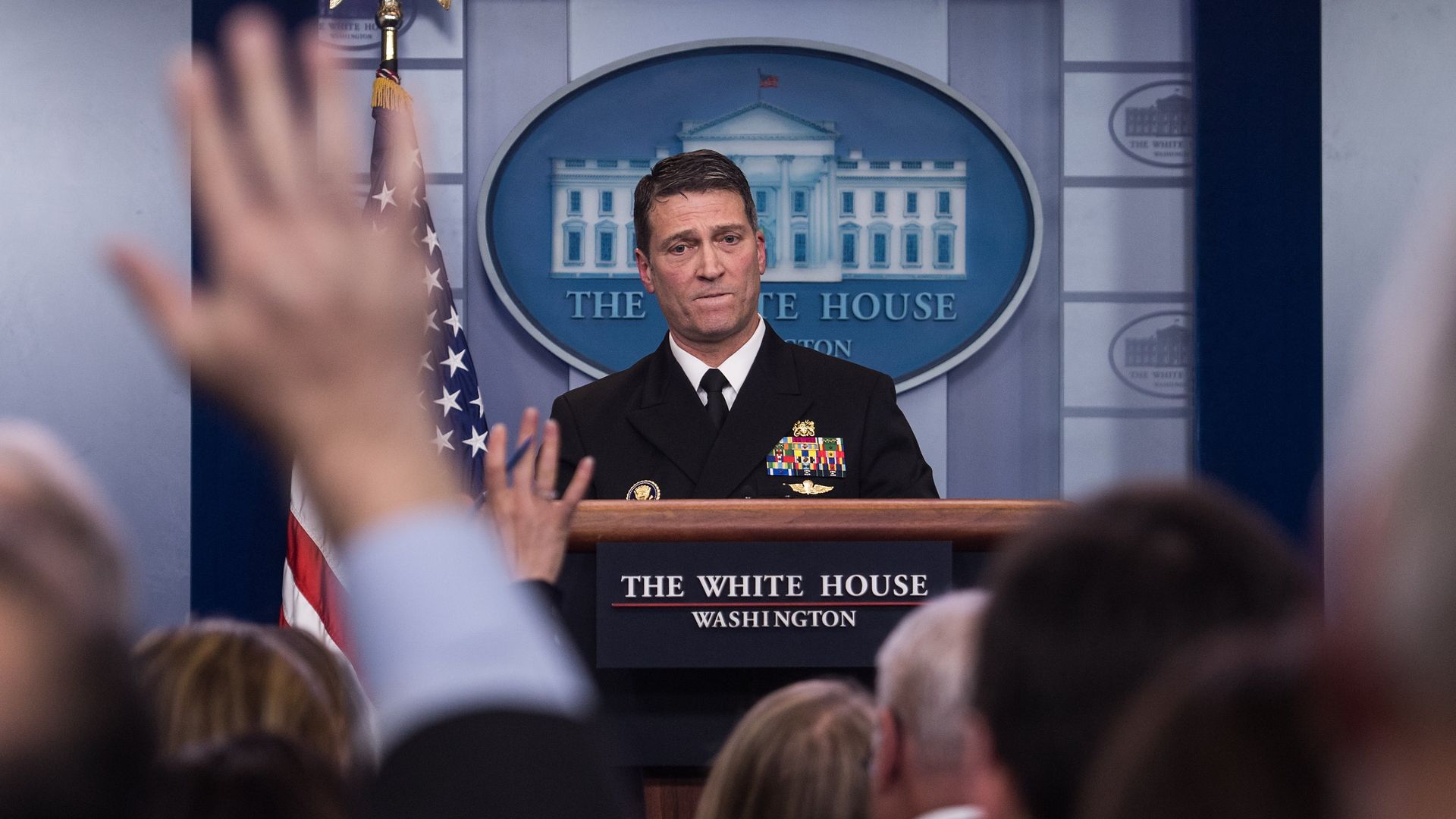 President Trump (finally) fired Veterans Affairs secretary David Shulkin yesterday, announcing on Twitter that he would nominate Ronny Jackson — the White House physician who you may remember briefed us on TV about Trump's "incredibly good genes" — to take over the agency.
What they're saying: Jackson was a surprise choice, so Washington is still getting its bearings, but expect two big questions to come up as Jackson advances:
1. Can he lead this big an organization? He never has before, and the VA has both a big budget and a lot of problems.
"What has this guy ever managed?" a GOP aide said to The Washington Post. "Can he really take on one of the toughest jobs in government?"
2. Will he support privatizing more of the VA? This is a big priority for conservatives, including the powerful Koch brothers. And while Shulkin's travel expenses and general internal strife grabbed a lot of the headlines, his tepid support for privatization was also part of the case against him.
How Trump made the decision, according to the Post:
"Trump often tells friends how smart Jackson is and was particularly pleased with his televised briefing following his physical ... Jackson jokes around with Trump, which the president likes, officials said."
"Trump began talking about Jackson by the weekend at Mar-a-Lago, asking friends whether Jackson would be a good choice to run VA. He then asked a number of aides about Jackson on Monday — and was told that Jackson is loved in the White House, senior officials said. One person who heard Trump mention the name was not entirely sure if he was serious."
https://www.axios.com/newsletters/axios-vitals-45efb1de-eb86-412f-8e03-79dd5f623aec.html?chunk=1#story1
Surprise! We're actually paying less out of pocket
Think you're getting stuck with bigger bills for your routine medical costs? You might want to look at this chart, based on research from the Medicare Payment Advisory Commission. It shows that, back in 1976, our disco-dancing ancestors paid a way bigger share of own their health care costs than we do today.
Between the lines: Out-of-pocket spending is mainly declining because health coverage has gotten more comprehensive.
Medicare drug coverage didn't even exist before 2006. More of the public is now covered through Medicare, Medicaid or CHIP, too.
There's less data available about the generosity of private health insurance, though the Affordable Care Act put an end to benefit limits that held down its value in the past.
Yes, but: Out-of-pocket costs don't include premiums, so it's possible that we're just paying for our health care in other ways.
Brookings' Matt Fiedler points out that the number of people in high-deductible plans has risen, so we're more likely to pay out of pocket earlier in the process.
Over the last decade, the share of costs we pay out of pocket hasn't changed much. But, Fiedler tells Axios, the dollar amount has, because prices keep rising.
https://www.axios.com/newsletters/axios-vitals-45efb1de-eb86-412f-8e03-79dd5f623aec.html?chunk=2#story2
Health care deals top $150 billion
It's not just a feeling — health care mergers really are on an enormous tear right now.
The details, per Bloomberg:
Just in the first quarter of this year, health care companies have already announced deals that add up to more than $150 billion, making this the biggest first quarter in more than a decade.
A lot of that activity is in the pharmaceutical sector, including Takeda's plans for a $45 billion purchase of Shire, though insurance mergers have also boosted the total.
Analysts told Bloomberg they expect the trend to continue, citing the industry's tax windfalls as well as drugmakers' need to bolster their product pipelines.
https://www.axios.com/newsletters/axios-vitals-45efb1de-eb86-412f-8e03-79dd5f623aec.html?chunk=3#story3
Digging deeper in Oscar's finances
Health insurance startup Oscar announced Tuesday that it had raised another round of venture funding — and said in the process that it turned an "underwriting profit" in 2017. Axios' Bob Herman took a closer look at the company's finances and has some important context for that claim.
Behind the numbers: To calculate its underwriting profit, Oscar took its premium revenues, subtracted out its medical claims and administrative expenses, and then added in reinsurance funding.
If you didn't add reinsurance into the mix, though, instead looking only at the balance between premiums and expenses, Oscar ended last year with a $50 million loss.
Many of Oscar's competitors in the ACA's exchanges are turning a profit even without reinsurance. And Bob talked to other experts who agreed that Oscar's situation is far from rosy.
The bottom line: Plenty of startups are unprofitable as they make investments in technology and elsewhere — but Oscar has to find a path to profitability somewhat soon.
State insurance departments require insurers to have enough money to cover their operations (so they don't go under and leave people uninsured). It's not feasible to rely on large funding rounds by outside investors who will eventually want their money back — and then some.