Good morning ... Even Kansas Sen. Jerry Moran — who barely said a word about health care throughout the entire process — came out yesterday afternoon to let us know he wouldn't have supported Senate bill, if it had come up for a vote. Granted, every Republican has an incentive to say that now. Even so, if you're a GOP senator who wants something from Mitch McConnell, your hand just got a whole lot stronger.
Where the Senate's health care bill goes from here
After scrapping their plan to hold a health care vote this week, Senate Republican leaders' new goal is to get their party together around a new policy outline by Friday, so they can send that plan to the Congressional Budget Office over the July 4 recess and vote once they return.
Will it work? It's true that McConnell is a legislative MacGyver — always able to make something out of nothing at the last minute. And it helps that he has about $200 billion at his disposal to help bring more votes on board. And yes, this is almost exactly what happened in the House, so don't read too much into one canceled/postponed vote.
However, none of the obstacles has changed.
There is no natural point of consensus between the two main camps — McConnell will have to manufacture one. Sen. Shelley Moore Capito said yesterday she opposed the bill because it "cuts traditional Medicaid too deeply," while Rand Paul said the bill "is currently not real repeal."
And President Trump remains a wild card.
House Republicans didn't feel particularly supported when Trump called their bill "mean," then went out of his way to confirm doing so.
The short-lived idea of attack ads against Sen. Dean Heller, paid for by Trump's outside political organization, also didn't help win hearts and minds in the Senate.
Shortly before senators headed to the White House, a senior GOP aide told Caitlin Owens to expect a "full court press" from the Trump administration. Once they got there, this was Trump's idea of a full court press: "This will be great if we get it done. And if we don't get it done, it's just going to be something that we're not going to like. And that's okay, and I understand that very well."
The bottom line: An administration official tells Jonathan Swan that Friday is still the goal, but Hill Republicans are skeptical. They know how Congress really works: When you don't get something done by one recess, the real deadline is the next recess.
What McConnell can do
Majority Leader Mitch McConnell has a difficult needle to thread. Here's what he can do, and how he can try to do it, with 72 more hours of closed-door negotiations.
Try to split the bill's Medicaid-based opposition: The bill's moderate critics all share some degree of concern about its Medicaid cuts. Softening all of its cuts would cement conservative opposition, but some changes — maybe including the rate of growth in future Medicaid spending — could be part of a piecemeal solution.
Add more money to fight the opioid crisis: It might not be enough on its own, but it could help senators like Rob Portman live with the bill's Medicaid cuts, or at least accept a smaller set of revisions that conservatives also could accept.
Remove restrictions on funding for abortion and Planned Parenthood: Has to happen sooner or later to win over Susan Collins and Lisa Murkowski.
Spend more money (potentially through the states): More generous subsidies or reinsurance programs could help offset early premium increases and calm the nerves of senators like Murkowski, who represent rural states where health care is more expensive.
Weaken the ACA's insurance rules: Might not clear the Senate's rules and could jeopardize moderate votes, but conservatives are going to need something here. No one said this would be easy.
McConnell's warning: You don't want to deal with Schumer
Mike Allen reported yesterday that McConnell has been telling Republicans in private that they'd better get an agreement, otherwise they'll have to cut a deal with Senate Minority Leader Chuck Schumer to stabilize the Affordable Care Act. After the White House meeting, he made the same argument in public, per the pool report:
"Either Republicans will agree and change the status quo; or markets will continue to collapse and we'll have to sit down with Sen. Schumer ... And my suspicion is in any negotiation with Democrats will include none of the reforms that we would like to make on the market side and the Medicaid side. So for all of those reasons, we need to come up with a solution."
Yes, but: They could also get to work with former vice presidential candidate Tim Kaine. He's going to make another one of his periodic appeals to Republicans today to work on bipartisan ACA fixes, like his bill to create a permanent reinsurance program.
What the Senate bill would do to premiums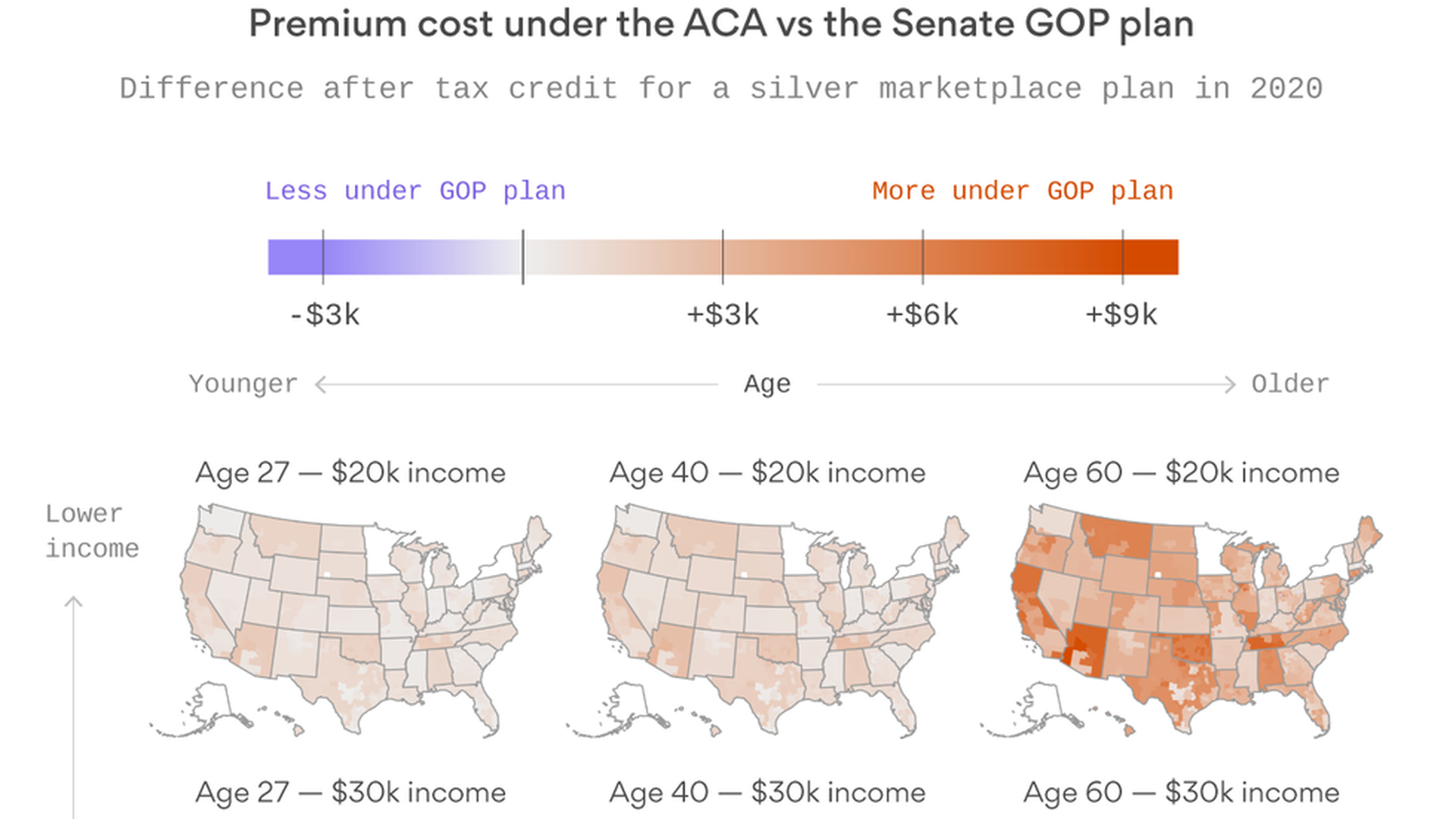 It's pretty easy to see the impact by age, in this graphic by Chris Canipe of our data visuals team. It's based on an analysis by the Kaiser Family Foundation that looks at the new premium structure, including the lower "actuarial value" of the benchmark plans and the shift in the subsidy structure. Young adults would have to pay less of their incomes toward their health care, while older people would have to pay more.
The bottom line: Some young adults would pay less, but older and low-income people would pay more. It's not clear if that will change as Senate Republicans reopen their negotiations, but let's see what happens by the end of the week. More from Caitlin and Chris here.
Another verdict: Great in the short term
S&P Global had a different take on the bill in an analysis released yesterday: It's "positive in the short term but inadequate beyond 2021."
The main points:
The individual market would be helped by the funding of cost-sharing subsidies, short-term assistance funds for insurers, and stabilization funds for the states.
But there would be a "sharp drop in access" to health insurance after that, since the "actuarial value" of the coverage would drop and there would be no individual mandate to attract healthy people.
The "continuous coverage" provision got a thumbs down: "We do not view the six-month waiting period requirement as an effective replacement for the current individual mandate."
What's next? Single payer, per Elizabeth Warren
In case you had any doubt, Sen. Elizabeth Warren is providing more evidence that the Democrats' frustrations with Republican efforts are tipping some of them into the more liberal single payer camp. The Wall Street Journal reports that she's saying Democrats should run on it in 2018 and 2020. Former President Obama had used a "conservative model" for the ACA, Warren said: "Now it's time for the next step. And the next step is single payer."
Reality check: California Democratic leaders shelved their single payer proposal last week because, among other things, they couldn't figure out how to pay for it.
What we're watching today: Lots of negotiating. Also, the House votes on a medical malpractice bill sponsored by Rep. Steve King. (Don't expect it to have a future in the Senate.)
What we're watching this week: What are the odds of an actual deal by Friday?
Let us know if you've found any other Senate health bill surprises: david@axios.com, baker@axios.com.