Axios Vitals
October 16, 2019
Good morning. My deepest condolences to my editor, Sam Baker, who took time out of his day to come up with health care questions for last night's debate only to have them ignored.
ICYMI: Sen. Elizabeth Warren still won't say how she'd pay for "Medicare for All," hospitals were let off the hook yet again and apparently prescription drugs aren't a popular subject.
Today's word count is 780, or ~3 minutes.
1 big thing: New drugs are launching with ever-higher prices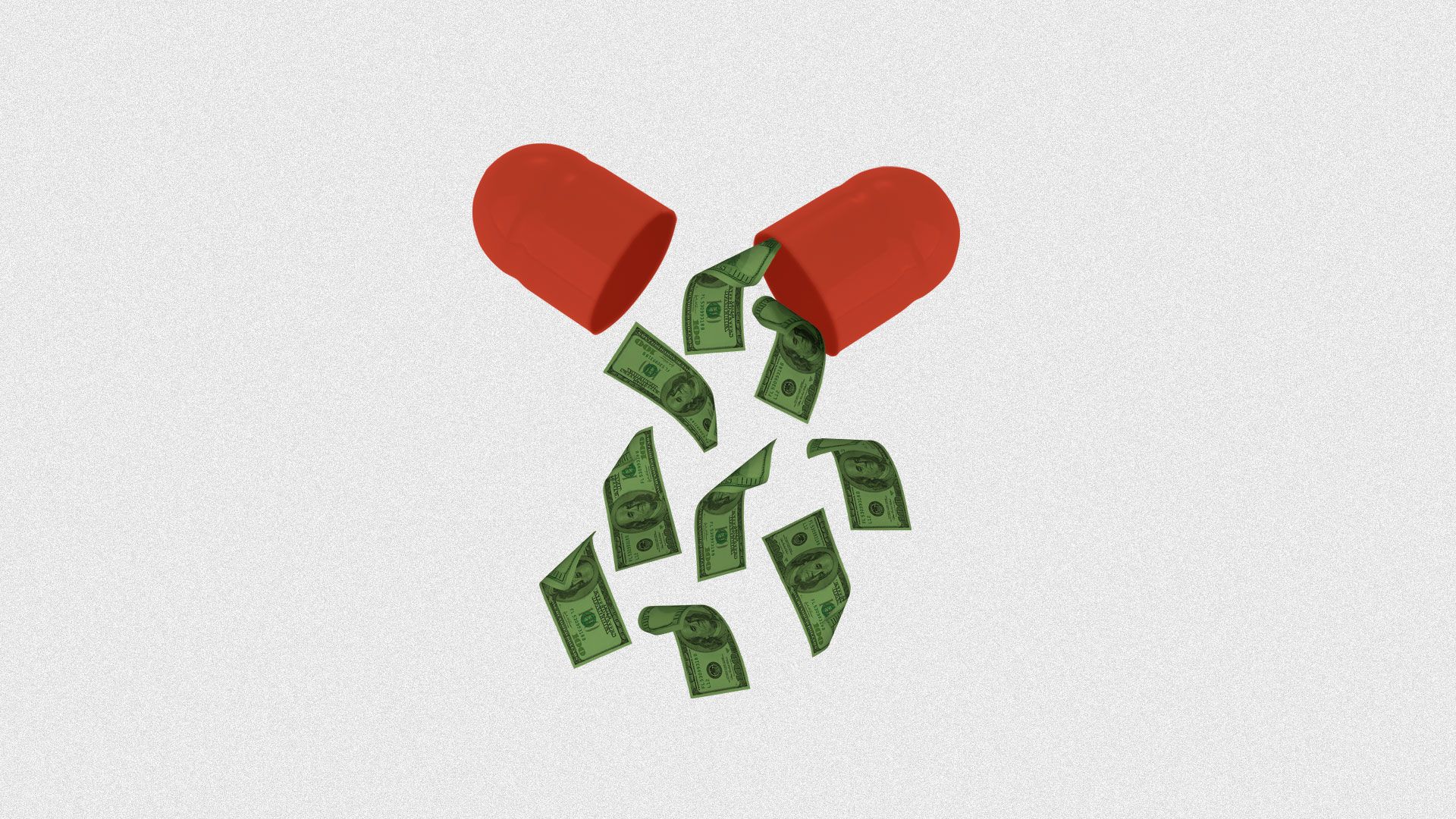 The average launch prices for new brand-name drugs have skyrocketed over the past decade, according to an analysis from drug research firm 46brooklyn.
Why it matters: The U.S. prescription drug market increasingly has thrived on high initial price tags and subsequent increases. That has resulted in higher premiums and out-of-pocket costs for new drugs, as well as more expensive generics, Axios' Bob Herman writes.
Between the lines: Pharmaceutical companies are not raising prices of existing drugs as frequently as they used to. However, more new drugs are coming out with 6- and 7-figure list prices — most notably drugs like Zolgensma and Luxturna.
Higher starting prices for brand-name drugs are costly on their own, but they also beget higher starting prices for their generics.
By the numbers: Using data from Elsevier's Gold Standard Drug Database and the federal government, analysts at 46brooklyn organized the launch prices of both brand and generic drugs for each year they came out, going back to 2006.
The median monthly price of a new brand-name drug has increased 381% since 2006 (from $150 to $722).
The median monthly price of a new generic drug has increased 712% since 2006 (about $100 to almost $800).
One step further: Almost 80% of all generic drugs studied had no decrease in their average wholesale price in the past 5 years.
The bottom line: There is systemic failure in the pharmaceutical market. Rising starting points for drugs benefit every entity, except patients.
Go deeper: The drug pricing maze
2. Democrats' health care plans by the numbers
Democrats aren't debating small differences in health policy — a public option would be radically different than a shift to a single payer system, and a new analysis by the Urban Institute and the Commonwealth Fund illustrates just how big those differences are.
By the numbers: A public option — even a robust one — would cost the federal government an additional $1.5 trillion over 10 years. Full-blown single payer would result in a federal spending increase of $34 trillion.
Yes, but: More federal spending doesn't necessarily mean the health care system as a whole is getting more expensive.
Details: The analysis doesn't look at any specific piece of legislation or any particular Democratic candidate's plan, but it covers the spectrum of what's been proposed.
National cost savings generally come at the expense of providers, as their payment rates would be regulated under expanded government coverage.
3. Drug distributors discussing opioids settlement
Three major drug distributors — McKesson, AmerisourceBergen and Cardinal Health — are discussing an $18 billion settlement to resolve opioid litigation brought by state and local governments, the Wall Street Journal reports.
The big picture: The distributors, along with drug manufacturers and pharmacies, have been accused of contributing to the country's opioid epidemic through aggressive marketing and inadequate distribution oversight.
Details: The deal being discussed would involve the 3 distributors paying $18 billion total over 18 years. Johnson & Johnson is also involved and discussing contributing additional money.
Go deeper: Purdue Pharma's bankruptcy test
4. The opioid epidemic is still costing billions
The opioid epidemic cost the U.S. economy at least $631 billion from 2015 to 2018, and it'll cost another $172–$214 billion this year, according to a new analysis by the Society of Actuaries.
Why it matters: There's a serious financial incentive to address the opioid crisis, as well as a moral one.
By the numbers: A third of the spending between 2015 and 2018 was on excess health care used by people with opioid use disorder and their family members.
Mortality costs — mostly lifetime earnings lost to premature deaths — accounted for another 40% of the costs, while lost productivity made up 15%.
Billions of dollars were also spent on criminal justice-related activities and child and family assistance programs.
Go deeper: The youngest victims of the opioid epidemic
5. Native Americans' health care plight
Native American tribes are turning their backs on government medical care to keep their communities from receiving inadequate treatment, but are quickly finding out it's a costly feat, the New York Times reports.
Why it matters: Some of the 24 hospitals overseen by the Indian Health Service are systemically failing, with one in the Great Plains responsible for patients' deaths and misdiagnoses, according to several federal investigations.
These groups that largely rely on Indian Health Service hospitals have death rates for preventable diseases 3–5 times higher than other races, Axios' Marisa Fernandez writes.
Millions of dollars are needed long-term for tribes to achieve better health care, and some regions are finding their casino money won't cut it. Leaders hope applying federal grants and more money from Medicaid and Medicare may help.
Still, a takeover of the Sioux San hospital's operations by 18 tribal communities led to upgraded equipment, more qualified health care workers and the ability to reopen a disqualified inpatient hospital and ER.
Go deeper: Warren presents 2020 plan to protect tribal lands, support Native Americans