Good morning ... Hope all of our readers in the Los Angeles area are safe.
https://www.axios.com/newsletters/axios-vitals-3cd13d02-ce4f-46ff-bbdf-ba9f36f47939.html?chunk=0#story0
Non-profit hospitals are making a fortune on Wall Street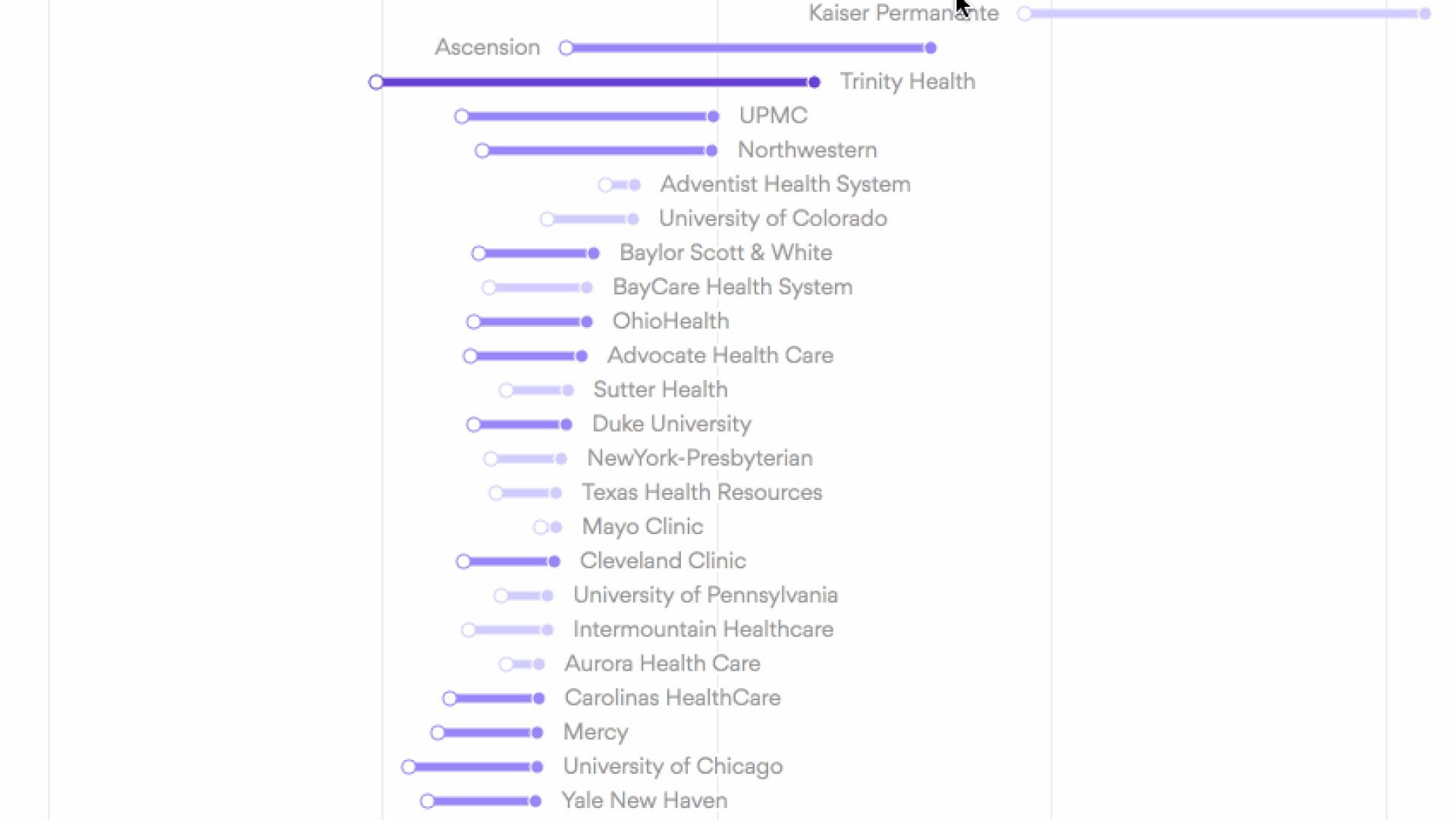 Hospitals say they're having trouble staying afloat because insurance programs, namely Medicare and Medicaid, aren't paying them enough. But while their margins on patient care are slim, they've more than made up for it on Wall Street.
The details: My colleague Bob Herman takes a deep dive this morning into the finances of 84 of the biggest not-for-profit hospitals in the country — facilities that account for a big chunk of all health care spending. Here's what Bob's analysis found:
Cumulatively, these hospital systems made $14.4 billion in profit last year from caring for patients. That gives them a profit margin of about 2.7%.
Add in Wall Street investments, stocks, bonds, credit default swaps and accounting gains from mergers and acquisitions, and their surpluses rose to $35.7 billion, or a 6.7% total profit margin — more than double the year before.
Those margins aren't gigantic. But modest margins on a large amount of revenue still equal a large amount of profit.
The other side: This analysis highlights the wealthiest hospital systems in the country. But there are many hospitals — smaller, rural facilities and publicly owned hospitals — that are struggling more because of dwindling payments, fewer patients and an inability to compete against larger, better-funded systems when negotiating payment rates with commercial insurers.
"Some systems are doing really well in this country. That doesn't mean all systems and all facilities are doing well," says Gary Young, a health policy professor at Northeastern University.
Go deeper: See the full analysis, including a breakdown of each health system's profits in the interactive graphic.
https://www.axios.com/newsletters/axios-vitals-3cd13d02-ce4f-46ff-bbdf-ba9f36f47939.html?chunk=1#story1
​Freedom Caucus can live with Alexander-Murray
House Freedom Caucus chairman Mark Meadows said yesterday he'd be open to including the Affordable Care Act stabilization bill by Sens. Lamar Alexander and Patty Murray in a stopgap spending bill, if that would be enough to get Senate Democrats on board.
"If Alexander-Murray would break the defense and non-defense wall, that may be a price that many would be willing to pay," Meadows said, according to Roll Call, referring to the debate over priorities in the spending bill.
Quick take: End-of-the-year dealmaking was always the most plausible path forward for Alexander-Murray. But many of that bill's initial supporters are beginning to change their minds about the proposal, fearing it would take away a potential tool to help blunt the damage if Republicans repeal the ACA's individual mandate.
https://www.axios.com/newsletters/axios-vitals-3cd13d02-ce4f-46ff-bbdf-ba9f36f47939.html?chunk=2#story2
​Enrollment falls further behind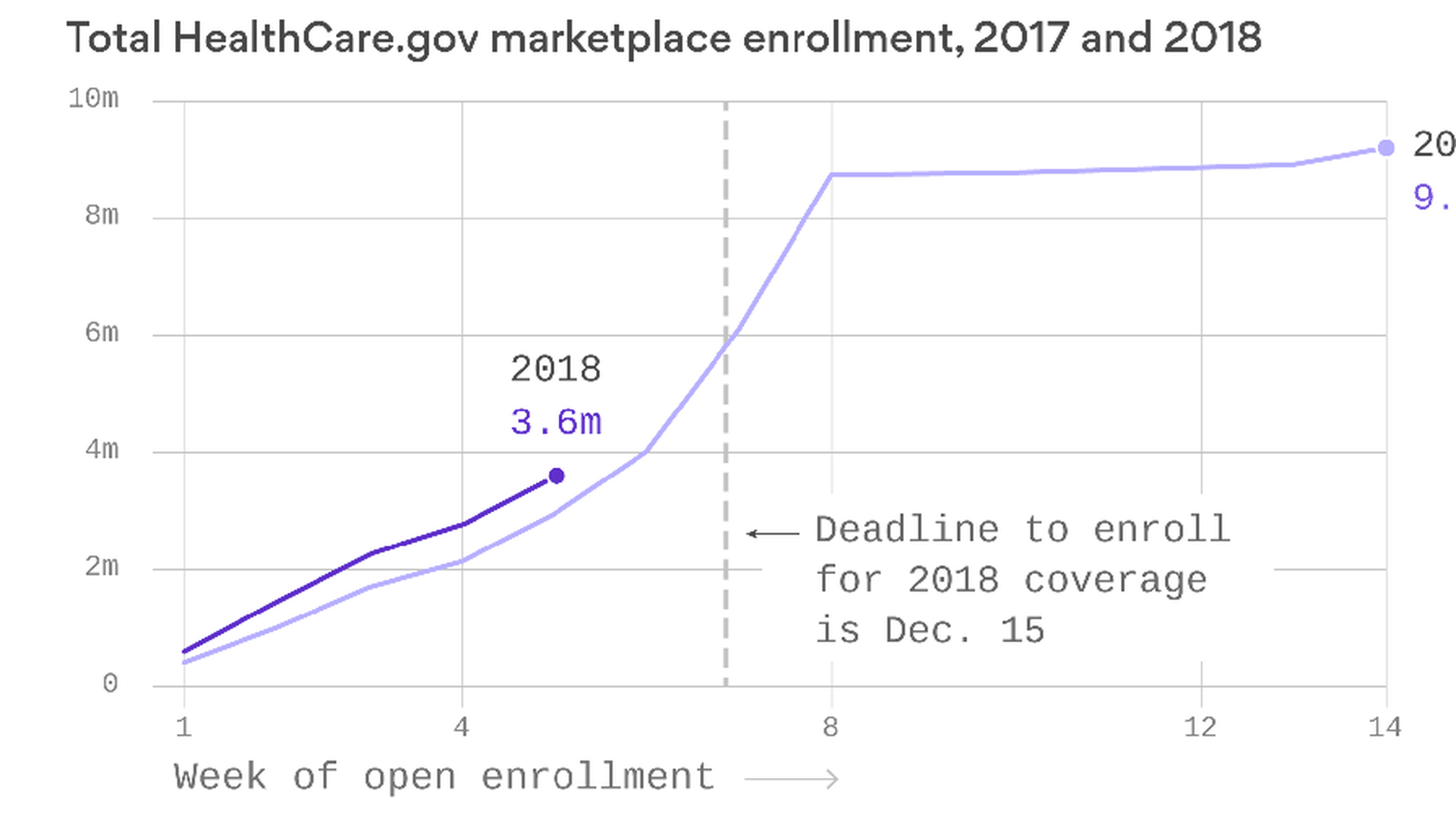 At the end of last week, with 13 days left to go in open enrollment, roughly 3.6 million people had signed up for coverage through HealthCare.gov. About 5.6 million more would need to sign up by Dec. 15 to match last year's enrollment totals. That is almost certainly not going to happen.
Don't forget: Enrollment is down this year, in part because open enrollment is shorter this year. But cutting the sign-up window to six weeks was initially the Obama administration's idea — it had proposed switching over to a Nov. 1–Dec. 15 window next year but President Trump moved that timeline up to this year.
Insurers also liked the idea of a shorter enrollment period, hoping it would stop people from waiting until they got sick to buy coverage.
Be smart: Of course, Trump's cuts to enrollment outreach are also a major factor here.
https://www.axios.com/newsletters/axios-vitals-3cd13d02-ce4f-46ff-bbdf-ba9f36f47939.html?chunk=3#story3
​Ryan wants to try again on entitlement reform
Remember the "Ryan budget"? Well, it's coming back, apparently. House Speaker Paul Ryan said in a radio interview that he wants to take another swing next year at Medicare and Medicaid, as well as the ACA, the Washington Post reports. Ryan also said he thinks Trump is getting on board.
"I think the president is understanding that choice and competition works everywhere in health care, especially in Medicare," Ryan said.
Yes, but: There are plenty of theories about what comes next, following Republicans' tax overhaul. Trump has said he wants to try again on ACA repeal, but has also said he wants to do "welfare reform," without specifying what he means by that.
Entitlement cuts could fall under either of those labels, but remember that next year is an election year and Democrats already have a well-worn playbook for campaigning against Ryan's Medicare proposals.
Flashback: This ship probably sailed with the Medicaid cuts in ACA repeal, but for whatever it's worth, Trump did say during the campaign that he wouldn't cut Medicare or Medicaid.
https://www.axios.com/newsletters/axios-vitals-3cd13d02-ce4f-46ff-bbdf-ba9f36f47939.html?chunk=4#story4
​Medical deduction may survive tax conference
The tax deduction for medical expenses may not turn out to be much of a sticking point as House and Senate Republicans hammer out the differences in their tax bills. Ways and Means chairman Kevin Brady praised the upper chamber's approach yesterday, per the Wall Street Journal.
The Senate bill "does good work...That issue is being raised a lot by our lawmakers as very important," Brady told reporters.
How it works: The House bill would repeal the deduction, which allows taxpayers to write off certain health care expenses that add up to more than 10% of their annual income. (The deduction is a particularly big deal for people with family members in long-term care.) The Senate bill would expand the credit, lowering the threshold to only 7.5% of income for two years.
Where it stands: The conference report is still very much a work in progress. But this is a popular deduction that helps vulnerable people, and it's easy to see it surviving.