Axios Vitals
June 14, 2021
Good morning and welcome back from the weekend.
🚨Today, our newsletter features a project we've been working on in conjunction with Johns Hopkins University on the aggressive debt-collection practices of many of the top U.S. hospitals.
This project was produced by Caitlin Owens Danielle Alberti, Will Chase, Michelle McGhee and me.
Are you a patient who has a story to tell about being sued for medical debt by your provider? We'd love to hear from you.
Today's word count is 903, or a 3.5-minute read.
1 big thing: America's biggest hospitals vs. their patients
More than a quarter of the 100 U.S. hospitals with the highest revenue sued patients over unpaid medical bills between 2018 and mid-2020, according to new research by Johns Hopkins University provided exclusively to Axios.
Why it matters: The report suggests that, rather than being an anomaly, patient lawsuits are relatively common across the country and among the largest providers, Axios' Caitlin Owens writes.
"Most hospitals do not engage in this form of predatory billing. But for the ones that are, it threatens the great public trust in the medical profession," said Marty Makary, a lead researcher on the Johns Hopkins project.
The big picture: As patients have become increasingly responsible for higher out-of-pocket costs, some hospitals have responded to unpaid bills by taking patients to court.
Meanwhile, the cost of hospital care has continued to rise.
These "predatory billing practices" slowed down — but did not stop — during the pandemic, per the JHU researchers.
It's unclear how much of the decrease was because of the pandemic, and how much was attributable to lasting changes in billing practices.
Details: The study found that 26 of the hospitals filed nearly 39,000 court actions against patients. This is likely an undercount, as some court records were inaccessible.
These court actions took the form of lawsuits, wage garnishments and personal property liens. Wage garnishments are court orders allowing hospitals to take part of a defendant's paycheck, and a personal property lien is a legal claim that allows the holder to obtain access to an asset if a debt isn't paid.
Go deeper: Explore the project, including searchable data on the top 100 U.S. hospitals. (Search by state, city or hospital.)
2. Major markups
Some of the hospitals with the highest revenue in the country also have some of the highest prices.
Why it matters: Hospitals each determine their own charges, or list prices. While few patients ever pay those prices due to negotiated insurance rates, they do affect the uninsured and, experts say, ultimately influence the overall price we all pay.
Of the top 100 largest hospitals in the U.S., 57 were charging more than five times the actual cost, on average, of the care they provided.
The hospital with the highest average markup was HCA's Chippenham Hospital in Richmond, with charges at nearly 13 times cost.
Pennsylvania and Texas were among the states that stood out when it came to markups. Nine of the top 15 were located in one of these two states.
The other side: Hospitals said this sort of calculation can be misleading, in large part due to the fact that few ever pay the actual chargemaster price. Most also say they offer programs that help protect patients from financial hardship.
But, but, but: Consumer advocates say many hospitals don't do enough to make sure the patients who need the help know about those resources.
3. Big New York hospitals sue ... a lot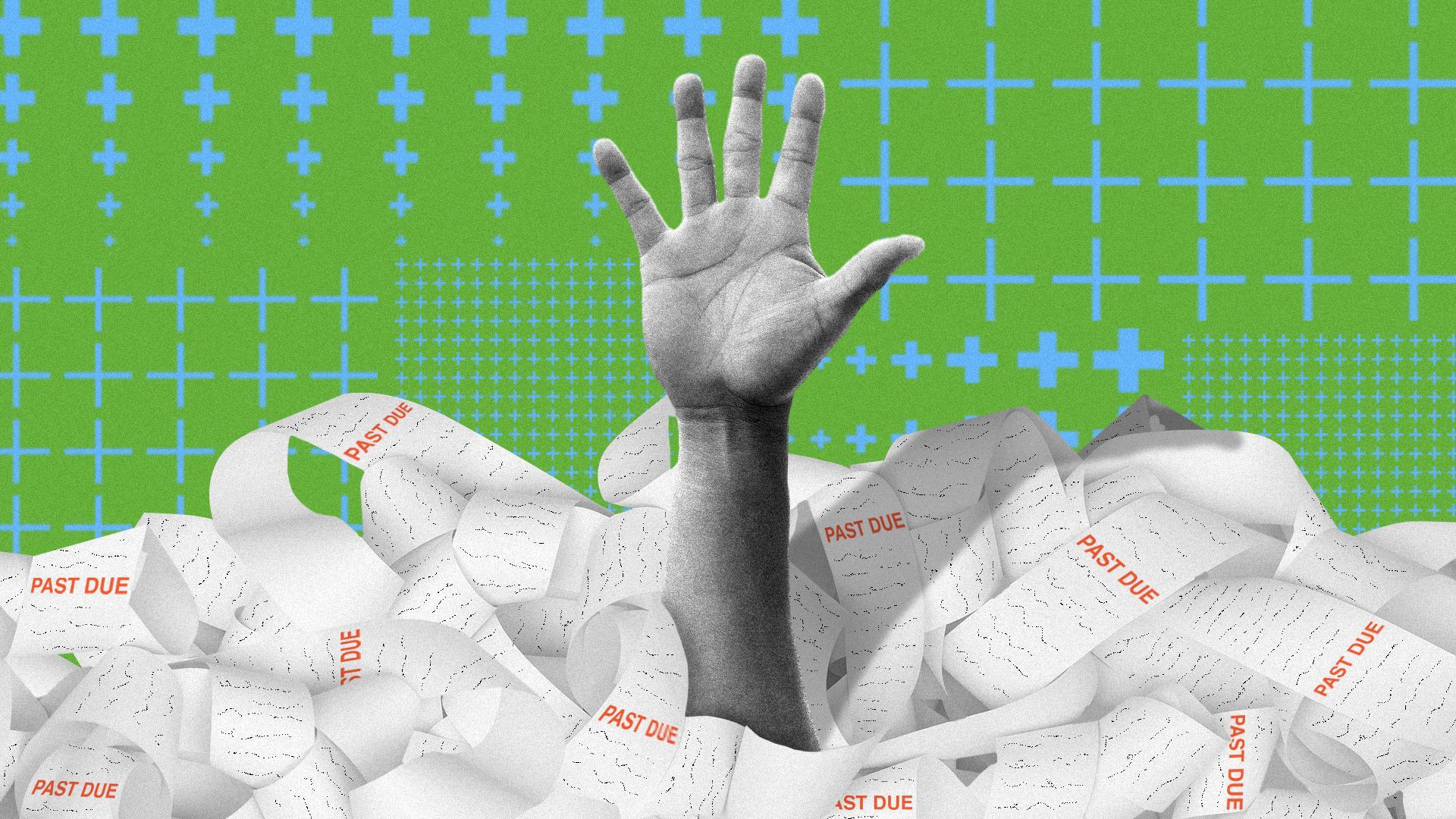 Six of the 26 hospitals that JHU researchers found sued their patients were in New York, Caitlin writes.
Three of the six hospitals with the most court actions were in the state, and it's also home to the hospital that sought the largest amount of money: Westchester, which sued patients for a total of $24,020,283.
Between the lines: JHU researchers also looked at the overall billing practices of New York's 261 hospitals.
They found that 51 — or 20% — filed more than 18,000 lawsuits against patients between January 2018 and Dec. 15, 2020.
All but three of these hospitals were not-for-profit, and 42 of them filed lawsuits in 2020 even though many Americans were experiencing exceptional pandemic-related financial crises.
4. The good news: Suits are slowing down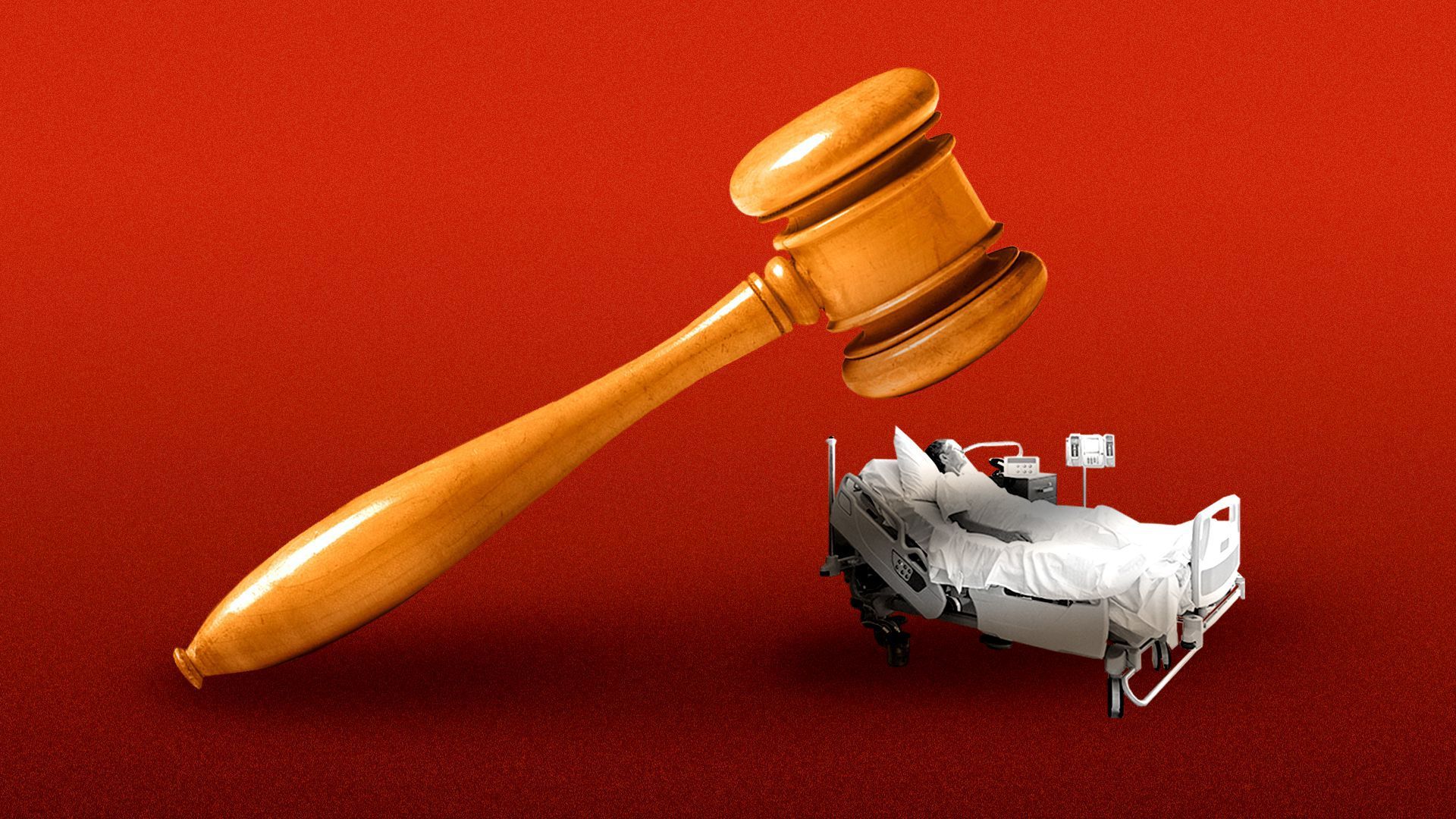 Hospitals sued patients much less often in 2020 than in the previous two years, and there are signs this may signify change that lasts beyond the pandemic, Caitlin writes.
Between the lines: Some hospitals that received a lot of negative publicity over their billing practices stopped suing patients altogether.
Makary thinks there are signs that a lasting shift may be underway. 
The data show that there was a decrease in lawsuits from November 2019 to February of last year, he said — before the coronavirus shut things down in the U.S. 
He's also been encouraged by his conversations with hospital CEOs. 
"People become detached from what's actually happening on the ground," he said. "I found appealing to the best in people was a powerful driver of improvement."
5. Some hospitals turn to liens instead of lawsuits
Froedtert Hospital in Milwaukee has taken plenty of court actions in pursuit of getting paid for medical services provided. But in the last year, those efforts have taken the form of hospital liens.
Why it matters: Froedtert offers a look at the different legal avenues large hospital systems use to collects on patient debt.
By the numbers: Froedtert filed 3,278 court actions and pursued $15.4 million from patients between 2018 and mid-2020.
What they're saying: Spokesman Stephen Schooff said that Froedtert Health, which includes Froedtert Hospital, "suspended filing small claims suits" in March of 2020 and that "this policy will remain indefinitely."
How it works: Hospital liens aren't liens against personal property. They can allow hospitals to claim a portion of any personal injury settlement — but they can catch patients off guard.
"They just sent me this bill saying that they were going to put a lien on my name, and I just kind of panicked," Maneisha Gaston told Wisconsin Watch about learning of a hospital lien on her name following treatment for injuries from a car accident.
But: They can be good for uninsured patients, Lance Trollop, a personal injury attorney in Wausau, Wisconsin, told Axios.