Good morning ... Hope you enjoyed your Thanksgiving. Now back to work.
The case for an "opioid czar"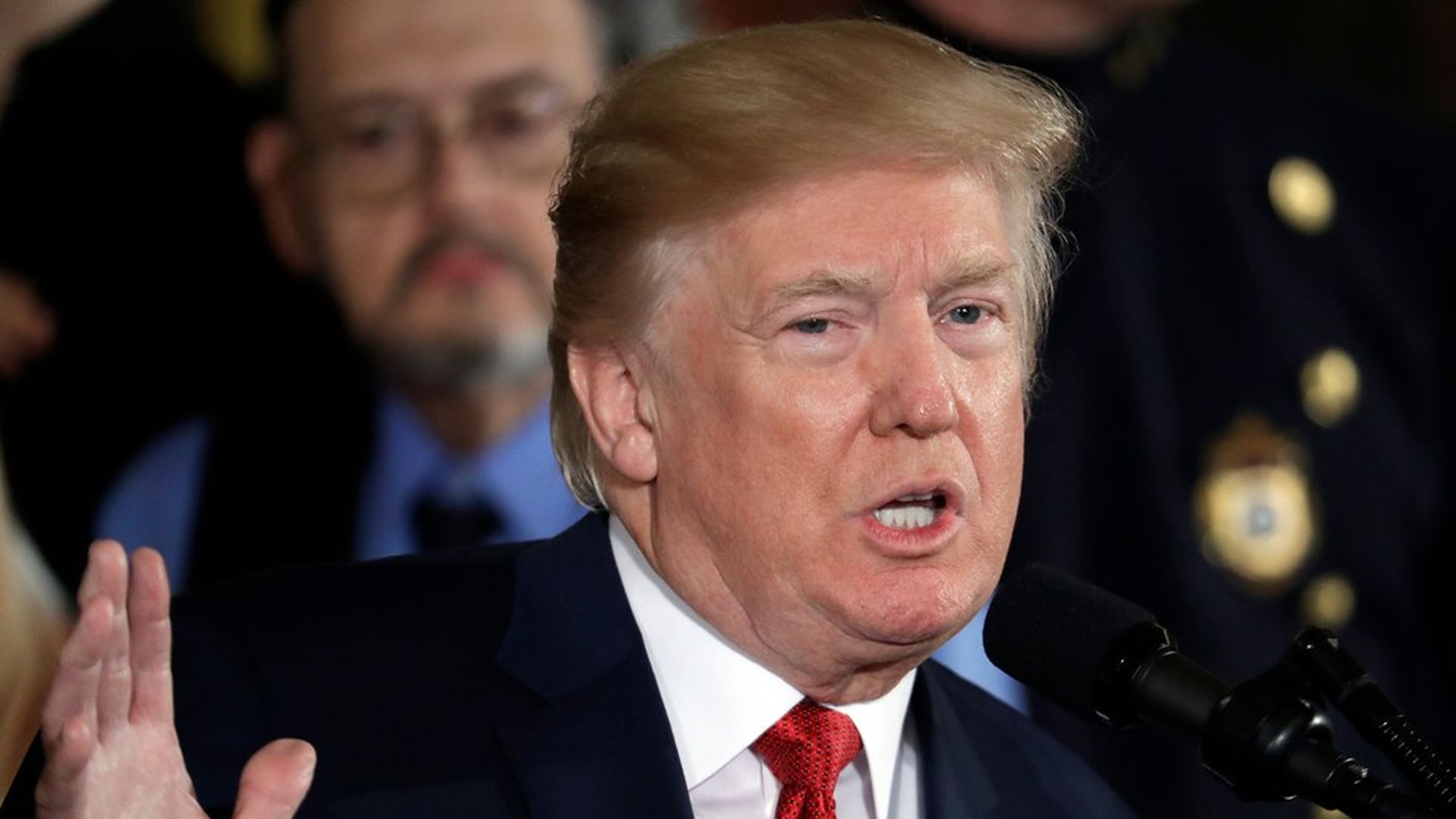 President Trump's opioid commission delivered more than 50 specific ideas to help combat the epidemic, involving more than a dozen agencies. But no one's in charge of implementing that overall plan — which means no one's accountable for its progress.
Be smart: Policy-specific "czars" can be a bit of a gimmick. But some experts tell me there's a strong case for giving one person the authority to spearhead an opioid response that will need to be far-reaching and multifaceted to be successful.
"If he really wants a high-tempo pace of action, really driving action at a wide array of agencies, then perhaps a WH Coordinator would make sense. If this is a PR stunt, with no real policy or action behind it, than a WH Coordinator adds nothing," says Ron Klain, who served as President Obama's "Ebola czar."
"It seems it would be worthwhile to have a separate individual that's focused exclusively on the tasks that are required to fight the current epidemic," says David Fiellin, a public health professor at Yale who led a task force that came up with Connecticut's strategic plan for the opioid epidemic.
Why now? Looking at the report from Trump's opioid commission as well as the steps outside experts have recommended, it's obvious that this will be a complicated solution with a lot of moving parts.
There's only so much money and human capacity to go around. A centralized authority figure could help make sure agencies aren't duplicating each other's work.
Normally, the job of coordinating all this would fall to the Office of National Drug Control Policy. But ONDCP doesn't have a Senate-confirmed director. And even if it did, it also has other work on its plate. An opioids-specific point person could still do some good.
"I think those types of positions can often set the agenda, set priorities, help to ensure that things that are being done are expected to generate maximum response," Fiellin says.
Go deeper: What an "opioid czar" would do.
​Collins' reinsurance bill may not be enough
Sen. Susan Collins has said her vote on Republicans' tax overhaul might depend on Congress also passing two health care bills to make up for the repeal of the Affordable Care Act's individual mandate. She's mentioned the stabilization bill from Sens. Lamar Alexander and Patty Murray, as well as a reinsurance bill she introduced with Sen. Bill Nelson.
The bottom line: Neither bill would likely be strong enough to make up for the loss of the individual mandate — even if the mandate is, in fact, turning out to be weaker than its creators intended.
Alexander-Murray would simply restore a status quo that existed before October — and before October, repealing the individual mandate still would have been enormously disruptive.
Reinsurance — directly compensating insurers for their most expensive customers — absolutely can help reduce premiums.
But reinsurance is just money, and you need a lot of it to make up for especially big premium increases. Collins and Nelson's bill probably isn't generous enough to offset the costs of repealing the individual mandate, several policy experts tell my colleague Caitlin Owens.
Reality check: Those two bills certainly are not both getting passed this week, before the Senate is expected to wrap up its tax debate. They may not pass at all – and may not do the trick even if they did pass.
​Medicaid is the biggest ER payer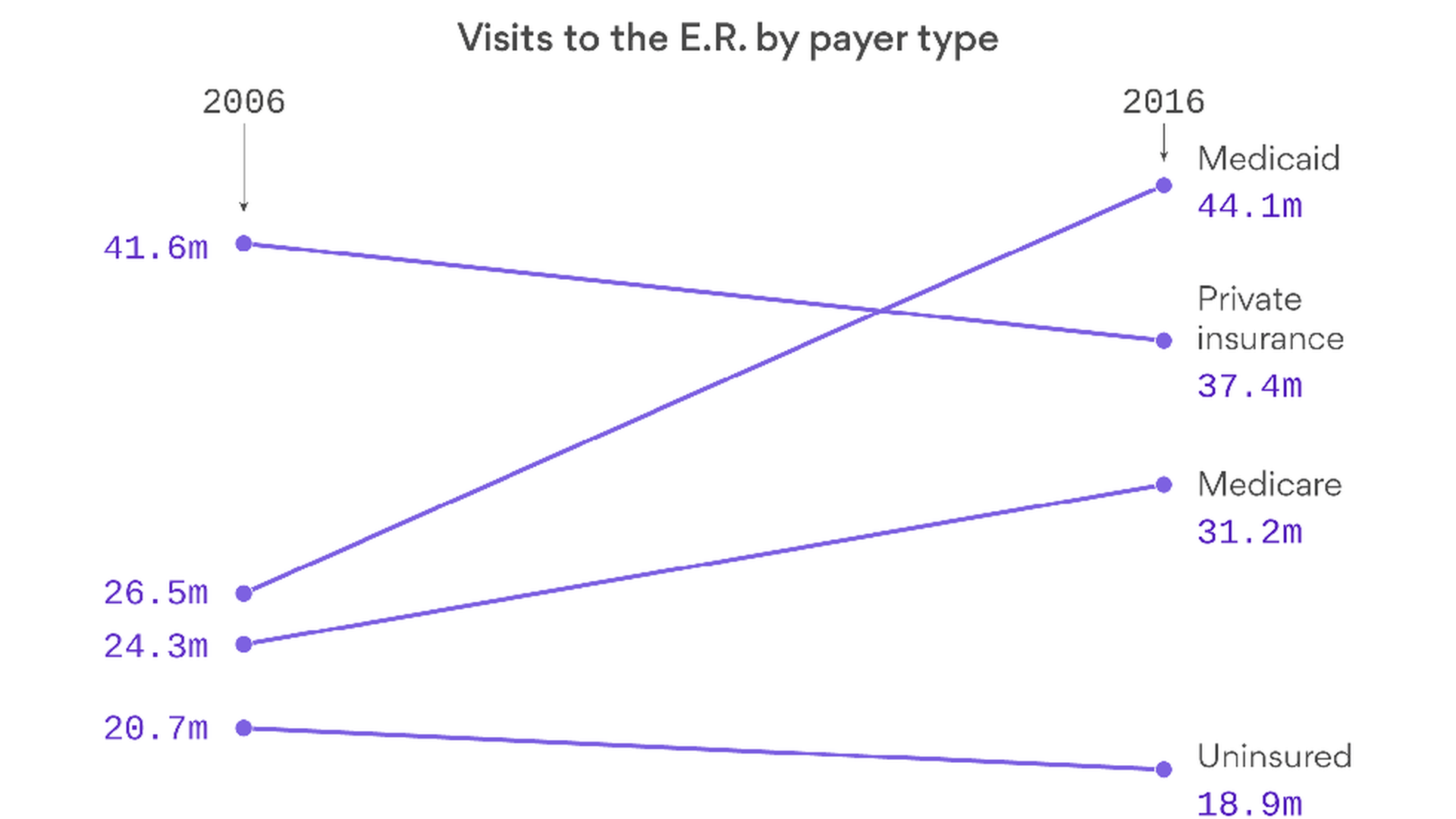 Medicaid pays for more emergency room visits than any other insurance program, according to recent data from the federal Agency for Healthcare Research and Quality. The health insurance program for the poor covered about one-third of all ER visits in 2014 — roughly 44 million of them, up from 26.5 million in 2006.
Why it matters, per Axios' Bob Herman: The data are a good reminder the ACA has helped many previously uninsured people with their ER visits, which are very expensive.
Azar nomination gets rolling
The Senate HELP Committee meets Wednesday to hear from Alex Azar, the former Eli Lilly CEO whom Trump has nominated to take the reins at the Health and Human Services Department.
What to watch for: HELP won't formally send Azar's nomination to the Senate floor — that falls to the Finance Committee. But Azar this week will face some of the Democratic party's most liberal members and some of its most prominent voices on health policy (both Bernie Sanders and Elizabeth Warren sit on HELP).
Expect a lot of questions about his time at Lilly, including price hikes — especially to insulin products — that the company pursued under his leadership; and questions about whether he'll seriously take on drug prices despite his ties to the industry.
While you were giving thanks...
What we're watching this week: Big week on Capitol Hill: The Senate Budget Committee meets Tuesday to begin moving Republicans' tax bill toward the floor, and the goal is to pass it before the end of the week. Last minute negotiations over the individual mandate, here we come!
HELP hearing on Azar's nomination Wednesday. HELP hearing on the opioid crisis Thursday. House Energy and Commerce subcommittee hearing Thursday on implementation of the 21st Century Cures Act.
What's on your radar? Let me know! baker@axios.com.