Axios Vitals
April 22, 2020
Good morning.
Today's word count is 1,234, or a 5-minute read.
1 big thing: The risk of reopening too soon
Southwest Georgia has one of the nation's largest numbers of coronavirus cases after accounting for its small population, and yet Gov. Brian Kemp announced this week that the state is beginning to lift its social distancing measures.
Why it matters: Anywhere in America — including rural or suburban communities — can become the next coronavirus hotspot, if the pandemic is mishandled.
The big picture: If any city or state begins lifting social distancing measures without the right public health measures in place, it runs the risk of allowing the virus to get out of control.
If the city or state already has a high and growing caseload, the effect of lifting the measures is akin to pouring gasoline on a fire.
Between the lines: Rural areas may have lower overall case numbers than cities, as is expected, but they also generally have much weaker health care systems that can easily become overwhelmed.
The bottom line: There is no ignoring or escaping the coronavirus for the sake of the economy. An economy can't function if people are too scared or too sick to go to work or go out to buy things.
2. Next winter may be even worse
If another wave of the coronavirus coincides next winter with the beginning of flu season, it could be more deadly than the current outbreak, Centers for Disease Control and Prevention director Robert Redfield told the Washington Post yesterday.
Why it matters: The health care system would struggle to keep up with two simultaneous pandemics.
This year, the coronavirus appeared in the U.S. toward the end of flu season.
Between the lines: Add this to the list of reasons we need to be preparing now for future outbreaks.
That means building up our testing and contact tracing capabilities, along with beefing up medical supply chains so that we don't again face the same shortages of personal protective equipment, testing materials and ventilators.
It will also be imperative for everyone to get a flu shot this year, Redfield said.
What they're saying: "It's very important that we have a completely refreshed and a comprehensive stockpile going into the fall. And I think that's why we've continued to bring in those shipments and work on the ventilators," coronavirus response coordinator Deborah Birx told reporters yesterday.
3. The latest in the U.S.
The Senate passed a $484 billion interim coronavirus funding bill via voice vote on Tuesday after more than a week of intense negotiations between the Trump administration and Congress.
President Trump announced a 60-day suspension on issuing green cards and U.S. oil prices continued to slide Tuesday.
A panel of experts organized by the National Institutes of Health on Tuesday announced a "living document" of guidelines regarding treatment options for the coronavirus, but warned that the public should be wary of any informal studies touting these medicines.
Universities across the U.S. are predicting massive revenue losses as uncertainty looms over whether it will be safe enough for students, staff and faculty to return to campus in the fall.
Envision Healthcare, a Nashville-based healthcare staffing company owned by KKR, is considering a bankruptcy filing, per Bloomberg.
President Trump's latest guidelines for "Opening Up America Again" may be too optimistic for things like movie theaters and concerts, analysts predict.
New York Gov. Andrew Cuomo said on MSNBC Tuesday that New York City no longer needs the Navy ship USNS Comfort to combat the coronavirus pandemic.
4. The latest worldwide
The world is "on the brink of a hunger pandemic" as it grapples with the coronavirus outbreak, David Beasley, chief of the UN's World Food Program told the UN Security Council on Tuesday, AP reports.
Guidelines to cautiously reopen parts of Italy will likely be applied starting May 4, Italian Prime Minister Giuseppe Conte said Tuesday in a Facebook post.
Germany's Oktoberfest festival in Munich won't take place this year, the governor of Bavaria announced Tuesday.
Two-thirds of Americans now view China unfavorably, up from 47% two years ago, according to data from Pew that suggests the increasingly adversarial approach from Washington is spreading throughout the country.
5. Health care bailout fund reaches $175 billion
Hospitals, doctors' practices and other health care providers are getting another $75 billion in taxpayer money to cover the fallout of the coronavirus outbreak, bringing the total pot of bailout funds to $175 billion, Axios' Bob Herman reports.
The big picture: The first $30 billion has been dispersed to providers based on Medicare billings, which raised the ire of hospitals that treat higher amounts of poor patients and children.
The federal government has said the next "targeted distributions" will go to providers in COVID-19 hotspots, rural hospitals and groups that predominantly treat Medicaid patients.
Where it stands: Elective procedures and appointments — and the large amounts of revenue associated with them — have dramatically decreased while providers prepared for the surge of coronavirus patients and bought more protective gear for workers.
Between the lines: Critics have questioned whether federal officials are distributing the funds appropriately, and now the government will oversee even more cash.
Small doctors' groups, rural providers and safety net facilities have said the money is life-or-death for them, but they aren't getting proportionate amounts.
Meanwhile, Envision Healthcare, the private-equity-backed physician staffing firm that has become synonymous with surprise billing, has received sizable taxpayer help even as the company cuts doctors' pay and considers bankruptcy.
The bottom line: The coronavirus funding is a lifeline for people on the front lines, but lawmakers are not stipulating any changes within a system that is expensive for patients and profitable for those running it.
6. The global experiment of exiting lockdown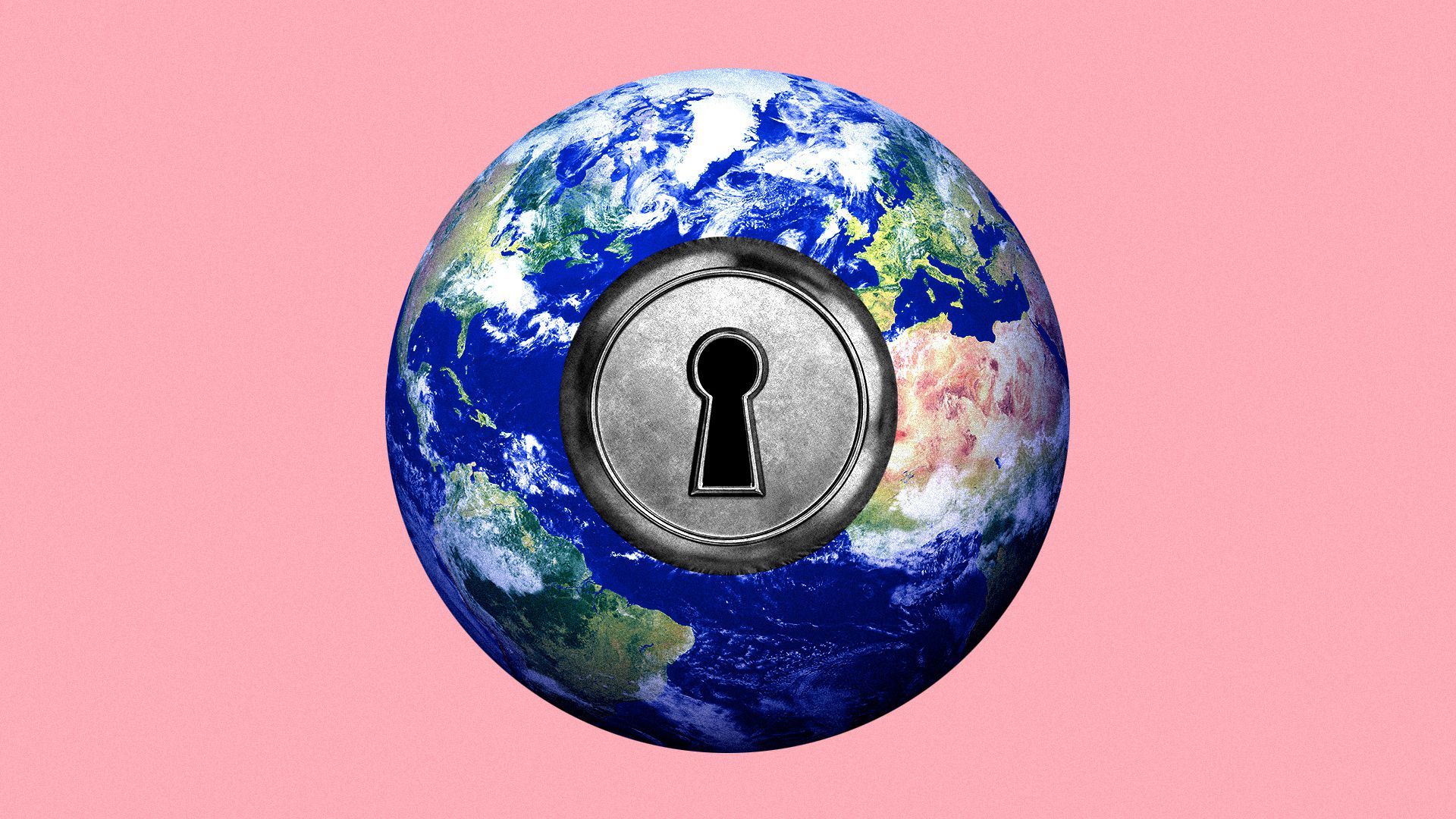 The global coronavirus crisis is entering a trial-and-error phase as countries begin to tiptoe out of lockdown, Axios' Dave Lawler reports.
Why it matters: The decisions of what to open and when could determine whether economies stay afloat, and whether fresh lockdowns will be needed if cases spike again. U.S. states now considering their own exit strategies will be watching closely.
Driving the news: Europe led much of the world into lockdown, and is now attempting to find a path out.
Germany's small shops and car dealers reopened this week, but beauty salons will wait until May 4 and restaurants possibly much longer.
In the hardest-hit countries, the opening will be slower.
Spain is finally letting children outside after forcing them to remain home for five weeks. The strict lockdown remains in place, but factories and construction can resume.
Italy has phased in some manufacturing, and Prime Minister Giuseppe Conte said Wednesday that the world's longest-running lockdown could begin to ease on May 4.
Elsewhere in the world, strategies are emerging to re-open economies while limiting potential second waves — including some that use tracking policies that are likely too invasive to be useful as models for the U.S.
South Korea uses cell phone data to track down those exposed to the virus, and is now issuing electronic wristbands to ensure that those ordered to self-quarantine remain home.
In China, people are required to show authorities a cell phone app to confirm they haven't been deemed a contagion risk.
7. Public health is becoming more partisan
There's a striking partisan divide on coronavirus-related topics, reflecting the growing divide between reality as President Trump presents it and the reality presented by experts and health care workers.
Between the lines: Some of these issues aren't open to interpretation. We either have enough coronavirus tests to track outbreaks, or we don't. Health care workers have enough masks, or they don't.
The situation varies from state to state, and even hospital to hospital. But what should be a nuanced conversation seems to have broken down along familiar party lines.
And it's hard to know with certainty how exactly to navigate a once-in-a-lifetime pandemic, further muddling public opinion about social distancing or testing.
Yes, but: While experts may disagree on how many tests we'll need, they're generally in agreement that it's more than we have.
They also agree that social distancing is a crucial strategy for reducing the impact of the virus.
And there have been countless reports of health care workers in hotspots being overwhelmed and unable to obtain the medical supplies they need.