Good morning.
Situational awareness: The short-term government funding bill passed yesterday in the House delays $4 billion in cuts to Medicaid disproportionate share hospitals, Modern Healthcare reports.
Today's word count is 911 words, or <4 minutes.
1 big thing: Blue states' watered-down health reforms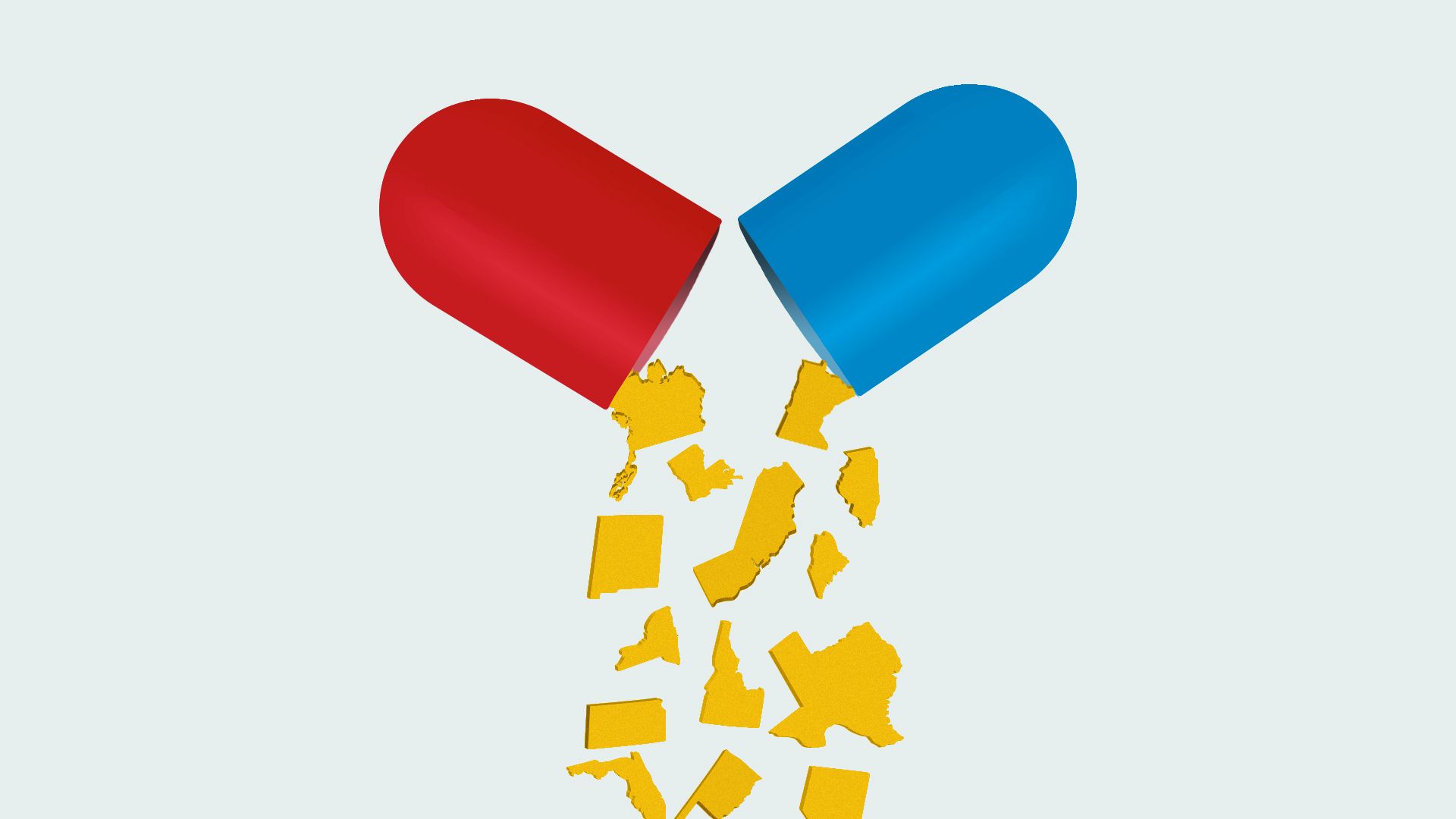 Even the most ambitious Democratic-controlled states have ended up with new health plans that are much more moderate than anything being proposed by Democratic presidential candidates — or even what was initially proposed in their states.
Why it matters: States are significantly more limited in their authority than the federal government, but the efforts of Colorado, Washington and California show just how hard massive health care disruption is.
Driving the news: Colorado state agencies last week released their final proposal for the state's public option, which is scheduled to become available in 2022.
While an earlier draft had proposed hospital payment rates that were between 175% and 225% of Medicare, the updated version says that each hospital's rate will be determined individually through a formula that is yet to be developed — punting the decision.
The proposal also relies on private insurers to offer the plan — meaning that while it's highly regulated, it is not a fully government-run plan.
The big picture: Colorado's situation — along with other states' — provides a real-world contrast with some Democrats' plans to eliminate private insurance and slash provider payment rates.
Washington's public option is similarly structured as a partnership with private insurers, and while it caps provider rates at 160% of Medicare, this is a higher rate than initially proposed, as NYT reported.
Like Colorado's plan, provider participation is voluntary.
California took a different approach, expanding eligibility for Affordable Care Act enrollees and paying for the health benefits of some unauthorized immigrants.
What they're saying: "As much as there was a whole lot of energy behind more government intervention in health care after the 2018 election, I think that energy ran smack into some practical issues," Georgetown's Sabrina Corlette said.
2. Hope for patients with blood disorders
The first two patients to receive CRISPR-based treatments for their blood disorders benefited from the therapy, the two companies developing the treatment announced yesterday — a sign that gene editing may be a safe and effective way to cure the diseases, STAT reports.
Why it matters: The two blood disorders, sickle cell disease and beta thalassemia, can have a drastic impact on patients' lives. A cure would be transformative.
Details: The two patients have been free from blood transfusions and disease symptoms for a relatively short period of time, and have experienced only short-term, treatable side effects.
The big picture: CRISPR Therapeutics and Vertex Pharmaceuticals, the companies developing the treatment, aren't the only ones actively looking for new treatments for these blood disorders.
Bluebird Bio's gene therapy for beta thalassemia was approved in Europe this year, and it's expected to be approved in the U.S. next year. Other companies and academics are also looking for gene editing or gene therapy treatments for these diseases.
"For decades, we knew about the sickle cell disease mutation but we didn't know about other genes [involved in the disease] and we didn't have the necessary tools for genetic correction" of cells, Mitchell Weiss of St. Jude Children's Research Hospital told STAT.
"Now we have a confluence of scientific understanding and technology that can come together to make things happen."
Go deeper: Genetic technology's double-edged sword
3. A rise of biotech bankruptcies
Eleven biopharmaceutical companies have filed for bankruptcy so far in 2019, the most in a single year within the past decade, according to a new series from BioPharma Dive.
Why it matters: It's rare for biotechs to go under because they have so much access to extra funding. But more firms have hit dead ends, Axios' Bob Herman writes.
Between the lines: The reasons for the biotech bankruptcies run the gamut, but in general, all of the companies burn cash at a high rate. 
Purdue Pharma and Insys Therapeutics have been caught in opioid litigation, and more opioid companies could be following in bankruptcy court.
Other companies that shuttered ranged from companies that sold dubious drugs to those that went public before having any meaningful clinical data.
The fall of Achaogen, which developed one of the world's essential new medicines, speaks to the failures of the antibiotics market.
Why you'll hear about this again: "You're probably going to see more of these situations going forward, where a company is preclinical, went public and is left on their own and has to raise additional money from the public markets, and they flounder," the CEO of a bankrupt biotech firm told BioPharma Dive.
4. Researchers criticize price of new heart drug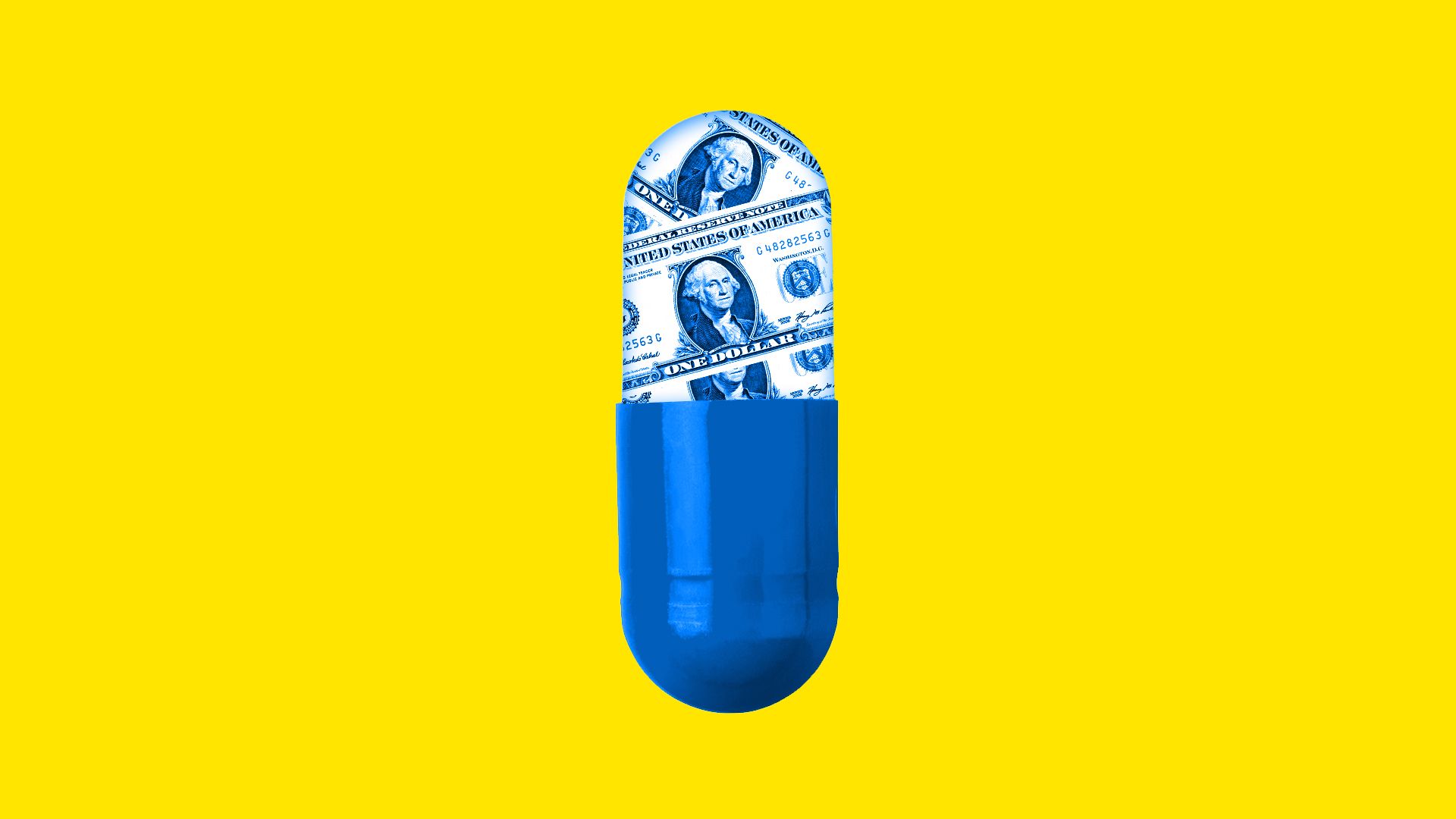 Some of the researchers who helped develop a new heart-failure drug are criticizing its high price, Bloomberg reports.
The intrigue: Pfizer, which makes the drug, says that it's targeted at a small population, justifying the high price. But critics say that the condition isn't that rare, setting up Pfizer to reap in a fortune from the medication.
One of the researchers now criticizing the cost of the drug, tafamidis, released a cost analysis last week that found the drug is only cost-effective after a 90% price decrease.
Today, the drug costs $225,000 a year, or $651 per day. Four doctors involved in its clinical trials told Bloomberg that not only could it end up being given to more patients than anticipated, but that it will also be taken by patients for years or even decades.
However, its price tag is comparable to curative drugs or those that treat rarer diseases.
Between the lines: "While criticism of drugmakers by patients and politicians is common, it's far rarer for academics who helped lead development of a therapy to turn into antagonists of the same company that funded the research," Bloomberg's Emma Court writes.
The other side: Pfizer said the cost is appropriate and that it may be reduced if the drug is more widely used than expected.
5. New window into nursing home abuse
A government nursing home database has begun flagging those recently cited for abuse or neglect, the Wall Street Journal reports.
By the numbers: Of the 15,262 facilities in the database, 760 — or about 5% — have been flagged with a red icon.
The marks are updated monthly, and go away after the facility goes a year without an abuse citation.
What they're saying: Nursing home industry executives said the marks were misleading and could damage facilities' reputations, while consumer advocates pointed out that many cases of abuse go undiscovered or unreported.
Editor's note: The second item has been corrected to show that Bluebird Bio's gene therapy for beta thalassemia was approved in Europe this year. (Not last year.)