Good morning … and welcome to the last Vitals of 2017. We'll be taking a break next week, and I hope you can, too. Thank you for reading, and for all the feedback that makes writing this newsletter so much fun. See you back here on Jan. 2.
New regulations, more ACA turmoil are on the way
Congress is heading home, and ACA enrollment is mostly over, but health care never stops: The Trump administration is expected to release regulations as soon as today that will expand access to inexpensive, relatively skimpy short-term health plans — a move that could further destabilize the Affordable Care Act's insurance markets, even on top of the pending repeal of the individual mandate.
The details: Right now, consumers can only keep a short-term plan for three months. The new rule is expected to extend that to a year.
These plans don't have to abide by the ACA's protections for people with pre-existing conditions, and they often don't cover a comprehensive set of benefits. That means they're really only attractive to healthy people.
But the stability of the ACA's exchanges depends on healthy people being enrolled there.
"The expansion of loosely regulated short-term insurance policies really magnifies the effect of repealing the individual mandate penalty," the Kaiser Family Foundation's Larry Levitt told my colleague Caitlin Owens.
Yes, but: The risk with short-term health plans is that they'll pull healthy people out of the risk pool for ACA coverage. But, Caitlin notes, this might be a bigger deal if the individual mandate were stronger. Short-term plans can only pull healthy people out of the market if they're in the market to begin with.
Go deeper: Read Caitlin's full story in the Axios stream.
The ACA is not dead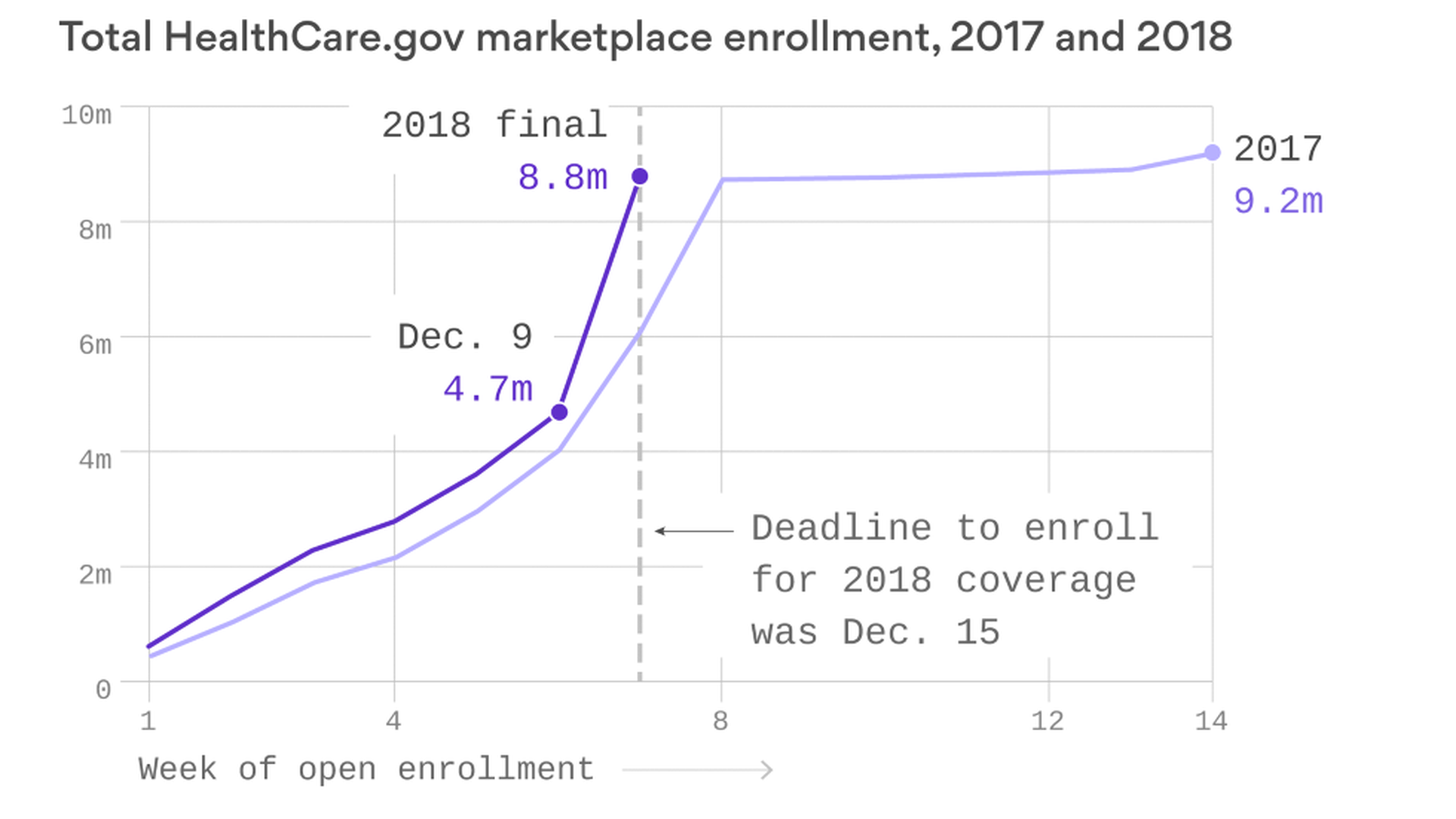 Y'know how it was going to take an enormous deadline-driven surge for ACA enrollment to catch up to last year's totals? Well, that's exactly what happened. More than 8.8 million people signed up for coverage during open enrollment, and almost half of that total — 4.1 million — came from sign-ups and auto-renewals in the last week.
Between the lines: Obviously, this is a very good number.
This number only covers HealthCare.gov. Enrollment is still open in some state-based exchanges, including California and New York. It's also been extended in states that were hardest hit by this year's hurricanes.
When all of those sign-ups are added in, there's a decent chance overall enrollment will actually end up out-performing last year's overall totals — which even some of the biggest enrollment optimists didn't anticipate.
For the ACA's allies, this is clear evidence that the exchanges are working. After all, enrollment was facing some incredibly steep headwinds this year — yet demand was still strong.
The Trump administration, meanwhile, is already making the case that the uproar over its advertising and outreach cuts was misplaced, because enrollment did just fine without that money.
Yes, but: Between the loss of the individual mandate and the return of short-term plans, there's still a lot of reason for insurers to be skeptical about the exchanges next year.
​The ACA is not going to die
Or at least, Senate Republicans aren't likely to make another attempt to kill it, Majority Leader Mitch McConnell told NPR yesterday. Here's what he said:
"We obviously were unable to completely repeal and replace with a 52-48 Senate … We'll have to take a look at what that looks like with a 51-49 Senate. But I think we'll probably move on to other issues."
"We want to steady the insurance markets if we can... and I think we'll probably be addressing that part of healthcare sometime next year."
Notable: McConnell also told Axios' Mike Allen yesterday that he doesn't see cuts to welfare or entitlement programs on the agenda for 2018, despite House Speaker Paul Ryan's desire to take another crack at his plans for overhauling Medicare and Medicaid.
The Pennsylvania health care battle heats up
Highmark Health, a powerful Blue Cross Blue Shield insurer that also owns a hospital network in Pennsylvania, and academic system Penn State Health signed an agreement last week to build a health care network in central Pennsylvania.
The deal sounds like a merger, but it's not. My colleague Bob Herman spoke with executives from Highmark and Penn State to explain what their deal is and why it matters.
On delivering value-based care: "This is about making sure that we design insurance products so that when a member has to make a decision, they have access to care near where they live."
On narrow networks: "We have those in the market today. It's not new to the industry. We'll still have broad-network products ... but we have absolutely seen premiums and care costs moderate very differently (in limited-network plans) than the broad-network products."
Go deeper: Read the full interview.
​Some really good doctors — and some really bad ones
Medscape does lists of best and worst physicians every year, and the 2017 lists are out now. If you're wondering how your doctor compares to the extremes on both ends, here are the highlights, via Becker's Hospital Review:
Best physicians: They include Robert Smith, the physician who got the Medal of Valor from the American Medical Association for providing medical care to African-American patients during the Freedom Summer of 1964.
Another notable name: Alex Wubbels, the Utah nurse who was arrested for refusing to let a Salt Lake City detective draw blood from an unconscious patient.
Worst physicians: The highlight would have to be Christopher Duntsch, the Dallas neurosurgeon who got life in prison for maiming a woman in a botched spinal surgery. (You can read all about Duntsch in D Magazine's feature, "Dr. Death.")