Good morning ... Hope you enjoyed your long weekend! Now get back to work.
https://www.axios.com/newsletters/axios-vitals-2f3f546d-cbdf-4d7a-a175-dabb5cbabe41.html?chunk=0#story0
​"Repeal and replace" may live on — rhetorically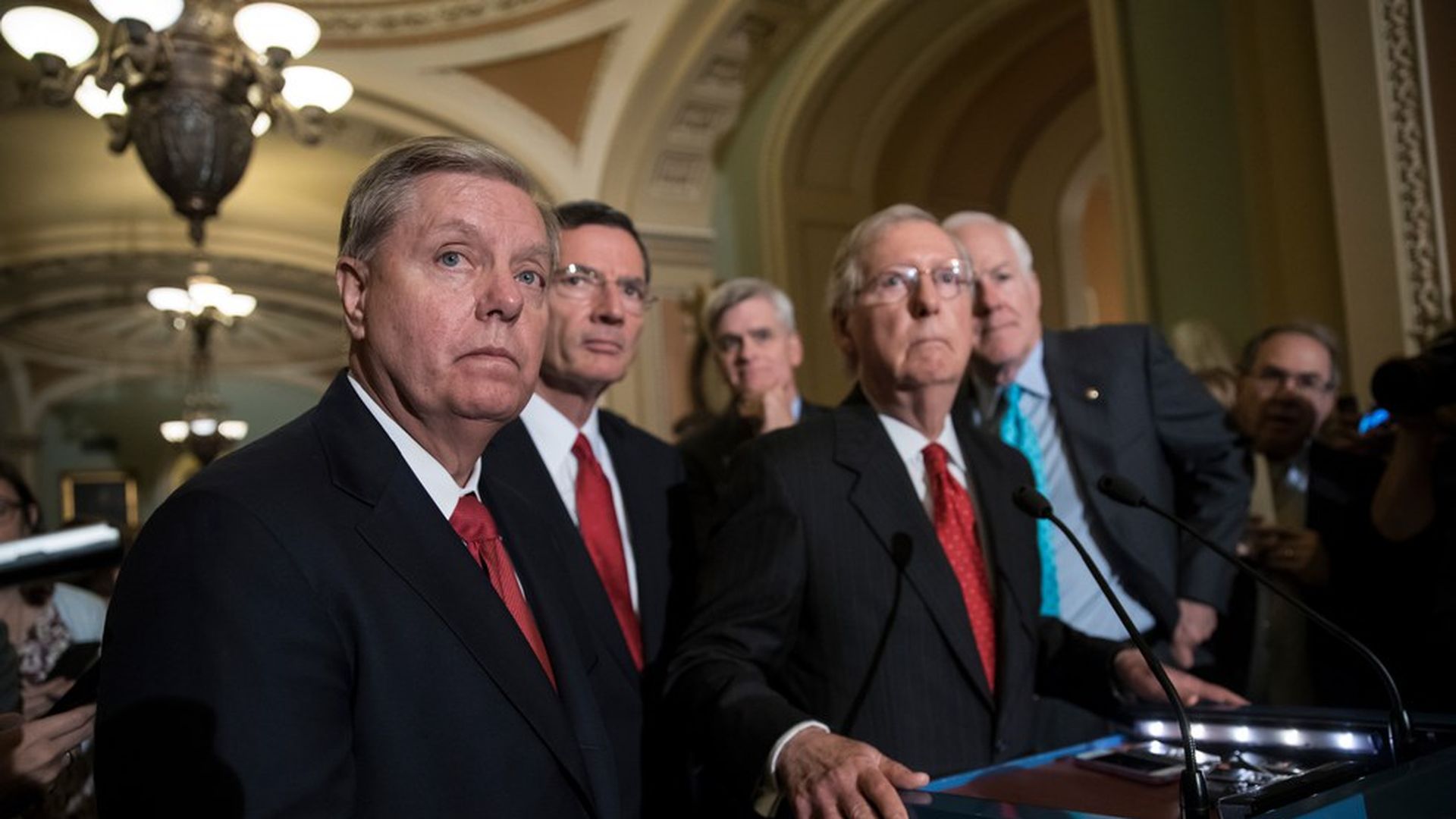 It might be time to repeal and replace "repeal and replace," but some Republicans aren't ready to let that promise go, despite their very high-profile failure to achieve it. While many GOP policy experts are urging their party to move on to more realistic campaign rhetoric, some lawmakers told my colleague Caitlin Owens they want to keep the dream alive.
"They can't stop themselves. It's an addiction and an unhealthy one at that," a former GOP aide said of the repeal and replace effort. "It makes even nominal steps like the one [Sen. Lamar] Alexander is trying to take more difficult."
"I don't see any problem with talking about repeal and replace. We still want to do it. It's not over," said Senate Finance Committee Chairman Orrin Hatch.
The bottom line: Continuing to promise something you've already failed to deliver is a risky move — but it's also risky to concede defeat on such a foundational issue, in what's shaping up to be a brutal primary season.
One possible solution: If at first you don't succeed, redefine success. Some Republicans told Caitlin they hope voters will accept smaller, more achievable conservative policy changes as a version of repeal.
"This is a question of do you make the marketplace to where it's not only affordable for the taxpayer … but affordable for the individuals that purchase," Sen. Richard Burr said. "If you create a different individual market, you have repealed and replaced."
https://www.axios.com/newsletters/axios-vitals-2f3f546d-cbdf-4d7a-a175-dabb5cbabe41.html?chunk=1#story1
​Where premium hikes hit the hardest
People who receive premium subsidies through the ACA's exchanges can largely shield themselves from the double-digit premium hikes insurers are seeking for next year.
Yes, but: People who are in the individual market without receiving a subsidy will be stuck with the entire bill — facing premium hikes that could be as high as 50% in some parts of the country, even for plans that require them to spend thousands of dollars in deductibles.
Kaiser Health News, citing insurance-industry consultant Robert Laszewski, says we're probably talking about some 7.5 million people — nearly half of the individual market.
That includes people who buy insurance through the exchanges but make too much money to qualify for the ACA's subsidies, as well as people who buy individual plans outside the exchanges.
Why it matters: People who make too much money for the ACA's subsidies aren't poor, but they're not necessarily rich enough to easily swing thousands of dollars in added health care costs. (The subsidies cut off at roughly $65,000 per year for a family of two, or $98,000 for a family of four.)
In some cases, KHN reports, coverage would be so unaffordable that these families won't have to pay the individual mandate's tax penalty if they choose to go uninsured instead.
https://www.axios.com/newsletters/axios-vitals-2f3f546d-cbdf-4d7a-a175-dabb5cbabe41.html?chunk=2#story2
​Medicare Advantage star ratings are nigh
Stay alert Wednesday, when the Centers for Medicare and Medicaid Services unveils the best and worst Medicare Advantage plans for 2018 through its annual star ratings. And as my colleague Bob Herman reminds us, billions of dollars in bonus money will be on the line for insurers that sell those plans.
Plans are rated on several measures, including whether seniors get their flu shot and how well members manage their diabetes.
Medicare doles out 5% bonus payments to insurers that have at least four stars (out of a possible five).
In 2017, 68% of Medicare Advantage beneficiaries were enrolled in a plan with at least four stars, down from 71% in 2016.
Looking ahead: Expect the 68% figure to go up for 2018, which means more dollars going to the industry. Humana, the second-largest Medicare Advantage insurer by enrollment, anticipates 74% of its members will be in four-star plans — up from the company's initial estimate of 37%. As several industry consultants have told Bob, it's all about the stars for Medicare Advantage companies.
https://www.axios.com/newsletters/axios-vitals-2f3f546d-cbdf-4d7a-a175-dabb5cbabe41.html?chunk=3#story3
​Venture capital loves health care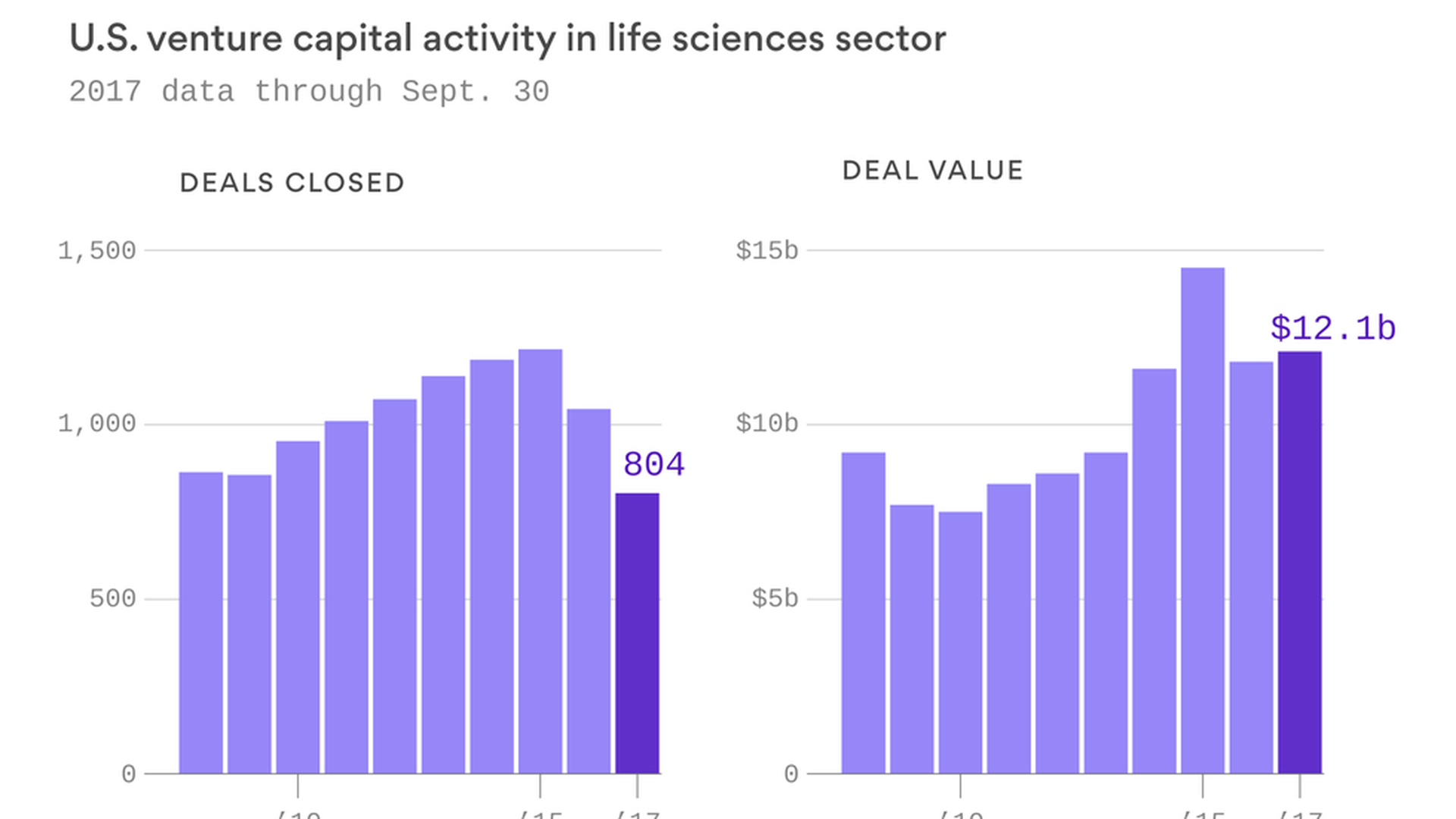 2017 has already set a record for venture capital investments in life sciences companies, my colleague Dan Primack reports this morning. Through the end of September, investors had poured more than $12 billion into more than 800 companies, making life sciences almost 20% of all venture capital investments.
What's driving this trend? Dan breaks it down:
Advancements in areas like computational biology now mean that tech investors can participate in life sciences deals.
Silicon Valley founders and investors have been stung by years of criticism for investing in silly app companies that don't "matter," and many have responded by pushing into health.
Patent cliff issues continue to haunt big pharma, driving new startups that can be acquired to restock the new product shelves.
Go deeper: If you want to stay up on the world of deals and dealmaking, subscribe to Dan's newsletter, Pro Rata.
https://www.axios.com/newsletters/axios-vitals-2f3f546d-cbdf-4d7a-a175-dabb5cbabe41.html?chunk=4#story4
​Nursing homes under fire for hurricane response
Regulators in Texas are looking into the state's largest nursing home operator amid complaints about how it handled Hurricane Harvey, according to an investigation by the Dallas Morning News.
The details, according to the Morning News:
The administrator of one nursing facility not only refused to evacuate residents ahead of the storm, but police also had to handcuff him before they could begin moving elderly patients to safety.
"Families of residents living at Lake Arthur Place said that by the time they got there, they found weary and hungry loved ones with soiled diapers, some with feet in rainwater polluted by human urine and feces," the paper reports.
Meanwhile, a Florida nursing home in which 12 residents died following Hurricane Irma has closed down and laid off its entire staff, the South Florida Sun-Sentinel reports.