Good morning. The Axios health team was so sorry to hear yesterday that Robert Pear passed away. He was extremely good at his job, and also extremely kind. That's a legacy that can and should inspire all of us.
1 big thing: New drug rule invites lawsuits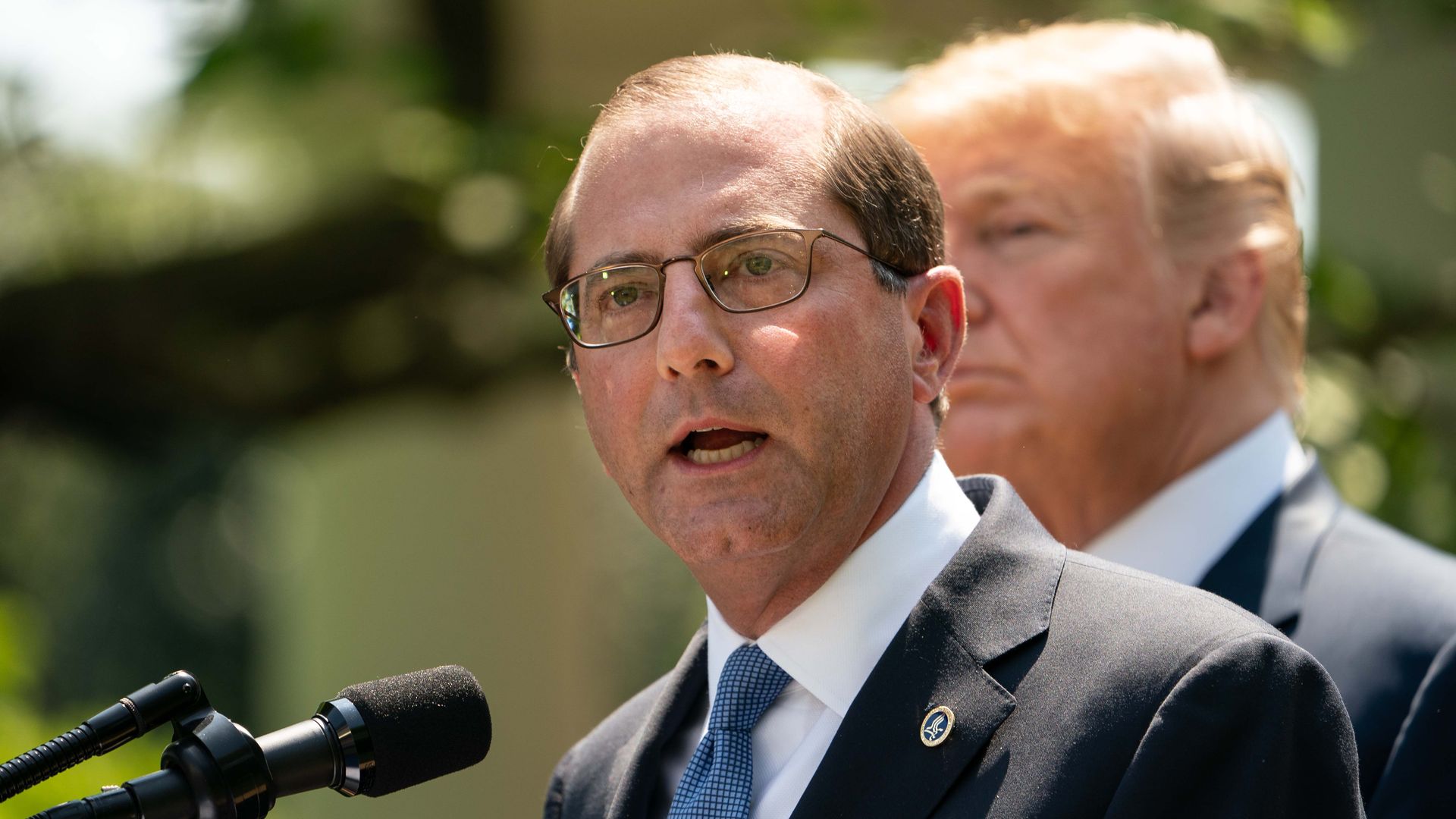 The Trump administration's newly finalized rule requiring drugmakers to include prices in their TV ads could spark a flurry of lawsuits — first to challenge the rules, and then to enforce them.
Between the lines: If the rule survives the legal challenges that may be coming its way, there are still plenty of questions about whether it'll actually help lower drug prices.
The big picture: The rule requires TV ads for most drugs to disclose their list prices, along with a statement that each patient's costs may depend on their insurance.
What they're saying: "We believe there are operational challenges ... and think the final rule raises First Amendment and statutory concerns," the industry trade group PhRMA said in a statement yesterday.
The Advertising Coalition — which includes advertisers and broadcasters — also wrote in public comments that "the proposed regulation is a form of compelled speech prohibited by the First Amendment."
Yes, but: In the scheme of things, this isn't the biggest threat facing drugmakers right now, and "PhRMA might save its powder for fights that matter more," University of Michigan law professor Nicholas Bagley said.
What's next: The regulation also relies on lawsuits to ensure compliance.
The federal government will keep a list of drugs whose ads violate the rule. Those manufacturers would then face the threat of lawsuits from their competitors.
"The big companies may be unlikely to sue one another under this provision, but smaller companies could sue bigger ones, or generic makers might bring actions for noncompliance," former FDA commissioner Scott Gottlieb said.
But there's some skepticism that this is a workable enforcement mechanism.
"I think it's highly unlikely, 1) that competitors would be interested in doing this, and 2) that they'd have the ability to prove any competitive harm," Manatt Health's Ian Spatz said.
2. Pharma's benefiting from a spike in drug spending
The U.S. spent $344 billion on prescription drugs in 2018, — 4.5% more than the year before, according to pharmaceutical data firm IQVIA.
The big picture: Society collectively paid more for drugs last year, at a rate well above economic growth, because drugmakers launched new drugs with lofty price tags, sold more of their existing drugs, and raised prices on their blockbuster products, Axios' Bob Herman reports.
Between the lines: Gross spending on drugs was $479 billion in 2018. But rebates and discounts collected by health insurance companies, pharmacy benefit managers and others in the supply chain lowered that amount by 28%, thus getting to the net figure of $344 billion.
The bottom line: Pharmaceutical companies and industry middlemen benefited from higher spending in 2018, even amid the furor from patients and lawmakers over unaffordable prescriptions.
And early federal data shows there's a chance net drug spending in 2019 may be rising at a similar rate.
3. Hope for drug-resistant infections
Researchers said they successfully treated a patient's drug-resistant infection using genetically engineered viruses, the Wall Street Journal reports.
The patient's treatment used bacteria-destroying viruses that are called bacteriophages, which occur naturally.
The scientists used genetic engineering to tweak the phages to specifically target the patient's infection.
Why it matters: This is the first reported use of genetically engineered phages to treat a patient, according to the researchers. If its success can be replicated, that could be a big deal for the effort to tackle drug-resistant infections.
4. Walmart raises tobacco purchasing age to 21
Walmart yesterday became the latest retailer to announce it won't sell tobacco products to anyone younger than 21, beginning in July, CNBC reports.
It also will stop selling fruit- and dessert-flavored e-cigarettes.
The big picture: This is yet another response to a growing regulatory and public health movement to crack down on youth use of tobacco, especially e-cigarettes.
5. The cost of opioids litigation
McKesson dropped an interesting nugget in its earnings call yesterday, Bob reports: The drug distributor expects to spend $150 million defending itself in state and national opioids lawsuits in its 2021 fiscal year (which starts next March), up from more than $100 million this year.
Between the lines: $150 million is a rounding error for McKesson, which handled $214 billion of revenue last year. But the company is essentially breaking even these days, and those legal costs could go up by billions of dollars if a settlement is reached.
Related: White people who are addicted to opioids have much greater access to buprenorphine than black users, according to a new study reported on by NPR.
"White populations are almost 35 times as likely to have a buprenorphine-related visit than black Americans," one of the study's authors told NPR.
This was true as the opioid death rate was rising faster for black people than white people.
Have a great Thursday, keep sending in the tips and feedback!