Good morning. The tax credits in the GOP's Obamacare replacement plan probably aren't going away, but there's growing talk that Republicans might means-test them, which would be a pretty big change. In the meantime, conservatives are softening their line against the tax credits, and Seema Verma is going to get a do-over on her Senate Finance Committee vote.
https://www.axios.com/newsletters/axios-vitals-2e9d13f5-7510-4f6f-80fa-940d5e699fbe.html?chunk=0#story0
Why Republicans might means test the tax credits
They're still talking about tax credits in the Obamacare replacement plan, thanks to President Trump's "tax credits" shout-out in his Tuesday night speech. But now, Caitlin Owens reports that more Republicans are talking about means testing them, rather than just linking them to people's age. Here's what that could mean:
It probably would get better coverage estimates from the Congressional Budget Office, since the financial help would be targeted more toward low-income people, according to Stanford University's Lanhee Chen, a member of the Axios board of experts.
Most Republicans prefer the flat credits based on age, but "I think the ideal is some hybrid of the two," Chen said.
Avik Roy, a conservative health care expert who has written that means-tested credits would be better, says it would avoid the problem of subsidizing wealthier people who don't need the help — and it would prevent a "massive benefit cliff" once people leave Medicaid, which could discourage people from working.
But it would start to look more similar to the Obamacare tax credits, which are based on income and indirectly increase with people's age because they're based on the health insurance premiums, according to Larry Levitt of the Kaiser Family Foundation. (One big difference: Obamacare's tax credits also vary by geography.)
Why the change in thinking in Congress? It might "free up some additional dollars" to help "people at the lower end," said Sen. John Thune, a member of the GOP leadership. Even Rep. Mark Walker, the chairman of the conservative Republican Study Committee, likes the idea. More from Caitlin here.
In the meantime, Senate Republicans sure were quiet yesterday after meeting with GOP leaders on Obamacare replacement. About the only senator who didn't dodge reporters afterwards was Tim Scott, and even he said the Republicans have "a long way to go."
https://www.axios.com/newsletters/axios-vitals-2e9d13f5-7510-4f6f-80fa-940d5e699fbe.html?chunk=1#story1
The secret room with the secret bill
House Republicans are trying their best to keep the next draft of the repeal and replacement bill from leaking out. They're letting Republican members and staffers on the House Energy and Commerce Committee look at the bill in a reading room starting today, Bloomberg reports — and no one can take any copies with them. So watch for leaks from "people who have seen the draft" around the end of the day.
https://www.axios.com/newsletters/axios-vitals-2e9d13f5-7510-4f6f-80fa-940d5e699fbe.html?chunk=2#story2
Conservatives are starting to get the message
Amazing what can happen when you put the words "tax credits" in a presidential speech. Here's Rep. Mark Walker, the chairman of the Republican Study Committee, on Monday: "The bill contains what increasingly appears to be a new health insurance entitlement with a Republican stamp on it."
And here's what he said yesterday after Trump's speech, per Caitlin: "There was some kind of inclination that said listen, not that the train's left the station, but this tax credit's where we're moving. We've just got to wrap up some of the final components."
What about that line in the sand? Some conservatives would still prefer a tax deduction, Walker said, but: "We're moved on from there. That might have been something that was discussed over the years, but we've got to build it from the foundation of tax credits and move from there."
https://www.axios.com/newsletters/axios-vitals-2e9d13f5-7510-4f6f-80fa-940d5e699fbe.html?chunk=3#story3
What the conservatives really want
There's been a lot of focus on the fact that several of the conservatives supported Tom Price's Obamacare replacement bill when he was in the House, which also had those refundable tax credits the conservatives now oppose. By my count, there were at least six Freedom Caucus members who were co-sponsors of that bill: Mark Meadows, Andy Harris, Jeff Duncan, Trent Franks. Ted Yoho, and Scott DesJarlais.
But Dan Holler of Heritage Action, one of the outside conservative groups that's encouraging the hardliners, tells me the bigger issue those members are concerned about is the cost of an Obamacare replacement — and that the Price bill, at least at the time, was viewed as a less costly alternative to Obamacare even with the refundable tax credits. So the fight is less about whether the tax credits are refundable or not, he said, as the overall cost of the current bill — which they're trying to drive down as much as they can.
Yes, but: Other groups are definitely singling out the tax credits, even after Trump's speech. "Tax Credits Not the Way to Improve Health Care," Freedom Partners announced in its response to the speech. It also warned that "raising taxes to create a new entitlement in its place keeps Washington at the center of our health care system" — a reference, I'm told, to the proposal to limit the tax break for employer health coverage.
https://www.axios.com/newsletters/axios-vitals-2e9d13f5-7510-4f6f-80fa-940d5e699fbe.html?chunk=4#story4
Finance Committee leaves Seema Verma hanging (for a day)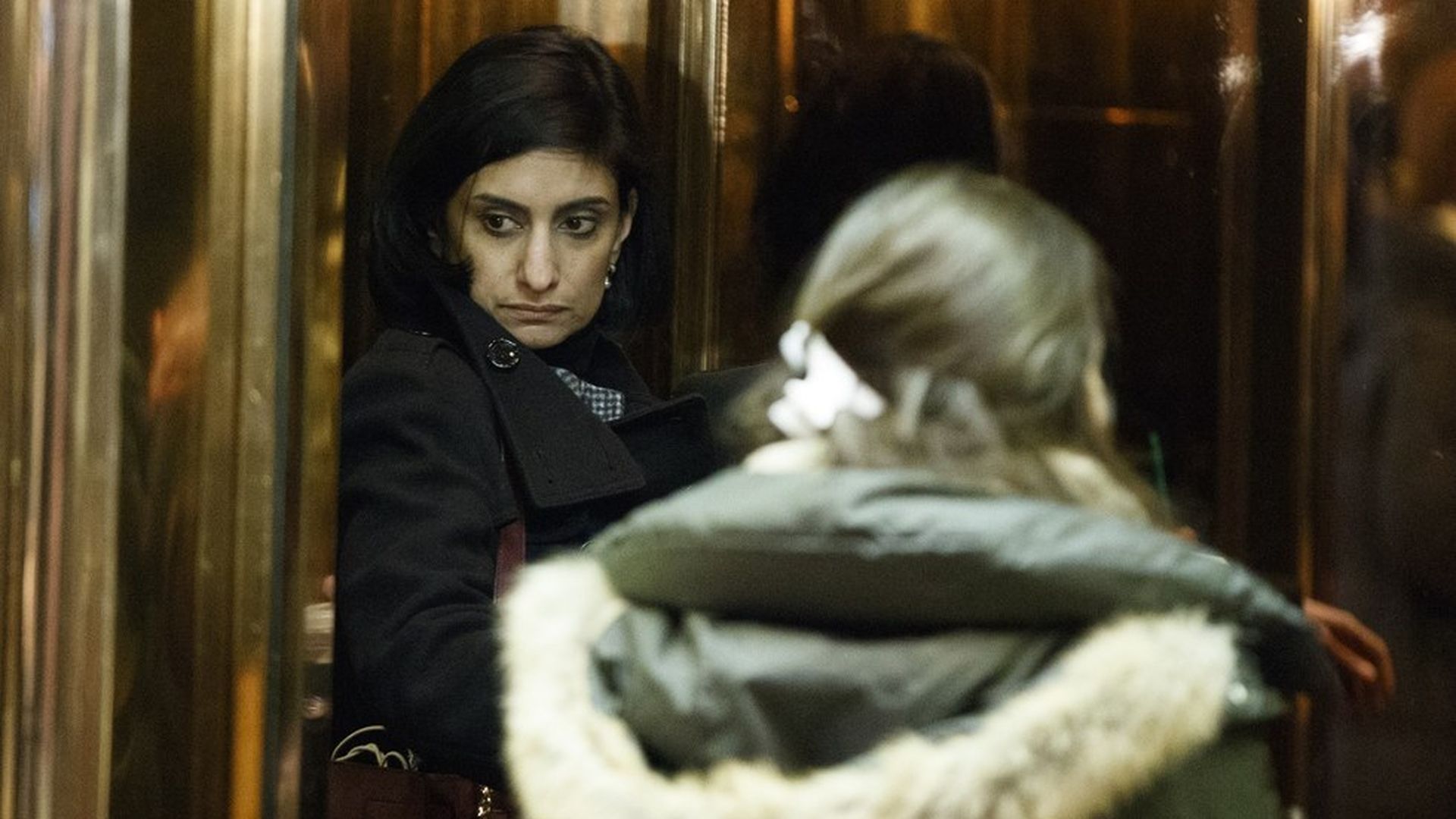 We know we told you the Centers for Medicare and Medicaid Services nominee would get her vote in the Senate Finance Committee yesterday, and the committee totally intended to do it. They just couldn't get enough Republicans there to break a tie vote. So they'll try again this morning — not in a formal meeting, but in an informal one off the Senate floor.
Spoiler alert: She'll be approved. Meantime, enjoy the picture of her being smushed in a doorway.
https://www.axios.com/newsletters/axios-vitals-2e9d13f5-7510-4f6f-80fa-940d5e699fbe.html?chunk=5#story5
Big funding deal for a liquid biopsy company
This one's getting a lot of attention: TechCrunch reports that Freenome, a two-year-old liquid biopsy company, has raised $65 million in Series A funds from investors led by Andreessen Horowitz. There are a lot of companies in this space now, trying to detect cancer from a patient's DNA, but they haven't been able to tell exactly where a cancer is growing or whether it can be treated. The difference, Freenome cofounder and CEO Gabe Otte told TechCrunch, is that "we capture all the [genetic material floating in our blood] rather than fixating on a few mutations known to be associated with cancer."
https://www.axios.com/newsletters/axios-vitals-2e9d13f5-7510-4f6f-80fa-940d5e699fbe.html?chunk=6#story6
About that industry funding for patient groups ...
There's a ton of it, according to a new study in the New England Journal of Medicine. A team of researchers looked at one of the most sensitive topics about patient advocacy groups — the fact that so many have to rely on money from drug, biotech, or medical device companies, which can affect the kinds of topics they can talk about freely. Here's what they found:
Eighty-three percent of the patient groups they studied got money from those companies.
Roughly 39 percent had current or former industry executives on their governing boards.
Many of them didn't really disclose how much money they got from the companies or how they were used.