Axios Vitals
May 07, 2019
1 big thing: How to save $80 billion a year on prescription drugs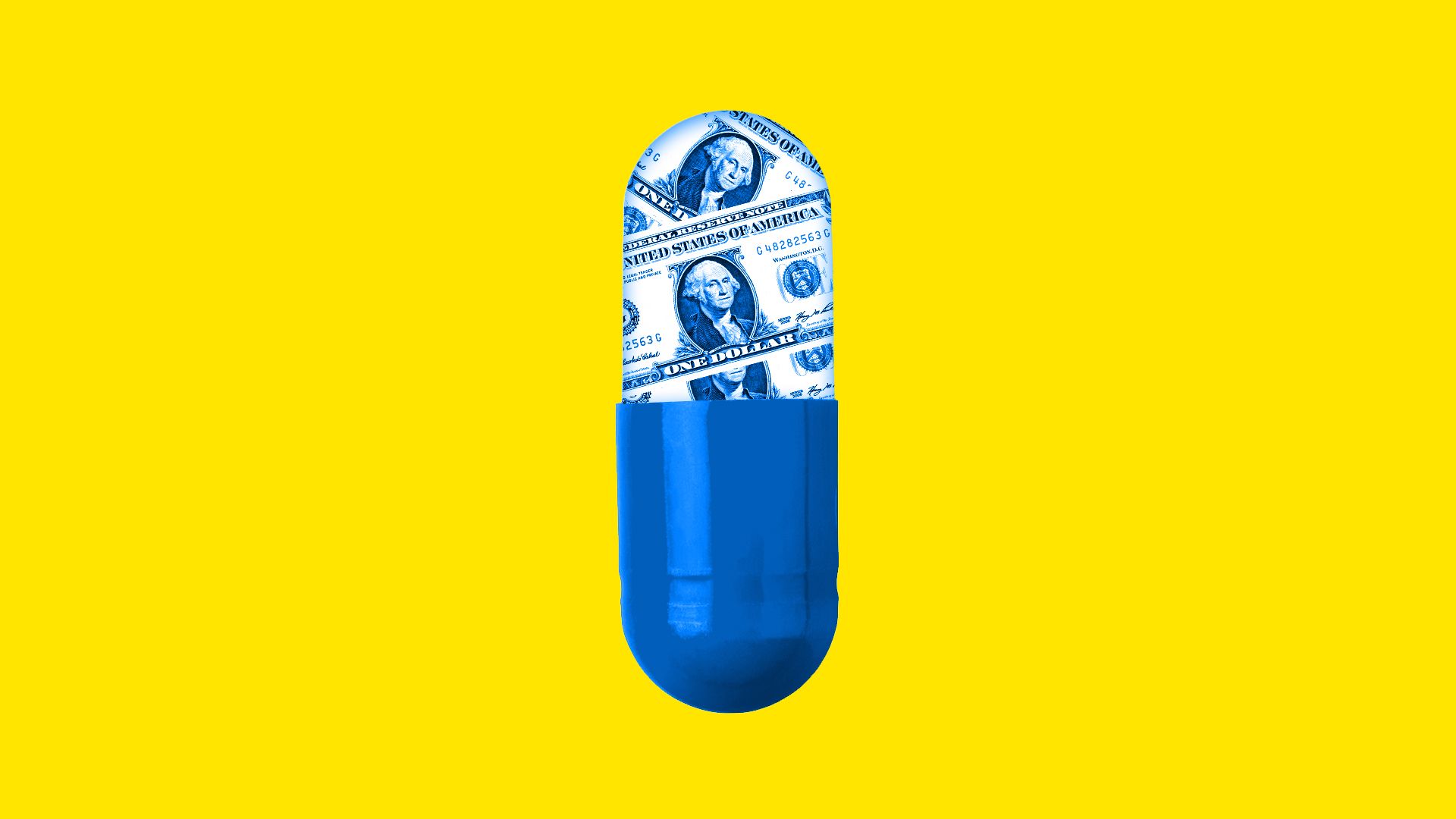 Medicare could have saved almost $80 billion, just in 2018, by matching the U.K.'s prices for prescription drugs that don't have any competition, according to a new study released in Health Affairs yesterday.
Why it matters: Medicare's drug benefit was designed to keep prices in check through competition. But competition doesn't always exist, and the U.S. doesn't have many options to keep prices down in those cases.
Unlike the other three countries examined in the study, the U.S. doesn't regulate drug prices.
Details: This study focuses on a group of single-source brand-name drugs in Medicare Part D that have been on the market for at least 3 years. Researchers compared U.S. prices for those drugs to prices in the U.K., Japan and Ontario.
On average, after accounting for rebates, Medicare paid 3.6 times more than the U.K., 3.2 times more than Japan, and 4.1 times more than Ontario.
The longer a drug was on the U.S. market, the larger that gap grew.
If Medicare Part D had adopted the average price from those countries, it would have saved an estimated $72.9 billion on sole-source drugs in 2018 alone.
Between the lines: The Trump administration wants to rely on international prices for Medicare Part B, which covers drugs administered in a doctor's office. But this study shows that there are also a lot of savings to be had in Medicare Part D, which covers drugs you pick up at a pharmacy.
The other side: "An international reference pricing system could result in American seniors losing access to their choice of medicine, and waiting years longer for new breakthrough treatments," the trade group PhRMA said in a statement.
The bottom line: The political interest in cutting drug prices is real, but we're still a very long way from President Trump's stated goal of matching other countries' prices.
2. Medicare Advantage enrollees tend to spend less
The seniors who switch into Medicare Advantage were already the cheapest to cover — which may explain why they use fewer services, according to a new Kaiser Family Foundation analysis.
By the numbers: Beneficiaries who switched to Medicare Advantage in 2016 spent, on average, $1,253 less in 2015 than those who stayed in traditional Medicare.
The trend remained the same among beneficiaries with specific health conditions, like asthma or diabetes.
This raises question about whether Medicare Advantage payment rates are too high, as they're based on spending for people in traditional Medicare.
3. Progress in NIH medical research diversity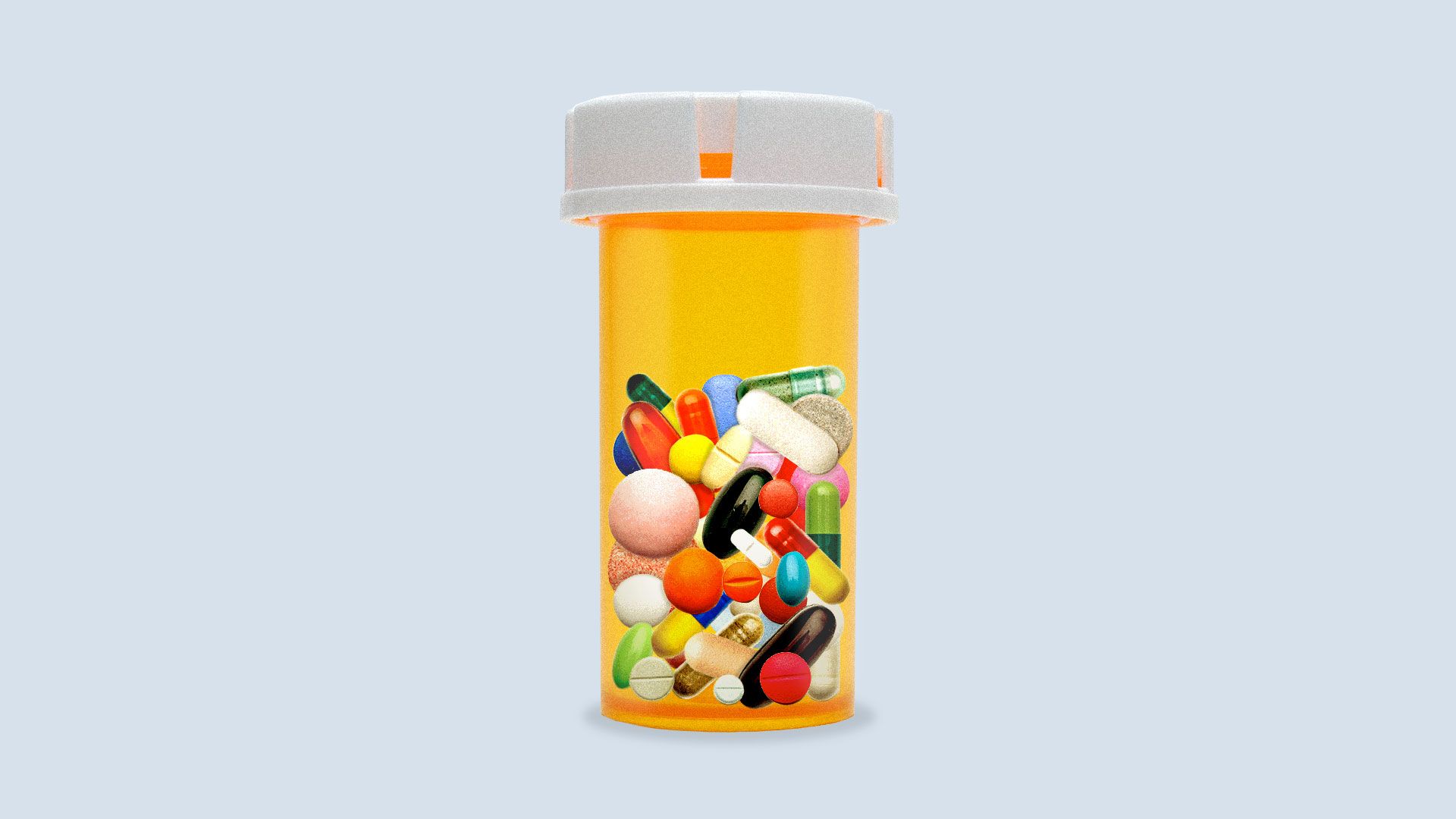 A "flagship enterprise" by the National Institutes of Health is making progress toward its goal of enrolling 1 million Americans from diverse communities in the program "All of Us," which launched one year ago, NIH director Francis Collins said Monday.
Since the program launched a year ago, more than 230,000 people have begun the process of joining the program. 
Almost 80% of the participants come from communities that have historically been underrepresented in biomedical research. More than 50% of the participants describe themselves as being part of a racial or ethnic minority.
Why it matters: The lack of diversity in medical research can hinder proper treatment of non-European races and other underrepresented groups, my colleague Eileen Drage O'Reilly reports.
The data generated from this program is also expected to lead to discoveries on diseases ranging from diabetes and Alzheimer's to figuring out who may be more vulnerable to opioid crisis.
The bottom line: In trying to get away from the "one size fits all" mentality, scientists are increasingly pushing towards personalized medicine, and data from underrepresented communities is key to this goal.
Go deeper: NIH launches massive program to diversify medical research
4. A plurality of docs are now hospital employees
For the first time ever, the U.S. has more physicians who work as employees of a hospital system (47.4%) than those who run their own practice (45.9%), according to new survey data from the American Medical Association.
The big picture: Doctors have gradually shifted away from owning a practice — 75.8% were independent in 1983, and that number has been falling ever since, Axios' Bob Herman writes.
Between the lines: This shift has a big effect on costs. Health insurers pay significantly more for routine patient visits when they are in a hospital-owned practice instead of an independent clinic — even though the services are the same.
5. A new hurdle for the Centene-WellCare merger
Hedge funds with stakes in health insurer Centene may challenge its recently announced acquisition of WellCare, Reuters reports.
The hedge funds — Corvex Management and Sachem Head Capital Management — believe Centene could do more to see if another company, like Humana, would be interested in acquiring it.
Why it matters, per Bob: Centene not only has to get state and federal approvals for this takeover, but it also appears it has to win over skeptical shareholders.
Go deeper: The antitrust questions behind the Centene-WellCare deal
Let me know if you, too, watched "The Bachelorette" reunion last night. I came to the Bach later in life, but I think last night's replay of all the hits got me as caught up as I'll ever need to be.