Axios Vitals
May 20, 2021
Good morning.
Join me later today for a virtual event on the impact of the pandemic on children's mental health. Guests include Sen. Catherine Cortez Masto (D-Nev.) and Child Mind Institute founding president and medical director Harold S. Koplewicz. Register here.
Today's word count: 1,084, or a 4-minute read.
1BT: Vaccine boosters could be necessary as soon as September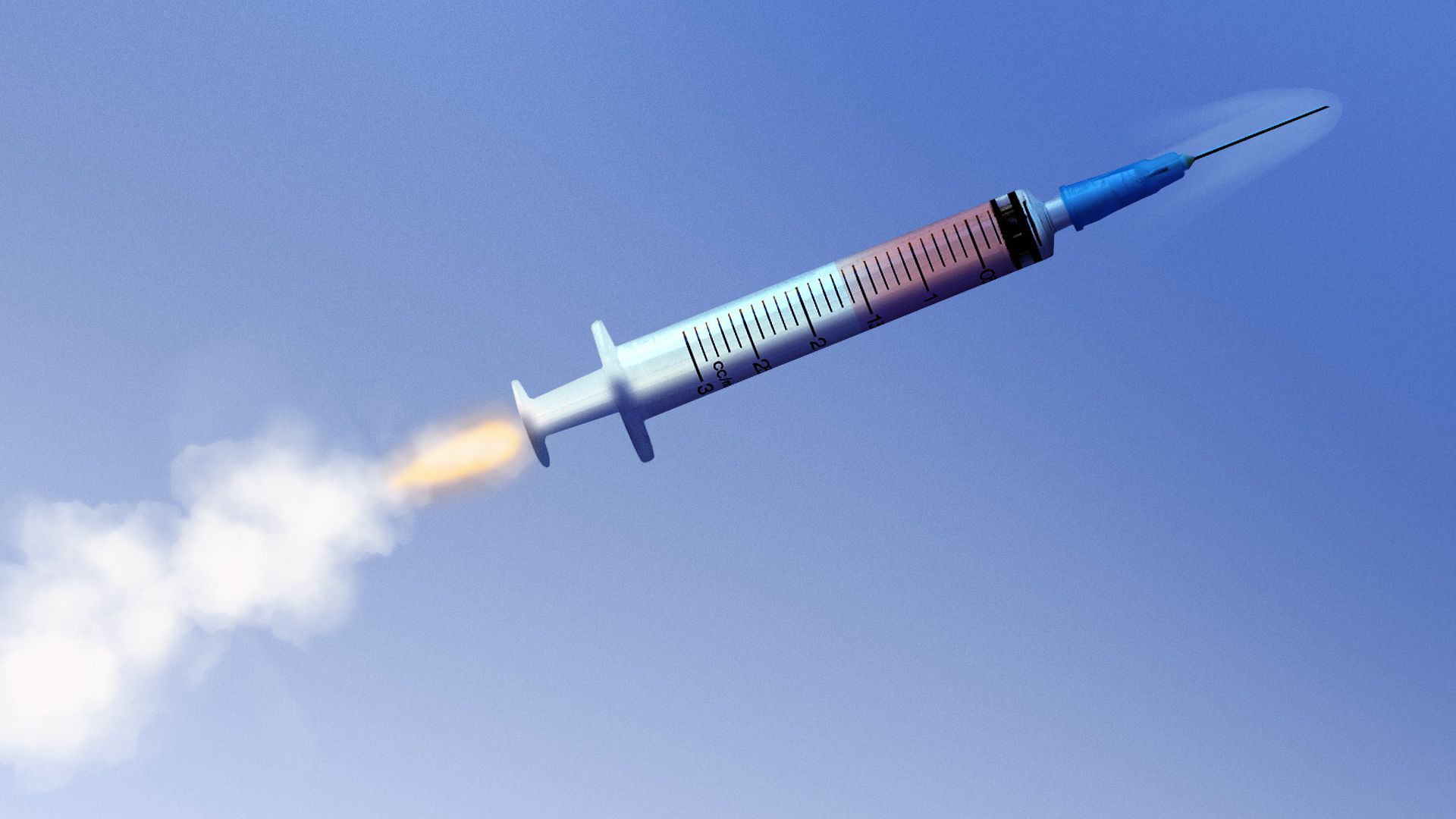 The first Americans to be vaccinated against the coronavirus could require a booster shot as early as September, the CEOs of Pfizer and Moderna told Axios' Caitlin Owens.
Driving the news: "The data that I see coming, they are supporting the notion that likely there will be a need for a booster somewhere between eight and 12 months," Pfizer CEO Albert Bourla said yesterday during an Axios event.
That means some Americans could need a booster as soon as September or October, he added.
State of play: Only time will tell how long protection from the first two vaccine doses will last, but there's no evidence yet that it's fading. Even if protection does begin to fade — which is common among vaccines — it won't happen overnight.
And as the virus continues to spread around the world, it's possible that vaccine-resistant variants could eventually emerge. (The existing vaccines are highly effective against the variants currently circulating in the U.S.)
What they're saying: "I think we will almost certainly require a booster sometime within a year or so after getting the primary [shot] because the durability of protection against coronaviruses is generally not lifelong," NIAID director Anthony Fauci told Axios' Mike Allen at the same event.
"I think as a country we should rather be two months too early, than two months too late with outbreaks in several places," Moderna CEO Stéphane Bancel wrote in an email.
"People at highest risks (elderly, healthcare workers) were vaccinated in December/January," he added. "So I would do [a] September start for those at highest risk."
The other side: Experts caution to consider the drug companies' predictions in context with their broader business goals.
"It's not proven that we need boosters yet. Whereas it's appropriate to plan for boosters, you've got to look at whether there's a corporate agenda behind this," said Cornell professor and virologist John Moore.
2. New coronavirus cases fall by 20%
Coronavirus infections continue to plummet across the U.S., Axios' Sam Baker and Andrew Witherspoon report.
Why it matters: Experts have warned many times over the past year that it wouldn't be safe to rush back into pre-pandemic life without containing the virus. Now, though, the U.S. is finally containing the virus.
By the numbers: The U.S. averaged about 30,000 cases per day over the past week.
The progress is happening remarkably fast, and across the board.
It was just last week that average daily cases dropped below 40,000, for the first time in months. This week's figures are a 20% improvement over last week.
39 states saw their caseloads improve over the past week.
Alabama showed an increase in new cases, although the state had some unusual reporting glitches this week.
Technically, cases also increased in Washington, D.C., but it's no cause for alarm: The District has fewer new cases per day (about 48, on average) than any state.
What's next: This is all happening because of the vaccines. The more people get vaccinated, the better it'll get.
3. Miss. Medicaid expansion initiative suspended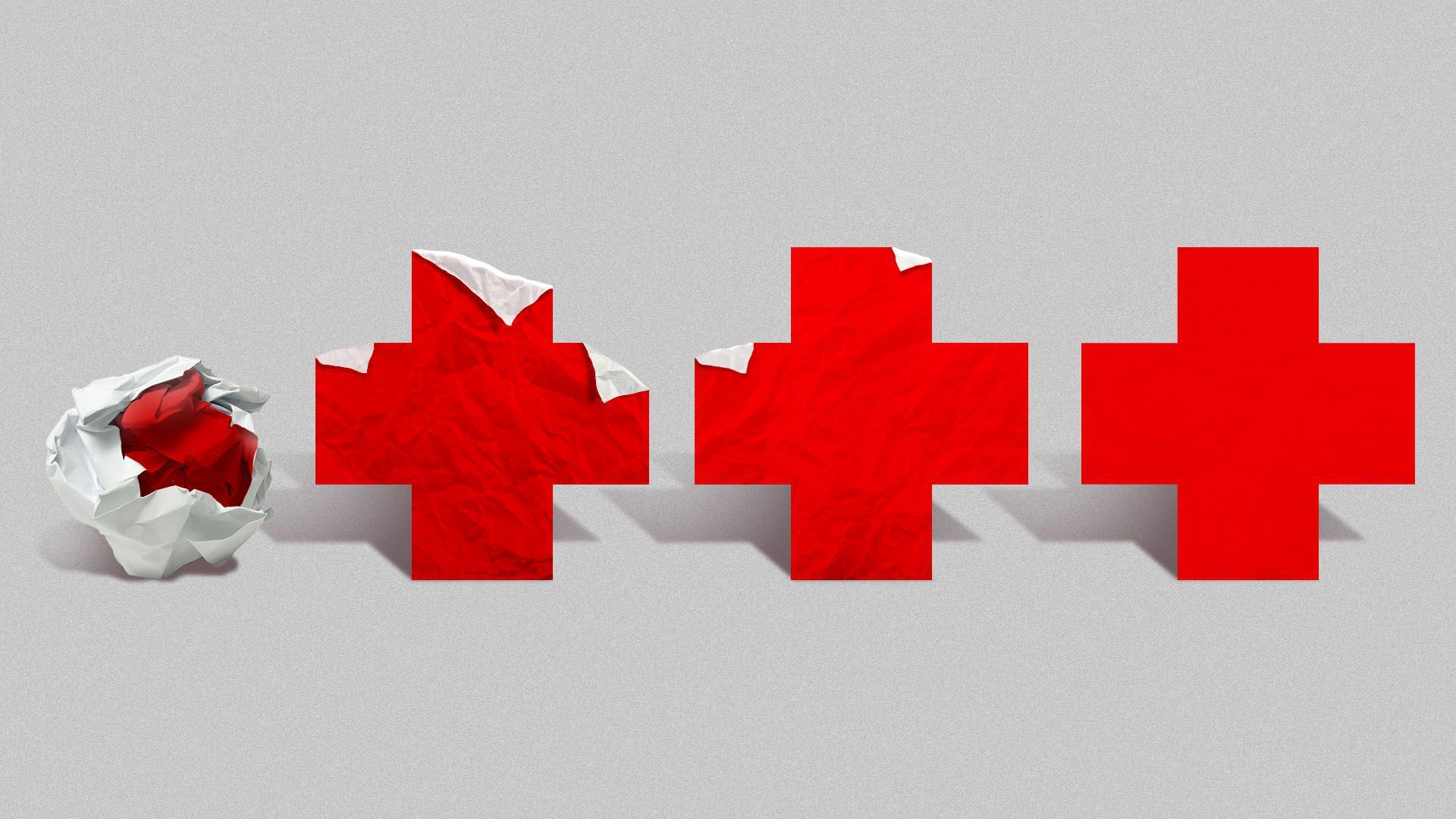 An organizing committee working to get Medicaid expansion on the ballot in Mississippi, called "Yes on 76," suspended its campaign Wednesday, Axios' Marisa Fernandez writes.
The big picture: The decision to drop efforts comes after the Mississippi Supreme Court ruled last Friday the state's entire ballot initiative process is "unworkable and inoperative" due to outdated language in the state's constitution.
Mississippi Gov. Tate Reeves (R) opposes expansion, "making it unlikely that the state will take up expansion through legislation," the Kaiser Family Foundation notes.
By the numbers: About 25% of Mississippi's population receives health benefits under Medicaid or CHIP, a 2020 annual report shows.
State of play: Ballot initiatives have been an effective tool in getting Medicaid expansion passed in conservative states that are traditionally against the measure.
Six states have expanded Medicaid through ballot initiatives.
Then again, last week Missouri Gov. Mike Parsons (R) withdrew plans to expand Medicaid in his state after the state legislature refused the fund the expansion.
4. Emergent paid bonuses despite J&J fiasco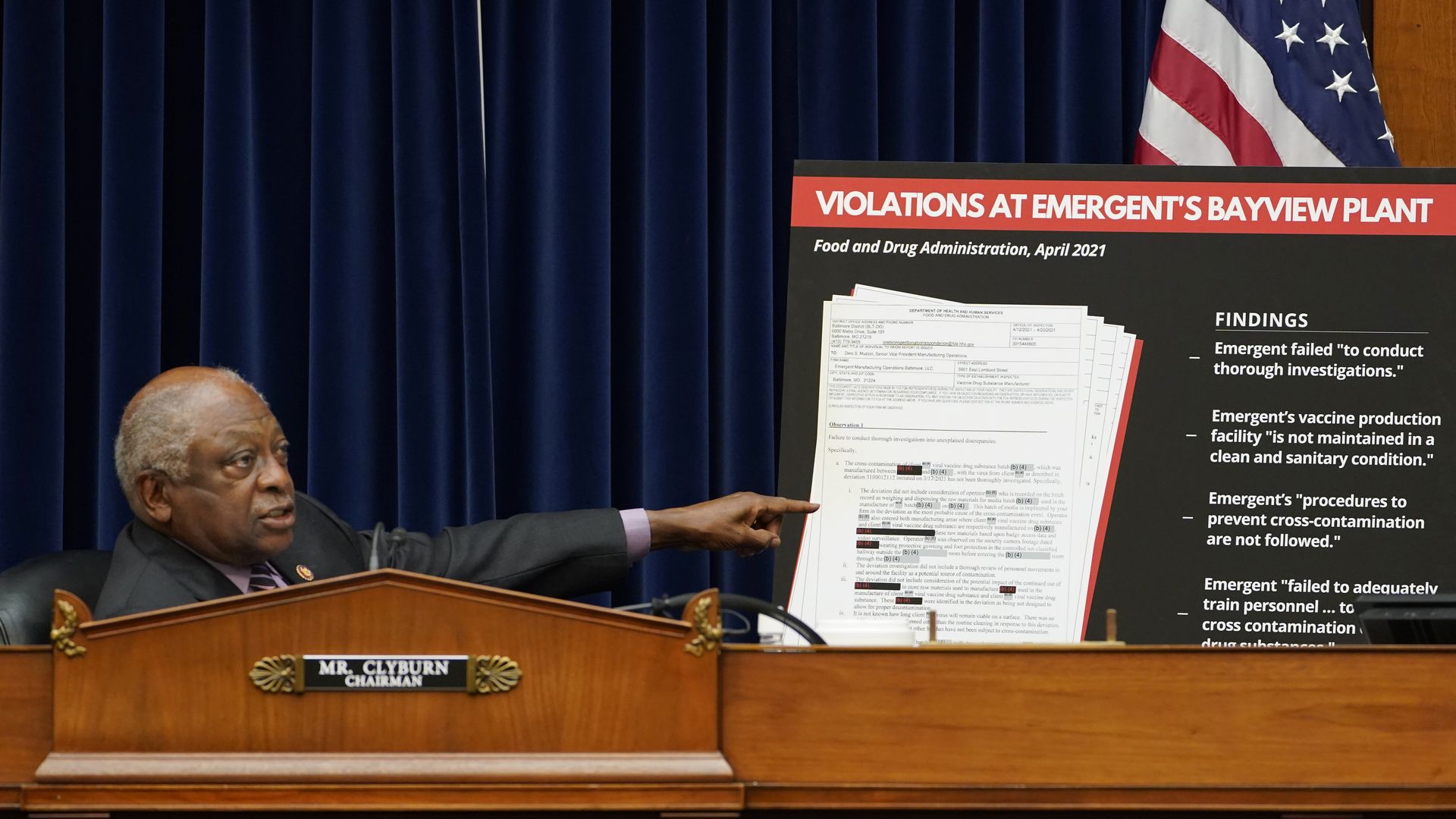 Emergent BioSolutions paid its executives hundreds of thousands of dollars each in bonuses in February, just months before the manufacturer ruined 15 million of Johnson & Johnson COVID-19 vaccine doses.
Driving the news: Emergent BioSolutions' executives faced questions from lawmakers during a House Select Subcommittee on the Coronavirus Crisis hearing on Wednesday as part of an investigation into the plant's failures.
The federal government paid the company $271 million as a reservation for its manufacturing capacity, documents posted Wednesday by two House committees show. Yet, to date, U.S. regulators have not cleared any doses for use from its manufacturing plant in Baltimore.
Background: Workers at the plant, which had been producing vaccine materials for J&J and AstraZeneca, conflated ingredients between the two different types of vaccines this spring.
The FDA cited "discrepancies" at the plant dating back to January.
Production at the plant stopped last month after the FDA faulted Emergent for failing to thoroughly review the incident and said the plant suffered from multiple unsanitary conditions, including peeling paint in sensitive manufacturing areas and improper waste disposal.
The subcommittee's memo said the company's board praised the CEO and chairman for leveraging "critical relationships with key customers, Congress, and other stakeholders."
For instance, Emergent CEO Robert Kramer was awarded a cash bonus of $1.2 million in recognition of his performance in 2020, on top of a base salary of $875,014 and $4.1 million in stock awards and options issued earlier in the year.
More than 100 million doses of Johnson & Johnson from the company waiting to be approved by the FDA, Kramer told the subcommittee.
5. Telephones played a key role in pandemic telehealth
More than a quarter of all Medicare beneficiaries had a telehealth visit between the summer and fall of 2020 and, for more than half of them, that visit took place over an actual telephone, a KFF Analysis found.
Why it matters: "Telehealth" usually conjures the idea of video visits from a computer or a smartphone. However, for many seniors, the telephone was a key connection to care made available during the pandemic.
Its long-term future is unclear because of reimbursement questions.
Details: Among those Medicare beneficiaries who had a telehealth visit, a majority (56%) report accessing care using a telephone only.
A smaller group of Medicare beneficiaries reported accessing telehealth via video visit (28%) or through both video and telephone (16%).
The number of Medicare beneficiaries who used a telephone only to access telehealth was also higher among Hispanic beneficiaries (61%), those living in rural areas (65%), and those enrolled in both Medicare and Medicaid (67%).
State of play: Under Medicare's existing telehealth benefit, a telehealth visit must be conducted with two-way audio/video communications.
What's next: Legislation has been brought up in both the House and Senate supporting audio-only telehealth policies — an area with big implications for technological access for seniors — as well as racial parity and the bigger ongoing question of broadband access.