Good morning. Congrats to us for making it through this week of enormous lawsuits and market-moving political announcements.
Today's word count: 890, or <4 minutes.
1 big thing: White House regroups on drug prices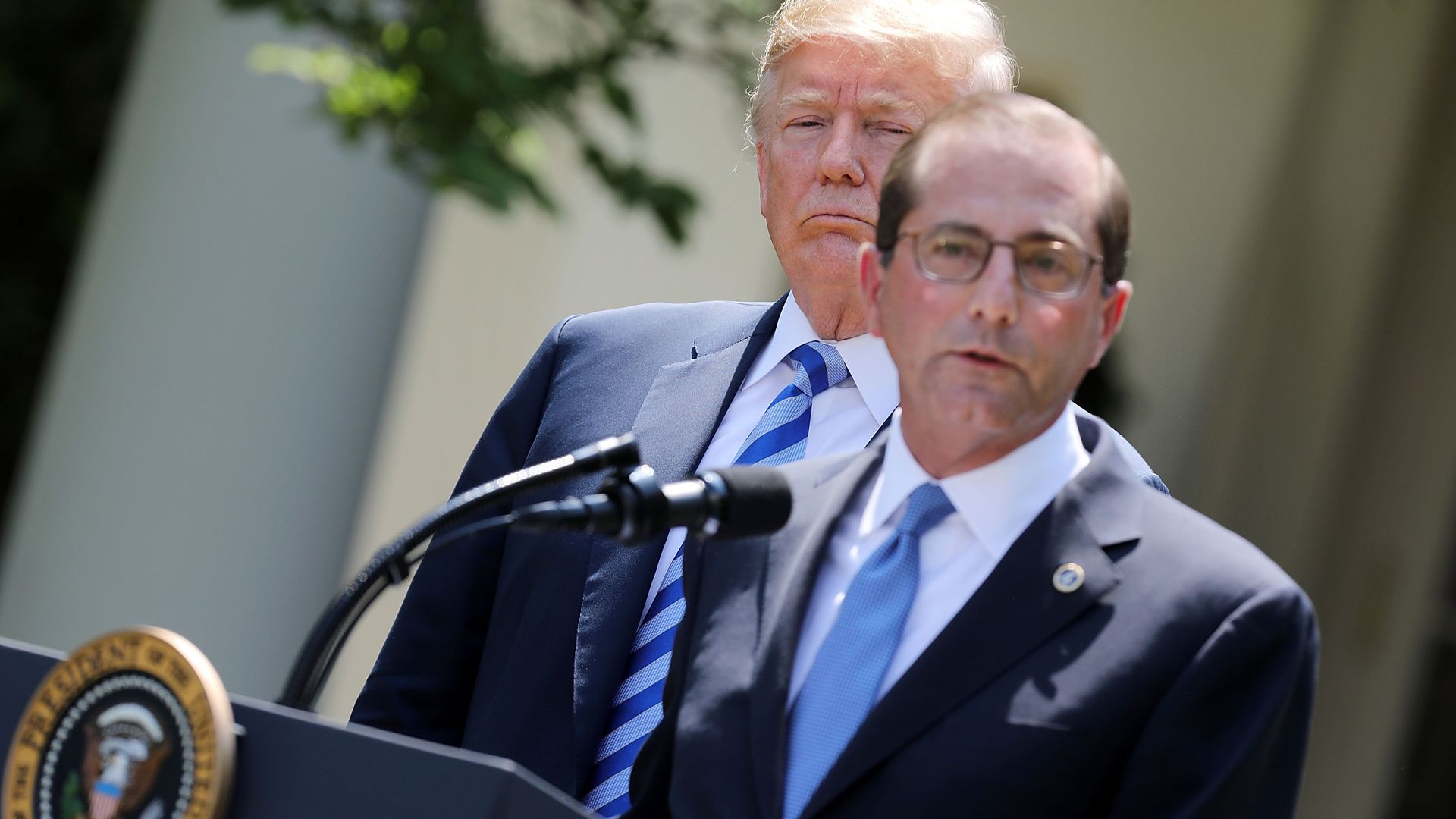 The Trump administration is looking for Congress to implement major changes to how the federal government pays for drugs, following a week of setbacks to its drug pricing agenda.
Yes, but: The major exception to this is the administration's proposal to tie what Medicare pays for some drugs to rates in other countries.
President Trump also recently teased a similar executive order that would create a "favored nations clause," under which the U.S. would pay no more for a drug than the lowest price paid by another country.
Driving the news: The White House said late Wednesday night that it'd decided to kill its proposal to eliminate back-end rebates in Medicare Part D and Medicaid.
And on Monday, a judge halted the administration's requirement that drug ads on TV must include list prices, one of the only pieces of its agenda enacted so far.
What they're saying: A senior administration official said yesterday that the decision to walk away from the rebate rule was based partially on "lurching bipartisan progress toward something on the Hill," and a desire to not upset a pending deal.
But when it comes to Medicare Part D, "what we really want to do is modernize the entire benefit," including increasing payers' exposure to high drug costs.
There were also concerns about premiums rising under the rebate rule. The president "doesn't want any risk that seniors' premiums could go up," HHS Secretary Alex Azar told reporters yesterday, per Bloomberg.
Azar pointed to Congress' efforts on rebate reform and to give HHS the authority to require prices on TV ads.
One more thing: The administration has also expressed interest in a controversial measure that would limit how much drug prices can rise in Part D — an idea distasteful to both pharma and free-market Republicans.
2. Health care middlemen surge on rebate rule death
President Trump's decision to withdraw the rule that would've overhauled behind-the-scenes drug rebates led to huge stock gains yesterday for health insurance companies and pharmacy benefit managers, which have suffered since the rule was first proposed in January, Axios' Bob Herman reports.
The big picture: The health care industry's largest middlemen dodged a giant bullet since rebates are an important part of their businesses. But they are not out of the woods, as states and Congress are working to change how they influence the price of drugs.
Cigna, which recently bought Express Scripts for $67 billion, surged the most of any health insurer with a 9% boost in its stock price Thursday.
Anthem, Humana, CVS and UnitedHealth Group all picked up a lot of ground as well.
Between the lines: The rebate rule raised fears that drugmakers would engage in "tacit collusion," according to Northwestern University health economist Craig Garthwaite.
That plus the imminent threat health insurers and PBMs would raise drug premiums allowed the industry to escape any changes to a system that many believe is flawed.
Yes, but: PBMs have already faced new state regulations and still could run up against seismic changes at the federal level.
A new Senate bill would eliminate the practice of "spread pricing" and would require every rebate dollar to flow back to employers.
3. A bad sign for surprise billing proposals
For all the political anger of surprise billing, hospitals in California were able to sideline a bill to crack down on the practice, Axios' Sam Baker writes.
Details: California's bill would have limited how much hospitals can charge for out-of-network emergency care.  
As California Healthline explains, "Hospitals would have to work directly with health plans on billing, leaving the patients responsible only for their in-network copayments, coinsurance and deductibles."
But hospitals oppose that approach — strongly enough to sideline it at least until the state's next legislative session. 
They oppose similar proposals in Congress, too.
The big picture: Hospitals' political power is vast, and it transcends partisanship. And this is yet another reminder that cutting into providers' bottom lines is always a big fight, however easy the politics might look at the outset.
Go deeper: Even In California's blue utopia, liberal health care dreams stagnate
4. Biosimilars' big savings potential
Biosimilars are very far from reaching their full potential, in terms of market share and the savings to the health care system that they're bringing, according to a new paper by the Pacific Research Institute.
By the numbers: The 7 biosimilars that are on the market are creating $253.8 million in savings, the paper estimates.
But that's with market shares that are almost all in the single digits, meaning they're barely making a dent against the innovator biologics that they're competing with.
The one exception is Zarxio — a competitor to Neupogen, a drug administered to cancer patients — which makes up about 55% of the market.
A dozen more biosimilars have been approved in the U.S. but are not yet on the market. In total, biosimilars have been approved for 9 drug classes.
The paper estimates the market savings that could be driven if all approved biosimilars were on the market, and if biosimilars received a substantial portion of the market within the 9 classes.
It looked at market shares of 25%, 50% and 75%, finding that annual savings under each scenario would be $2.5 billion, $4.8 billion and $7.2 billion.
The savings would be higher if more biosimilars were approved to compete against other biologics.
Go deeper:
Situational awareness: I will be on vacation for the next 2 weeks, but you'll be in the good hands of Sam and Bob. Make sure they have plenty to write about!