Morning, all. A group with ties to Mitch McConnell is pushing back against the "repeal first" crowd, Republicans are slogging their way through more Obamacare questions at town halls, and a new patient group is being launched to take on high drug prices.
Message for the hardliners: It's repeal AND replace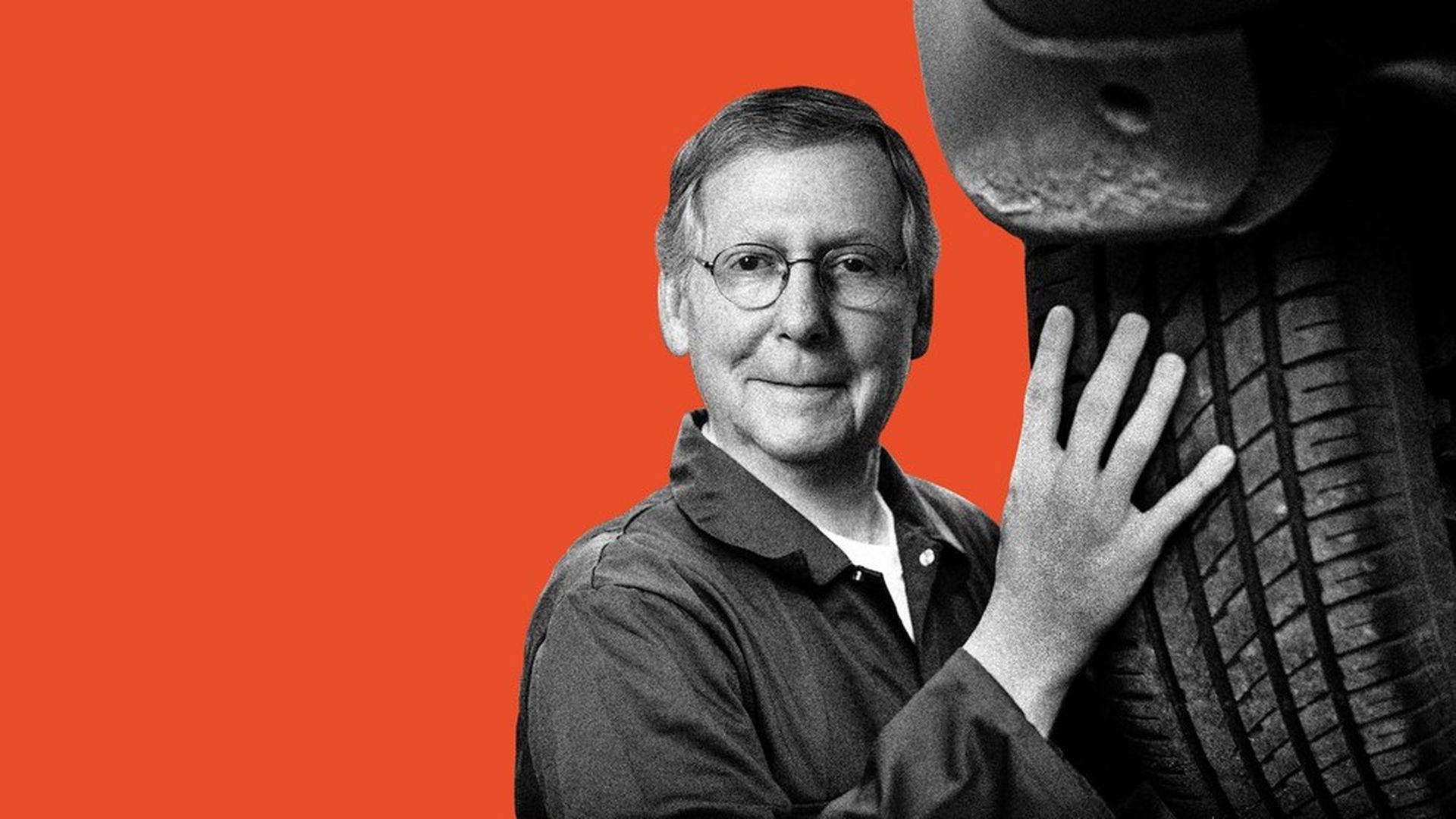 Jonathan Swan got a great scoop about a new ad campaign and poll by One Nation, a political advocacy group that's linked to Senate Majority Leader Mitch McConnell. The message of the ad campaign: It's "repeal and replace," not just "repeal." And the poll, which they're going to be circulating on the Hill over the next few weeks, really drives that point home — because most Republicans want Obamacare to be replaced too, and right away.
But here's something I noticed: The ad campaign spends a lot of time talking about Obamacare's high out-of-pocket costs, especially the rising deductibles. And that part is true — except it's also true of employer health coverage throughout the country. Democrats are owning that problem right now because they overpromised with the Affordable Care Act — they made it sound like the law would make health care, you know, affordable. But if Republicans make the same promise and don't deliver, they'll own that, too. Read our story here.
Town hall watch: Grassley, Ernst face the hecklers
That Obamacare replacement outline House Republicans released last week doesn't seem to have given GOP lawmakers much to say about their post-repeal plans. Here's how the Obamacare feedback went at yesterday's rowdy town halls:
"You're going to create one great big death panel in this country for people can't afford to get insurance." — Audience member at Sen. Chuck Grassley's town hall in Iowa Falls, per Politico's Jen Haberkorn.
"What we're doing is working through a number of different plans that have been proposed." — Sen. Joni Ernst at her town hall in Maquoketa, Iowa, per video posted by CNN's Eric Bradner. (On letting young adults stay on their parents' plans: "This is something that the state of Iowa did before the ACA was ever in place.")
"No one's going to have the rug pulled out from under them. There will be a transition path. And from there it's a debate over what the replacement looks like." — Rep. Dave Brat at his town hall in Blackstone, Virginia, per Facebook video posted by BuzzFeed.
"You can go to C-SPAN and pull up the Blair House summit from 2010." — Rep. Marsha Blackburn at a town hall livestreamed by the Tennessean, in response to a question about why the GOP hasn't put out a replacement plan after seven years. (She said Republicans laid out a plan at the 2010 summit with President Barack Obama.)
When Republicans get more legislative details next week on their Obamacare repeal and replacement plans, Blackburn said, "of course we're going to be more than happy to talk in more detail, hand you the legislation and say, 'Have a read.'"
Sorry, the Obamacare lawsuit isn't resolved yet
The big decision in the House Republicans' Obamacare lawsuit yesterday was a bit of a downer: The House just asked for a three-month extension. That's the lawsuit challenging the payments the Obama administration was making to insurers for their cost-sharing reduction subsidies to low-income people. It's more awkward now that the Trump administration is in charge, since Republicans don't really want to be suing each other. Caitlin Owens has more here.
Between the lines: The motion suggests the two sides are working toward a "resolution" that would eliminate the need for further court battles. Could that be the signal that Congress will pay the cost-sharing subsidies? There hasn't been any official word that Congress will do it, but when even hardline conservatives like Freedom Caucus chairman Mark Meadows say they'd be OK with it, it's no longer an unthinkable solution.
Insurers get an extension: And as the ever-helpful Timothy Jost notes at the Health Affairs blog, insurers just got an extra six weeks to decide whether they'll offer coverage in the Obamacare marketplaces next year. The new deadline is June 21.
Launching today: Patients for Affordable Drugs
There's a new advocacy group joining the fight against rising drug prices. Patients for Affordable Drugs, founded by David Mitchell, a former partner at the political consulting firm GMMB, launches today to tell stories of patients struggling with high drug costs and push for federal and state legislation. Mitchell is fighting multiple myeloma, a blood cancer that costs $26,000 a month to treat. He'll have help from Ben Wakana, the executive director, who was a Department of Health and Human Services spokesman in the Obama administration.
The twist: You'd think there were a ton of patient groups on the case already, right? Not really — most of the fight has been coming from industry group coalitions like the Campaign for Sustainable Rx Pricing. Mitchell says many of the patient advocacy groups are too compromised by funding from the drug industry or pharmacy benefit managers. So he's avoiding those funding sources and starting his group with a $500,000 grant from the Laura and John Arnold Foundation, and he and his wife are kicking in $75,000 of their own. "We have a constituency that hasn't been tapped," said Mitchell. "We'll be able to play."
Today's clickbait: Accountable care organizations!
"But wait, my coffee isn't strong enough," you say? Don't worry, we'll walk you through it. A new post by the consulting firm Avalere notes that accountable care organizations — networks of doctors and hospitals that work together to deliver medical care more efficiently — are accepting more risk.
A growing number are taking on "two-sided" risk, which means they might get bonus payments from the federal government, but they'd also have to repay any losses if they don't save money.
This year, 87 of the organizations are accepting two-sided risk, up from 49 last year.
Why it's happening: Avalere's John Feore, the author of the post, told me it's happening mostly because health care providers are becoming more comfortable with the program. But he said there's also another incentive to take on more risk: Under MACRA, the Medicare payment reform law, those organizations get bonuses and don't have to do all of the quality reporting that other providers will have to do.
The market for fast passes for new drugs
The $125 million sale of Sarepta's priority review voucher to Gilead made us wonder: Was it really as big of a bargain for Gilead as some believed? It's difficult to say, because it's only the fifth major transaction of a voucher. Bob Herman reports that the latest value falls right in the middle, just like another Gilead bought. Here are the previous deals, as tracked by Duke University professor David Ridley:
$350 million. Buyer: AbbVie. Seller: United Therapeutics.
$245 million. Buyer: Sanofi. Seller: Retrophin.
$125 million. Buyer: Gilead. Seller: Knight Therapeutics.
$67.5 million. Buyers: Regeneron Pharmaceuticals and Sanofi. Seller: BioMarin.
The Food and Drug Administration grants priority review vouchers as an incentive for drug companies to get expedited approval for a medicine. There are still seven other vouchers out there. The most recent recipient? Marathon Pharmaceuticals. It received a fast pass as it got FDA approval for its Duchenne muscular dystrophy drug. The company has been lambasted nationally for setting an $89,000 list price and has
delayed
the U.S. launch of the drug.
What we're watching: National Governors Association winter meeting, Washington, Feb. 24-27. And, of course, more town halls.
And that's it! Keep in touch and let us know what we can do better: david@axios.com.