Good morning … It's officially here: The Affordable Care Act's fifth open enrollment period.
https://www.axios.com/newsletters/axios-vitals-246fdf34-259f-4d59-b1e3-ebf209ccb6b9.html?chunk=0#story0
What to expect from open enrollment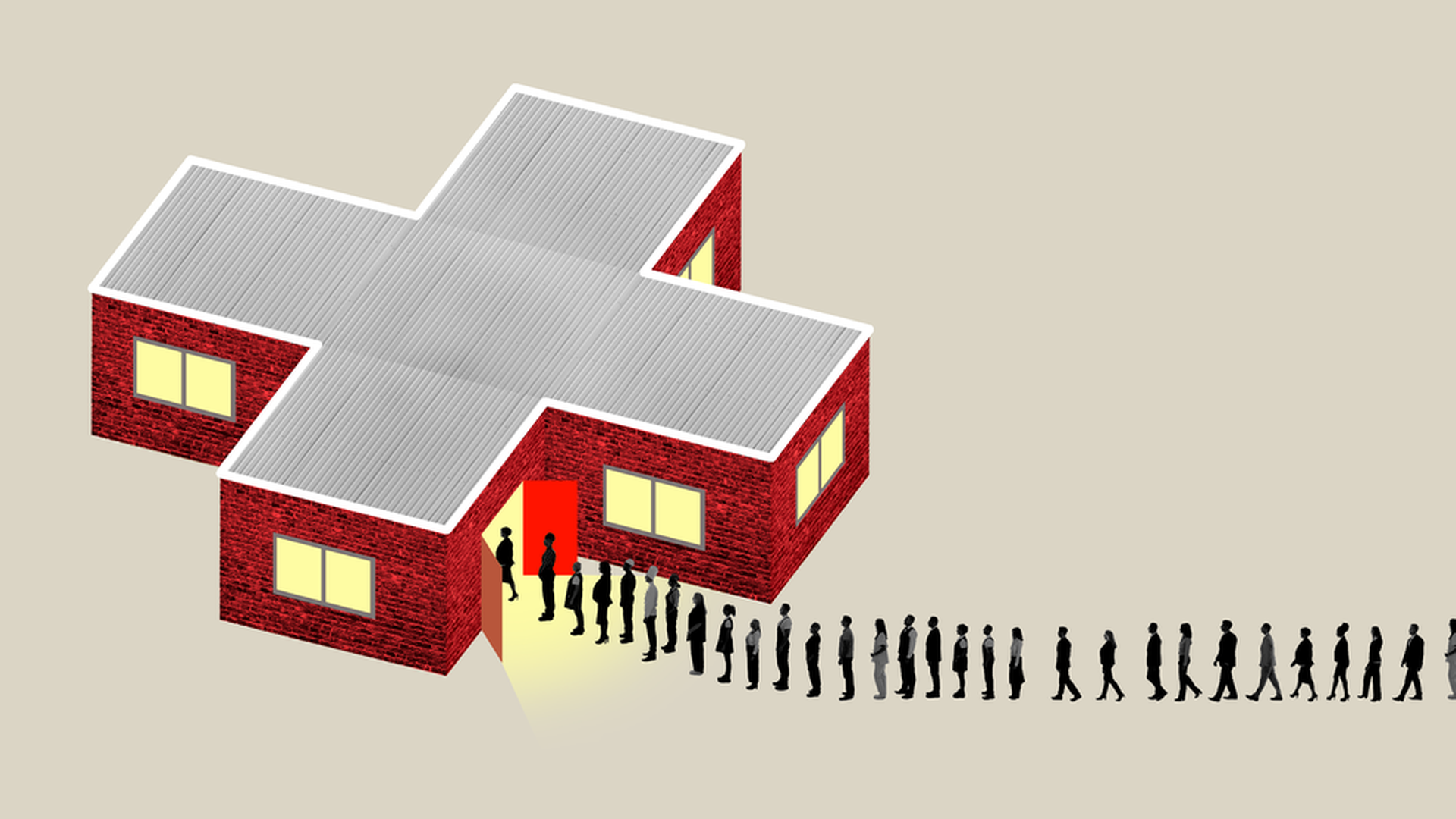 This will likely be the worst ACA sign-up period yet, in terms of the total number of people getting coverage — and also the weirdest. It's been weird to see a federal department constantly attacking a program it oversees; it'll be weird to watch it oversee that program anyway.
The fallout: The politics of health care has also been totally unsettled all year long, and that has produced a surprising set of twists and turns on the ground.
Even though premiums are much higher across the board, more consumers than ever before — about 80% of enrollees, according to HHS — will be able to find a plan for less than $75 per month.
In many cases, a more comprehensive "gold" plan will now cost less each month than a middle-of-the-road "silver" plan.
This is all a byproduct of President Trump's decision to quit paying the ACA's cost-sharing subsidies — a benefit that, in keeping with the weirdness of this year, consumers will actually continue to receive.
Here's what else to expect, today and over the next six weeks:
The website will probably work. Despite the Trump administration's reticence to carry out much of the ACA, testing for HealthCare.gov proceeded as usual during September and October.
Kelley Turek, who handles policy issues related to the exchanges for America's Health Insurance Plans, told me she hasn't heard any complaints about the technical side of things.
A spokesman for California's state-run exchange also said "we do not have concerns" about the pieces of the HealthCare.gov apparatus that interact with state-based marketplaces.
HHS has said it will take HealthCare.gov offline on all but one Sunday morning, for maintenance. Although Democrats cried foul, Turek said the practice is normal and shouldn't hurt enrollment.
Overall enrollment will probably fall. No one is sure how big a drop-off to expect. In terms of the markets' stability, the mix of healthy and sick consumers is more important than the overall number of enrollees. But the two go hand-in-hand: the people who need insurance the most are the ones least likely to miss the enrollment window or let their coverage lapse.
HHS says it will provide updates on the number of people signing up for coverage "throughout open enrollment," similar to past years, when it released weekly updates.
The Trump administration is not looking for silver linings. As far as it's concerned, failure is success.
Just yesterday, Trump's campaign arm released a new ad that says "Obamacare is broken," accuses Democrats of blocking a better plan, and promises "Trump will fix it." Much like Trump's repeated assertions that "Obamacare is dead," it's not the message you send if you want people to sign up.
(Also, not to nitpick, but Senate Republican holdouts are the ones who killed all four Senate Republican health care bills this year.)
https://www.axios.com/newsletters/axios-vitals-246fdf34-259f-4d59-b1e3-ebf209ccb6b9.html?chunk=1#story1
The bottom line for consumers
It pays to shop around. This is always the case, but it's especially true this year.
If you make less than about $48,000 per year individually, or roughly $98,000 for a family of four, you might be eligible for premium subsidies. And for subsidized consumers, there are good deals to be found. This year, they're often not the deals you'd expect.
If your income is too high to qualify for a subsidy, you might — depending on the state you live in and the kind of coverage you buy — be on the hook for a massive premium hike this year. It definitely pays to look for cheaper alternatives.
If you signed up last year and nothing has changed — your income is the same, your desire for coverage is the same, you're happy with your plan — it's still smart to shop around. Changes in the broader insurance market, even though they have nothing to do with you personally, can affect the size of your subsidy, and therefore alter what you have to pay each month.
Insurers' big message, per AHIP's Turek: Despite all the political turmoil over the ACA, the process of shopping for and buying coverage is pretty much the same. Insurers will be doing their own outreach campaigns, with an emphasis on keeping their existing customers as well as signing up at least some new ones — especially younger, healthier enrollees.
Get America Covered, the new organization founded by a handful of Obama alumni, will also be trying to close some of the gaps left by the administration's cuts to enrollment outreach, mainly through partnerships with existing community organizations. They have events today in Florida, North Carolina, New York, Tennessee and Virginia.
https://www.axios.com/newsletters/axios-vitals-246fdf34-259f-4d59-b1e3-ebf209ccb6b9.html?chunk=2#story2
​CHIP still faces a rocky path to passage
The House is likely to vote Friday on a slightly revised version of a GOP bill to reauthorize federal funding for the Children's Health Insurance Program. The new bill includes some different spending offsets than the original bill put forward in committee.
But Democrats see the changes as only making the bill worse. Energy and Commerce Committee Democrats and House Democratic leadership are urging members to vote no, according to a committee spokesperson for the minority.
Where things go from here, per my colleague Caitlin Owens:
The House will still probably pass the partisan version of its bill.
The Senate Finance Committee has put forward a bipartisan framework without offsets. But offsets will be necessary at some point, and that's what made the House bill controversial.
At this point, CHIP reauthorization is likely to move with a set of bipartisan health care extenders.
There are really only two vehicles available to help CHIP move through the Senate: a supplemental aid package, and then the huge December year-end package.
It's unclear at this point whether the Senate would pass the same bill as the House, although it seems unlikely based on the House offset issue and how each chamber's CHIP bill is packaged.
https://www.axios.com/newsletters/axios-vitals-246fdf34-259f-4d59-b1e3-ebf209ccb6b9.html?chunk=3#story3
CMS approves a major Medicaid change
The Trump administration has approved a waiver from Iowa, effective Nov. 1, that says the state will not have to provide Medicaid coverage to low-income people for the three months before they applied.
Between the lines: Conservatives say the waiver from Medicaid's three-month retroactive eligibility will encourage people to sign up for Medicaid quickly and prevent people from only applying once they are sick. But consumer advocates are worried the move, which will deny retroactive benefits to 40,000 Iowans to save $37 million, will lead to high medical bills for seniors and people with disabilities.
Be smart: This is one of the first major Medicaid waivers approved under Seema Verma, who helped engineer several other states' waiver applications before taking the helm at the Centers for Medicare & Medicaid Services.
The big questions now, my colleague Bob Herman reports this morning, are whether Iowa will conduct outreach to inform Medicaid members of the change, and whether other states will try to mimic Iowa's conservative waiver.
https://www.axios.com/newsletters/axios-vitals-246fdf34-259f-4d59-b1e3-ebf209ccb6b9.html?chunk=4#story4
​What really wrecked Iowa's ACA market
Jonathan Cohn of the Huffington Post has a smart, widely shared piece on why the Iowa ACA market is in so much trouble. And no, it's not because of the teenager whose care costs $1 million a month.
The real problems in Iowa, per Cohn:
Iowa did almost no outreach.
Republicans in Congress knocked out the ACA's "risk corridor" program, which used to protect insurers from unexpected losses.
Wellmark didn't offer coverage on the ACA exchange for the first two years.
It allowed too many to keep plans that don't comply with all of the ACA's regulatory requirements, which mainly appeal to healthy people.