Good morning … Former HHS secretary Tom Price has walked back his comments about the effects of repealing the Affordable Care Act's individual mandate, reiterating his opposition to the policy and praising Republicans for repealing it. So that's settled.
https://www.axios.com/newsletters/axios-vitals-2228bca1-6acf-40fd-b0cf-ecd4b44d5508.html?chunk=0#story0
1 big thing: Opioid attacks dominate West Virginia Senate race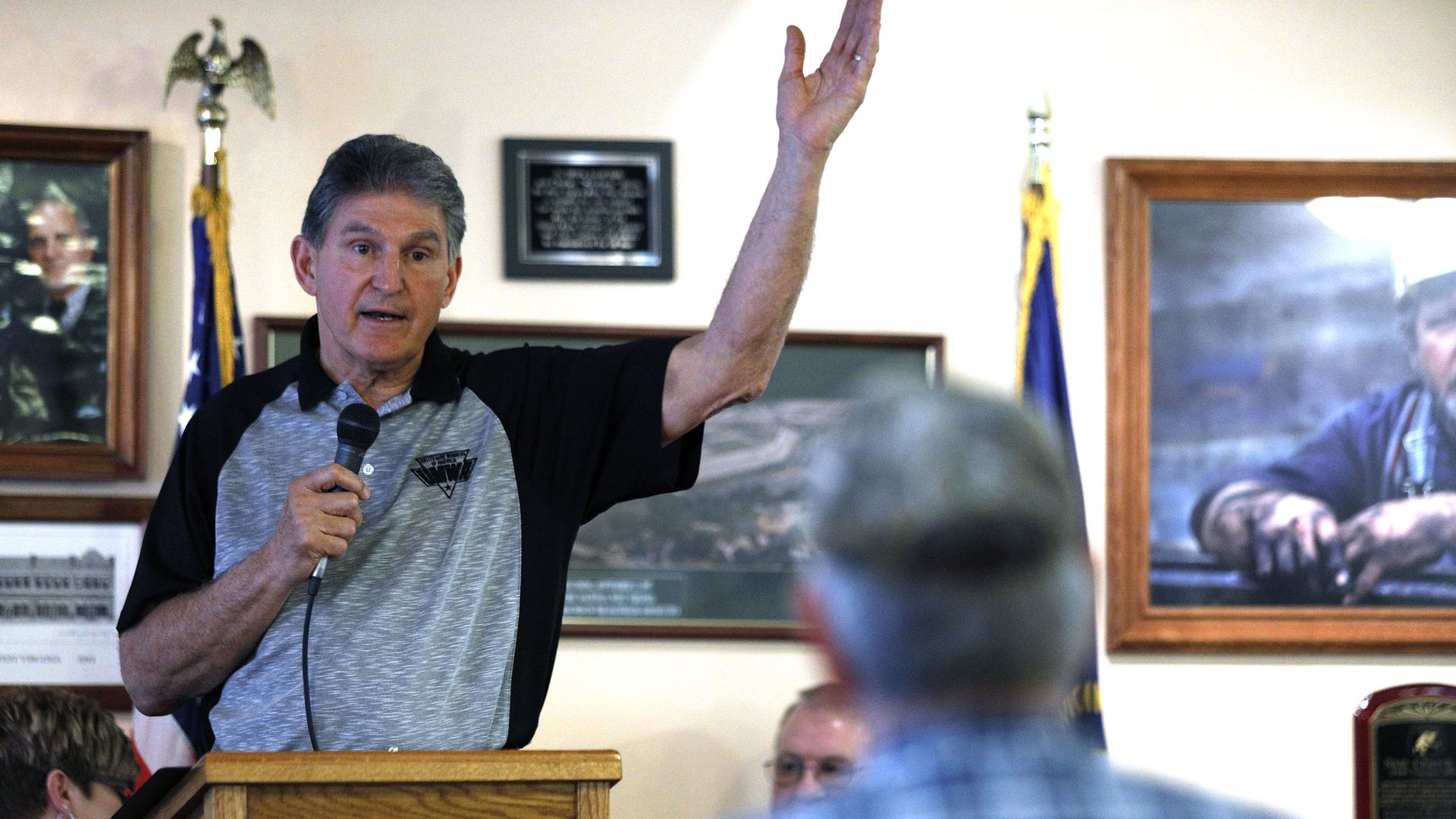 West Virginia is home to one of the most raucous Senate races of 2018 — and everybody's attacking everybody over their personal ties to the opioid industry.
Driving the news: Even as the Republican Party is hoping to use the opioid crisis as a line of attack against Democratic Sen. Joe Manchin, the Republicans battling it out in the GOP primary are also accusing each other of being part of the problem.
The facts:
State Attorney General Patrick Morrisey is running in the GOP primary. His wife, Denise Morrisey, lobbied Congress on opioid-related issues for Cardinal Health, the largest opioid distributor in the state, the Charleston Gazette-Mail reported.
Manchin's daughter, Heather Bresch, is the CEO of Mylan Pharmaceuticals, which makes fentanyl patches. Mylan and its employees contributed more than $57,000 to Manchin's 2012 campaign and almost $5,000 this cycle, per the Center for Responsive Politics.
What they're saying: Axios' Caitlin Owens rounded up the competing lines of attack.
Evan Jenkins, another Republican candidate, has accused Morrisey of being "bought-and-paid-for by Big Pharma."
Morrisey's campaign has criticized Jenkins for supporting a bill that weakened federal drug enforcement efforts, saying Jenkins "fueled [the] opioid crisis while Morrisey tackled substance abuse" as attorney general.
Don Blankenship, the firebrand coal baron running for the GOP nomination against Morrisey and Jenkins, also released an ad attacking Jenkins on the opioid issue.
The national Republican party, meanwhile, is trying to focus on Manchin.
Why it matters: West Virginia has the highest opioid death rate in the U.S., making the opioid crisis deeply personal to many voters. And Manchin's seat should be a strong pickup opportunity for Republicans — but landing a punch against him on opioids could be a lot harder after this primary.
Go deeper: Caitlin has more at Axios.com.
https://www.axios.com/newsletters/axios-vitals-2228bca1-6acf-40fd-b0cf-ecd4b44d5508.html?chunk=1#story1
2. Wall Street analyst on the pharma "bubble"
Some excerpts of an investor note written by David Maris, a Wells Fargo analyst who covers the pharmaceutical industry, made the rounds yesterday. One portion worth quoting:
"We get the impression that many in the industry and many investors do not see the trouble brewing. We worry that some may be living in a bubble, a cozy patent-protected, high-margin bubble, mesmerized by the bubble's beautiful swirling iridescence."
Flashback: Read my colleague Bob Herman's January report on the health care industry's bubble.
https://www.axios.com/newsletters/axios-vitals-2228bca1-6acf-40fd-b0cf-ecd4b44d5508.html?chunk=2#story2
3. The problems with auto-enrollment
In the absence of an individual mandate, auto-enrollment has gotten some attention as a way to get more healthy people into the individual insurance market. After all, it worked for 401(k) contributions. And the idea got a bipartisan shout-out yesterday on the Health Affairs blog.
The potential: In Maryland alone, roughly 100,000 uninsured people are eligible for coverage under the ACA that would be fully subsidized — their monthly premium payments would be $0, according to the Health Affairs piece.
The catch: It's a lot harder to figure out the right health plan in which to automatically enroll people. And because the ACA's subsidies are calculated using federal tax returns, states don't always have the data they'd need to make such a system work smoothly.
https://www.axios.com/newsletters/axios-vitals-2228bca1-6acf-40fd-b0cf-ecd4b44d5508.html?chunk=3#story3
4. The latest CEO compensation numbers
More health care CEO pay packages from 2017 are in, per Bob:
A reminder: The CEO numbers are calculated using actual realized stock gains instead of the estimates that are displayed in company filings. (Employee figures are the only numbers listed in filings and may only include estimated stock.) Bob welcomes all of your executive pay and math emails: bob@axios.com.
Exact Sciences
CEO Kevin Conroy: $32.3 million
Pay ratio: 328:1 (median employee made $98,724)
Sage Therapeutics
CEO Jeff Jonas: $28.2 million
Pay ratio: 73:1 (median employee made $383,682)
DaVita
CEO Kent Thiry: $15.6 million
Pay ratio: 258:1 (median employee made $60,332)
Biogen
CEO Michel Vounatsos: $4.9 million
Pay ratio: 33:1 (median employee made $148,904)
Celgene
CEO Mark Alles: $4.5 million
Pay ratio: 21:1 (median employee made $213,089)
Retired CEO Bob Hugin, who is running for U.S. Senate, made $40.5 million.