Good morning. Here's all you need to know about yesterday's Congressional Budget Office report on the choices involved in "Medicare for All," from the NYT's Margot Sanger-Katz:
"The report has convenient snippets likely to be deployed by both single-payer devotees and detractors. Within minutes of its release, congressional news releases began pouring out, noting how the report had confirmed this or that position."
1 big thing: Trump admin's case for killing the ACA
The Trump administration has laid out its full argument for why a federal appeals court should invalidate the entire Affordable Care Act. And it's a doozy, my colleague Sam Baker reports.
The big picture in this case comes down to "severability," and severability comes down to congressional intent. If the ACA's individual mandate is unconstitutional (which is not a given), can other parts of the law function the way Congress intended?
The challenge for the Justice Department is squaring the intentions Congress expressed in 2010, when it first passed the ACA, with the intentions Congress expressed in 2017, when it nullified the individual mandate but left the rest of the law intact.
When Congress passed the ACA, it included findings that said the individual mandate was key to making the law's protections for people with pre-existing conditions work. As DOJ notes in its new brief, Congress has not repealed those findings.
But Congress has designed a new statute — one that keeps the protections for pre-existing conditions and doesn't have a penalty for being uninsured.
DOJ is arguing here that Congress' decision to enacted that set of policies is not evidence of Congress' intent — that its words from 2010 effectively override its actions in 2017.
Even that logic only takes you as far as striking down the mandate and protections for pre-existing conditions — the provisions Congress said were tied together. But that's not the case DOJ is making. It says the whole ACA should go.
It's sort of a cascading theory — that once the provisions on pre-existing conditions fall, the rest of the law's insurance reforms can't work as intended, so they should fall, and once they fall, the taxes that help pay for them aren't working as intended, which means the Medicaid expansion now would be increasing the deficit, which means it should fall.
The ACA is much more than its insurance reforms. And the DOJ's latest brief acknowledges that "there are other provisions that might be able to operate in the manner that Congress intended" even if those reforms are struck down.
But the courts should strike those provisions down anyway, DOJ argues, because they're still part of the ACA — or, in DOJ's words, "the question of congressional intent as to those provisions is complicated by the circumstances surrounding their enactment."
2. States are cutting retiree health benefits
Some states have stopped paying for retirees' health care benefits in response to rising health care costs and squeezed budgets, the Wall Street Journal reports.
North Carolina will no longer pay workers' health benefits once they retire, starting with new workers hired in 2021.
Kansas has asked retirees to pay their entire premiums, which have jumped to as much as $1,000 a month. And Iowa has capped its flagship university's contribution to retirees' health care.
When Kansas made these changes beginning in 2017, three-quarters of enrollees dropped out. And the state's retiree health care liability dropped from $6.1 million to $508,000.
Between the lines: There's about a $600 billion gap between what states have promised retirees — mostly in health benefits — and what they have actually saved up, according to government data compiled by Eaton Vance Corp.
That's separate from pension benefits. It's easier legally to cut retirees' health care benefits than pensions, which drives some of these decisions.
My thought bubble: The problem of rising health care costs is even more dire at the federal level, but states — unlike the federal government — must balance their budgets.
3. Medicaid expansion dies in Kansas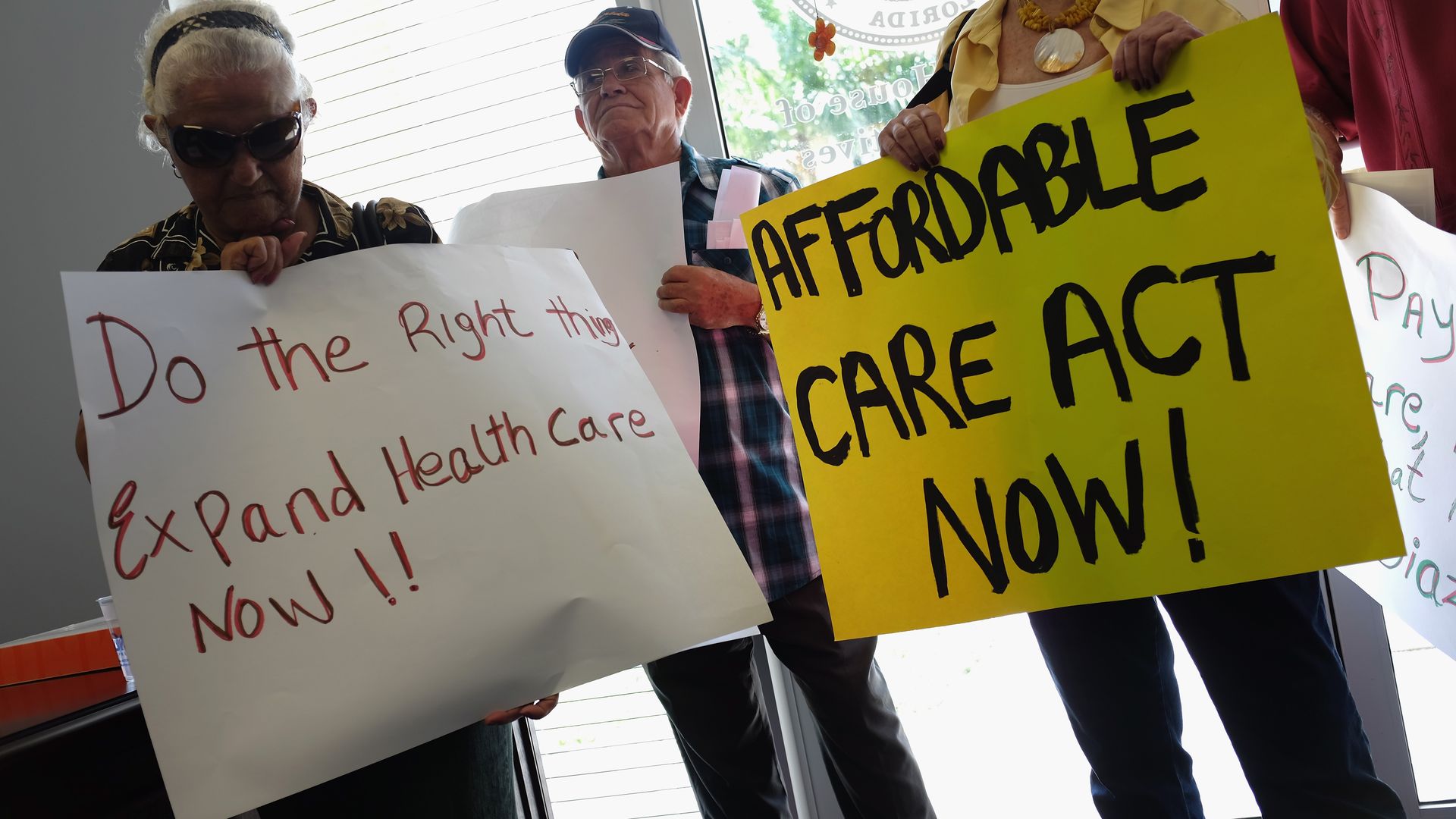 One vote prevented Medicaid expansion from moving forward yesterday in the Kansas state Senate, the Kansas City Star reports.
Expansion has been a huge priority for newly-elected Gov. Laura Kelly, a Democrat.
But flipping a governor's seat from red to blue isn't always enough to move Medicaid expansion forward.
Yes, but: The member with the key vote, Senate Majority Leader Jim Denning, left the door open. "I'm not saying no," he said, according to the Star. "I'm saying this policy isn't ready."
Some expansion supporters think they still may be able to pass expansion this year by holding the state budget hostage.
4. UBiome execs on leave as FBI investigates
The founders of uBiome, who served as co-CEOs, have been placed on leave as the FBI investigates the microbiome startup for its billing practices, Stat News reports.
Federal agents searched the company's office in San Francisco last week. A source told Stat that the FBI has heard allegations related to how uBiome bills insurers for its microbiome tests and how doctors who order the tests are paid.
The tests aim to analyze the bugs in patients' guts for health information.
Flashback: WSJ first reported on the FBI search last week.
California's insurance department and some private insurers are also examining the company's billing practices, the Journal reported.
5. 1 not-fun thing: Measles on a cruise ship
A cruise ship with nearly 300 people on it was quarantined in St. Lucia after a case of measles was confirmed on the ship, NBC reports.
It's been quarantined since Monday morning, after a crew member was diagnosed with the disease.
A source told NBC that the ship is owned and operated by the Church of Scientology.
The bottom line: Measles is really contagious. Get vaccinated.